It's a huge cliché at this point, but it's no less true that you can't win your fantasy football league in the first round, but you can lose it. The important thing in the first round is not to take the player most likely to end the season as the No. 1 scorer; the important thing in the first round is to make sure you don't take the player who finishes as the No. 50 scorer.
That is obviously easier said than done, but it's no less true. And the same general idea can hold true for the first few rounds. You can overcome a botched fourth-round pick much easier than a botched first-rounder, but still, you need to avoid the pitfalls.
Today, we're identifying those pitfalls. These are 10 players to avoid in the first five rounds of the draft, two per round, based on current average draft position on Fantasy Football Calculator. This assumes a 12-team league.
First round
(Current ADP: 1.05)
This is absolutely not a knock on Hopkins, who is as good a bet to finish the season as the No. 1 receiver as anybody. It's simply a strategic play. I mentioned this in my look at the early takeaways from ADP, but taking Hopkins at fifth overall (ahead of guys like David Johnson, Le'Veon Bell, and other top running backs) can handcuff a roster by forcing you into lesser options at running back. It's a different thing to take Hopkins at the end of the first round after all the top running backs are gone (as I did in our recent PFF Fantasy mock). But taking him as high as fifth is passing over top options at a shallower position, and not worth the risk for me.
(Current ADP: 1.09)
Gurley is the true embodiment of the cliché at the top of the piece. He has a perfectly fine chance to finish as the seasons' RB1 (he's been the points-per-game leader each of the last two years), but he's as risky as any top-tier option in drafts this year. Between injury concerns, the drafting of Darrell Henderson, and what we saw from C.J. Anderson when Gurley was out last year, there are more questions about the Rams back than there has been since Sean McVay became the coach.
Second round
(Current ADP: 2.08)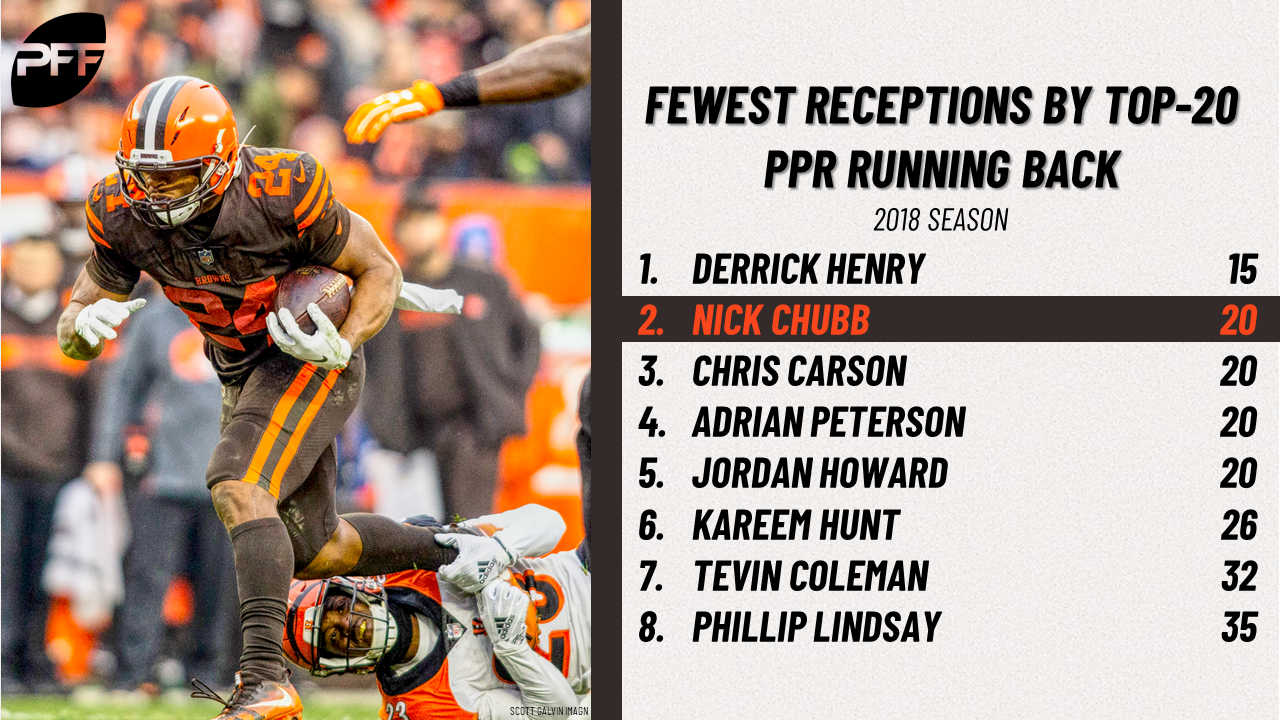 If you could arrange Chubb's best games of the season in your ideal order, he might be very helpful in 2019. The problem is the overwhelming likelihood of his best games coming early in the year. Duke Johnson is still around in Cleveland (for now), which should keep Chubb's target total (he had 28 as a rookie) worryingly low. More problematic for Chubb is Kareem Hunt, who will miss the first eight games to suspension but should be back in the second half. If Chubb puts up monster numbers in the first half but has to cede his workload in the fantasy playoffs? That can be a big hurt from your second-rounder.
(Current ADP: 2.11)
Our Scott Barrett is hard on the Williams train this offseason, and he of course does have elite upside, finishing as the No. 2 back over Weeks 14-17 after Kareem Hunt was released and Spencer Ware was hurt. Still, even with his limited playing time in 2018, counting the postseason, Williams set a career high in rushing attempts by 37, in targets by 9, and in overall offensive snaps by 114. Williams will have the starting role in Week 1, and he's the favorite to have it all year. But with Carlos Hyde on the roster now and sixth-rounder Darwin Thompson and UDFA James Williams added in the last month, his hold on the starting job might be more tenuous than that of any other high-drafted back.
Third round
(Current ADP: 3.01)
Ertz is the second tight end off the board in current drafts, behind Travis Kelce, and the lowest you could realistically drop him on the rankings is third, behind George Kittle. So it's not a problem with positional ranking. The problem is that Ertz costs a pick at the top of the third round that could go to a running back or wide receiver. There's no problem with taking a tight end there, per se — Kelce is a perfectly fine option in the second round or even higher — but Ertz is surprisingly risky for a top-flight tight end given the competition on his own roster. The Eagles still have Alshon Jeffery and Nelson Agholor at receiver and Dallas Goedert entering his second year at tight end, and have added DeSean Jackson and J.J. Arcega-Whiteside at receiver this offseason. Ertz was more quantity-over-quality than his other top tight end peers in 2018, and if his quantity suffers at all, he could wind up not worth such a high pick.
(Current ADP: 3.08)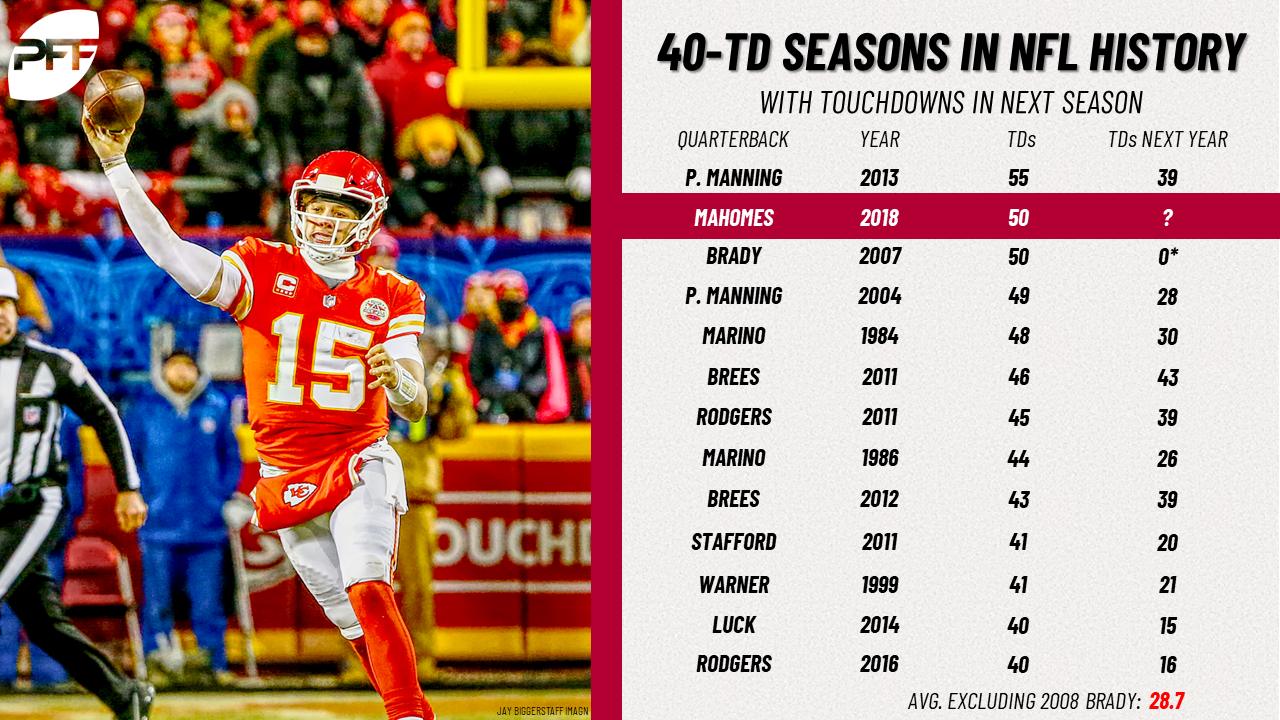 Obviously, Mahomes is the heavy favorite to be the No. 1 fantasy quarterback in 2019, and assuming health, his floor is still near the top of the QB leaderboard. The problem is that he needs to be close to what he was last year to be worth a pick this high. As our recent mock showed, quarterback is still insanely deep — deeper than ever, perhaps — and you can get great value later in the draft and use a third-rounder on a player at a shallower position. If Mahomes is what he was last year, then yes, passing on him means you're missing out. But his chances of a repeat aren't great.
Fourth round
(Current ADP: 4.04)
Michel was plenty productive down the stretch in his rookie year — counting the postseason, he topped 90 rushing yards four times in his last five games and scored seven touchdowns in that span. Of course, he also totaled all of 14 targets across the entire season, including exactly zero from Week 14 to 17. He's a good ball-carrier with no contribution to the passing game, a la Derrick Henry or vintage LeGarrette Blount. And now that the Patriots have added Damien Harris — and team beat writers think he could get the short-yardage roles — Michel's downsides start to outweigh his upsides.
(Current ADP: 4.07)
Montgomery's ADP has positively skyrocketed since the draft, with the Bears trading up to acquire him and added him to a backfield that only had Tarik Cohen and Mike Davis beforehand. And it's true, Montgomery definitely has bell cow potential in the Chicago offense. But Cohen isn't just going to vanish in the team's offense. In fact, he's being taken less than a round later in drafts. Teams that produce two upper-level fantasy backs must have great offenses to do so. Are the Bears that? They'll have to be for Montgomery to be worth it here.
Fifth round
(Current ADP: 5.02)
The conversation around Kupp has seemed far too optimistic considering his ACL tear came as late in the season as Week 10. The best news coming out of the Rams regarding Kupp is that their "goal" is to have him ready for Week 1. That phrasing just isn't as reassuring as it should be. With receivers taken around Kupp like Chris Godwin, Jarvis Landry, and Tyler Lockett, his injury risk is too rich for my blood.
(Current ADP: 5.10)
The Browns offense could be amazing in 2019. In fact, it's perfectly fine to argue it should be amazing. But as I noted in my look at early ADP, Mayfield's stock has climbed too high. At this point, going as the No. 4 QB off the board and within a round of the No. 2, and given his general lack of rushing upside, Mayfield is being taken at his ceiling. Drafting players at their ceiling is fine if they will reach it, but it's not a way to wring value out of the draft. Pass on Mayfield and take a quarterback later.