If you're playing best ball fantasy football leagues, avoiding missteps is crucial. If you mess up a draft pick in redraft leagues, you can be a savvy trader or a waiver-wire wizard and salvage a year. In best ball, there is no salvation. If you screw up the draft, you screwed up the year.
With that in mind, this week we're taking a look at some potential bust candidates in best ball leagues in 2019. Some of these players might be better redraft options than best ball, some might just fail to meet ADP, and some might fall apart altogether. Either way, think twice before drafting these players in your 2019 best ball drafts.
Today, tight ends. (Check out the best ball TE sleepers.)
(Current PFF best ball rank: TE2)
Ertz was fantastic in 2018, finishing as fantasy's TE2 largely on the back of an all-time tight end record in receptions (116) and targets (154). He finished about 200 yards behind each of Travis Kelce and George Kittle and saw Kelce and Eric Ebron score more touchdowns. Is that a knock on Ertz? Not at all! He was excellent. But it's true that his yards per target (7.55) and yards per reception (10.03) were much more pedestrian than his total numbers. With Dallas Goedert entering his second season and DeSean Jackson back in Philadelphia, we could see Ertz's targets go down. He's still worth being taken no lower than third at the position, but Ertz is currently going as a late second-round pick, and if he falls off of last week's totals even a little, that's an overbet.
(Current PFF best ball rank: TE8)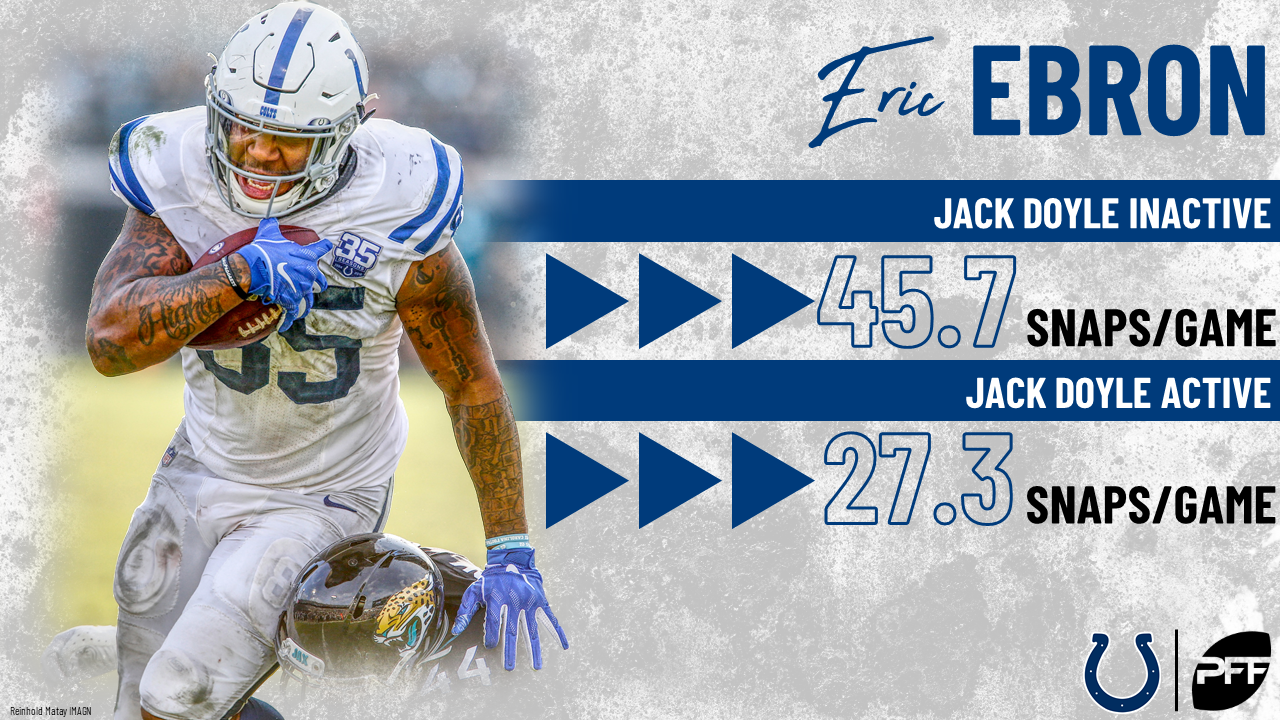 Ebron is currently going off the board as TE4 in BestBall10 ADP, which is a totally fair ADP for a receiver who finished the year as the No. 4 tight end and finished second in the league in total touchdowns for a receiver or tight end. But betting on Ebron to repeat his career year might be asking too much. For one thing, he turned 12.0% of his targets into touchdowns in 2018, the fifth-highest rate in the league and as close to a sure sign of impending regression as any. For another thing, the Colts should have a healthy Jack Doyle back in 2019. In games Doyle played last year, Ebron averaged 27.3 offensive snaps per game; in games Doyle missed, he averaged 45.7. And finally, Devin Funchess. He was hardly amazing with Carolina in 2018, but Funchess does give the Colts another receiving option over the amalgam of No. 5 receivers the team used behind T.Y. Hilton last year. Add it all up, and the shallowness at tight end means Ebron still warrants drafting, but not where he's currently going.
(Current PFF best ball rank: TE9)
On the one hand, a rising tide lifts all boats. On the other, too many cooks, you know? The Browns now have an offense that includes Odell Beckham Jr., Jarvis Landry, Antonio Callaway, Nick Chubb, Kareem Hunt, and Duke Johnson on top of the third-year Njoku. Best-case scenario for Njoku would have him third in line for targets in 2019. More likely is that he's closer to fifth. At 83 targets a year ago, Njoku managed 639 yards, 4 touchdowns, and a TE9 finish. That might be his ceiling. There simply won't be enough targets to go around for the Browns to keep him as a solid TE1.
(Current PFF best ball rank: TE13)
I've been riding the anti-Olsen train longer than anyone. The last time he was truly a good tight end for fantasy was 2016, which you probably know, but what you might not know is that his struggles started in the middle of 2016, not the start of 2017. Over his last 26 career games (since Carolina's 2016 bye), Olsen has 85 receptions, 945 receiving yards, and 6 touchdowns. Over a 16-game season, that works out to 132.6 PPR points, or TE12 in 2018 in the worst TE season in generations. Add in his increasing fragility, his increasing age, and his increasing might-just-retire-and-work-on-Monday-Night-Football, and I'm steering all the way clear.
(Current PFF best ball rank: TE17)
Rudolph finished the year as the PPR TE7, respectable enough as a ranking if you ignore that it was the worst TE7 season in a decade. Take out Week 16, though, and Rudolph falls all the way to TE14. More than 20% of Rudolph's season scoring (21.9%, in fact) came in that single Week 16 game, and even worse than that, 7.5% of his season scoring came on that one Hail Mary he caught in that Week 16 game. That one big game made Rudolph's full season look respectable. The truth is that Rudolph has 76 targets each of the two years, with declining scoring efficiency. He's not fantasy viable anymore.