Famously, we haven't seen a running back lead the position in PPR scoring in consecutive years since Priest Holmes in 2002 and 2003. That means we're fast coming up on two decades with turnover atop the position every season.
Saquon Barkley, who led the position in scoring in 2018, has as good a chance at a repeat season as any back in a while, but the rigors of the position are such that even last year's top fantasy rookie isn't anywhere near as much a favorite to top his position as Patrick Mahomes is to lead at quarterback. Today, we're going to attempt to handicap the candidates to finish atop the position in 2019.
As a reminder, this isn't just a breakdown of the top of the position. There are backs who have a high floor, seem like virtual certainties to be top-10 finishers, but don't carry RB1 ceiling. And there are backs who could reasonably finish as the No. 1 if everything breaks right, but carry a lower reasonable floor than others and show up with a lower PFF staff ranking than other backs who might not have the RB1 ceiling. In short: We are just looking at the candidates for the No. 1 overall back.
The prototype
Across the last decade, these are the average stats of the No. 1 fantasy running back each year:
| | | | | | | | |
| --- | --- | --- | --- | --- | --- | --- | --- |
| Att | Yds | TD | Tgt | Rec | Yds | TD | Pts |
| 297.2 | 1466.6 | 12.6 | 87.2 | 69.3 | 654.1 | 3.5 | 378.0 |
Even as the 300-carry running back has largely become a thing of the past (we've had exactly one back with 300-plus carries each of the last four years, two in 2014), the top back generally maintains close to that mark in carries and adds in 80-ish targets. This stands to reason, of course, as the biggest factor in predicting running back success is opportunity.
Every No. 1 back in the last decade except Devonta Freeman in 2015 has had at least 1,200 rushing yards, and every No. 1 back in the last decade except Adrian Peterson in 2012 has had at least 500 receiving yards. If a back isn't relatively safe to at least think about both of those numbers, he isn't a candidate for No. 1.
The favorites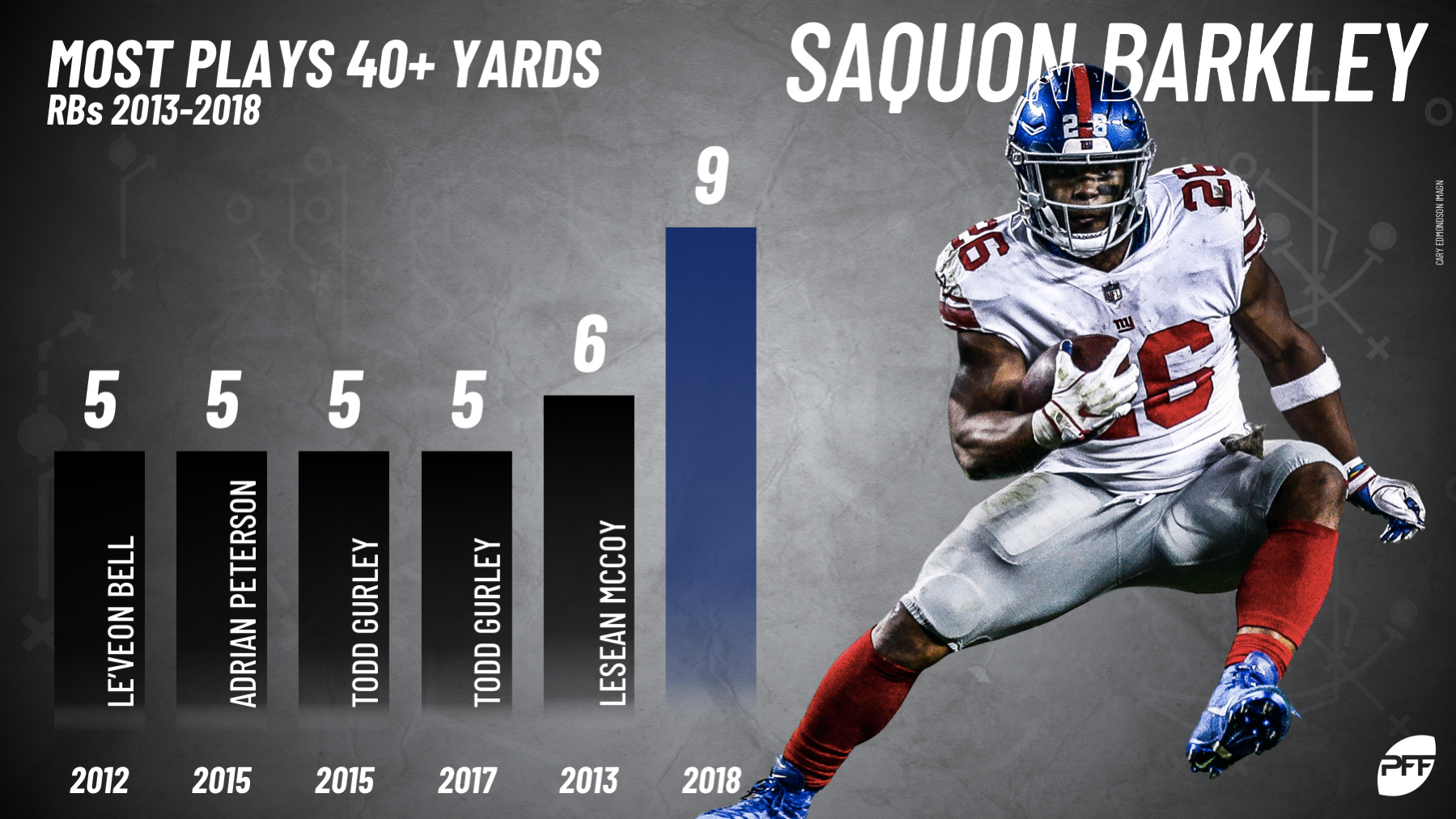 Barkley led the league in RB fantasy scoring in 2018, and while it was the lowest league-leading total in the last three years, it also would have been the No. 1 RB score every year 2011-2015. So it was in no way a fluke for the rookie to lead the league. He finished third in RB targets (behind Christian McCaffrey and James White), second in receptions, second in carries (behind Ezekiel Elliott), and third in touchdowns (behind Todd Gurley and Alvin Kamara). And now the team's other best offensive weapon, Odell Beckham Jr., is gone.
What would have to happen: Barkley would just need to do what he did in 2018 again, or close. The problem with that is his big plays — Barkley had nine plays of 40-plus yards last year, five more than any other running back in 2018; the last back with more than five such plays in a season was LeSean McCoy, with six in 2013. Big plays are definitely a huge part of Barkley's game, but if he comes back to the field even a little in that regard, his grasp on No. 1 becomes more tenuous.
What are his chances? Pretty good. Barkley was barely the No. 1 in 2018 (less than a point over McCaffrey), so he's hardly the overwhelming favorite, but if you're forced to pick one name, it should be him.
End the 2018 season just a week earlier, and McCaffrey would have been the RB1, and Barkley passed him largely because the Panthers gave their back most of Week 17 off, holding him to only five touches. That, combined with the fact that he finished as the No. 2 by less than a point, makes the whole thing feel like an injustice until you note that McCaffrey had only been RB1 for a single week himself.
What would have to happen: In short, McCaffrey would have to repeat last year. That's easier said than done, though, as McCaffrey just set the all-time record in RB receptions, and he went from being just about his team's only competent weapon at the start of 2018 to one of several in 2019, with developments from D.J. Moore and Curtis Samuel and an expected healthy return from Greg Olsen.
What are his chances? Still strong, just because McCaffrey is maybe the most versatile back in the game right now, but if he falls off at all in receiving totals, his chances drop.
In Weeks 1-4 last year, with Mark Ingram serving a suspension, Kamara wasn't only the No. 1 fantasy running back, he was running away with the crown, almost 28 points ahead of No. 2 Gurley and more than 40 ahead of No. 4 Barkley. Kamara was still excellent the rest of the way (RB5 from Week 5 on), but not quite the world-beater he had been. Well, Ingram is gone now. Latavius Murray has been brought in in his place, and he could take over a big chunk of the Ingram role, especially near the end zone, but Kamara-without-Ingram has been dominant.
What would have to happen: Murray would need to not be a huge part of the offense. The Saints have been a running back fantasy machine for a generation now, so if Kamara gets that role all to himself, he could be incredible.
What are his chances? So-so. The Saints gave Murray a four-year deal this offseason, which is not the sort of investment you'd expect in a running back who is only a backup. Still, Kamara's ceiling is high.
The second tier
Elliott has been one of the dominant fantasy forces since entering the league three years ago; he is fourth in PPR points per game across the last three years, and none of the three names ahead of him (Le'Veon Bell, Barkley, Kamara) has actually played in all three of those seasons. Still, his game reached another level in 2018, as Barkley put up nearly 33% more receptions in 2018 alone than he had in his career to that point. Even at that, Elliott's receiving (77 receptions, 91 targets, 567 yards, 3 touchdowns) was on the lower end of the expected threshold for a No. 1 back.
What would have to happen: Elliott would at least have to repeat his breakout receiving year from a year ago if not add to it. There is reason to think he can do that, with little on the team's receiving end outside of Amari Cooper and the team's ostensible receiving back in 2018, Rod Smith, gone, but that's what Elliott would have to do.
What are his chances? Middling. Asking a back who went from 32 and 26 receptions in his first two years to 77 in his third to do that again or offer even more production might be asking too much.
Gurley has led the league in PPR points per game in each of the last two years, actually improving in that regard from 2017 to 2018. The only reason he didn't finish 2018 as the RB1 was that he missed two games late in the season to injury. You'd expect, if Gurley is fully healthy again in 2019, he'd be right up at the top again.
What would have to happen: First off, we'd need to see that Gurley is fully healthy, and there are persistent rumors that might not totally be the case. That the Rams didn't fully commit to Gurley in the playoffs in favor of had-just-been-unemployed C.J. Anderson is not a great sign.
What are his chances? If the Rams had ignored the RB position in the draft, Gurley would probably be in the favorites tier. Because they expended decent draft capital to bring in Darrell Henderson, Gurley's red flags shine even brighter. He's always a threat, but we'd have to call him second tier now.
Longer shots
Our own Scott Barrett has explained why he pegs Johnson as one of his top bounceback candidates for 2019, and that was before we knew for sure the Cardinals would draft Kyler Murray and definitely before we knew they'd add Andy Isabella and Hakeem Butler to a receiver corps that could definitely use the help. A faster-paced offense with a run-competent quarterback and more threats in the pass-catching game can only bode well for the running back who in 2016 put up the best fantasy season at the position we've seen since 2006.
What would have to happen: Basically, the Cardinals would have to come through with exactly as exciting a season as everyone hopes they can do with Murray at quarterback, Kliff Kingsbury at head coach, and expectations very high. The Cardinals finished 31st in the league in offensive plays in 2018 and a distant 32nd in points; those numbers would nearly have to reverse for Johnson to get back to the top.
What are his chances? They'd be better if the Cardinals hadn't treated the offensive line largely as an afterthought this offseason. They signed the deteriorating J.R. Sweezy late in free agency and traded for the oft-injured Marcus Gilbert, but otherwise they didn't do much to help a unit that was a disaster last year. Johnson is a fairly sure top-10 running back, but without more help from his line, overall RB1 might be a stretch.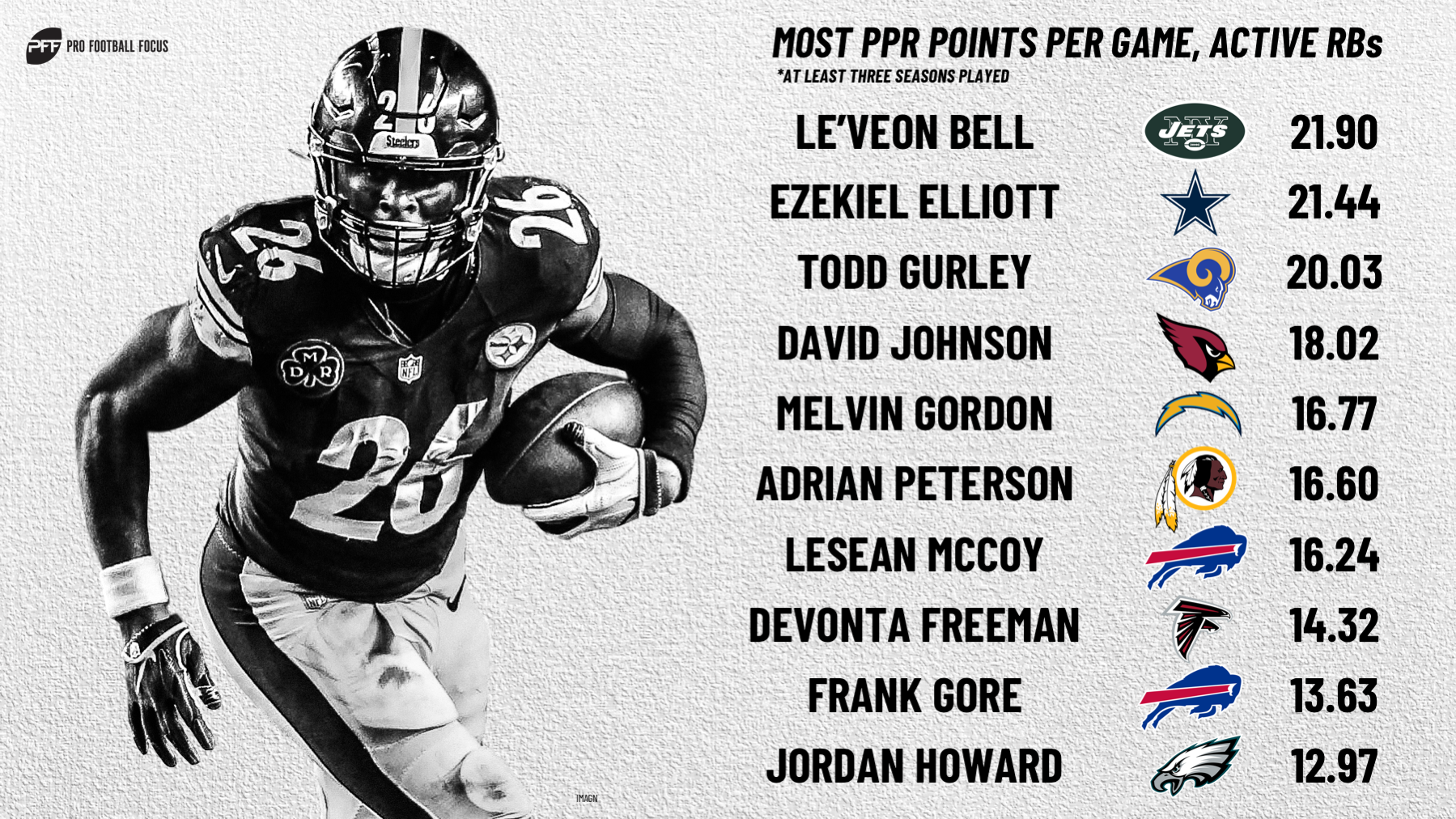 Bell finished as the No. 1 back in 2014, then third in 2016 (in 12 games) and second in 2017 (in 15). Around those, Bell played only six games in 2015 and of course missed all of 2018. In other words, when he plays, he's dominant. Bell is 27 now and heading to the Jets, but everything that was in his skillset before is still there now.
What would have to happen: The Jets offense would need to take the next step. Under 2018 rookie Sam Darnold, the Jets finished the season with the 10th-fewest points in the league. They did score 20-plus in four straight games Weeks 13-16 as Darnold crested late in the year, but that was not an offense that could support the RB1.
What are his chances? Low. There still isn't enough offensive firepower in New York, and with Elijah McGuire and (especially) Ty Montgomery in the backfield as well, Bell won't dominate the work like he did in Pittsburgh.
Conner played every game through Week 13 but got hurt that week and missed the next three games. At that point, he was RB5 for the year, behind Gurley, Barkley, McCaffrey, and Kamara. That's not bad at all, considering he was supposed to a backup entering the year and didn't know for sure he'd have the No. 1 job to himself for the entire first half. With Bell now fully out of the picture, Conner should have no concerns over the lead role.
What would have to happen: We know Conner will have the lead back role. But Jaylen Samuels performed well enough with Conner hurt late in the year and the Steelers took Benny Snell in the draft, so we'll need to see Conner hold them off for full bell-cow work for him to have any shot here.
What are his chances? Low. Even dominating the Steelers backfield workload and blowing all expectations out of the water, Conner was a full 60 points shy of Gurley at the time of his injury and almost 20 behind fourth-place Kamara. If Samuels and/or Snell take any of the work, Conner's ceiling is lowered.
The top 20 running backs on (very subjective) likelihood of finishing as RB1 only
1. Saquon Barkley, New York Giants
2. Christian McCaffrey, Carolina Panthers
3. Alvin Kamara, New Orleans Saints
4. Ezekiel Elliott, Dallas Cowboys
5. Todd Gurley, Los Angeles Rams
6. David Johnson, Arizona Cardinals
7. Le'Veon Bell, New York Jets
8. James Conner, Pittsburgh Steelers
9. Melvin Gordon, Los Angeles Chargers
10. Joe Mixon, Cincinnati Bengals
11. Dalvin Cook, Minnesota Vikings
12. Aaron Jones, Green Bay Packers
13. Josh Jacobs, Oakland Raiders
14. Nick Chubb, Cleveland Browns
15. Devonta Freeman, Atlanta Falcons
16. Leonard Fournette, Jacksonville Jaguars
17. Phillip Lindsay, Denver Broncos
18. Marlon Mack, Indianapolis Colts
19. Derrius Guice, Washington
20. Tarik Cohen, Chicago Bears