A single mock fantasy football draft isn't going to give an entire picture of the draft season. That's why you should participate in several of them to get ready for the fantasy season. But one draft can give ideas or a picture of how things might go.
The PFF Fantasy team and several big-name outsiders got together over the last week for a 12-team PPR slow mock. This field helps to answer some of the most pressing questions for drafts in 2019, all centered around "Where does this position go?" Some of the biggest queries for this year include when to take the first wide receiver, tight end, and quarterback, and for the latter two positions, how long after the first player is taken to go for the second.
Again, a single draft won't paint a complete picture of what to expect from the year's drafts — especially an analyst-heavy draft that skews more, to name a single strategy, to "wait on QBs" — but it's an excellent starting point.
Check out the draft recap below, with analysis of some of the teams' specific strategies. First, the participants:
Now, the draft.
The first round
The question of the first round in drafts this season is primarily going to be when to deviate from running backs and start taking wide receivers, and also whether the top tight end makes it into the first. We got those answered here: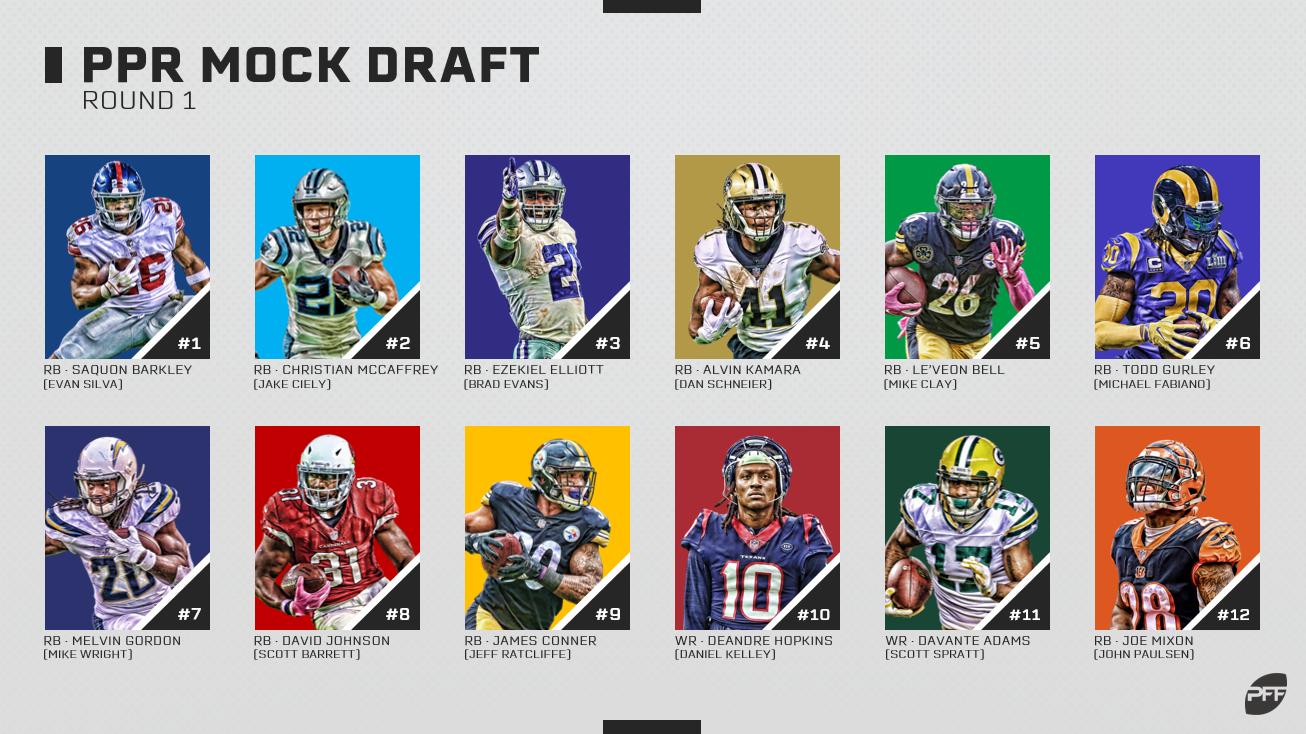 | | | | | |
| --- | --- | --- | --- | --- |
| Pick | Owner | Player | Pos | Team |
| 1.01 | Silva | Saquon Barkley | RB | NYG |
| 1.02 | Ciely | Christian McCaffrey | RB | CAR |
| 1.03 | Evans | Ezekiel Elliott | RB | DAL |
| 1.04 | Schneier | Alvin Kamara | RB | NO |
| 1.05 | Clay | Le'Veon Bell | RB | NYJ |
| 1.06 | Fabiano | Todd Gurley | RB | LAR |
| 1.07 | Wright | Melvin Gordon | RB | LAC |
| 1.08 | Barrett | David Johnson | RB | ARZ |
| 1.09 | Ratcliffe | James Conner | RB | PIT |
| 1.10 | Kelley | DeAndre Hopkins | WR | HOU |
| 1.11 | Spratt | Davante Adams | WR | GB |
| 1.12 | Paulsen | Joe Mixon | RB | CIN |
Running backs went with the first nine picks before DeAndre Hopkins went 10th. I broke the seal, as it turned out — something I alluded to a few weeks ago in my dive into early ADP. The gap between the top running backs and the middle ones is so much greater than the gap at wide receiver that it makes all the more sense to take a top running back. If anything, I could argue that I might have wanted to go Joe Mixon over Hopkins there, but I think Mixon presents the first significant step down in value in the RB tiers, and Hopkins is among the safest bets in the game.
Other takeaways: Todd Gurley's slide has begun, but not in earnest yet — he fell to sixth in this draft, behind the names most might have expected entering draft season plus Le'Veon Bell. You might be able to get him even later when drafts get going. … Davante Adams went to Scott Spratt right after I took Hopkins before John Paulsen brought us back to running backs with Mixon.
The second round
The second round answered the tight end question and also illustrated that a balanced roster is likely to be the dominant approach in 2018.
| | | | | |
| --- | --- | --- | --- | --- |
| Pick | Owner | Player | Pos | Team |
| 2.01 | Paulsen | Michael Thomas | WR | NO |
| 2.02 | Spratt | Julio Jones | WR | ATL |
| 2.03 | Kelley | Odell Beckham Jr. | WR | CLE |
| 2.04 | Ratcliffe | Antonio Brown | WR | OAK |
| 2.05 | Barrett | Travis Kelce | TE | KC |
| 2.06 | Wright | JuJu Smith-Schuster | WR | PIT |
| 2.07 | Fabiano | Mike Evans | WR | TB |
| 2.08 | Clay | Dalvin Cook | RB | MIN |
| 2.09 | Schneier | Nick Chubb | RB | CLE |
| 2.10 | Evans | Keenan Allen | WR | LAC |
| 2.11 | Ciely | T.Y. Hilton | WR | IND |
| 2.12 | Silva | Adam Thielen | WR | MIN |
Travis Kelce went with the fifth pick in the second round to Scott Barrett — who is on the record as saying that Kelce might even be worth a first-rounder in 2019. It was 10 picks before the other two of the top-three tight ends went, and Round 5 before anyone else went, so the established value gap at the position this year is clear.
Other takeaways: Of the 10 teams that went running back in the first, eight went pass-catcher in the second, while both teams that went receiver in the first stuck with receiver. The end result: 8/12 teams started balanced (RB/WR or RB/TE), two went RB/RB (Dan Schneier and Mike Clay), and two went WR/WR (Spratt and me).
Now, with the first two rounds out of the way, drafts start to become more a question of team structure than round structure, so from here I'll look at specific roster structures that stuck out to me.
Wait on everything
Scott Barrett roster
Position
Player
Team
Pick
QB
Patrick Mahomes
KC
3.08
QB
Drew Brees
NO
11.08
RB
David Johnson
ARZ
1.08
RB
Miles Sanders
PHI
5.08
RB
LeSean McCoy
BUF
8.05
RB
Jalen Richard
OAK
13.08
WR
Robert Woods
LAR
4.05
WR
Allen Robinson
CHI
6.05
WR
Golden Tate
NYG
7.08
WR
Malcolm Brown
BAL
9.08
WR
DeSean Jackson
PHI
10.05
WR
Adam Humphries
TEN
14.05
TE
Travis Kelce
KC
2.05
TE
Delanie Walker
TEN
12.05
K
Mason Crosby
GB
16.05
DST
Minnesota Vikings
15.08
Our own Scott Barrett took David Johnson in the first round (a pick that is in line with his typical advice this season) and then only one more running back (Miles Sanders in the fifth) until the eighth round, only taking four running backs total. You'd expect that roster to be top-heavy at receiver, except that he also didn't take a receiver (Robert Woods) until the fourth round and only had one through five rounds. That's because he followed Kelce in the second up with Patrick Mahomes in the third. If Mahomes puts up a 2019 anything like his 2018, especially with he prospect of Tyreek Hill being gone for most or all of the year and Kelce being an absolute target monster, Barrett's team could benefit, but it's an unusual approach.
Modified zero-RB
Evan Silva roster
Position
Player
Team
Pick
QB
Jameis Winston
TB
13.01
QB
Tom Brady
NE
15.01
RB
Saquon Barkley
NYG
1.01
RB
Tevin Coleman
SF
6.12
RB
Darrell Henderson
LAR
7.01
RB
Kareem Hunt
CLE
8.12
RB
Jordan Howard
PHI
9.01
RB
Justice Hill
BAL
11.01
RB
Mike Davis
CHI
14.12
WR
Adam Thielen
MIN
2.12
WR
A.J. Green
CIN
3.01
WR
Chris Godwin
TB
4.12
WR
Tyler Lockett
SEA
5.01
WR
Keke Coutee
HOU
10.12
TE
Chris Herndon
NYJ
12.12
K
Adam Vinatieri
IND
16.12
With the first overall pick in the draft, Evan Silva took Saquon Barkley, probably the dominant No. 1 overall pick in 2019. And then he ignored the position until the Round 6/7 turn, taking Adam Thielen, A.J. Green, Chris Godwin, and Tyler Lockett before returning to the position. Silva took only running backs and wide receivers through 11 rounds of the draft before finally looking to quarterback and tight end, so it's not like he left those positions light … but he definitely needs Barkley to be Barkley again.
RB-first rosters
Dan Schneier roster
Mike Clay roster
Position
Player
Team
Pick
Position
Player
Team
Pick
QB
Matt Ryan
ATL
11.04
QB
Ben Roethlisberger
PIT
14.08
QB
Jimmy Garoppolo
SF
14.09
RB
Le'Veon Bell
NYJ
1.05
RB
Alvin Kamara
NO
1.04
RB
Dalvin Cook
MIN
2.08
RB
Nick Chubb
CLE
2.09
RB
Derrick Henry
TEN
4.08
RB
Kerryon Johnson
DET
4.09
RB
James White
NE
5.05
RB
Peyton Barber
TB
9.04
RB
Austin Ekeler
LAC
10.08
RB
Carlos Hyde
KC
10.09
RB
Duke Johnson
CLE
15.05
WR
Calvin Ridley
ATL
5.04
WR
Amari Cooper
DAL
3.05
WR
Sterling Shepard
NYG
6.09
WR
Robby Anderson
NYJ
6.08
WR
N'Keal Harry
NE
7.04
WR
Tyreek Hill
KC
7.05
WR
Courtland Sutton
DEN
8.09
WR
Emmanuel Sanders
DEN
8.08
WR
Tre'Quan Smith
NO
12.09
WR
Tyrell Williams
OAK
11.05
TE
Zach Ertz
PHI
3.04
WR
Jamison Crowder
NYJ
12.08
TE
Austin Seferian-Jenkins
NE
13.04
TE
Jared Cook
NO
9.05
K
Jake Elliott
PHI
16.09
K
Michael Badgley
LAC
16.08
DST
Los Angeles Rams
15.04
DST
Chicago Bears
13.05
The two teams that went RB/RB to start the draft combined to have one wide receiver through four rounds and one receiver each through five, as Dan Schneier followed his first two rounds up with Zach Ertz and Kerryon Johnson before taking Calvin Ridley, while Mike Clay took Amari Cooper in the third before going back to running back with Derrick Henry and James White. The end result is that both teams are very strong at running back but have more question marks at receiver. Clay's third and fourth receivers are Tyreek Hill (who might not see the field at all) and Emmanuel Sanders (who is recovering from a late-season Achilles tear and carries a load of question marks), while you could argue Schneier came out of the draft without a single receiver who will be his team's No. 1.
WR-first rosters
Daniel Kelley roster
Scott Spratt roster
Position
Player
Team
Pick
Position
Player
Team
Pick
QB
Deshaun Watson
HOU
7.10
QB
Russell Wilson
SEA
9.11
RB
Josh Jacobs
OAK
3.10
RB
Aaron Jones
GB
3.11
RB
Marlon Mack
IND
4.03
RB
Chris Carson
SEA
4.02
RB
Lamar Miller
HOU
6.03
RB
Rashaad Penny
SEA
7.11
RB
Ronald Jones
TB
9.10
RB
Kalen Ballage
MIA
11.11
RB
Kenneth Dixon
BAL
12.03
RB
Jamaal Williams
GB
13.11
WR
DeAndre Hopkins
HOU
1.10
RB
Spencer Ware
IND
14.02
WR
Odell Beckham Jr.
CLE
2.03
WR
Davante Adams
GB
1.11
WR
Corey Davis
TEN
5.10
WR
Julio Jones
ATL
2.02
WR
Curtis Samuel
CAR
8.03
WR
D.J. Moore
CAR
5.11
WR
Parris Campbell
IND
10.03
WR
Alshon Jeffery
PHI
6.02
WR
John Brown
BUF
11.10
WR
Dante Pettis
SF
8.02
TE
Trey Burton
CHI
13.10
WR
Marquez Valdes-Scantling
GB
12.02
TE
Jack Doyle
IND
14.03
TE
David Njoku
CLE
10.02
K
Ka'imi Fairbairn
HOU
16.03
K
Justin Tucker
BAL
16.02
DST
New England Patriots
15.10
DST
Seattle Seahawks
15.11
It might be easier to take running backs early and follow up with the lower-tier receivers than the inverse, but (and yes, I'm clearly biased here) I like the results better when going WR early. In addition to having incredible WR corps (DeAndre Hopkins and Odell Beckham Jr.; Davante Adams and Julio Jones), both Spratt and I went with running backs in the third and fourth rounds, and while Josh Jacobs, Aaron Jones, and company aren't the theoretical guarantees that the first-round backs are, their upsides and chances at being bell cow backs are better (for my money) than the chances of Calvin Ridley and Robby Anderson to be monster receivers.
Quarterbacks
Here's where the quarterbacks went:
| | | |
| --- | --- | --- |
| 3.08 | Patrick Mahomes | Barrett |
| 7.10 | Deshaun Watson | Kelley |
| 8.05 | Andrew Luck | Ratcliffe |
| 9.02 | Baker Mayfield | Ciely |
| 9.03 | Aaron Rodgers | Evans |
| 9.11 | Russell Wilson | Spratt |
| 10.07 | Cam Newton | Fabiano |
| 8.04 | Matt Ryan | Schneier |
| 8.06 | Kyler Murray | Fabiano |
| 8.08 | Drew Brees | Barrett |
| 13.01 | Jameis Winston | Silva |
| 13.07 | Jared Goff | Wright |
| 13.09 | Carson Wentz | Ratcliffe |
| 13.12 | Dak Prescott | Paulsen |
| 14.08 | Ben Roethlisberger | Clay |
| 14.09 | Jimmy Garoppolo | Schneier |
| 14.10 | Josh Allen | Evans |
| 15.01 | Tom Brady | Silva |
Obviously, an analyst-heavy draft like this one is going to skew toward the "wait on quarterback" approach. So the specific rounds the various quarterbacks went in might not be illustrative. But the names that didn't get picked are noteworthy. Kirk Cousins. Philip Rivers. Lamar Jackson. Mitchell Trubisky. All of those names were sitting on the waiver wire at the end of the draft. Half of the teams in our league took backup passer — 18 total went off the board — and still guys with bona fide QB1 potential went undrafted. Even if your league skews more toward taking backup quarterbacks, there will still be big names available late.
Other draft notes
Drafts are about balancing risk and reward. To that end, Mike Clay took Tyreek Hill in the seventh, which means he could end up with a potential WR1 in the middle rounds, or he could have wasted a pick on a guy who will never see the field. Similarly, Brad Evans took Josh Gordon in the 11th, which could have been a pick wasted on a guy who will never play again or could be a pick spent on a guy with sky-high potential in a shallow depth chart. Risk, meet reward.
Again, because this was an analyst draft, some things happened that you can't count on in regular leagues. But the first DST didn't go off the board until the fifth pick of the 13th round, with Mike Clay taking the Bears. Even the most die-hard "wait on defense" draftnik out there probably wouldn't mind that pick — there's a huge difference between taking a defense in the ninth and taking the previous year's dominant No. 1 in the 13th.
Handcuffing wasn't a thing here — the Alvin Kamara owner didn't take Latavius Murray, the Todd Gurley owner didn't take Darrell Henderson, the Melvin Gordon owner didn't take Austin Ekeler. In fact, as far as I can tell, only one person took any teammate running backs, with Scott Spratt drafting Chris Carson and Rashaad Penny and Aaron Jones and Jamaal Williams.