Mock drafts are an invaluable part of fantasy football preparation. (If you haven't started them yet, head over to PFF's DraftMaster and get going.) But average draft position can be a helpful shorthand for that information as well. And it doesn't take very long at all for ADP to start to reveal some interesting bits of info that will turn into helpful hints come draft time.
Today, I'm taking a look at early ADP info (per Fantasy Football Calculator) to see what lessons we can already start to internalize for the 2019 season.
You'll probably want to go RB in the first
This is obvious for someone who has a top-five or so pick. In some order, the first four names off the board in most drafts will be Saquon Barkley, Ezekiel Elliott, Christian McCaffrey, and Alvin Kamara, with a handful of running backs in the conversation starting in that range. Currently, DeAndre Hopkins is the only non-running back going off the board inside of the first eight picks, and I'm not sure even he makes sense.
To wit: In a 12-team league, if you go Hopkins at No. 6 (his current ADP) and shoot for a running back on the return, ADP suggests you're likely to end up with Nick Chubb, Damien Williams, or Marlon Mack. If instead, you go with David Johnson (the next pick by ADP after Hopkins) and go receiver in the second, you can get Antonio Brown, Mike Evans, or Adam Thielen. Hopkins and one of those running backs is a good start, but it pales in comparison to Johnson and one of those receivers.
Obviously, let the draft come to you. If you have the 11th pick and are deciding between Joe Mixon or a receiver, you could easily argue a running back makes more sense. But on the whole in 2019, you'll want to go running back first.
If you want one of the 'big three' tight ends, take them early
Travis Kelce is going to be the consensus No. 1 tight end in fantasy this year, with Zach Ertz and George Kittle battling for second. Currently, they are going, respectively, 17th, 26th, and 31st by ADP. The next tight end off the board is Eric Ebron, 26 picks later. I've seen Kelce argued as early as late in the first round.
One of the things to know in fantasy snake drafts is that generally, you want to target a range of players and not a specific name. That way, if you want a group of four or five running backs at your pick but only one wide receiver, you're better served taking the receiver and expected one of those backs will make it back to you. But at tight end, if you don't take Kelce with your second-rounder (or so), you'll never get him, and the chances you can pass at taking Ertz or Kittle a bit early and hope on them falling are slim. If you think you want one of those three and they're available at your pick a little earlier than you might want, pounce, because you won't get another chance.
Mahomes is currently going off the board around the No. 24 pick, end of the second round. He's fallen the better part of a round over the last month, and pending how the Tyreek Hill issues play out, he could fall further or rebound. Either way, he's obviously the first quarterback off the board, with Andrew Luck second, almost twice as deep into drafts (47th overall). Aaron Rodgers and Baker Mayfield are going half a round later, Deshaun Watson after that.
If Mahomes performs in 2019 like he did in 2018, there is absolutely an argument for taking him at his current ADP or even higher. But then that's asking a player to repeat an all-time great season without the top-flight running back he had for two-thirds of the year and possibly without the top-tier wide receiver he had the whole year. Mahomes should probably be the first quarterback in drafts this year, but his current ADP is asking too much.
Speaking of quarterbacks, beware Baker Mayfield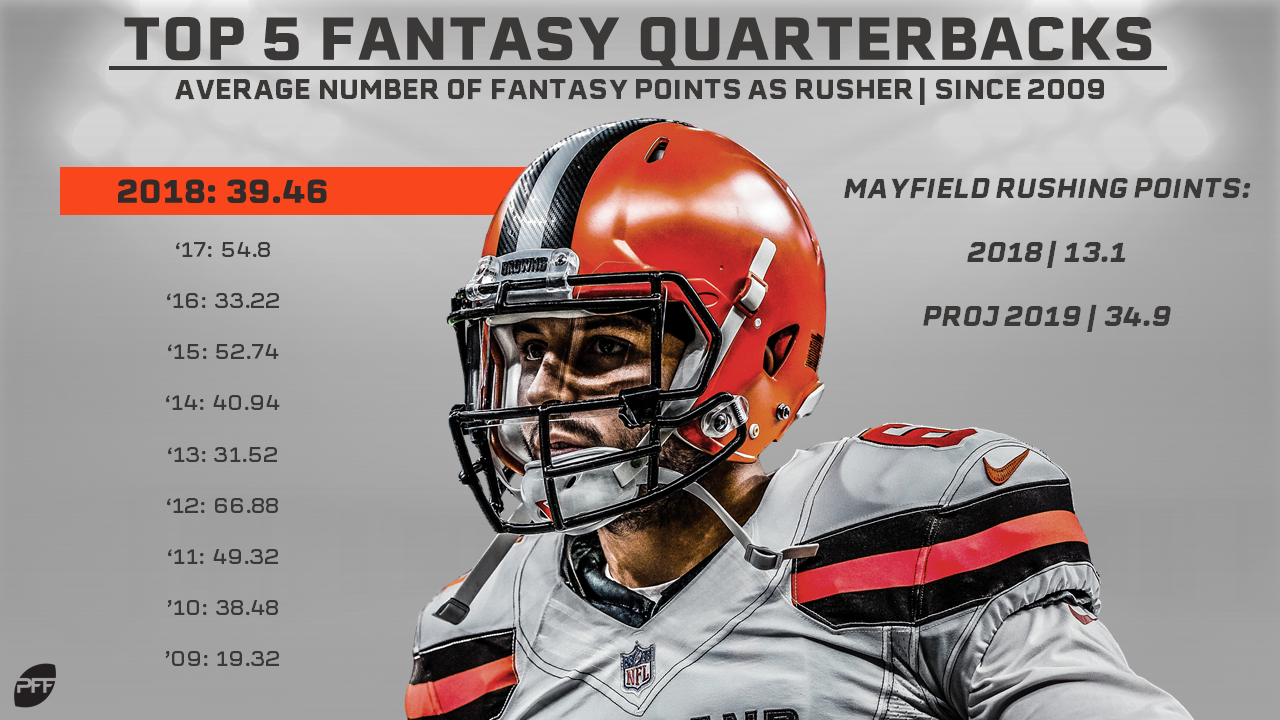 The Browns quarterback is as appealing as they come right now (which is such a weird sentence to write), but his fantasy draft position is a little out of control right now. Most of the other top quarterback — Luck, Rodgers, Watson, Russell Wilson — all offer a fair amount of production with their legs, and the other top names — Mahomes, Matt Ryan, Drew Brees — have resumes of monster production. Mayfield could be electric as a passer in 2019 with the weapons the Browns have given him, but odds are he's never going to be a big-time runner (he never even had a 70.0 PFF grade as a runner in college), and that keeps his fantasy ceiling lower than other top passers. He could be huge in 2019, but drafting him fourth at the position might be an overbid.
Amazing we have to say it again, but just say no to the early DST
It happens every year. This year, the Bears defense carries an ADP of 92nd overall. That's higher than Corey Davis, Cam Newton, and Miles Sanders. Y'all gotta stop.
A note I made a year ago:
Last decade:
• The No. 1 DST has been drafted seventh or worst every year. (Per Fantasy Football Calc)
• The top-drafted DST has an average DST finish of 9.5. https://t.co/JQ0L9mOfo2

— Daniel Kelley (@danieltkelley) August 5, 2018
That information is now a year old, of course. So:
The 2018 top-drafted defense, Jacksonville, finished the year 14th.
The top fantasy defense in 2018, Chicago, was drafted 10th.
Just don't draft your defenses early. It's not a good strategy. It's not it's not it's not.