A few weeks removed from a few blockbuster trades involving first-round draft picks, we have now all grown comfortable with the world where the San Francisco 49ers and Kyle Shanahan own the No. 3 overall selection — the first spot in the 2021 NFL Draft where some uncertainty exists.
We assume those first two picks are largely set in stone and that the real chaos unfolds from that point onward. So let's put together a potential scenario in the form of my first 2021 NFL mock draft.
Editor's Note: This is what PFF Analyst Sam Monson would do as GM of all 32 NFL teams, not what he is predicting will happen.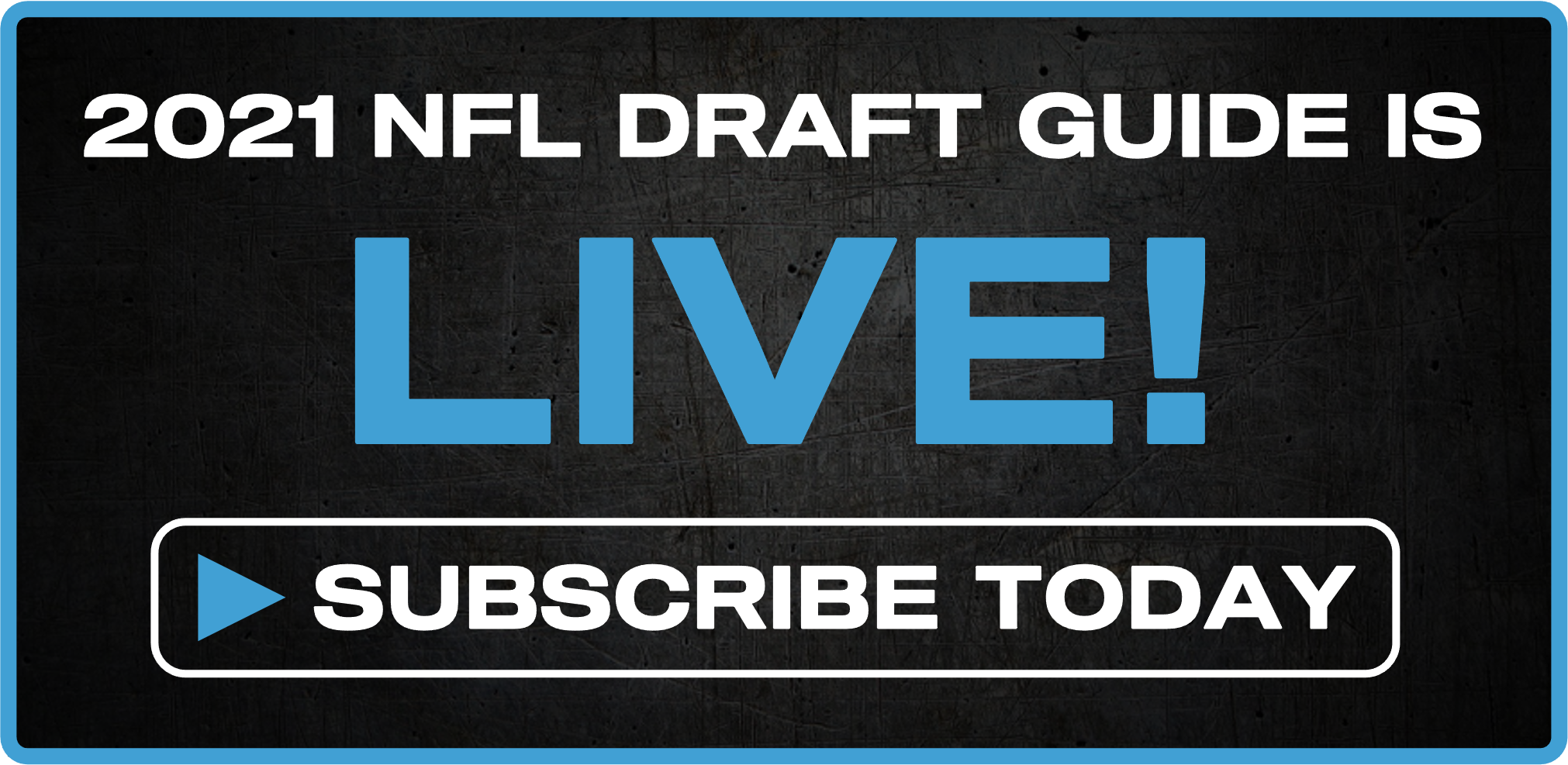 This selection has been penciled in for every mock draft since the Jets took themselves out of contention for the No. 1 overall pick. Lawrence becomes the face of the franchise for Urban Meyer and the new Jacksonville regime. Grab PFF's Draft Guide to see our complete breakdown on the best quarterback prospect since at least Andrew Luck.
Related: Trevor Lawrence continued to improve, and that's what separates him from the pack via Seth Galina
Zach Wilson has emerged as the clear No. 2 quarterback prospect in the draft and a likely lock for the Jets to grab at the same spot in the draft. New York's lack of confidence in Sam Darnold as the team's quarterback of the future was revealed after trading him to the Panthers.
Enter Wilson, who saw a Joe Burrow-esque rise up draft boards this season, lighting things on fire for BYU on his way to earning a 95.4 overall PFF grade — one of the highest marks in PFF College history. The questions about competition and sample size are fair, but Wilson's upside is huge. He will define the current regime in New York.
Related: 2021 NFL Draft: A look Into PFF's projections for BYU quarterback Zach Wilson via Eric Eager
The draft unofficially starts at No. 3 overall, with the 49ers making one of the most impactful decisions of the past several seasons. Having traded with Miami to move up this far, the team is essentially betting three first-round picks that the quarterback they select is not only a franchise player, but a significant enough upgrade over Jimmy Garoppolo to be worth that kind of investment.
I previously wrote that I could easily imagine Alabama's Mac Jones succeeding or even thriving in spite of limited physical tools, but I couldn't bring myself to gamble three first-round picks on it. At that point, I think Justin Fields is just the best bet to make. He was one of the most accurate passers we have ever seen in college, put together three straight seasons of elite PFF grades and provided a rushing threat at the position that Kyle Shanahan hasn't had since Robert Griffin III's rookie year in Washington.
Related: Projecting Ohio State QB Justin Fields' impact as an NFL player via Eric Eager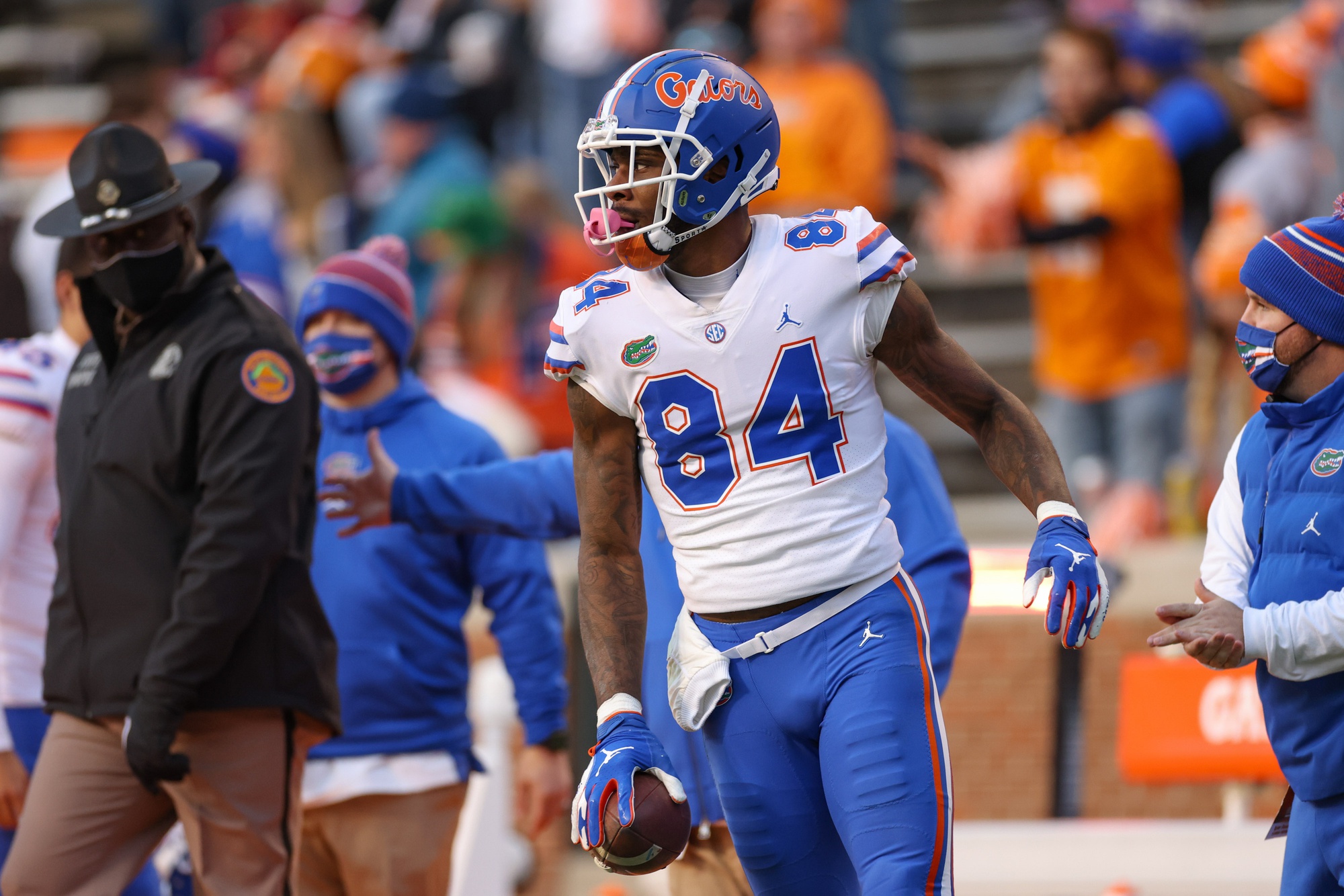 The Atlanta Falcons are reportedly open to trading the No. 4 overall pick, according to ESPN. The subtext to that report seems to indicate that the Falcons are desperately trying to drum up interest in that pick. They've suddenly found themselves in an awkward spot where the teams still in need of a passer don't feel they have to get up as high as this pick.
In an ideal world, Atlanta would trade down, but I don't see the team finding a dance partner. That leaves the Falcons to just pick the best available player, which is Kyle Pitts, in my opinion, even though he is listed as a tight end.
Despite that position designation, I think he is the best receiver in the draft and would still be a top-10 pick if he was listed as a wide receiver.
Pitts has special skills, and a quick run through his target list led me to create a draft profile that screams special talent.
The Bengals do indeed have to make a call on getting Joe Burrow some protection or an elite receiver with their first pick — an argument that has been raging for months. You can construct a solid case either way while addressing the other side with the team's top pick in the second round, which probably boils things down to which player Cincinnati prefers. Given that Burrow has a proven special connection with Chase from their national title-winning season in 2019, I think that breaks the tie.
Burrow to Chase resulted in 1,780 yards and 20 touchdowns that season, with some phenomenal passes. The Bengals aren't going to have success until they protect Burrow better, but they can address that issue in the second round.
Related: Don't forget about Ja'Marr Chase — PFF's WR1 via Mike Renner
Atlanta might find it hard to deal the fourth pick because a team such as Denver probably doesn't need to get that high to snag the player they want and leapfrog any potential rival.
I have the Broncos trading up with Miami, which has already demonstrated its willingness to accept the right deal to maximize value. There is a good chance the Dolphins traded back to No. 6 thinking that Ja'Marr Chase would still be there, but with him gone, they are happy to take advantage of Denver's desperation and net what should be another second-round pick in this draft.
Denver needs to make a move at quarterback. Drew Lock ranked 40th out of 42 quarterbacks last season in adjusted completion rate and 35th in overall PFF grade. The Broncos boast plenty of offensive weapons, so they shouldn't wait any longer for Lock to show viable play. Pivot to Trey Lance, who I think is actually far more ready to start Day 1 than many people give him credit for. 
Related: Why I vibe with North Dakota State QB Trey Lance via Seth Galina
Detroit is one of the biggest X-factors in the first round. With a new regime that has plenty of time to work after signing six-year contracts, the Lions are beginning a complete rebuild that doesn't rule out anything at this spot. 
They are a real threat to any team in need of a quarterback, but I don't think they will aggressively look to trade up for one or make the selection if they don't love the players that remain at No. 7, which is just Alabama's Mac Jones in this case.
The first pick of a new regime is often about setting a culture, and Penei Sewell represents a potentially generational talent at tackle. He recorded a 91.1 PFF pass-blocking grade as a 19-year-old, allowing just three total pressures on almost 500 pass-blocking snaps before sitting out the 2020 season. Sewell is also a monster in the run game and has room to develop even further at the next level.
The Panthers likely bowed out of the quarterback market after trading for Sam Darnold, betting on the narrative that his NFL struggles were the fault of the Jets and not a reflection of his inherent ability. It's not the easiest case to make, given Darnold's consistently ugly PFF grades even after factoring in the situation, but the Panthers are likely avoiding a quarterback at this spot unless one they love falls this far.
Darnold will enter into by far the best environment of his football career, but it's one that could get even better with the right pick on the offensive line. Here at the No. 8 spot, the Panthers grab a player who many are elevating as far as the top offensive lineman available in the entire draft.
Slater's PFF pass-blocking grade improved each year of his college career, and he surrendered just three total pressures on 355 pass-blocking snaps in 2019. His technique is arguably much cleaner than that of Sewell, and he faced tougher opposition. 
If I was in charge of the Miami Dolphins and this situation unfolded, I would be ecstatic. While Ja'Marr Chase is the No. 1 receiver on most draft boards, the only thing separating him from DeVonta Smith is the concern over Smith's playing weight, which has yet to actually prove to be any kind of issue.
Smith revealed at Alabama's Pro Day that he weighs 170 pounds, and that is also his playing weight, which puts him into some pretty unprecedented territory given his height and production.
NFL teams fear the unknown, and whether Smith's size will create problems at the NFL level when it didn't in college is an unknown, however much we would like to speculate either way. But if we assume that it doesn't cause any more issues than it did in the SEC, Smith could easily be the best receiver in this draft — one who wins in ways the Dolphins could really use in their receiver room: through separation and route running.
Smith gained almost 4.5 yards per route in 2020 on his way to winning the Heisman Trophy, and he generated at least a 130.0 passer rating for his quarterback in each season of his college career.
Related: 2021 NFL Draft Film Study — Alabama WR DeVonta Smith via Sam Monson
The Dallas Cowboys are one of the most need-driven teams when it comes to drafting, and even with cornerback Trevon Diggs playing well down the stretch in his rookie season, the team still needs a starting corner. In this mock, they have their pick of the position and grab a player with real NFL bloodlines in Patrick Surtain II, whose father was an elite cornerback himself back in the 2000s.
The younger Surtain plays with some of the best control and poise you will ever see at the cornerback spot. He is one of the only players I have ever studied who never gave up a big play on a double move in college. Surtain ticks all of the boxes in terms of athletic measurables and has the pedigree at an elite school in an elite conference. His only flaws are very coachable, and I think he has an incredibly high floor because of that. If the draft unfolded this way, Dallas should sprint to the podium with this pick.
Related: 2021 NFL Draft Profile — Alabama CB Patrick Surtain II via Sam Monson
The latest buzz projects Mac Jones to join San Francisco at No. 3 overall, but it wouldn't take anything crazy for him to endure a little mini-slide and end up being selected far closer to where we all assumed before that buzz started in earnest.
If Jones begins to fall, I envision the Patriots jumping up a few spots to grab a quarterback whose selling points are the same ones that Tom Brady brings to the table.
Expecting any rookie to be the next Brady is unrealistic, but the point is that while Jones has marginal physical tools and a 2000 Brady-esque physique, he possesses elite accuracy, decision making and an ability to diagnose a defense and process after the snap.
Jones reminded me a lot of Marc Bulger when I studied his tape, and Bulger at his peak was good enough that the Rams moved on from Kurt Warner, who was a league and Super Bowl MVP, not to mention one of the greatest stories in NFL history. Jones has the ability to operate an NFL offense well and be a success, and I would be a lot more comfortable in the gamble that the Patriots made here than the one the 49ers would make to take him at No. 3 overall.
Related: Mac Jones is just as good an NFL prospect as Tua Tagovailoa was, if not better via Seth Galina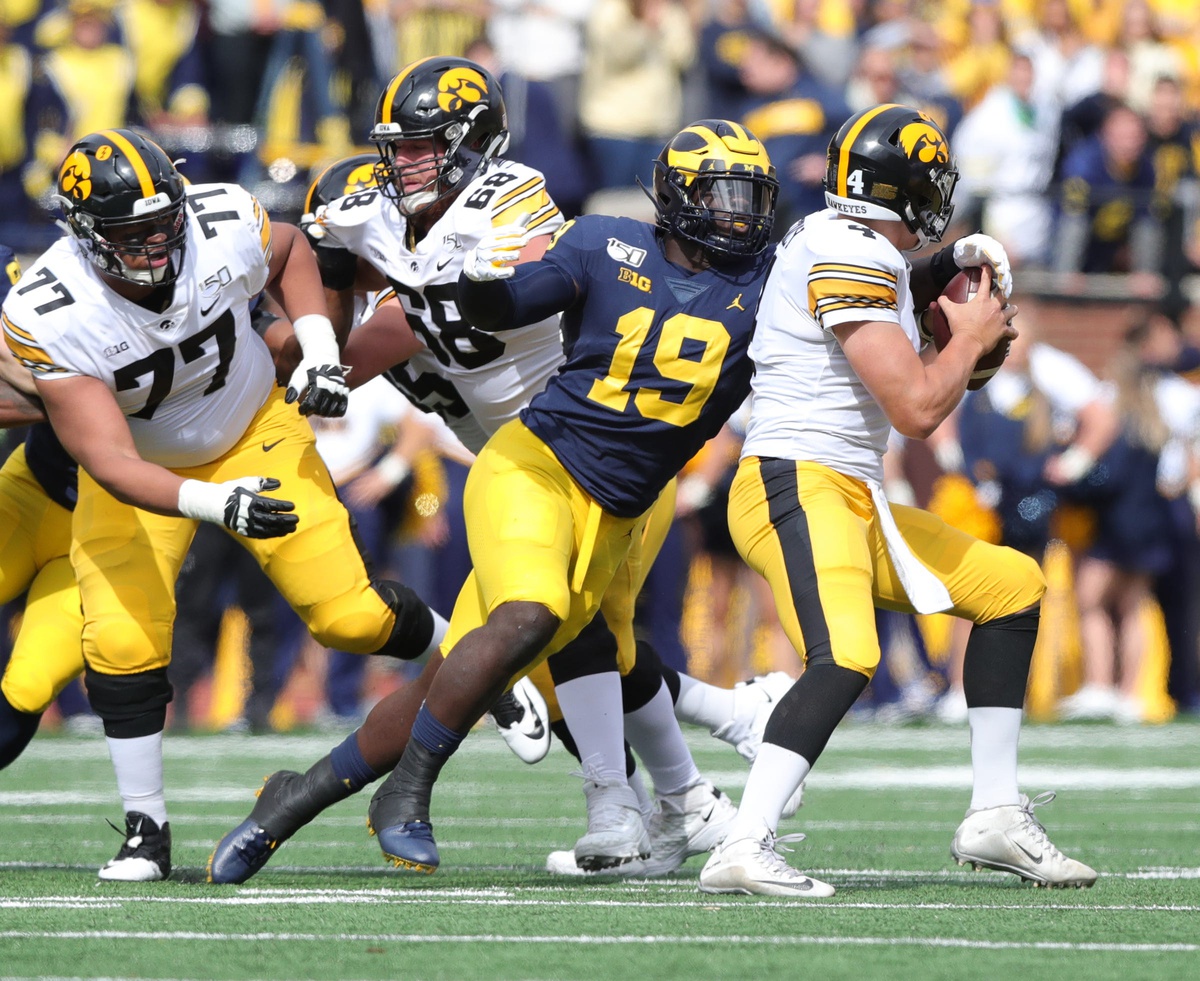 Philadelphia was at its best over the past few seasons when its defensive front could run seven-deep in terms of generating pressure. Fletcher Cox and Brandon Graham aren't getting any younger, while Derek Barnett never quite became the force the Eagles may have hoped for when drafting him. At this spot, they get to take their pick of the best defensive linemen in the draft, choosing to make Michigan's Kwity Paye the first selected.
Paye has freakish quick-twitch explosion and showed significant year-over-year improvement throughout his college career. That improvement is an important thing to see for a player who totaled only 1,326 snaps on defense over four years. He also has the size to line up inside and the experience of doing so, as well, giving him a pass-rushing versatility that not many players can match.
The Chargers' offseason mission was to overhaul the offensive line to put a capable unit in front of Justin Herbert, seemingly their quarterback of the future. Free agency was an excellent start, but they head into the draft with a glaring need at left tackle, filled here by Christian Darrisaw.
Darrisaw may be a step below the two tackles who go before him in the first round here, but he earned the best single-season PFF grade of any of them, with a 95.6 this past season for the Hokies.
The Vikings would shed a silent, single tear if Darrisaw went one pick before their chance to snag him. They end up pivoting back to a pick many were penciling in for this team before free agency. Minnesota may already have Michael Pierce returning and new free agent acquisition Dalvin Tomlinson on board, but neither of those players can rush the passer the way Barmore did in his final season at Alabama. There is space for all three to be impact players on the same line throughout a season. This is a pick that would anger a lot of Vikings fans, but it would be the smartest move in this situation.
The Giants don't draft linebackers up high very often, but in those rare instances, they look like Micah Parsons. The last linebacker New York selected in Round 1 was Carl Banks in 1984, but Parsons has a chance to be a legitimate tone-setter in a modern-day defense — not just a throwback to an obsolete 1980s brand of football.
Parsons' biggest questions come in coverage, where his highest career PFF grade was 68.5, but he brings blitzing skills that could help offset any issues at the next level.
Jaylen Waddle quietly polarizes the draft community. Those that believe in his projected upside think he resembles Tyreek Hill, who is one of the most dangerous receivers in the entire league. Waddle has a very similar skill set, but unlike Hill, he didn't show consistent versatility in terms of alignment or role in college. That doesn't mean he can't assume that same role, it just means it's a projection rather than already proven at the college level.
Even if Waddle is nothing but a blazing speedster with skills in space, he's a perfect fit for Arizona's offense and a player they would love to see fall to them. Christian Kirk saw 19 deep targets last year to lead the team, and those are all plays waiting for Waddle to make something special happen.
Related: 2021 NFL Draft Profile — Alabama WR Jaylen Waddle via Sam Monson
Arguably the best corner available when healthy, Caleb Farley has been rapidly slipping down draft boards — from a borderline top-10 pick at his peak to somewhere in the bottom third of the round, according to PFF's Mock Draft Simulator. Farley dealt with multiple back issues during his college career, and that will always scare teams, but if he checks out medically (and he reportedly did at the medical re-checks in Indianapolis), then the Raiders are the kind of team that would fall in love with his physical tools.
I have never seen a corner with the kind of recovery speed and burst to the football that Farley has. Those are traits the Raiders above most teams would find it very difficult to pass up.
The Miami Dolphins have multiple first-round picks, which gives them a rare opportunity to get much better in a single draft, but it also means they can chase upside with a little more risk in the picks than other teams that have just one swing at the bat.
Phillips has an exceptional athletic profile and was extremely good this past season, but his injury history is extensive and he has already walked away from the game once because of concussions. There is a greater than average chance that Phillips doesn't work out. If he does, though, the payoff is massive.
The Washington Football Team knew they didn't have a great chance at a franchise quarterback who could win right away, so they signed Ryan Fitzpatrick — a player who ranks 15th in PFF passing grade since the start of 2018. That was only part of the mission, because if Fitzpatrick is going to take the team back to the postseason, he needs a great situation around him. So, Washington set about adding to an already good roster in free agency.
Rashod Bateman is just one more weapon, dragging even more attention away from Terry McLaurin as the team's best receiver. Bateman doesn't really have negatives as a prospect, and in a year without the likes of Ja'Marr Chase in the same class, he would be seen as the best receiver in the entire draft.
Related: 2021 NFL Draft Profile — Minnesota WR Rashod Bateman via Sam Monson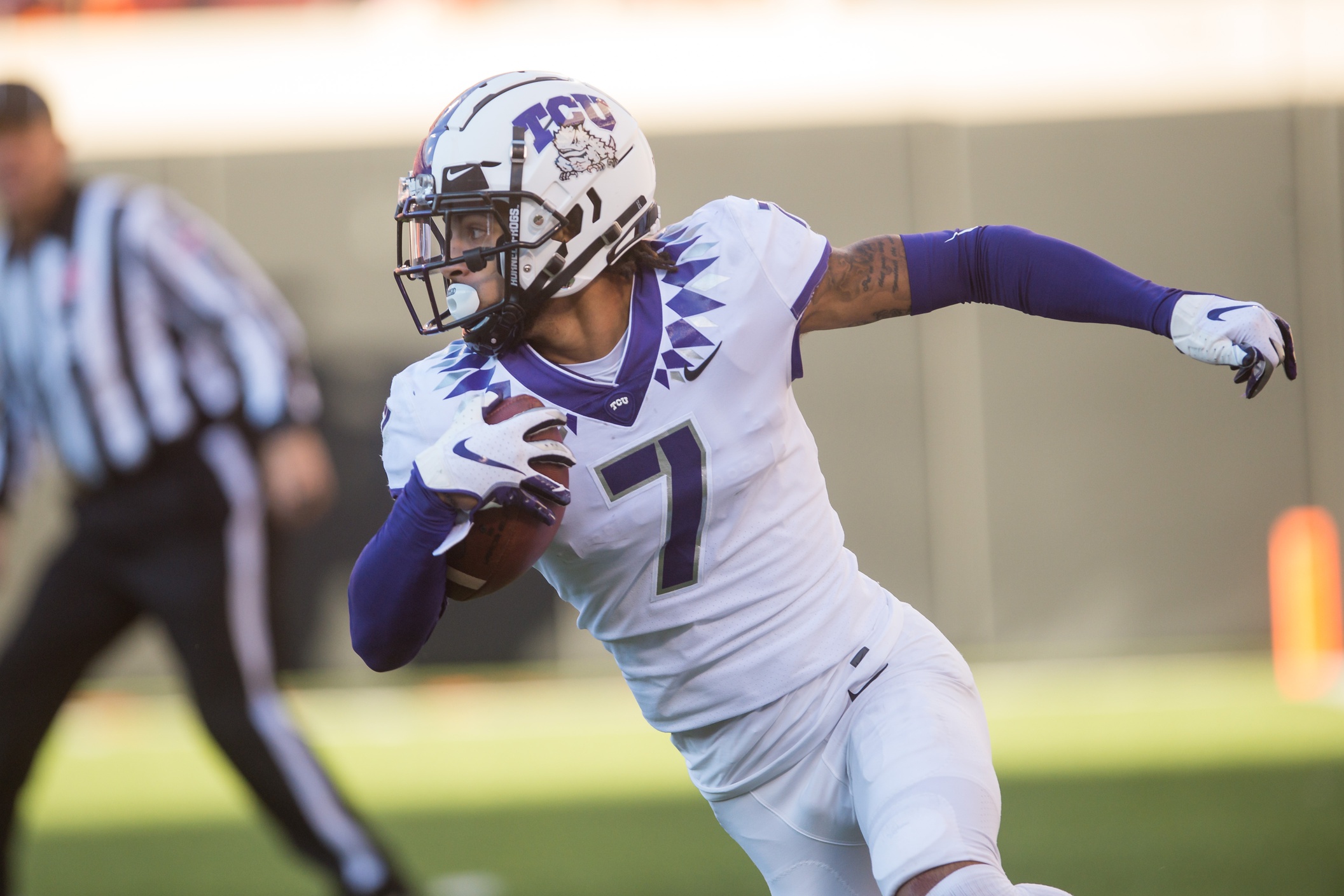 The Bears continue their offseason of less-than-exciting moves by drafting a safety in the first round. That's a glib statement, and to be fair to Moehrig, he led all safeties in pass breakups in each of the past two college seasons and brings the kind of impact playmaking to a Chicago secondary that has seen it ebb away over the past couple of years. He has the potential to bolster that back end and return it to a real strength of the team in 2021.
The Colts have targeted athletic playmakers on defense over the past couple of seasons under general manager Chris Ballard, and while they haven't all panned out, the team has an impressive hit rate.
At 6-foot-5 and 257 pounds, Jayson Oweh ran a 4.39-second 40-yard dash at Penn State's Pro-Day, and even adjusting for the home track boost, that's a phenomenal time. When paired with a broad jump over 11 feet and a three-cone time in the 6.8s, Oweh had five different speed or explosion measures rank in the 95th percentile or better. His college pass-rush grades haven't quite matched that ability, with back-to-back seasons around 80.0, but that is the type of player the Colts love, chasing the high-end production they believe they can find in elite athletes.
The Titans cut both starting corners in the offseason, and while bringing in Janoris Jenkins should solidify one spot, the other will rely on last year's second-round pick, Kristian Fulton, hitting the ground running after missing basically his entire rookie season. That's not beyond the realms of possibility, but drafting a corner this year would give them contingency in case it doesn't work out or a replacement for Jenkins long-term if it does. Newsome played almost 400 snaps in 2020 and allowed just 93 yards in total. 
The New York Jets got a first-hand look at what Asante Samuel Sr. could do when he played for the Patriots, and while it would be lazy to just suggest his son is the same player, they are freakishly similar when you look at the tape. 
I wrote the following in my draft profile of Samuel:
Samuel has some elite traits that will go a long way toward making up for his lack of size. He has some of the slickest change-of-direction skills you will see at the position, and he can come out of his backpedal and drive on the football in an absolute instant. His tape is littered with plays where he steals yards on receivers by making their break before they do and puts himself in position to either contest at the catch point or pick the pass off entirely. These are the skills that made his father a ballhawk and will likely do the same for him.
The draft seems to be littered this year with teams needing a starting left tackle, and the Steelers are in a worse position than most to find one, picking 24th overall. With three tackles already gone at this point, they grab Tevin Jenkins as the best fit at the position.
Jenkins is actually the No. 6 tackle on PFF's Big Board, but he just feels like a typical Steelers player, regularly burying defenders in the run game — a trait the team has lacked in recent seasons.
Rondale Moore is an enigma. He's one of the most dynamic playmakers in the draft despite being undersized and never assuming more than a gimmick role in his college career, in which he peaked during his freshman season. The two cleanest comps I can come up with for him are rugby players — Jerry Tuwai and Cheslin Kolbe — which goes some way toward describing how unique he is and thus how risky it is to draft him in the first round.
The Jaguars need playmakers for Trevor Lawrence, and given that pick at No. 1 overall, this represents a bit of a bonus selection for them. Let's shoot for the moon with a guy who was dominating the Big Ten at 18 years old.
Related: 2021 NFL Draft Profile — Purdue WR Rondale Moore via Sam Monson
Cleveland has done an impressive job of overhauling its roster, and the team heads into the draft without many holes in need of immediate attention. Jeremiah Owusu-Koramoah has elite quickness and speed for a linebacker, and he also earned one of the best PFF coverage grades in the nation in the slot, regardless of position. JOK could bring some elite versatility to the Browns' coverage unit.
This isn't a tremendously exciting pick, but the Baltimore franchise understands the power of solidity on the offensive line, particularly after last season in which the group took a step backward, causing the offense to take a step back.
Dickerson tore his ACL in the SEC Championship game, but that isn't the fearsome injury it once was for players, and he should be ready to roll as a rookie. His PFF grade until that injury this season was an excellent 91.3, and he could go a long way toward propelling Baltimore's offensive line and offense as a whole back to where it was.
With some combination of Jameis Winston and Taysom Hill at quarterback for the Saints now that Drew Brees has retired, the Saints need to add weaponry rather than rely on the football IQ of a Hall of Famer as they once did. Terrace Marshall Jr. always played second-fiddle at LSU, but he has elite size in a draft that isn't full of it at the top end. 
Dillon Radunz shares some similarities with left tackle David Bakhtiari: relatively slight in build, coming from a non-powerhouse school and showing exceptional fluid movement skills, particularly in pass protection. It might take Radunz a little time to get up to the speed of the NFL and become the kind of high-end pass blocker he is capable of — just as it did for Bakhtiari — but his upside may be well worth the wait.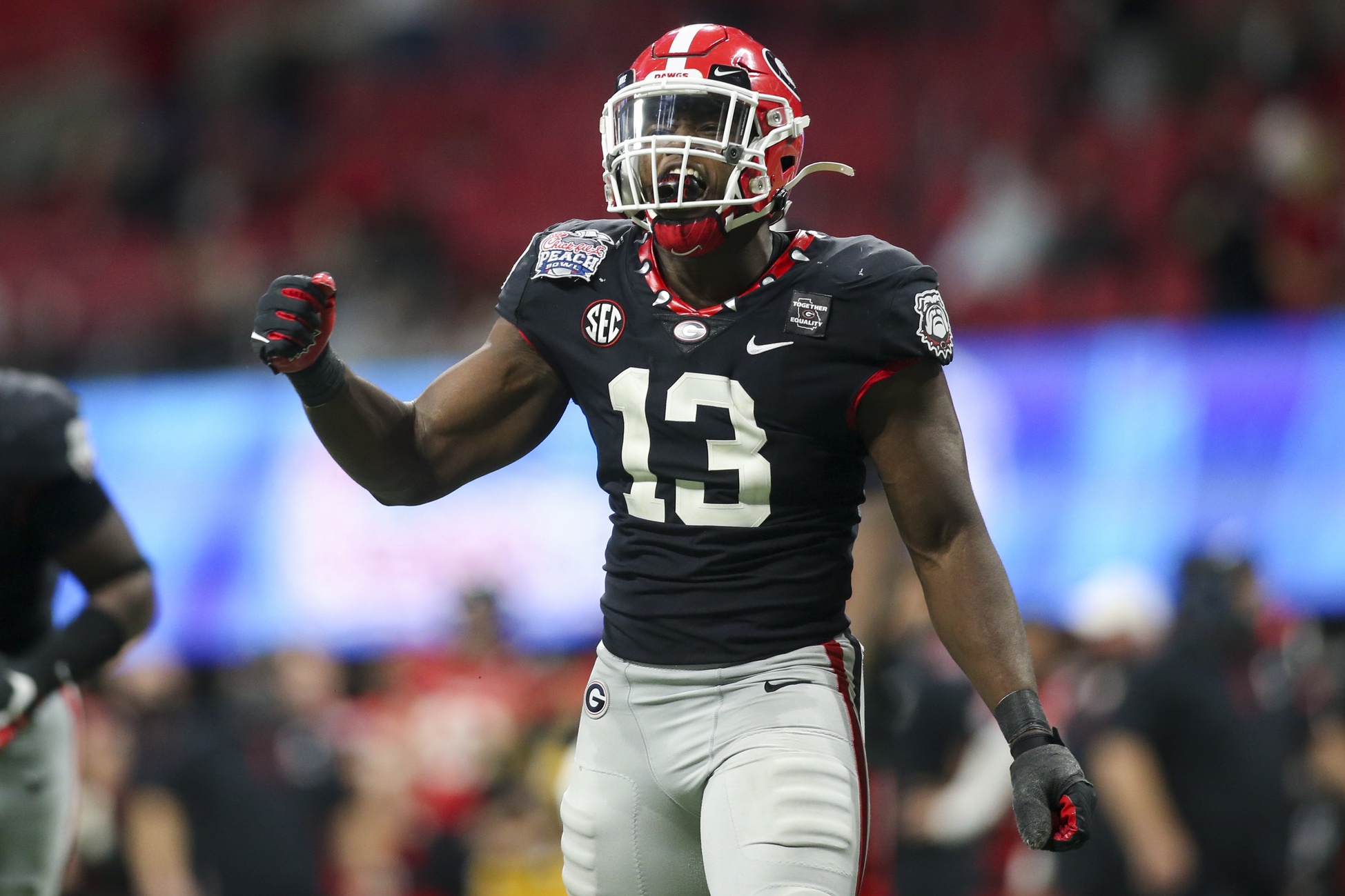 Buffalo has been looking for a complement to Jerry Hughes on the edge for so many years that the team is almost needing to also find his replacement. Azeez Ojulari is arguably the best pure speed rusher in the entire draft, earning a 91.7 PFF pass-rush grade against true pass sets this past season. He is a little undersized and slight, and he may be limited to a situational role initially, but that's something Buffalo has been crying out for.
The Chiefs boxed themselves into a bit of a corner with the moves they made on the offensive line, cutting their starting tackles after the season and overhauling the interior. The moves were largely forced on them due to injuries, but they enter the draft with a glaring need at left tackle. However, three or four options are likely to be gone by the time they pick. At that point, Kansas City is going to be taking a bit of a gamble, and Walker Little fits that bill, even if he comes with plenty of risk. 
Little is the No. 4 tackle on PFF's Big Board but hasn't played more than one game since the 2018 season. He has impressive movement skills and athletic ability, and he's a gamble the Chiefs might like to take.
To me, Elijah Moore, and any slot-only receiver in the NFL, is a luxury pick in the first round, but the Tampa Bay Buccaneers have earned themselves exactly that. Between winning the Super Bowl and then successfully taking care of business so far this offseason to almost exactly run it back in terms of personnel, the Bucs have arguably the best roster in the league heading into a defense of their title. The only player of significance from last year's team not currently back with the team is Antonio Brown, who had a couple of big games down the stretch.
Moore would give them the ability to move on from Brown and not worry about depth at receiver should injuries bite the way they did last season. He would compete with Tyler Johnson, the team's 2020 fifth-round selection, to pick up the slack in that eventuality. I have real concerns about Moore's ability to play on the outside in the NFL, but there is a good chance he would never need to with Tampa Bay, which would immediately maximize his potential impact.