In PFF's evaluation of NFL prospects, we like to leave no stone unturned. That is why we are always searching to blend all schools of thought to most accurately predict how well a prospect performs at the next level.
Thanks to math and feature engineering, we can use natural language processing to compare prospects to their contemporaries and those from the past before tying in previously built advanced descriptive stats to gauge how well a prospect that fits within a certain mold performed in the NFL.
For this piece, we took prospect write-ups from The Athletic's Dane Brugler, one of the best football film analysts out there, over the past seven seasons (including 2021) and used latent semantic analysis (LSA) to derive similarity scores between the text in prospects' scouting reports.
After building our dataset to span seven seasons, we can create a prospect's score in a number of ways. We decided to use a weighted average of similar players' WAR, using the similarity score derived above as the weights. For example, if a player has a similarity score of 0.60 with a player who has earned 7.0 WAR since being drafted, and a -0.3 similarity score with someone that has earned 4.0 WAR, his overall score would be +3.
Using the analyses above, we can look at 2021 prospects in a couple of ways. First, we can examine player comps of interest for notable prospects. Second, we can rank the players in each position group by the score derived above. These scores have correlated well with draft position and future WAR generated at the NFL level, although a more robust analysis using more seasons and sources of data is beyond the scope of this article.
Last year, our top-rated prospect using this methodology was Jalen Hurts, who did enough at the end of his rookie season to at least cause the Eagles to move on from former second overall pick Carson Wentz. The opportunity cost with Hurts as a second-round pick more than justified a flier from any team based on his skill set.
We will once again begin this series at the quarterback position for the 2021 draft class, ranking prospects by the above calculated score.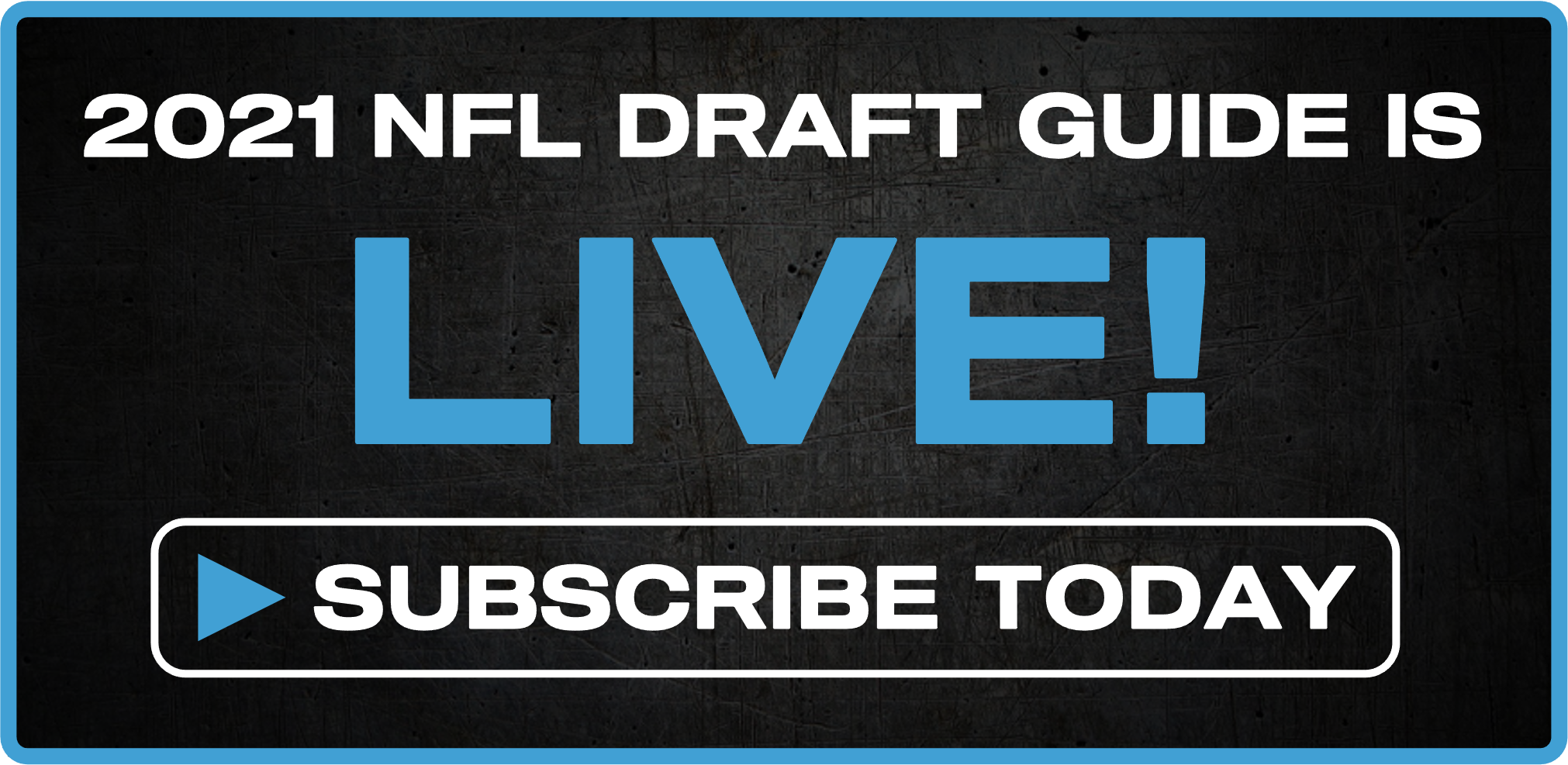 Zach Wilson's meteoric rise up draft boards has locked him into the No. 2 overall selection for the 2021 NFL Draft. Wilson hasn't taken over Trevor Lawrence for the top spot, but he does take the highest score in our text analytics rankings.
Subscribe to PFF Edge to continue reading
Already have a subscription? Sign In