PFF recently updated its 2021 NFL Draft Guide, which now includes over 300 player profiles and over 1,200 pages of in-depth analysis. The guide is available to all EDGE and ELITE subscribers, but we decided to preview the included content by sharing the biggest strength and weakness of every top NFL draft prospect.
Today, we are diving into PFF's top off-ball linebackers.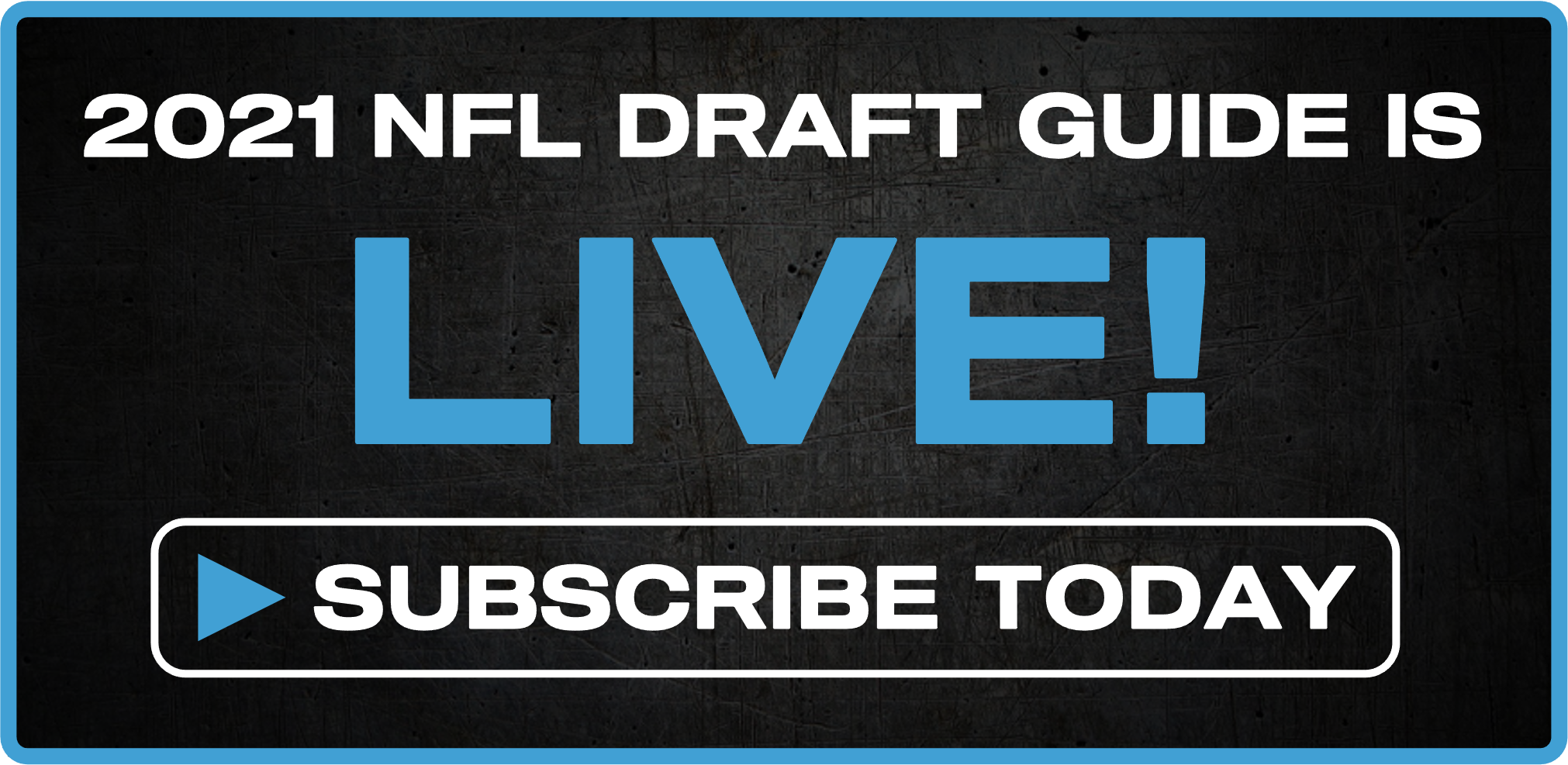 Biggest pro and con for PFF's top draft prospects:
QB | RB | WR | TE | OL | DL | LB
Parsons is a monster when attacking downhill, and it all comes down to his size and explosiveness. The 6-foot-3, 236-pound linebacker takes on blocks with ease and earned a 94.8 run-defense grade as a true sophomore in 2019, the second-best grade by a Power 5 linebacker in the PFF College era.
This skill showed up when he rushed the passer, too. In 2019, Parsons posted an 86.8 pass-rush grade with 26 pressures (13 of which resulted in a QB sack or hit) on 94 rushes. To no surprise, he clocked a sub-4.4 40-yard dash at Penn State's pro day.
Been so long since we've seen him play that it's easy to forget what a dog Micah Parsons is when coming downhill pic.twitter.com/FAVwZOibFo

— Mike Renner (@PFF_Mike) February 22, 2021
If there's a knock on Parsons, it's his coverage experience. We rarely saw him play man-to-man in college, and he didn't affect the game as much in coverage as he did in run defense or the pass rush. The Penn State linebacker only made four total plays on the ball in his college career and is the owner of a good, but not great, 72.5 coverage grade.
Still, this isn't a major concern when projecting him to the NFL. Parsons has all the tools to become a playmaker in coverage at the next level. He is the best off-ball linebacker prospect since Luke Kuechly.
Owusu-Koramoah is a fantastic all-around athlete. It showed on the field in every facet of the game, and his testing numbers at Notre Dame's pro day backed it up:
Height: 6-foot-1 (50th percentile among LB prospects historically)
Weight: 221 pounds (6th)
Arm: 33 inches (78th)
Hand: 8 ⅞ inches (6th)
Vertical Jump: 37 inches (75th)
Broad Jump: 124 inches (87th)
Short shuttle: 4.15 seconds (85th)
Three-cone: 6.80 seconds (93rd)
His short-area quickness particularly stands out when you watch his tape.
Jeremiah Owusu-Koramoah

LB2 in the 2021 NFL Draft

— PFF Draft (@PFF_College) February 17, 2021
JOK first saw the field in 2019 when he was thrown into a starting job. He got off to a rough start, but it didn't take long for him to get up to speed and show that he has some real-deal NFL potential. From Week 10 of the 2019 season to the end of 2020 (18 games), he posted an 80.0-plus grade against the run, as a pass-rusher and in coverage. Over that timeframe, no other Power 5 linebacker or safety accomplished that feat.
What position is he best suited to play? That's the question many draft analysts have been asking when it comes to Owusu-Koramoah as a draft prospect. He served as the "rover" in Notre Dame's defense, almost exclusively covering the slot. Over half of his snaps played in his college career came in the slot — we rarely saw him line up between the tackles.
At 6-foot-1, 221 pounds, Owusu-Koramoah would be one of the smallest off-ball linebackers in the draft class. But while this may be a concern to some, we here at PFF don't see it as a significant issue. His short-area quicks make us believe that he can hold up in between the tackles.
Maybe more importantly, Owusu-Koramoah is the type of versatile player the NFL is trending toward. He has the potential to hold up in the box as well as hold his own against small and shifty slot receivers. Since Week 10 of the 2019 season, the Notre Dame rover ranks second to only Washington's Elijah Molden among Power 5 defenders in slot-coverage grade.
Bolton's instincts might put him into the first-round conversation come April, and understandably so. He burst onto the scene as a playmaker once he took over the starting job in 2019, with his processing speed on full display. Among all Power 5 off-ball linebackers over the last two years, Bolton generated the second-most defensive stops (98), the highest PFF grade (91.2) and the most plays on the ball in coverage (13). He looked as though he'd been gracing the college gridiron for years at just 19 and 20 years of age. That's special.
Bolton is nowhere near the kind of athlete Parsons or Owusu-Koramoah is. His 5-foot-11 height and 31 ⅞-inch arms are well below the standard for the position, while his speed and change of direction aren't anything spectacular. Those middling physical tools didn't get in the way of him producing at a high level in the SEC, though, and they may not be much of a hindrance in the NFL with how well he sees the game.
Collins is a rocked-up 6-foot-5, 259 pounds, but he moves like a far smaller player. He's smooth and explosive and has the potential to be a big-time weapon against the pass, either through blitzing or dropping into coverage.
Collins actually shattered the record for the highest single-season coverage grade by an FBS off-ball linebacker this past season at 93.0. The previous high was set by former UCLA Bruin and current Minnesota Vikings LB Eric Kendricks back in 2014. Collins did that while also posting a 90.6 pass-rush grade, the third-best at the position in the FBS.
Taller Dont'a Hightower is my Zaven Collins NFL player comparison.

LB Zaven Collins, Tulsa (6'5", 259)

4.67s 40-yard dash
35" vertical
10'2" broad

LB Dont'a Hightower (6'2", 265)

4.62s 40-yard dash
32" vertical
9'9" broadpic.twitter.com/HjhUa9Mxra

— Austin Gayle (@PFF_AustinGayle) April 2, 2021
Tackling has never been Collins' forte. He posted a tackling grade below 69.0 in each of his three years with Tulsa, with 37 misses on 253 total attempts. That career missed tackle rate of 14.6% is the worst of any player on this list.
The strength of Collins' competition is also doing him no favors when projecting him to the NFL, and he is also somewhat scheme-limited. His best fit is with a team that intends to use his blitzing prowess.
Cox is just so smooth on the move. It showed up time and time again in coverage, which is where he was at his best in college. Whether he was dropping into zone, manning up against tight ends or covering the slot, Cox made play after play and put the clamps on the opposition at both North Dakota State and LSU.
Cox recorded an 85.2 coverage grade with the Bison in 2018 and 2019. He then transferred to LSU for the 2020 season and went on to become the third-highest-graded Power 5 off-ball linebacker in coverage. The coverage skills are certainly there for Cox to succeed at the NFL level.
While he has thrived against the pass, Cox didn't do much against the run in his lone season with the Tigers. And there's good reason to believe that'll remain the case in the NFL — his run-defense grade was a poor 55.0 in 2020.
Cox's lack of play strength is fairly evident on his tape, as he is stopped in his tracks with any type of contact. Still, we'll take an off-ball linebacker with standout coverage ability and poor run defense over a stiff thumper who can't cover. Cox shouldn't slip out of Round 2.
Davis looks like he was crafted in a lab to play the position, as he stands at a lanky 6-foot-3 with 33-inch arms. He is also as strong as they come, with his 42-inch vertical, 132-inch broad jump and 4.37-second 40-yard dash telling you all you need to know about his explosiveness.
His tools alone are hinting at a possible first-round selection in the 2021 NFL Draft. While we would push back on this idea — Davis ranks 99th on PFF's big board — he has the frame and athleticism that puts him at an advantage.
The Kentucky product performed admirably in the run game and had no issue taking on blocks. He recorded an 87.5 run-defense grade in his lone season as a starter for Kentucky in 2020, fourth among Power 5 off-ball linebackers.
However, we didn't see much in the way of coverage ability. His role in the Wildcats' defense wasn't nearly as difficult as some of the other top linebackers in this class, as he played a lot of spot-drop zone and virtually no man coverage. Davis did make a few plays on the ball, but that's not fully indicative of the hill he has to climb to become a reliable player in coverage at the NFL level.
---
View PFF's 2021 NFL Draft position rankings: