PFF recently updated its 2021 NFL Draft Guide, which now includes over 300 player profiles and over 1,200 pages of in-depth analysis courtesy of lead draft analyst Mike Renner. The guide is available to all EDGE and ELITE subscribers, but we decided to give a small taste of what is included by sharing the biggest strength and weakness for every top prospect.
After sifting through the top quarterbacks, wide receivers and tight ends, we round out the offensive skill position players with the running backs.
Etienne was a prime example of a home-run hitter throughout his time at Clemson, using his burst and contact balance to break off big runs. He racked up 37 rushes that resulted in a gain of 25 or more yards since 2018. That's nine more than any other FBS back over that span. Etienne slid off tackle attempts on the regular and didn't lose much speed on contact. He broke 0.32 tackles per attempt and averaged 4.5 yards after contact over the past three years, ranking fourth and first, respectively, in the FBS. 
Travis Etienne forced 135 missed tackles on runs since 2019

More than any player in College Football

— PFF Draft (@PFF_College) March 29, 2021
While he is a big play waiting to happen, Etienne searches for that home run too much. He is notorious for getting lateral to the line of scrimmage and not taking what he can get when holes are filled. His penchant to bounce out isn't going to be viable at the next level. Still, his explosiveness, elusiveness and receiving chops are too good to move him from the top spot at the position in the 2021 NFL Draft. But remember, teams shouldn't invest in the position too early.
Biggest pro: Violent running style
Williams put up unfathomable broken tackle numbers in his 2020 season that helped him skyrocket up draft boards. He broke 76 tackles on 157 runs, forming a rate of 48%, which is four percentage points higher than the previous PFF College record. Williams subsequently earned a 95.9 rushing grade for the season, over two grading points higher than the previous best we have recorded since our inception in 2014.
Williams didn't really do much as a receiver, but to no one's surprise, he shed tackles left and right when he did catch a pass, forcing nine misses on 24 receptions. He possesses insanely good balance and is always looking to truck defenders. Those are traits I'd bet on translating to the NFL. It'd be a surprise if Williams isn't one of the more elusive backs at the next level.
UNC RB Javonte Williams (5'10", 220)

– Graduated with a 4.6 GPA and was valedictorian of his class

– Played LB until his senior year of high school

– Now 20 years old (Born April 2000)

– Averaged 0.48 missed tackles/attempt in 2020 (1st in the NCAA)pic.twitter.com/HJgnRnjTzZ

— Austin Gayle (@PFF_AustinGayle) March 10, 2021
North Carolina fielded a two-headed monster in the backfield with Williams and Michael Carter. Because of that, Williams' workload wasn't particularly large. There were only two games in 2020 in which he carried the ball over 20 times, and on average he saw under 15 attempts per game. It also doesn't help matters that his most unproductive game of the year came against the best defense the Tar Heels faced, Notre Dame.
It isn't every year you see a running back with Harris' receiving ability and build. He stands at 6-foot-2, weighs in at 230 pounds and boasts incredible 33 3/8-inch arms. The latter sits at the 99th percentile among running backs historically.
Over the past two seasons, Harris established himself as one of the more reliable receiving backs in the country, dropping just two balls on 75 catchable targets and generating the highest passer rating when targeted at the position (131.9). Harris also made defenders miss consistently, whether it was shaking them in space, running right through them or even hurdling them. His 33 broken tackles after the catch since 2018 are five more than any other FBS running back. An RB1 in today's NFL has to provide some value as a receiver, and Harris certainly checks that box.
Unlike Etienne, Harris isn't much of a breakaway threat on the ground. He broke off only 17 25-plus-yard runs since 2018, compared to the Clemson star's 37, despite seeing nearly the same number of carries in that span and playing behind elite offensive lines. That, however, didn't stop Harris from posting the third-best rushing grade in the FBS in those three seasons combined. Harris is a safe dual-threat running back prospect in the 2021 class, but that doesn't mean he's worth spending an early pick on.
Carter made defenders look silly at times with his bounciness. He may not have elite-level speed, but he sure has incredible agility, which he verified at his Pro Day. Carter put up a 3.98-second agility time paired with a 6.81-second three-cone, placing him at the 98th and 90th percentile among running backs historically.
Those traits helped him put up monster numbers both as a runner and a receiver in college. Since 2018, Carter ranks second to only his teammate Williams in the FBS in percentage of runs picking up a 10-plus-yard gain (21%). This past season, Carter joined Najee Harris as the only back to rank inside the top 10 in both rushing and receiving grade. His stop-start ability is going to give defenses fits at the next level.
MICHAEL CARTER TD! #UNC pic.twitter.com/nNJDbcuAoP

— Tar Heel Tapes (@tarheeltapes) October 10, 2020
The biggest concern with Carter when projecting him to the NFL is his size. He stands at a mere 5-foot-8 and 201 pounds. His pass protection is likely to be a hindrance as a result — it was a big problem at the Senior Bowl. But despite being small, Carter plays much bigger and is unafraid of lowering his shoulder. Look past the small stature and lackluster pass protection; Carter is well-deserving of being one of the first five backs off the board.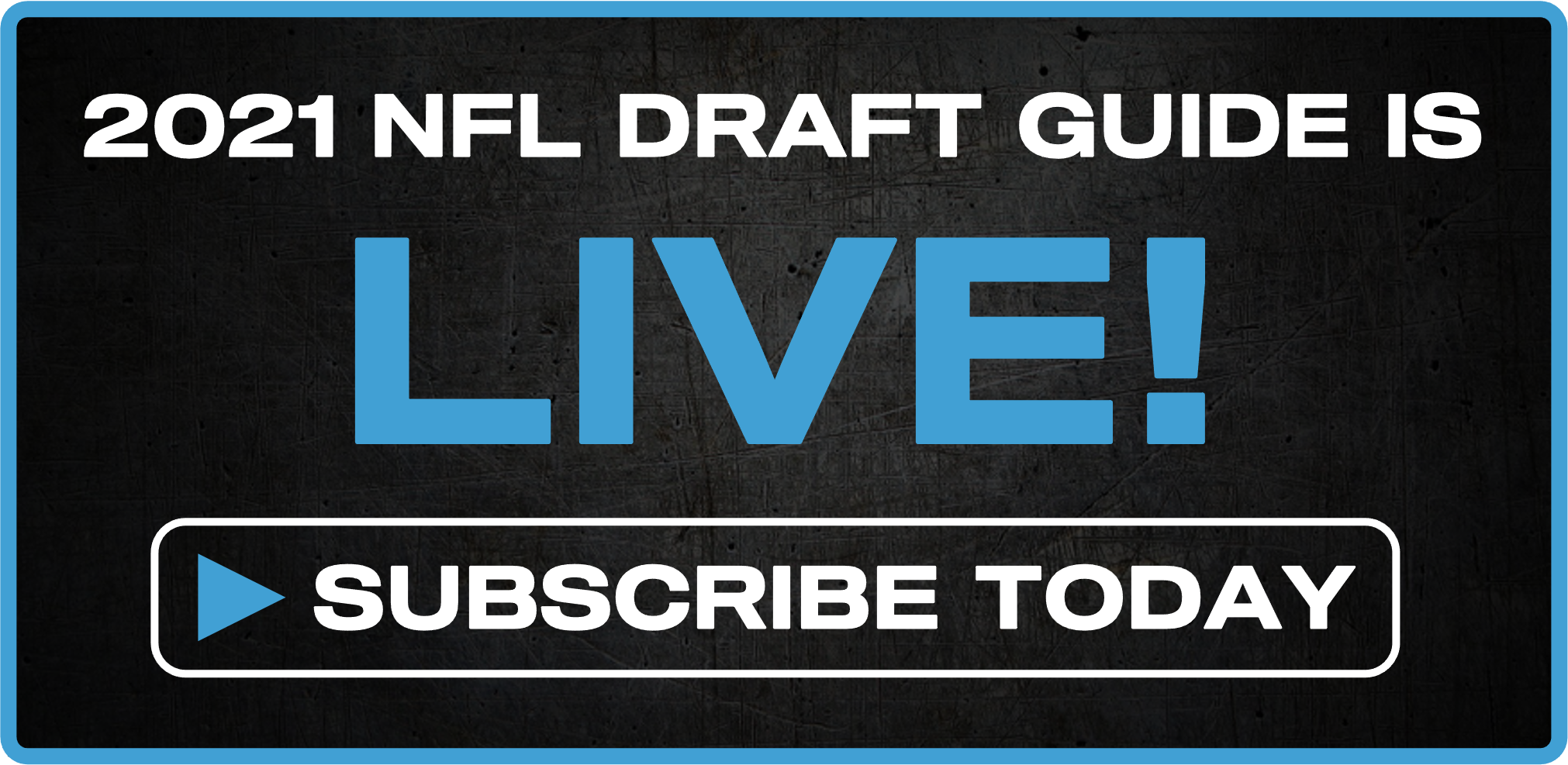 Biggest pro: Low center of gravity
Herbert is short but thick for a running back, measuring in at 5-foot-9 and 212 pounds. He's not easy to bring down with that low center of gravity. Among all backs with at least 100 carries in 2020, Herbert tied for first in yards after contact per attempt, at 4.7. He has some decent wheels on him, too, and his 4.46-second 40-yard dash at his pro day verified what he showed on tape. Those traits helped him pick up a 10-plus-yard gain on 22% of his carries in 2020, the fourth-highest rate in the FBS.
After spending four years with a porous Kansas team, Herbert transferred to Virginia Tech for the 2020 season and enjoyed a late-career breakout that put him on draft radars. However, running backs who are 23 years old on draft day, as Herbert is, aren't usually selected very high. That combined with his minimal experience as a receiver doesn't help Herbert any when comparing him to other top backs in the class.
Gainwell's receiving performance was the backbone of his success in his 2019 breakout campaign. He was one of the five-highest-graded receiving backs in the FBS that year. Gainwell displayed some impressive route-running for a running back and top-notch elusiveness in the open field, breaking 20 tackles on 51 receptions. He ran over 70 of his routes from the slot, gaining a productive two yards per route run. 
He may have added some more strength to his frame during his 2020 opt-out year, but Gainwell is still on the thinner side of the position, weighing in at 201 pounds. That places him around the 20th percentile relative to prospects at the position historically. He was fine on the few occasions we saw him in pass protection at Memphis, but NFL defenders are obviously a different breed compared to the Group of Five. Plus, it's uncertain whether he can hold up between the tackles, which gives some cause for concern.
Felton isn't someone a defender wants to face one on one in space with how shifty he is. Oregon and Arizona found that out the hard way this past season. Felton evaded double-digit tackles on the ground in those outings — two of just 23 total games we saw in all of 2020 where a running back broke 10-plus tackles against a Power Five defense.
Keep in mind, Felton played in only six games for the year. He's also shown this trait as a receiver, forcing 24 missed tackles on 76 receptions since 2019. Felton actually began his career with UCLA as a wide receiver, a skill set he flashed at the Senior Bowl. He went up against defensive backs in one-on-ones and was among the best route runners there. Only five wideouts in attendance posted a higher grade in one-on-ones than Felton.
Demetric Felton double move vs. Thomas Graham ????pic.twitter.com/BBnH46maMW

— Austin Gayle (@PFF_AustinGayle) January 27, 2021
Biggest con: Running between the tackles
Felton's receiving ability is alluring, and he has the fixings to be a slot weapon in the NFL, but there is no team taking him with the intention of making him a featured piece in the run game. He's not a between-the-tackles runner at all, hesitating far too frequently. Felton can be a quality satellite back — or even a slot receiver — in the NFL.