PFF recently updated its 2021 NFL Draft Guide, which now includes over 300 player profiles and over 1,200 pages of in-depth analysis.
The guide is available to all EDGE and ELITE subscribers, but we decided to give a small taste of what is included to all by sharing the biggest strength and weakness for every top prospect. We begin with the quarterbacks.
View PFF's 2021 NFL Draft position rankings:
QB | RB | WR | TE | T | iOL | DI | EDGE | LB | CB | S
Biggest pro: Timing, arm strength, mobility, pocket presence — you name it
Lawrence is easily the most complete quarterback prospect PFF has ever seen. He is the clear-cut No. 1 prospect in the 2021 class and would still hold that top spot if we were to compare him to every draft class we have evaluated (since 2015). Lawrence is the only quarterback to ever record PFF grades north of 90.0 as a true freshman, sophomore and junior. There are very few cons within his scouting report, and none should hinder him at the next level.
Trevor Lawrence ended his pro day with a darn near 70 yard seed pic.twitter.com/6oPTbYwpbx

— Mike Renner (@PFF_Mike) February 12, 2021
Biggest con: Bouts of inaccuracy throughout his career
There have been instances where Lawrence has forced throws due to overconfidence, and there have also been small stretches of inaccurate passing. We saw it firsthand to start the 2019 season when the Clemson signal-caller opened up the year with the lowest-graded game of his college career. That said, these bouts were never long enough to raise concern. Heck, he still ranked third in the FBS in accuracy rate on throws beyond the line of scrimmage last season. Lawrence is as good as advertised.
Biggest pro: Off-platform arm talent
Wilson did so many amazing things throughout his 2020 breakout campaign. He notched a 90.0 passing grade in over half of his games played, leading him to a single-season PFF College record passing grade of 95.5. Arguably, Wilson's most impressive trait from 2020 was his ability to easily hit off-platform throws. His 86.4 passing grade outside of the pocket this past season led the 2021 class.
The scream at the end is how we all feel watching Zach Wilson

— PFF Draft (@PFF_College) March 26, 2021
Biggest con: Untested under pressure
With an unbelievably talented offensive line going up against cupcake competition, Wilson faced minimal pressure in 2020. Just 21.6% of his dropbacks came with pressure this past year, the eighth-lowest rate in the FBS and the second-lowest in the class. That will change once he makes the jump to the NFL. Still, Wilson showed no indications that he is going to struggle at the next level with defenders bearing down on him. He converted pressure to sacks at a minimal 12.7% rate while recording the third-best passing grade under pressure in the FBS, including no turnover-worthy plays.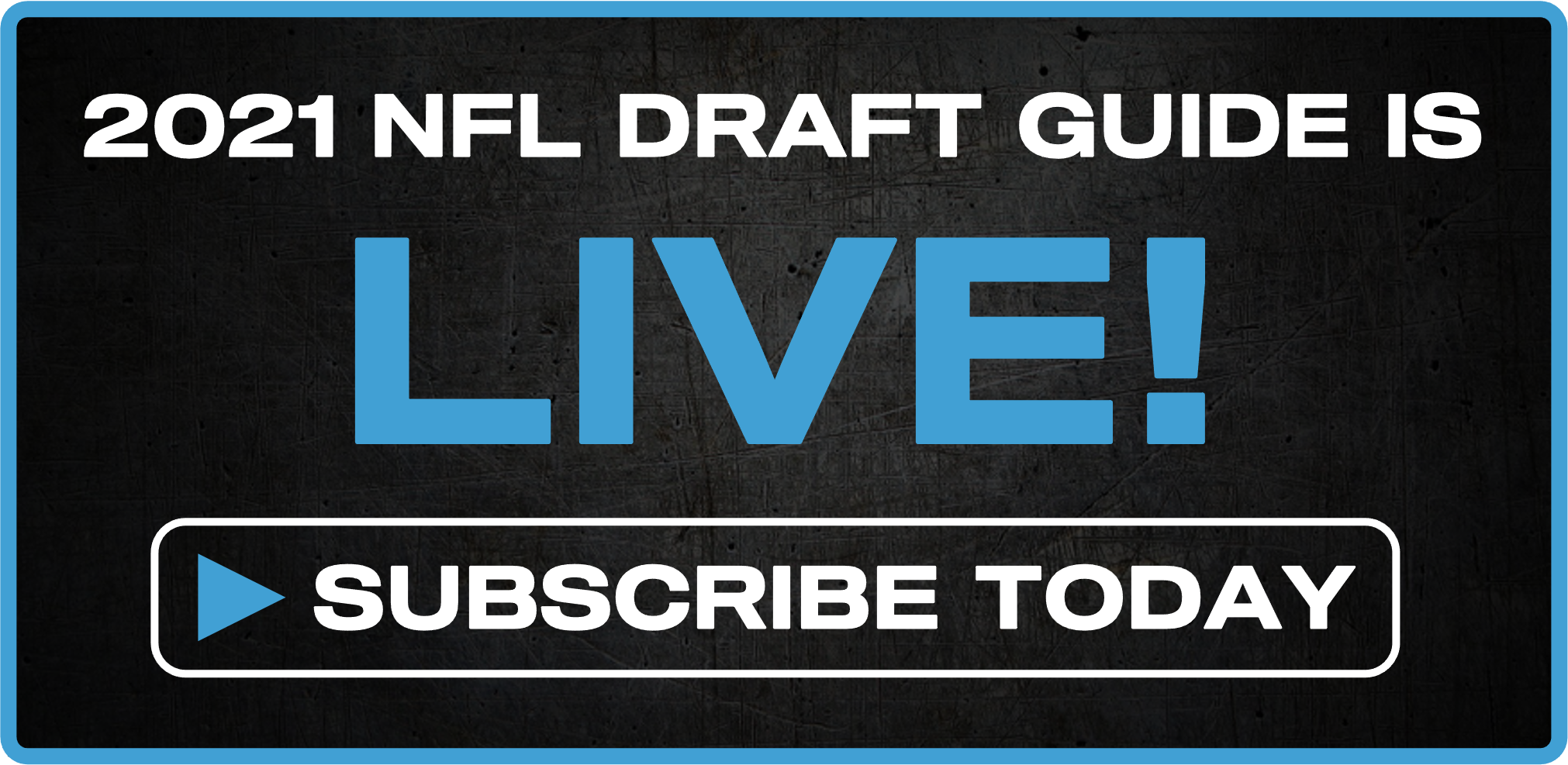 There has long been a puzzling divide about Fields' accuracy. While we believe it's his greatest strength, some say it's a flaw. The tape and data, however, back up that he is one of the most accurate quarterback prospects the country has seen over the past few years.
Nearly 56% of his passes over 10-plus yards over the past two years were deemed accurate, trailing only Joe Burrow and Mac Jones for the best in the Power Five. Some of it has to do with the offense he was in and the top-notch route runners around him, but that alone doesn't explain his top-three ranking. Fields pairs this sharp accuracy with legit wheels for a quarterback (the guy can run a 4.4-second 40-yard dash) and a strong arm.
This con is not a permanent one, nor should it be a reason to not draft Fields No. 3 overall. He struggled against defenses that threw blitzes and coverage rotations — specifically, Indiana in 2020 and Clemson in the 2019 College Football Playoff semifinal. Those were the only two instances where Fields saw a blitz combined with a post-snap rotation on more than 10 dropbacks in a game in his college career, and he posted a 48.5 passing grade on such plays in those outings.
On those same plays across the entirety of the 2019 and 2020 seasons, Fields ranks second-to-last among quarterbacks on this list in PFF passing grade. And against blitzes overall, Fields has the longest time to throw among FBS quarterbacks in that span (3.08 seconds).
Still, we've seen far more good than bad from Fields. He's a clear-cut top-three quarterback in the 2021 NFL Draft class and one of the five best prospects PFF has ever evaluated.
Lance boasts a cannon for an arm in addition to an ability to carve defenses up on the ground — the modern-day NFL's dream traits at the quarterback position. He can sling it to all levels of the field with ease and is a monster in the designed run game. We saw it in his showcase game this past fall as well as throughout his 2019 campaign.
Lance found the endzone for 10-plus yard touchdown runs on 10 occasions in his time starting at NDSU, which is double that of any quarterback on this list despite him playing just one game in 2020. Lance also averaged an impressive 13.4 yards per designed run. Obviously, the level of competition has a lot to do with that, but it goes to show what he can accomplish on the ground with his athleticism.
Some quarterbacks on this list have only minor or moderate weaknesses, but this is a massive concern for Lance. It isn't like Trevor Lawrence, who has flashed bouts of inaccuracy every once in a while; Lance has consistently been inaccurate.
Over the past two seasons, he ranks dead last in percentage of accurate throws beyond the line of scrimmage (44.1%) among the quarterbacks on this list. Not only is that the lowest mark, but it's the worst by a country mile — 7.5 percentage points. Comparing that to all first-round quarterbacks since 2017, it'd still rank last by a comfortable margin. And Lance did this by throwing to a tight or closing window at the lowest rate among that group.
Accuracy is king, and Lance is going to need to have an anomalous turnaround, akin to that of Josh Allen this past season, to overcome this flaw.
Jones was deadly accurate week in and week out this past season. Just 14% of his passes beyond the line of scrimmage were deemed uncatchable by PFF's ball-charting process. Pinpoint accuracy was a key reason that Jones finished 2020 with the lowest single-season negatively graded throw rate in PFF's seven years of grading college football.
This throw from Mac Jones is stupid good pic.twitter.com/6XR30J2Fyi

— Clint Lamb (@ClintRLamb) November 21, 2020
The biggest criticisms of Jones center on his middling physical tools and the near-perfect situation around him at Alabama, with now-Texas head coach Steve Sarkisian calling plays and Heisman Trophy winner DeVonta Smith featuring as the team's top target. That said, Jones' timing was pristine, and he was vital in the execution of a historically great offense that put up the highest successful pass play rate in the PFF College era (61%).
This was one of many areas where Trask greatly improved in 2020. He often panicked in tight pockets back in 2019, making bad decisions and throws as defenders closed in.
But that was far from the case in 2020.
Trask stayed poised, kept his eyes downfield and maneuvered muddy pockets this past season. He saw his grade under pressure go from 32.9 in 2019 (worst among those on this list by nearly 15 grading points) to 71.1 in 2020 (second among those on this list). It is, however, a whole different ballgame at the next level. It won't be as easy for Trask to replicate those numbers, especially considering he lacks NFL-level traits.
The NFL is searching for mobile quarterbacks, and Trask simply doesn't fit that bill. Despite seeing 24 starts over the past two years, he busted off only 10 runs that resulted in a 10-plus yard gain. That's the third-fewest among the 10 quarterbacks on this list — ahead of only Mac Jones and Davis Mills, who saw seven and 13 fewer starts, respectively, than Trask over that span. Trask can operate from tight pockets, but I wouldn't expect him to make plays out of structure; he's likely to be a sitting duck out there due to his lack of mobility.
Biggest pro: Quick decision-making
Mills epitomizes "boom or bust." He was a five-star recruit in the 2017 class, ranking 15th nationally with offers from several bluebloods, including Alabama, but started just 11 games in his college career. There was plenty of good and bad scattered throughout that limited action, but among the good was how quickly he made decisions and how rarely he hesitated. His average time to throw since 2019 after removing screens, RPOs and quick-game passes was one of the 10 fastest in college football. And on those dropbacks, Mills came away with a top-20 passing grade.
Biggest con: Off-platform accuracy
Mills flashed from the pocket, but not on the run. He's not going to make those highlight-reel plays out of structure at the next level. Mills' uncatchable pass rate on throws outside of the pocket ranks in the bottom three among players on this list. And when pairing that with the minimal playing time and a concerning rate of turnover-worthy plays on downfield throws (worst turnover-worthy play rate on 10-plus yard throws since 2019 among PFF's top 10 QBs), Mills becomes a much riskier prospect than others on this list.
Biggest pro: Downfield ball placement
Newman displayed incredible touch and ball placement at Wake Forest. He knows how to take advantage of his receiver's leverage, putting the ball right where it needs to be downfield. Back in his final college season with the Demon Deacons in 2019, Newman ranked second to only Joe Burrow in the Power Five in passing grade on 20-plus-yard throws. He completed 22 over-the-shoulder throws that season, which tied for the most in the Power Five with Burrow and Sam Howell.
Biggest con: Played in a college-style offense
Newman was among the players we were most looking forward to watching in 2020. He was set to make the transition from Wake Forest to Georgia, which meant he'd be going from an RPO-heavy, up-tempo college offense to a pro-style one led by Bulldogs' offensive coordinator Todd Monken.
That, however, never came to fruition, as Newman opted out of the season due to COVID-19 concerns. Wake Forest's offense didn't give him many opportunities to make NFL throws over the middle of the field at the intermediate to deep range. He didn't have to make complex reads, and it's also fair to say the Demon Deacons leaned too much on Newman's mobility. While that's a strength for him, his arm talent is far better. There's a lot of unknown with Newman as a result, making him a prospect with a high ceiling but a low floor.
Under Jimbo Fisher, Mond executed one of the more difficult offenses in college football. He was thrown into the fire, tasked with reading linebackers and layering throws over the middle of the field. And because of that, he threw the third-most passes in which he led the receiver over the middle of the field to the intermediate and deep levels among FBS quarterbacks since 2018.
Biggest con: Lack of consistent special throws
Mond failed to routinely hit those "special" NFL-caliber throws throughout his college career. Over the past couple of years, he generated a big-time throw rate just shy of 3%. That places him in the bottom 10 among FBS quarterbacks with at least 500 dropbacks in that span. Just this past season, Mond recorded only 12 big-time throws in 10 games, four of which came in one game alone (Week 9 vs Arkansas, 95.1 passing grade).