PFF recently updated its 2021 NFL Draft Guide, which now includes over 300 player profiles and over 1,200 pages of in-depth analysis courtesy of lead draft analyst Mike Renner. The guide is available to all EDGE and ELITE subscribers, but we decided to give a small taste of what is included by sharing the biggest strength and weakness for every top prospect.
After looking into all of the offensive positions, we now turn our attention to the defensive side of the ball with the top interior defensive linemen and edge rushers.
Other 2021 NFL Draft prospects' biggest pros and cons:
Barmore is an all-around great interior defensive lineman prospect. His 6-foot-4, 310-pound frame and 34 ⅝-inch arms form the ideal body type, and he additionally boasts great hand usage, burst, power and bend. He has no issue getting low at that size, routinely cornering interior offensive linemen to get to the quarterback]. Over the past two years, Barmore rushed the passer just shy of 500 times, recording a 92.2 pass-rush grade and a 19.7% win rate — both of which led Power Five interior defensive linemen by a significant margin. He shouldn't slide out of the top 20 in April's draft.
Biggest con: Game-to-game consistency
Many were expecting Barmore to enjoy a season akin to that of Quinnen Williams' dominant 2018 campaign, but it wasn't quite a record-breaking year for the Crimson Tide product. He endured hot-and-cold stretches and didn't show up in games he should have, including against Tennessee, Mississippi State and Florida. He generated just two pressures combined on 87 pass-rush snaps in those outings.
Barmore did rebound, though, and produced at an elite level when it mattered most in the College Football Playoff. Against two of the better offensive lines in college football — Notre Dame and Ohio State — Barmore recorded a 91.3 pass-rush grade and 12 pressures. It is worth noting that his slow start could have been defined by an offseason injury.
Paye is the proud owner of one of the most absurd three-cone drills the NFL draft has ever seen. He didn't run it at Michigan's Pro Day, but PFF's Austin Gayle secured the video of the sub-6.5 time that landed Paye at No. 1 on Bruce Feldman's "Freaks List" last year:
Kwity Paye's LEGENDARY three-cone drill pic.twitter.com/PwM260bcpt

— Austin Gayle (@PFF_AustinGayle) January 21, 2021
That's nearly three-tenths of a second better than any other defensive lineman at the NFL scouting combine this century. Paye also clocked a 4.52-second 40-yard dash at his Pro Day, placing him in the 97th percentile historically among edge defenders, while also throwing up 36 reps of 225 pounds on the bench, putting him in the 99th percentile. Those are generational tools.
While Paye improved from a technical standpoint in 2020, he still has a big hill to climb to become a finished product. He recorded a 77.8 pass-rush grade in 2019 by attacking offensive linemen with no rhyme or reason, then subsequently raised that mark to 87.1 in four games this past season. I wouldn't expect Paye to make an immediate impact like Chase Young did as a rookie, but with the right coaching, he can be a dominant player in the NFL.
Oweh, who stands at 6-foot-5 and weighs 257 pounds, posted a 40-inch vertical, 134-inch broad jump, 4.39-second 40-yard dash, 4.15-second pro agility and 6.84-second three-cone at Penn State's Pro Day. Each of those marks rank at or above the 95th percentile among edge defenders historically.
Was this a surprise? Not at all. It matches precisely with what Oweh showed on the field for the Nittany Lions, flashing explosiveness and speed at all times. Outside of his athleticism, Oweh looked like a different player against the run for the better in 2020. His grade in that facet skyrocketed from 59.5 in 2019 to 89.7 in 2020.
Highest pass-rush win rate in Week 8 (@PFF_College)

1. Shaka Toney, Penn St – 41%
2. Jayson Oweh, Penn St – 36%

Oweh was a monster down the stretch, winning 7 of his final 10 rushes. Huge props to IU's Michael Penix too — dude was getting smoked and still executed the comeback. pic.twitter.com/vP7V2qGZsU

— Anthony Treash (@PFF_Anthony) October 25, 2020
Oweh has all the physical tools to be an impact pass-rusher, but he is far from a finished product. His rushes die on contact, there's no violence in his hands and his pass-rush move arsenal is sorely lacking. He lit up Indiana's lowly tackles for a whopping 10 pressures in Penn State's season opener in 2020, but he generated just 10 total pressures over his next six games. That said, we are talking about a guy who didn't play football until his junior year of high school and saw just over 400 career pass-rush snaps at the college level. Oweh is only scratching the surface of what he can become.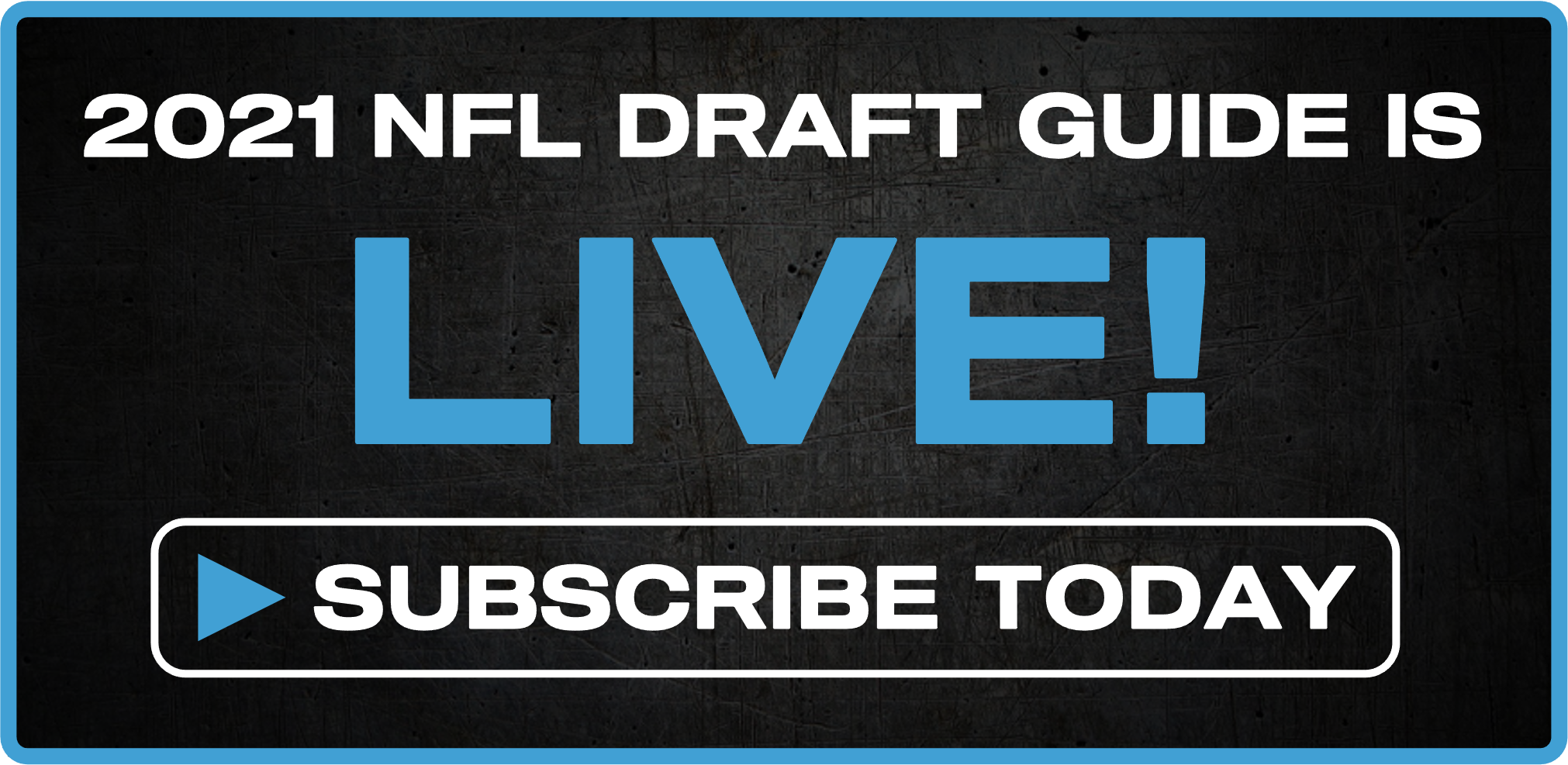 Ojulari is a speed rusher through and through while also profiling as one of the more technically sound edge defenders in the 2021 class. His cornering ability, in particular, is second to none. Ojulari put up the fourth-best pass-rush grade PFF has on record by an SEC edge defender, behind only Josh Allen in 2018 and Myles Garrett in 2014 and 2015.
Power is not Ojulari's game. He's firmly in undersized territory at 6-foot-2, 249 pounds, but what he lacks in size and strength, he makes up for with the traits above and great length. Ojulari had some of the best pass-rush production in the country in 2020 while going up against some of the best competition in the SEC. He broke out in a big way, improving his 71.4 pass-rushing grade to 91.7, second in the FBS. Ojulari also forced three strip-sack fumbles and generated a 24.3% pass-rush, a top-five mark at his position in the FBS. He can get by at the next level despite lacking strength.
Standing at 6-foot-5 and weighing in at 260 pounds, Phillips bullied some offensive linemen with his power. His rushes don't die on contact unlike some others in this class; he fires through it, requiring blockers to get on him precisely and cleanly to stop his rush. Once he got up to speed in 2020 after not playing since Week 4 of 2018, Phillips was near unblockable. His 89.2 PFF grade over his last seven games placed him in the top-five at his position in the FBS. He recorded four-plus pressures in each of those seven outings and was one of the few in the Power Five to notch a pass-rush win rate above 20%. 
Jaelan Phillips could ultimately be the best edge that comes out of the 2021 class — production, tape & traits are all insane. pic.twitter.com/kTQOCQFjwH

— Austin Gayle (@PFF_AustinGayle) January 22, 2021
Phillips' background is wild. He was the No. 1-rated recruit of the 2017 class before committing to UCLA. During his true sophomore campaign, Phillips was hit by a car, and he decided to medically retire after the subsequent injuries and another concussion after the fact. Fortunately, he made a comeback.
He came out of retirement and then transferred to Miami, where he enjoyed an incredible breakout in 2020. If Phillips didn't have this injury history, there's a good chance we would see him go within the first 10 picks. He has flashed the production and owns the all-around athleticism desired on the edge, as shown at his Pro Day. The only question is: Can he stay healthy?
Not many edge defenders are built like Rousseau. He's 6-foot-7 and 266 pounds with 34 ¾-inch arms and 11-inch hands. Those figures rank in the 98th, 92nd and 99th percentiles, respectively, among all edge prospects historically. Rousseau typically gets the first contact against most linemen as a result.
His frame also gives him a massive advantage when rushing inside. On plays where Rousseau rushed from the interior in 2019, he posted an 85.1 pass-rush grade and a 19.7% win rate. He didn't see enough snaps to qualify, but those are easily top-10 marks had he played enough.
Biggest con: Winning the edge against tackles
While he had his way with guards and centers in his lone full season in college, Rousseau struggled against offensive tackles. When lined up at 7-technique and out, Rousseau earned just a 71.3 pass-rush grade. His middling Pro Day doesn't help matters, either; Rousseau was one of the 10 biggest losers from all of the Pro Days. He has a long way to go before becoming a polished pass-rusher. Whichever team drafts Rousseau will need to give him opportunities to rush inside as he develops into a true edge rusher.
Basham is a thick man at 6-foot-3 and 274 pounds, providing big-time power off the edge. That in itself is a great strength, but pairing it with his get-off and agility can make him a nightmare to face. Just ask first-round tackle prospect Christian Darrisaw, who on PFF's 2 for 1 Drafts podcast hosted by Austin Gayle and Mike Renner said Basham was the toughest player he went up against among a long line of talented ACC edge rushers.
Biggest con: Down-to-down consistency
Basham possesses a whole lot of power, but we didn't see him fully utilize it. His physicality came and went. Pass-rush consistency has long been an issue for Basham in his playing career. Even in his breakout 2019 season, when he posted a 90.6 pass-rushing grade, there were several dud performances mixed in. He notched multiple 10-pressure weeks as well as a handful of outings with just one or a couple of pressures.
Basham opened and closed that year with a bang, but he also endured a seven-game span in which he recorded a middling 69.8 pass-rush grade. This weakness was even more apparent in 2020. He had no dominant performances to speak of and saw his season pass-rush grade drop to 77.2. Basham has the traits to be a force at the next level — a team just has to unlock them.
Perkins was the only FBS edge defender to record 90.0-plus grades as both a run defender and a pass rusher in 2020. He was a constant threat thanks to his flexibility and twitch. He started five games this past season and notched at least four pressures and a 20% win rate in every one. Collectively, Perkins generated 31 pressures and produced a pass-rush rate north of 27%. The latter ranked among the five best marks at the position in the Power Five.
Perkins was a consistent force when on the field for Oklahoma this past season. He played bigger than his listed size suggests. He wants to play a physical game and worked speed to power exceptionally well for an undersized edge at 6-foot-2, 253 pounds. That said, he is likely to struggle once he goes toe-to-toe with NFL linemen. It wasn't too big of an issue at Oklahoma, but there's reason to believe Perkins will struggle to consistently shed blocks and could be prone to get locked up once linemen get their paws on him at the next level.
Biggest pro: Explosiveness at his size
McNeill came to NC State as a four-star defensive tackle recruit who played linebacker and running back in high school. Yes, that's right — running back. And he was pretty good in that role thanks to his explosiveness.
320 lb Alim McNeill is DT2 in the NFL Draft

He also played RB in High School

(h/t @michiganinsider) pic.twitter.com/oMoABr2zcJ

— PFF Draft (@PFF_College) February 4, 2021
The 6-foot-2, 320-pound interior defensive lineman's get-off often stymies interior offensive linemen. McNeill moved to 0-technique in 2019, producing a 79.4 PFF grade, and then broke out to elite status in 2020 with a 90.7 grade in the same role.
McNeill's college production as a beefy interior lineman will get the seal of approval from the NFL, but that success was largely because of his explosiveness. He flashed few pass-rush moves at NC State. You can get away with a lack of refinement at the college level, but that won't fly in the NFL. McNeill will need to develop his pass-rush toolbox to find similar success in the league. If he can do that, the sky's the limit.
Turner emerged in 2019 with a 74.6 pass-rushing grade and broke out on a limited sample in 2020 by raising that mark to 90.0. His physical profile is precisely what the NFL is looking for; he's 6-foot-6 and 270 pounds with 35-inch arms. Turner has some impressive bend for a man of his stature, too, and he can be a versatile piece at the next level.
Turner saw just 201 snaps across four games in 2020 due to injuries and COVID-19. He was dominant in three of those four starts, recording an 80.0-plus pass-rush grade, but he didn't face quality tackles (Tulane, Navy and UCF).
The other start came against BYU, which featured one of the better offensive lines in college football, but Turner was fairly quiet that day with a 64.6 pass-rush grade. He did collect a sack against left tackle Brady Christensen, but that doesn't speak for his performance as a whole. There's just not a lot of game-wrecking tape to speak of from Turner. For that reason, he is a high-risk, high-reward prospect in the 2021 NFL Draft.