PFF recently updated its 2021 NFL Draft Guide, which now includes over 300 player profiles and over 1,200 pages of in-depth analysis.
The guide is available to all EDGE and ELITE subscribers, but we decided to give a small taste of what is included to all by sharing the biggest strength and weakness for every top prospect. After sifting through the quarterbacks yesterday, we now turn our attention to the top wide receivers.
View PFF's 2021 NFL Draft position rankings:
QB | RB | WR | TE | T | iOL | DI | EDGE | LB | CB | S
The chemistry Chase shared with QB Joe Burrow during LSU's 2019 national title run was unlike anything college football has ever seen. Both players played their part to perfection — Burrow netted a 141.3 passer rating when targeting his wide receiver, Chase generated 3.52 yards per route run and both players graded above 90.0.
Chase's physicality was the backbone of that success. The then 19-year-old looked like a grown man among boys out there at times, and it showed at the line of scrimmage, when he went toe-to-toe against press-man coverage, in contested scenarios and after the catch.
Chase broke 22 tackles on 84 receptions in 2019 and still ranks first in touchdowns against press coverage since 2019 (12) even though he opted out of the 2020 season. Handling Chase's physicality is going to be a tall order for any cornerback at the NFL level.
Biggest con: If anything, shiftiness
We are being nitpicky with this one.
He may not be as shifty as Jaylen Waddle or DeVonta Smith, the other blue-chip wide receiver prospects in this class, but it didn't matter in his uber-productive 2019 campaign, and it shouldn't matter at the next level. Chase still fried NFL-caliber corners back in that record-breaking 2019 season, recording 26 receptions for 487 yards and six scores against a combination of A.J. Terrell, Trevon Diggs, C.J. Henderson, Noah Igbinoghene and Patrick Surtain II.
Tight end Kyle Pitts and offensive tackle Penei Sewell are rare and fantastic prospects, but Chase should be the first non-quarterback off the board in the 2021 NFL Draft.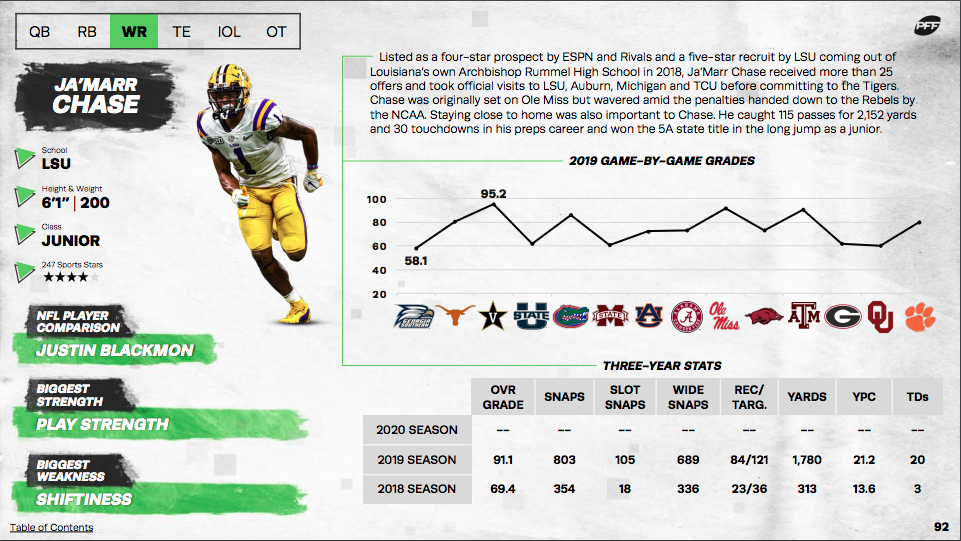 In a class littered with explosive athletes, Waddle might just be the best of the bunch. The Alabama product flies off the line of scrimmage and can get behind defenses with ease. He practically tied in a foot race with former teammate Henry Ruggs III, who ran a 4.27 40-yard dash at the 2020 NFL Scouting Combine, which tells you all you need to know about the promise he holds as an NFL prospect.
Waddle's all-around athleticism helped him rack up a 15-plus yard gain on over 36% of his targets in his three-year career at Alabama, a rate that leads all FBS wide receivers by four percentage points over that period. If he's in an open field, good luck catching him.
Waddle was a part of the greatest wide receiver room college football has ever seen early on in his collegiate career, and he then suffered a broken ankle five games into his 2020 campaign. Between these two situations, he has been robbed of a lot of potential targets in the passing game.
He has logged only 560 routes and 132 targets over his three years with the Crimson Tide. In comparison, his teammate DeVonta Smith saw 145 targets on 423 routes in his historic 2020 campaign.
Still, this isn't a massive concern. Waddle has already shown what he can bring to the table for an NFL franchise; we just would have liked to have seen more opportunity.
We could go in a lot of different directions here. His top-notch route running, fluidity and release package are all alluring traits, but his ball skills are arguably his best asset.
Smith seemingly made highlight-reel grabs every week and recorded an unbelievably low drop rate over his time at Bama. Among FBS wide receivers with over 200 targets beyond the line of scrimmage since 2018, Smith ranks No. 1 in drop rate at just 3.6%. He plucks the ball out of the air with ease and stood stronger than many would think in contested scenarios. His seven contested touchdowns since 2019 actually tied for the most in the Power 5.
DeVonta Smith is really, really good…that's really all you can say. pic.twitter.com/rIYop9K6zM

— CBS Sports (@CBSSports) October 18, 2020
This is a surprise to no one, as the 170-pound frame is the only noteworthy red flag on Smith's scouting report.
We've never really seen a wide receiver with his build find immense success at the next level. Then again, this is the first time we have seen such a complete prospect with this kind of frame.
Smith does everything at the position at a high level and didn't let his slenderness get in the way during his 2020 Heisman campaign, which saw him go up against some of the country's best defensive backs. He still found a way to win and earned the highest single-season grade we've ever given to a wide receiver (95.6). Don't overthink this one.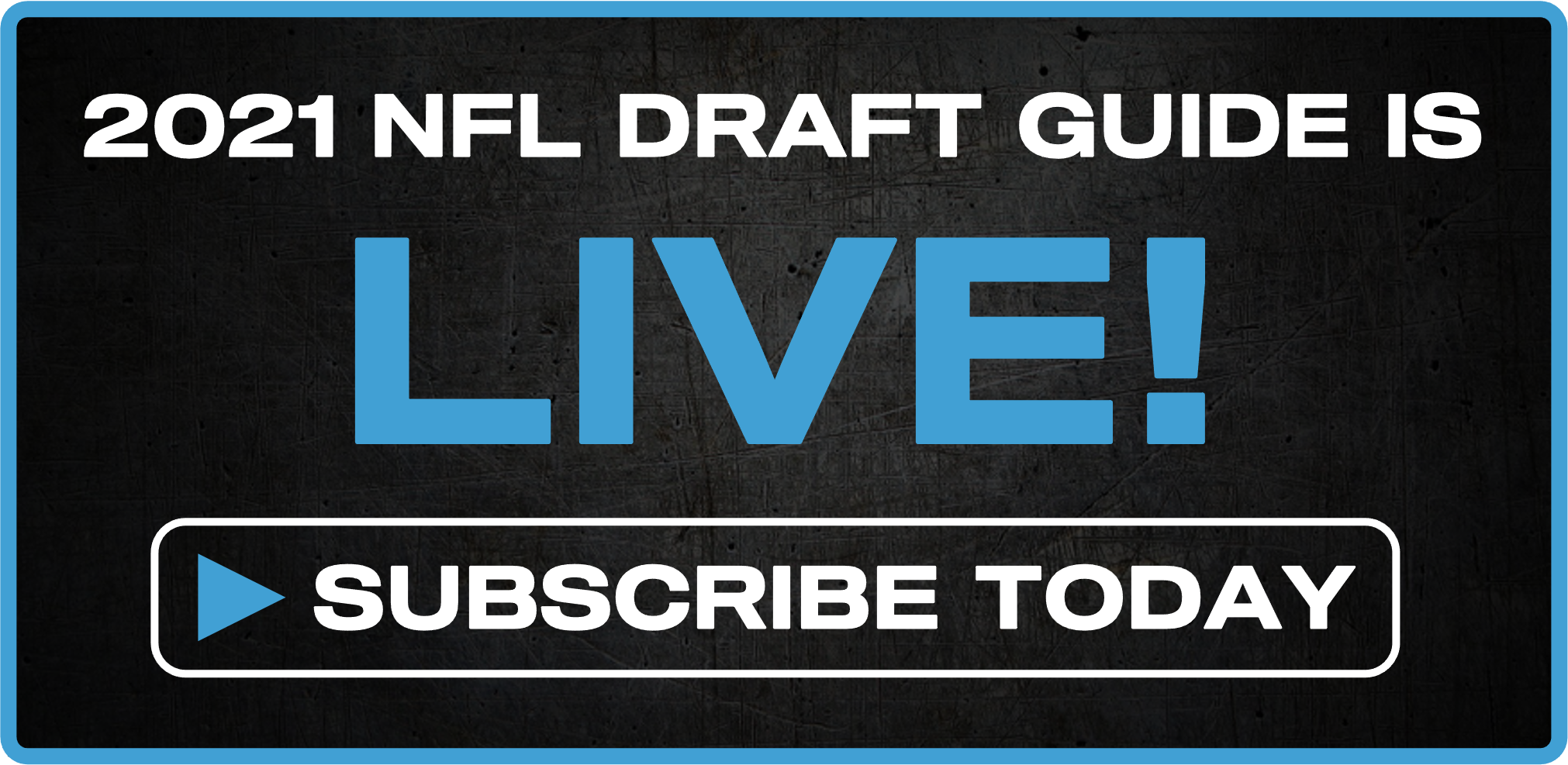 Minnesota head coach P.J. Fleck is one of the best in the business when it comes to coaching wide receivers, and Bateman is a prime example. His release package and route running are as good as it gets. He generated a separation rate that falls in the 94th percentile in the FBS over the last couple of years, and he led the Power 5 in yards per route run generated on the outside in 2019 at 3.60.
Rashod Bateman's release and extension for the catch 🙂 pic.twitter.com/hw2JpKGtRu

— Nate Tice (@Nate_Tice) March 5, 2021
While he supposedly clocked a sub-4.4 40-yard dash at the EXOS mock combine a few weeks ago, Bateman's play speed is good but not elite.
He may not be a top-tier athlete like some on this list, but it didn't get in his way during his time with the Golden Gophers, and it shouldn't get in the way in the NFL. Bateman should go in the middle part of Round 1. Anything later would make him a big steal.
Moore was a true savage out on the field for Ole Miss. The number of times he put his body on the line and took a big shot while still holding onto the ball makes him every old-school coach's dream player. Moore's 96.7% catch rate on passes thrown beyond the line of scrimmage led all FBS wide receivers this past season. He was also strong in contested scenarios despite his small stature, catching 11-of-15 contested targets.
His toughness also showed after the catch, with 31 broken tackles on 153 receptions since 2019. As Mike Renner said in the PFF 2021 NFL Draft Guide, he is the quintessential slot receiver.
The biggest con with Moore is his size. He stands at 5-foot-9 and weighs in at 178 pounds with arms just over 30 inches. All three of those are at or under the 10th percentile among wide receiver prospects historically.
But given what I outlined above, this shouldn't hinder Moore at the NFL level. It didn't stop him from dominating in the most challenging conference in the country. His recent pro day, which saw him post a 4.35-second 40, a 4.00-second short shuttle and a 6.66-second three-cone, should also help teams ease what concerns they may have about him.
Marshall's physical profile is driving his draft stock. He could add some more meat to his frame, but the 6-foot-3 receiver pairs a massive catch radius with the kind of speed coaches crave at the NFL level. Marshall can snag off-target throws with his long limbs and impressed in contested scenarios throughout his time at LSU. He hauled in 20 of his 32 contested targets over the past two years.
Biggest con: Sinking in route breaks
The big problem with Marshall is his route-running and the fact most of his production at LSU was schemed. He's pretty stiff, and it shows on his breaks.
Marshall also had a tough time getting off press relative to the rest of the 2021 class. His 1.66 yards per route run against press coverage ranks 18th among the 28 qualifying Power 5 receivers in this draft class and last among the players named in this article by more than three-quarters of a yard.
The former five-star recruit has a lot of potential and may not come in and dominate the league right away, but the 20-year-old still has a high ceiling.
Moore may be small in stature at 5-foot-7, 180 pounds, but he makes up for it with truly rare athleticism. At his pro day last week, Moore put up a 42.5-inch vertical, 4.29 40-yard dash and 6.68 three-cone. He has also benched over 400 pounds and squatted over 600 during his time in Lafayette.
That explosiveness and strength showed when he was in an open field and made him one of the most dangerous after-the-catch weapons college football has seen. He broke an astonishing 37 tackles back in 2018 alone, which still stands as the PFF record for most broken tackles after the catch by a Power 5 receiver in a single season. Moore trucked defenders with regularity and isn't going to go down on first contact often. I'd bet on that translating to the NFL.
Rondale Moore is unreal man! #OSUvPUR pic.twitter.com/fiY5n8oThs

— Jarrett Payton (@paytonsun) October 21, 2018
While what he did after the catch was all him, the Purdue offense made him the focal point of the attack and schemed around getting him the football. He leads the FBS in total underneath targets since 2018 with 101, and Moore did that despite playing in just seven games over the last two years. Nearly 43% of his total targets in his career were underneath routes, the sixth-highest rate in college football.
Still, Moore has flashed reps that make us believe he can be more than just a gadget player. He may slide into Round 2 in April because of his simplified role in the Boilermakers' offense, as well as the limited game action the last couple of years. If that's the case, some team is going to get a steal.
Biggest pro: After-the-catch ability
It's hard to fathom how a human body can move the way Toney's does. His combination of balance, agility and explosiveness makes him near impossible to tackle. The Florida wideout has touched the ball 187 times in his college career and has broken a whopping 66 tackles while averaging 8.5 yards after the catch. He's going to be one of the most difficult players to tackle in the NFL from Day 1.
We seldom saw Toney win with his route-running before the 2020 season. He was purely a gadget player, with over half of his 66 targets from 2017 to 2019 coming via a sweep or screen, and he saw just eight total targets against single coverage. That changed to a certain extent in 2020.
His route tree still wasn't anything diverse, but he did notch 33 targets against single coverage and flashed improvements with his routes. Toney generated separation on 25 of those for a separation rate that placed him at the 80th percentile in the FBS on such plays. He still has a long way to go before he's the polished route-runner he needs to be at the next level, but Toney has at least shown signs of progress.
Brown was fed vertical routes in UNC's offense, and he won time and time again thanks to his release package and how good he was at handling contact along the route and at the catch point.
He tallied 376 yards on contested vertical targets from 2019 to 2020, the second-most in the Power 5. In that span, Brown produced more vertical route touchdowns than any other wide receiver in the country with 16.
His strength showed after the catch, too. On throws of nine yards or less downfield, Brown broke 12 tackles on 49 receptions.
This absurd catch by Dyami Brown is worth watching over and over again ????

(Via @accnetwork)pic.twitter.com/4HjuUNYmfG

— PFF Draft (@PFF_College) September 5, 2019
Roughly 38% of Brown's targets over the last couple of seasons have come via some variation of vertical route — over 10 percentage points higher than any other receiver on this list. The rest of Brown's targets consisted of 26% hitches and 11% slants; everything else was under 6%. The term "limited route tree" is an understatement.
That said, Brown has shown that he has what it takes to take on a more diverse route tree at the next level. He's one of the big Day 2 sleepers in another loaded wide receiver class.