PFF recently updated its 2021 NFL Draft Guide, which now includes over 300 player profiles and over 1,200 pages of in-depth analysis.
The guide is available to all EDGE and ELITE subscribers, but to celebrate its release, we decided to share the biggest strength and weakness for every top prospect. After first looking at the quarterbacks and wide receivers, we now turn our attention to the best tight ends this draft class has to offer.
View PFF's 2021 NFL Draft position rankings:
QB | RB | WR | TE | T | iOL | DI | EDGE | LB | CB | S
It's tough to even know where to begin with Kyle Pitts, the best tight end prospect we have ever seen in our seven years of grading college football.
The tight end position isn't inherently valuable, especially compared to the wide receiver position, so we at PFF would seldom advocate for their selection inside the top 10. But Pitts is no regular tight end; he's an exception to the rule.
The Florida product shattered the PFF College record for best single-season receiving grade by a tight end in his age-20 season with a mark of 96.1. He has the movement skills of a wide receiver and clocked a 4.44-second 40-yard dash at his pro day. For perspective, that would be one of the five quickest times recorded by a tight end at the NFL Scouting Combine this century.
Pitts almost made a habit out of beating press-man coverage on the outside last season, generating seven gains of 15-plus yards on such reps. Since 2014, the next most we have recorded in a single season was just two.
Would Kyle Pitts be a top-5 WR in the 2021 Draft class? pic.twitter.com/qYHMhmpLwB

— PFF Draft (@PFF_College) March 13, 2021
While his run-blocking took a big leap in 2020 and isn't as bad as many make it out to be, it's still going to be somewhat of an issue to start his NFL career. The good news is that Pitts' impact as a receiver trumps this concern — just because he's not yet an elite inline blocker doesn't mean he should disappear from the top 10. He still has the ceiling to join George Kittle, Travis Kelce and Darren Waller in the elite tier of tight ends in the NFL.
There are times Freiermuth looks like a bowling ball out on the field with the way he rolls over defensive backs. He may not be a dynamic all-around athlete, but he has broken 12 tackles on 66 receptions since 2019 while averaging over 6.1 yards after the catch per reception.
The 6-foot-5, 251-pound tight end is also destined to be a strong inline blocker in the NFL. He's not going to put up eye-popping reps like other guys on this list, but he's not going to lose many either. He has tallied the sixth-best negatively graded run-block rate among Power 5 tight ends since 2018. The traits are there for him to only get better.
— – (@Video1On) June 4, 2020
Freiermuth isn't the most nimble tight end out there and would be much better suited to NFL play 10 years ago than he will be in 2021. And while he has reportedly posted a sub-4.2 short shuttle in the past — which would be impressive for his size — we haven't quite seen that on the field.
The Penn State alum is an old-school tight end who wins with physicality, and that's fine. He's still the clear-cut second-best tight end in the class and is worth taking in Round 2.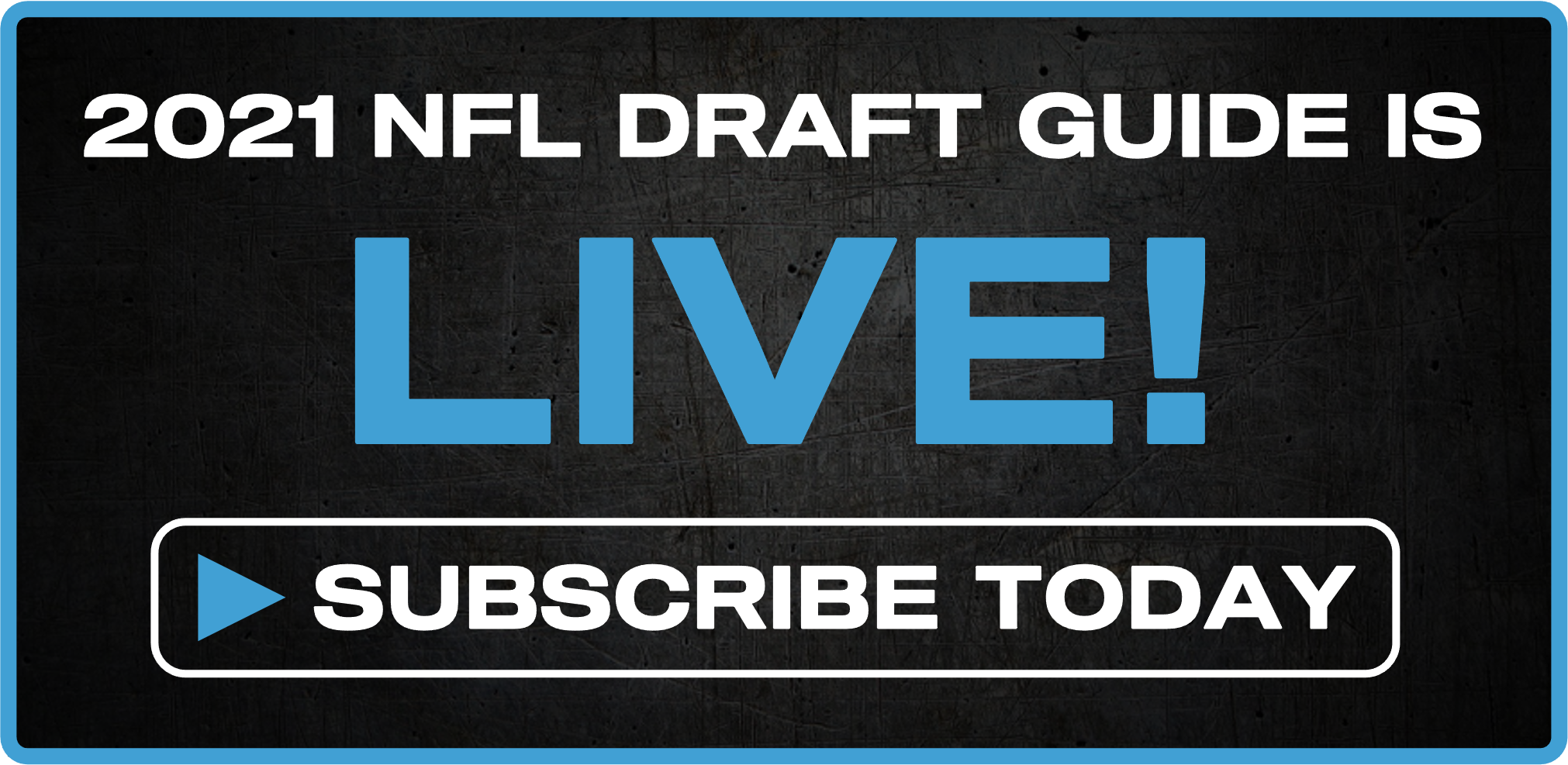 Jordan is move tight end in its purest form. His pro-day performance did him no favors, but he has proven to be a dynamic weapon after the catch that should translate to the NFL.
Jordan broke 21 tackles on 105 career catches at the U, averaging over 8.0 yards after the catch per reception. As Mike Renner noted in PFF's 2021 NFL Draft Guide, Jordan makes cuts that aren't typical for a tight end, and he showed that he could separate against man coverage. Kyle Pitts was the only tight end who generated more yards per route run against man coverage than Jordan did last season.
Teams that get creative with TE usage are going to love Brevin Jordan – experience in backfield, inline, slot and even out wide in Miami's offense

Dangerous after the catch for his size pic.twitter.com/F6VTRLLCeO

— Connor Rogers (@ConnorJRogers) February 9, 2021
There are concerns about his suspect inline-blocking ability along with his "tweener build," but his ball skills are the biggest worry when projecting him to the NFL. Body catches litter his tape, and Jordan has struggled to win in contested scenarios. Over the last couple of years, Jordan ranks dead last among Power 5 tight ends in contested-catch rate, with just four receptions on 19 such targets.
Tremble will be one of the first tight ends off the board solely because of how physical and nasty he is as a blocker. He's been vocal about how much he loves to run-block and enjoys contact in the game, and it is clear for all to see on the field. Tremble imposes his will in the run game with the help of his explosiveness and elite locating ability in space. He recorded the highest blocking grade of any tight end in college football this past season. Over the last two years, Tremble has more big-time blocks than any Power 5 tight end, with nine.
Tommy Tremble is a vicious run blocker pic.twitter.com/JF31aiCQet

— Jac Collinsworth (@JacCollinsworth) September 16, 2020
As good as his blocking was, Tremble was almost non-existent in the Fighting Irish's passing offense. He generated just 1.25 yards per route run and a 63.7 receiving grade in 2020 and saw five-star true freshman Michael Mayer receive the bulk of the opportunities on the receiving front. He may never develop into a pristine route-runner, but he checks the speed box.
Long established himself as one of the better receiving tight ends in college football over the last couple of years, becoming one of the four players at the position to produce a receiving grade north of 90.0 over that period.
Standing at 6-foot-5 and weighing in at 253 pounds, Long has the speed to be a threat in the open field and to challenge the seam. His 4.63-second 40 was on full display in his 2019 campaign at Boston College when he averaged 10.8 yards after the catch per reception and hauled in 158 yards courtesy of seam routes.
The Eagles took the screens and vertical opportunities away from him in 2020, but he still found success on a more typical route tree for a tight end. This past year, he tied with Kyle Pitts for the most contested catches by a Power 5 tight end with 11 and trailed only Pitts in 15-plus-yard receptions generated with 17.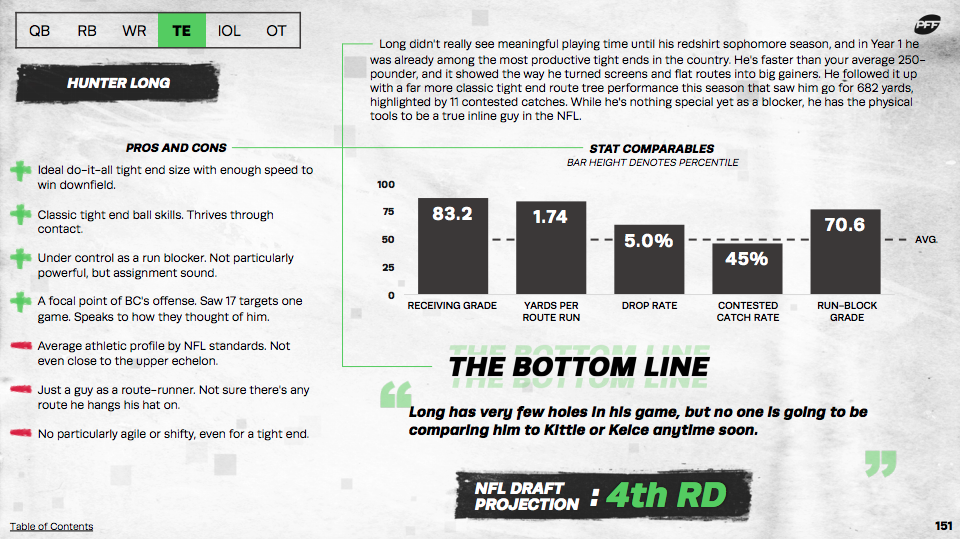 Long may have the speed, but he's a distinct notch below the positional average when it comes to agility. It showed during his pro day, and the tape serves as further proof.
The athletic profile and route-running ability are a tier below the top tight ends in this class, but he possesses all the other tools necessary to be a reliable target at the next level. He has the prototypical tight end frame and requisite ball skills to be a key contributor at the next level.