PFF recently updated its 2021 NFL Draft Guide, which now includes over 300 player profiles and over 1,200 pages of in-depth analysis. The guide is available to all EDGE and ELITE subscribers, but we decided to preview the included content by sharing the biggest strength and weakness of every top NFL draft prospect.
After diving into all of the skill positions last week, we round out the offensive side of the ball with the group's unsung heroes, the offensive linemen.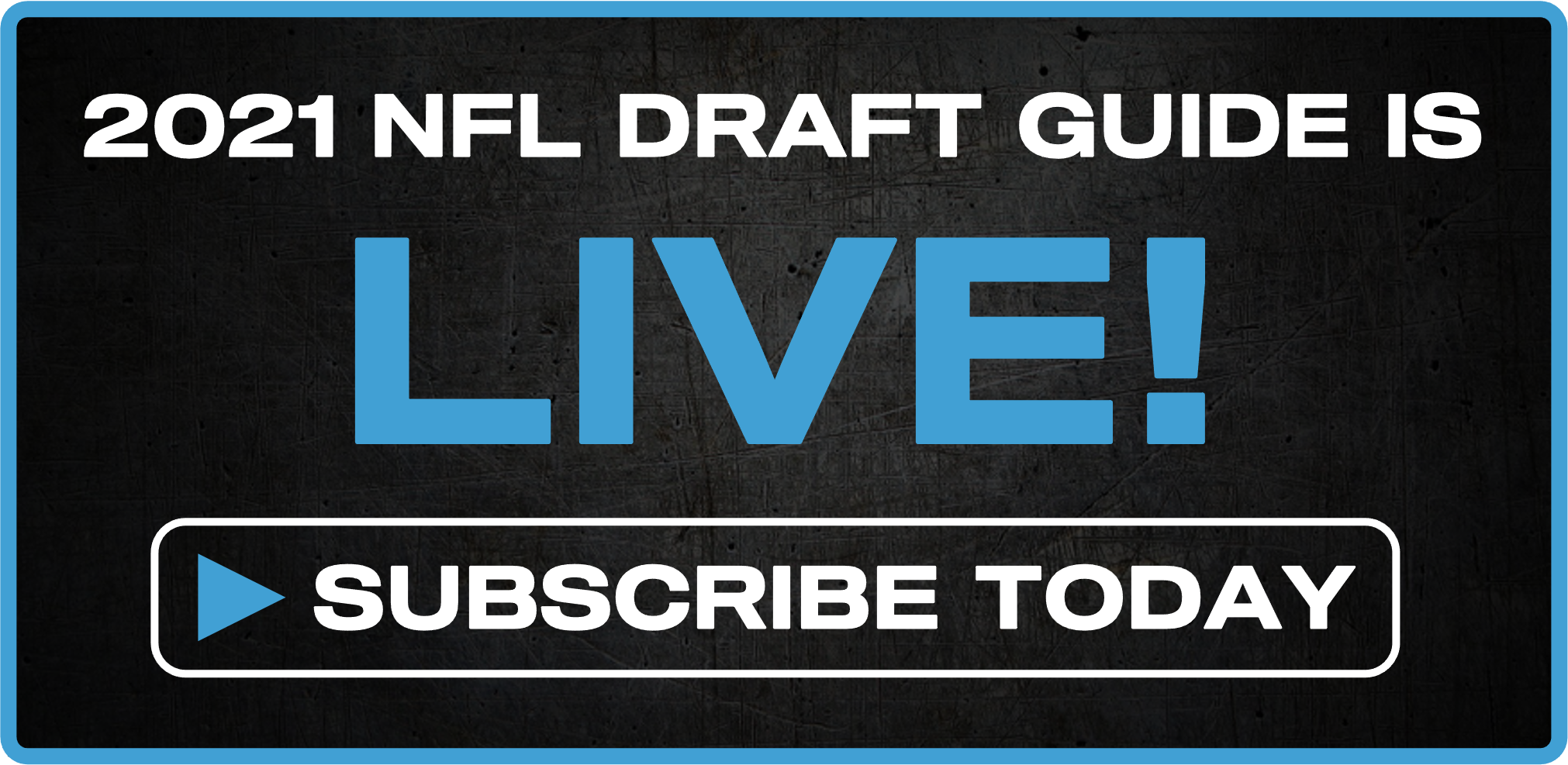 Biggest pro and con for PFF's top draft prospects:
QB | RB | WR | TE | OL
I imagine that defenders' lives flash before their eyes when Sewell is approaching them in space. He's like a guided missile with the way he tracks down his opponents.
Sewell led the Power 5 in big-time blocks in 2019, and the 95.8 PFF grade he earned for his efforts — when he was an 18- and 19-year-old — still stands as the best we have ever seen in the PFF College era.
Oregon's Penei Sewell, who led all FBS offensive linemen in @PFF grade this past season, is rare — his athletic ability and movement skills in space are ridiculous.

OT1 pic.twitter.com/K6IOmKkU0T

— Austin Gayle (@PFF_AustinGayle) June 10, 2020
The Pac-12 isn't particularly known as a breeding ground for elite pass-rushing talent, which means that Sewell faced up against many a dud over his college career.
The best pass-rusher in the conference in 2019 was teammate Kayvon Thibodeaux, who is likely to be a very early pick in 2022, and only two other edge defenders outside of Thibodeaux produced a 75.0-plus pass-rush grade that season. For reference, the Big Ten, SEC and ACC each had 10 or more players earn a pass-rush grade above 75.0 in that 2019 campaign.
Sewell has an incredibly high floor as a draft prospect, but when you combine his relatively untested college career with the screen-heavy Oregon offense that limited his opportunities in true pass sets, you have an intriguing starting point for the debate about Sewell's true ceiling.
Slater might have the best footwork of anyone in this class. His foot quickness and processing speed allow him to shut down any stunt or blitz thrown his way, and his overall athleticism is going to help him make those NFL-level cutoffs that teams need.
We saw how special a prospect he was from an athleticism standpoint at his pro day when he put up a 4.88-second 40-yard dash and 7.48-second three-cone. So, it should come as no surprise that Slater produced a 90.0 PFF grade and allowed just five pressures over 11 games in his final season at Northwestern in 2019.
There's no question that Slater is undersized for a tackle. He measured at 6-foot-4, 304 pounds, with 33-inch arms at his recent pro day — all below the 20th percentile among past draft prospects.
Some view Slater as a guard because of that size, but we believe he is going to hold up at tackle just fine in the NFL — his athleticism speaks for itself, and he's as technically sound as they come. After all, he did handle Chase Young, who is already one of the top edge defenders in the NFL, better than anyone else in the country back in 2019, and it wasn't especially close.
Darrisaw went up against some very talented ACC college defensive linemen during his time at Virginia Tech, but he was a legitimately immovable force, a man among boys.
When he landed his punch, he deadened the opposition. His power and overall physicality are what NFL scouts and coaches dream of when evaluating offensive tackle prospects. It showed up routinely in both facets of play in 2020 when he generated more positively graded run blocks than any other Power 5 tackle while also ranking second among that same group in PFF grade on true pass sets.
Biggest con: Riding rushers past pocket
There are few cons on Darrisaw's scouting report, but one is that most of his severe losses stemmed from opening up his hips too quickly and allowing the edge rusher to win the corner instead of widening and riding him past the pocket.
However, this was more of an issue back in 2019, which is why his pass-block grade was 15 grading points higher in 2020 (90.8 versus 75.5). He may not have the mirror as some other top prospects, but Darrisaw still has all the makings of a standout NFL tackle.
Little's short shuttle (4.58) and three-cone (7.43) at his pro day came as absolutely no surprise to anybody who has studied his tape. Those two marks sit in the 82nd and 89th percentile, respectively, among past tackle prospects.
His agility and mirror are precisely what teams want at offensive tackle. The only question is, will his physical traits be enough for teams to overlook his lack of playing time and trust the small stretch of quality play in his collegiate career?
Biggest con: Not playing for two years
There isn't a more boom-or-bust prospect in this class than Walker Little. Once a highly coveted five-star recruit back in 2017, he has made only 19 starts since, with only one coming over the last two years. He suffered a season-ending injury in Stanford's 2019 opener and decided to opt out of the 2020 season and focus on the 2021 NFL Draft.
Little did look like he was on the path to stardom before that. Over his final seven college games — one in 2019 and six in 2018 — he earned a 93.3 pass-block grade and allowed pressure on just 0.4% of his pass-blocking snaps.
Things would be different if that stretch were twice as long and more recent, but the fact that he has just one game under his belt in over two and a half years will give teams pause when considering him in Round 1.
Biggest pro: Explosiveness out of stance
This year's pro days aren't the be-all and end-all; they should be viewed as just another factor in the scouting process. They either confirm what was shown on the field or cause a reevaluation if the pro-day performance was different than expected.
In the case of Radunz, it's the former. His explosiveness and agility jump off his tape from North Dakota State, and his pro day verified those traits. He turned in a 32-inch vertical (87th percentile), 113-inch broad jump (92nd percentile) and 7.27-second three-cone (97th percentile).
Coming in at 6-foot-5, 304 pounds, there's some major concern with how his build will fare in the big leagues against grown-man strength, especially since it was an issue against FCS-level competition on a few occasions.
Still, Radunz came out in the Senior Bowl and eased this worry to a certain extent. He looked dominant in one-on-ones and actually finished the week of practices as the highest-graded tackle in attendance.
Jenkins looked like a school bully on a playground at times for Oklahoma State. No one on the Pokes' schedule could match his upper-body strength — his no. 1 ranking negatively graded run block rate in the Power 5, along with the 36 reps of 225 pounds he threw up on his pro day (98th percentile among tackles historically), backs that up. He has that nastiness that traditional football guys salivate over.
Teven Jenkins is a junkyard dog, really physical in the run game.

He was also dominant in pass protection against some really good pass-rushers (e.g. Joseph Ossai).

(????️: @BrandonThornNFL)pic.twitter.com/SLQbq9BbJa

— Austin Gayle (@PFF_AustinGayle) March 3, 2021
Jenkins may have the strength of an NFL tackle, but the mirror ability isn't quite there. The feet aren't remotely close to being on the same level as a prospect like Slater. That, along with his 33.5-inch arms, few true one-on-one opportunities due to the Oklahoma State offense and a lackluster set of opposing pass-rushers faced, are all reasonable concerns with Jenkins.
They are reasons why he could get pushed to the last few picks of Round 1, if not early Round 2. If we see him go beyond those first 32 picks, some team will be getting a steal. Jenkins is going to put some defensive linemen into the turf from Day 1 in the NFL. For a team like the Baltimore Ravens, he makes all the sense in the world.
Vera-Tucker has been one of the most consistent down-for-down offensive linemen in college football over the last couple of years. Back in 2019, when he played at guard (the position he will likely play in the NFL), he allowed just seven pressures (six of which were hurries) over 13 games en route to an 87.9 pass-block grade. He gave up multiple pressures in just one of those 13 games, and that came against the formidable Notre Dame defensive line. Vera-Tucker is NFL-ready from a technical standpoint.
In terms of projecting him as an offensive tackle (where he played in 2020), Vera-Tucker is already at a disadvantage with his size at 6-foot-4, 308-pounds, with arms just over 32 inches. And his good but not great athleticism doesn't help negate that issue, as is the case with Rashawn Slater.
That size disadvantage showed up against the only NFL-caliber edge rusher he faced in 2020, Kayvon Thibodeaux of Oregon. In his first five games at tackle, Vera-Tucker earned a 92.8 pass-block grade with just two pressures allowed. Against Thibodeaux, Vera-Tucker produced a 48.0 pass-block grade and allowed six pressures.
Relative to his position, Cosmi is one of the best all-around athletes in the 2021 NFL Draft class. Just take a look at his numbers he posted a few weeks ago with the percentile he sits at compared to tackle prospects historically:
Height: 6-foot-6 (62nd percentile)
Weight: 314 pounds (58th)
Arm: 33 inches (13th)
Vertical: 30 inches (69th)
Broad jump: 117 inches (98th)
Bench: 36 reps (98th)
40-yard dash: 4.84 seconds (98th)
Short shuttle: 4.39 seconds (98th)
Three-cone: 7.35 seconds (94th)
It was one of the most dominant pro-day performances of the year. His mirror ability is special for a man of his stature. Cosmi, who produced a zone-blocking grade that sat at the 92nd percentile in 2020, should be highly coveted by wide-zone offenses in April.
Biggest con: Technique in pass sets
Cosmi was a key cog on the Longhorns' line and fared well in pass protection in his three years as a starter by boasting pass-block grades of 82.8, 86.0 and 90.7. But that doesn't mean that his overall technique isn't without flaws. His shuffle has caused balance issues at times, and he has a maddening waist-bending tendency. Far too often his nose gets out in front, causing him to fall off blocks. Cosmi has all the tools to be a good starting tackle in the NFL with the right coaching. In any other class, he's a first-round pick.
Arm length as a measurement is largely overblown, but it is still always the topic of conversation when evaluating offensive line prospects. Leatherwood, who stands at 6-foot-5 and weighs in at 312 pounds, checks this box with flying colors. He measured in with 34 ⅜-inch arms at Alabama's pro day, placing him at the 65th percentile among offensive tackle and 90th percentile among guard prospects historically. His physical traits showed up in a big way in the run game, where he posted more big-time blocks than any Power 5 tackle in the country last season.
Leatherwood is among the many tackle-to-guard-convert candidates in the 2021 NFL Draft class. His pro day was far better than many were expecting, but the on-field performance should always be the deciding factor. With the help of his nightmarish length and strong lower half, Leatherwood has all the fixings to be a quality phone booth guard in the NFL, but he still should get a chance to prove himself at tackle.
At 6-foot-6, 326 pounds, Dickerson is a will-imposer and dished out pancakes with regularity for the Crimson Tide. This past season, he racked up 14 big-time blocks, tying for the most recorded by a Power 5 center in a single season in the PFF College era (since 2014). He ended the campaign with an FBS-center-best 92.8 run-block grade for the season.
Dickerson was unable to partake in any drills at Alabama's pro day due to injury, but before that, he has reportedly benched over 440 pounds and squatted over 750. That bench would be in the ballpark of 32 reps of 225, which is around the 85th percentile among all centers historically. Considering his size and length, that is quite impressive.
Landon Dickerson, pancake maker ????

— Thor Nystrom (@thorku) March 29, 2021
Dickerson only was able to play a couple of kneel-down snaps in Alabama's College Football Playoff wins over Notre Dame and Ohio State this past year after he suffered a torn ACL in the SEC Championship game against Florida. If it weren't for this and a brutal injury history throughout his collegiate career (torn ACL and ankle injuries limited his 2016-2018 seasons at Florida State), Dickerson would likely be a first-round selection in April. Now, he's a candidate to go right in the middle of Day 2.
Dickerson is obviously a tough player for even coming on the field for those kneel-down snaps just a few weeks removed from the ligament injury. He even reportedly told doctors he wasn't using crutches the day after having surgery. That toughness shows when on the field, too. The only question is, can he stay on the field? If he can overcome this torn ACL and the long line of injuries, expect Dickerson to be a strong, long-time starter at the next level.
Biggest pro: Independent hand usage
Like Alex Leatherwood, Carman is a candidate to convert from tackle to guard, but he could hold up at tackle with his movement skills and standout hand usage. He tries to engage by latching on instead of punching in pass protection; once his hands are in the pads, it's usually game over for the opposition.
Carman showed this in Clemson's CFP Semifinal against a talented crop of Buckeye edge rushers. He played 14 true pass sets in that game and didn't allow a single pressure. He does, however, come with some inconsistency. While he was solid on his true pass sets in that outing, he still struggled against other formidable opponents like Miami, Pitt and Notre Dame. And a big reason why he struggled in those games is because…
Carman obtaining depth off the snap with his kick step has been an issue within his pass sets. When he faces some of the speed rushers at the NFL level, that's likely to be an issue. He doesn't necessarily have the quickest feet, either.
Carman will be a work in progress for whichever team drafts him, but as Renner noted in his offensive tackle rankings, the raw talent upside is alluring and worth taking a shot on.
Biggest pro: Explosiveness off the ball
There aren't many interior offensive line prospects who pop up with the tools Meinerz has. As said in the 2021 PFF NFL Draft Guide, the way he comes off the line of scrimmage with leverage and explosiveness is a sight to behold. His pro day only further verified this. Meinerz posted a 32-inch vertical, 111-inch broad jump, 4.86 40-yard dash, 4.47 pro agility and 7.33 three-cone. For perspective, all five of those are beyond the 90th percentile among all interior offensive line prospects historically.
One doesn't have to be an expert to recognize the biggest qualm with Meinerz as a prospect is the fact he played for Division-III Wisconsin-Whitewater, where he dominated defensive linemen from teams like Dubuque and UW-Stevens Point. Because of this, his performance at the Senior Bowl was going to define his draft stock more so than anyone else in attendance. And Meinerz made the most of the opportunity by posting the second-highest win rate of any interior offensive lineman in attendance, handling some top Power 5 defensive line prospects with ease.
Wisconsin-Whitewater's Quinn Meinerz at his pro day surpassed the 90th percentile historically among iOL in the 40, vertical, broad, short shuttle and 3-cone.

His stock skyrocketed after a dominant Senior Bowl and just got another boost with his pro day.pic.twitter.com/mtlFFtBz7s

— Anthony Treash (@PFF_Anthony) March 10, 2021
Biggest pro: Establishing leverage
Eichenberg has a high floor for a Day 2 prospect, with his biggest strength being establishing leverage with his hands. He's lightning-quick to reset his hands at a low positioning. Along with this, Eichenberg's experience and overall technique make him one of the "safer" prospects in the class.
Eichenberg has logged more true pass sets than any Power 5 tackle over the last two years (401) without allowing a sack, and it isn't particularly close. He also made strides in the run game in 2020 by improving his grade in that facet from 78.8 in 2019 to an elite mark of 90.1.
Biggest con: Independent hand usage
If Eichenberg relies on his two-handed punch in the NFL as he did at Notre Dame, he's going to get fried. Just watch his games against Pitt, Alabama and his second matchup against Clemson. Those were three of his four multi-pressure games of the 2020 season (removing the FSU game when he played with a swollen shut-eye), and almost all the losses were because the more advanced pass-rushers swatted his hands away.
Some losses were also because he put everything he could into the two-handed punch and didn't quite land them right on time and got him off balance, which is another con on his scouting report. Eichenberg's two-handed punch can be deadly and the reliance may not have been a major issue in college, but it will be in the NFL. He has to get better at using his hands independently.
Davis' balance is elite — you won't see this man go to the ground very often. He has the physical skill set to play in any system and rarely loses one-on-one battles with his strong pass sets, which are among the best in the class at the position. Back in 2019, Davis didn't allow a single sack or hit across 459 pass-blocking snaps, and he also racked up more positively graded run blocks than any Power 5 guard.
In addition to the murkiness surrounding his health — specifically, a knee issue that showed at times this past season at Ohio State — Davis' stunt and blitz recognition has been a sticking point, and it is a concern when projecting him to the NFL. Davis has allowed 26 total pressures over the last couple of years, and 16 of those came against either a stunt or blitz. He may be stout in one-on-one scenarios, but as Tampa Bay Buccaneers' defensive coordinator and reigning Super Bowl Champion Todd Bowles will tell you, the NFL won't make it that easy for Davis. He's going to see several blitzes and stunts, and Davis has shown no signs that he is going to come in and handle that load right away.
---
View PFF's 2021 NFL Draft position rankings: