Jason Kelce is not your prototypical NFL center.
Coming out of Cincinnati in 2012, he weighed all of 280 pounds at the NFL combine. When he first stepped on an NFL field, he was ceding nearly 100 pounds to the man lined up across from him at times. Even though it was his size that had dropped him all the way to the sixth round of the draft, his skillset made him a Day 1 starter in Philadelphia that season – a position he hasn't relinquished since, mainly due to his run-blocking prowess at the position, as he earns himself our top run-blocker award for the 2017 season.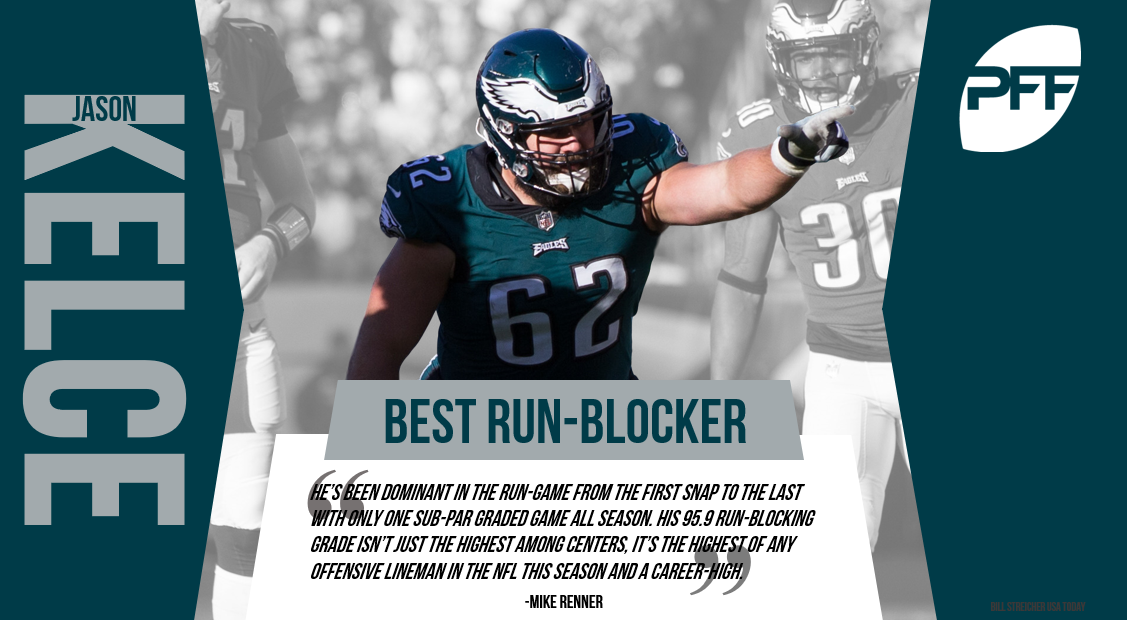 Kelce possesses rare movement skills for the position and what he doesn't have in pure strength, he makes up for in technique. He was a perfect fit for Chip Kelly's up-tempo, quick running game. In 2013, he teamed up with left guard Evan Mathis to make the league's best combo-blocking duo, and both players were named first team PFF All-Pro's that season.
When Kelly left in 2016, Kelce struggled to transition to Doug Pederson's new system and was asked to play like a far more traditional center, getting exposed when going 1-on-1 at times. Kelce surrendered 29 total pressures, by far the most since his rookie season, and the fans in Philly were left wondering if he was a fit with the team.
General manager Howie Roseman stuck with his veteran center, however, and over the course of the offseason, Kelce was reborn.
A combination of Pederson scheming more to Kelce's strengths and Kelce getting stronger flipped the All-Pro switch once again inside the Eagles center. He's been dominant in the run game, from the first snap to the last, with only one sub-par graded game all season. His 95.9 run-blocking grade isn't just the highest among centers, it's the highest of any offensive lineman in the NFL this season and a career-high.
His turnaround has been instrumental in the Eagles' run to the Super Bowl, and he's more than deserving of PFF's top run-blocker award.