PFF provides every fan with the right information to best prepare for Week 1 of the 2019 NFL season. We offer advanced stats and grades on key players to watch, fantasy football advice and links to PFF Greenline predictions for all 16 NFL games on the schedule for this week.
[Editor's Note: ELITE subscribers have access to all of PFF's fantasy football projections, rankings and lineup tools in addition to PFF NFL and College Greenline, an online dashboard with predictions for the spread, total and moneyline for every FBS and NFL game every week. Subscribe today to gain access!]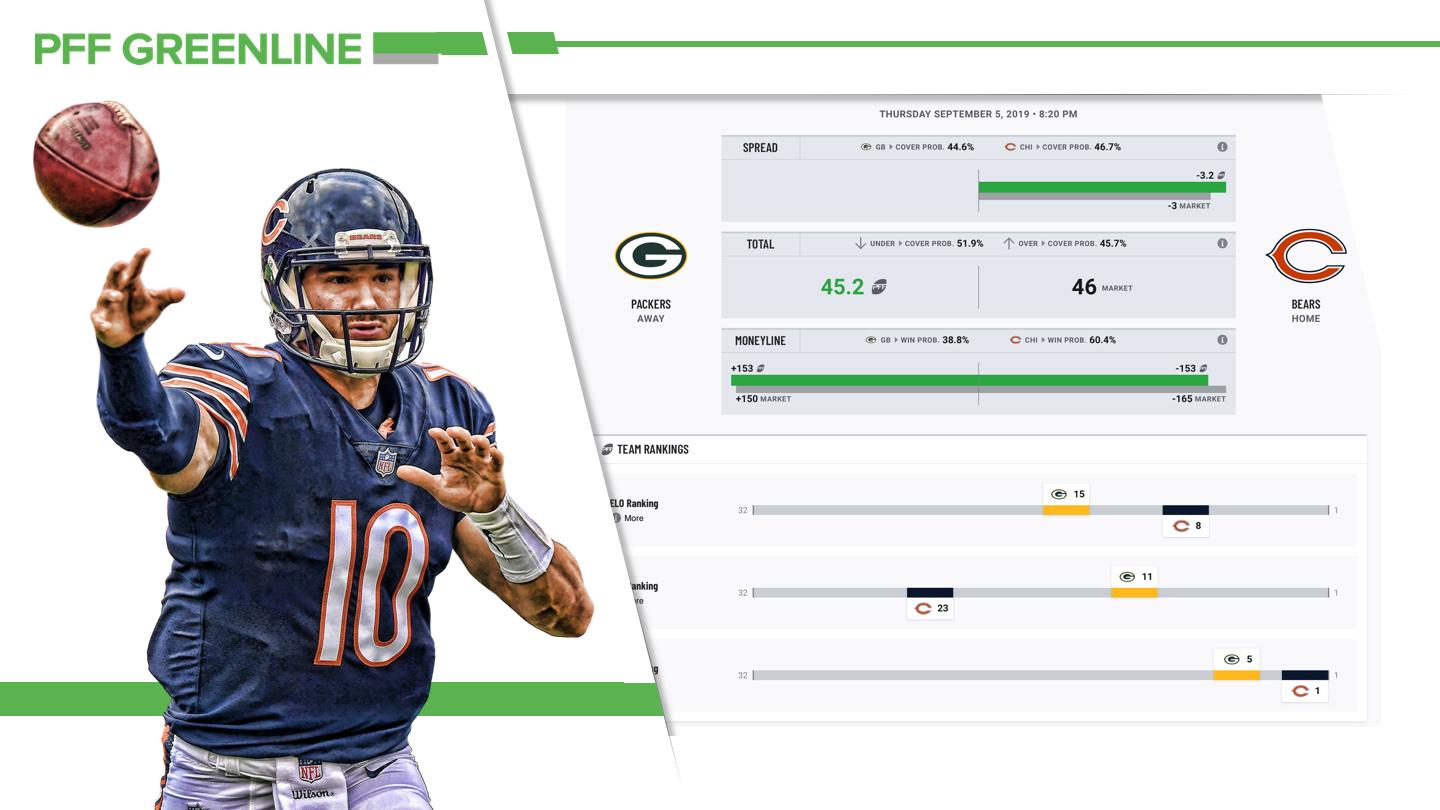 Thursday September 5, 2019
Green Bay Packers @ Chicago Bears
NFL Players to Watch
The 2019 NFL regular season kicks off in the Windy City, pitting two quarterbacks on the opposite ends of PFF's grading scale in Aaron Rodgers and Mitchell Trubisky. Despite breaking the PFF record in throwaways last season, Rodgers earned himself an 87.0 passing grade that ranked sixth among the 38 signal-callers with 200 or more dropbacks in 2018. Trubisky, on the other hand, ranked just 33rd on this list at 57.8. Rodgers' 0.97% turnover-worthy play rate was the best in football a year ago, while Trubisky ranked tied for 26th in turnover-worthy play rate (3.41%) among qualifiers. This NFC North affair also features one of the league's best edge defenders in Khalil Mack. In his first season in Chicago, Mack split time rushing opposite of left and right tackles and earned an impressive 86.0 pass-rushing grade in the process. He'll likely see a bit of David Bakhtiari, PFF's highest-graded pass-blocking offensive lineman from a year ago, and Bryan Bulaga.
Fantasy Football Preview
Bears rookie running back David Montgomery led the nation with 99 forced missed tackles last season. The Day 2 selection in May's draft is far from a lock to lead the Chicago backfield, but we like him to hit the ground running and provide instant RB2-plus fantasy value.
 Spread: CHI -3 | Total: 46.5
Chicago opened as a four-point favorite in April, but constant support for the underdog now has Green Bay and Chicago pegged as equal teams on a neutral field Thursday night.
Sunday September 8, 2019
Los Angeles Rams @ Carolina Panthers
 NFL Players to Watch
After he bowed out of the 2018 NFL season a bit earlier than expected, Panthers fans all over the nation will be hoping that Cam Newton looks good upon his return to the field. In the three full seasons since his MVP season, Newton has earned overall grades of 68.5, 68.7 and 70.9, and he's seen his passing grade on deep passes (passes of 20-plus air yards) fall from 93.2 in 2015 to 78.1, 73.9 and 63.4 in 2016-18, respectively. Armed with a new throwing motion and a young and talent pass-catching corps, Newton can silence the doubters early if he can put forth a good performance against last year's NFC Champs. For the Rams, the focus should be turned to the of wide receiver Cooper Kupp and recently extended quarterback Jared Goff. Since 2017, Kupp's 78.3 overall grade when lined up in the slot ranks ninth out of 69 wide receivers who have played at least 300 snaps lined up inside, while his 129.9 passer rating when targeted in the slot ranks third among all wide receivers with at least 50 slot targets over that same span. Kupp really was pivotal to the Rams' passing attack last year: the side posted 7.5 yards per play with him on the field as opposed to just 5.3 yards per play with him out injured, so the quicker these two can rekindle that connection, the better.
Fantasy Football Preview
All eyes are on Todd Gurley's usage in this contest after the star running back faltered down the stretch last season. The Rams retained Malcolm Brown's services and drafted Darrell Henderson, so it's likely Gurley's workload decreases. That being said, he can still be an extremely effective fantasy option with 18 touches per game.
 Spread: CAR +2.5 | Total: 50
Traveling from the west coast to the east coast for a 1 PM game is never easy, but three points is a bit short here in Charlotte for the defending NFC champion.
Tennessee Titans @ Cleveland Browns
NFL Players to Watch
The 2019 NFL season will be huge for quarterback Marcus Mariota. In five years of NFL play, he's not earned an overall grade below 63.0, yet he's never managed to crack the 80.0 threshold — the area of grading where the greats at the position frequent. Even in what was a career-best season from a grading standpoint in 2018, his overall grade of 76.8 was only good enough to rank 18th among 39 qualifying quarterbacks. Improvement in clean-pocket play is a must for Mariota in 2019, and there's no better place to start than against the Browns, whose defensive line has the potential to disrupt those clean pockets more than ever. In the opposite camp, Odell Beckham Jr. will be getting ready to suit up for his first regular-season game as a Cleveland Brown. Beckham put together an impressive 2018 campaign in which he earned a 90.0 overall grade and a 2.26 yards per route run average that ranked tied for 11th among qualifying receivers, and he's now paired with a quarterback who will give him every conceivable chance to put up career-best numbers across the board. 
Fantasy Football Preview
The Odell Beckham Jr. era in Cleveland begins this week, and the star wideout will likely kick things off with shadow coverage from Adoree' Jackson. While Jackson graded out fairly well in 2018, he did allow the second-most receptions among corners last season with 66. He also showed that he could be vulnerable against shifty receivers, as T.Y. Hilton racked up eight catches for 146 yards and two scores against Jackson in Week 11 last season.
Spread: CLV -5.5 | Total: 45.5
While the market is quite high on the Browns, we shy away from having them as the best team in the AFC North, projecting them with 8.4 wins.
Kansas City Chiefs @ Jacksonville Jaguars
NFL Players to Watch
The Chiefs' offense vs. the Jaguars' defense presents one of the best matchups of the week. The top-drawer pass-rushing unit of Yannick Ngakoue, Josh Allen and Calais Campbell will be pitted against the formidable offensive tackle duo of Mitchell Schwartz and Eric Fisher, the former being the best pass-blocking right tackle in the league; the latter is coming off a dominant stretch of play to close out the 2018 season. Looking outside of the trenches, Tyreek Hill (89.0 overall grade in 2018) is facing up against Jalen Ramsey, who has allowed a passer rating of just 72.1 over the last three seasons; while Sammy Watkins (71.2 overall grade in 2018) will have to deal with A.J. Bouye, who has allowed a passer rating of just 66.6 from his career snaps at outside cornerback. This one is going to be a fight — and we're here for it.
Fantasy Football Preview
For much of the offseason, many fantasy drafters hitched their wagons to Damien Williams as the potential workhorse in the Kansas City backfield. But that all seems very uncertain with the post roster cutdown addition of LeSean McCoy. For now, it's tough to view Williams or McCoy as anything more than an RB3.
Spread: JAX +3.5 | Total: 52 
Despite consecutive years as one of the league's best defenses, the market thinks this will be a high scoring game down in Jacksonville, with a total of 52 points.
Baltimore Ravens @ Miami Dolphins
NFL Players to Watch
After lighting the league on fire with his game-breaking rushing ability down the stretch of the 2018 season, everyone will be itching to get their first look quarterback Lamar Jackson and the Ravens' offensive gameplan. From Week 11 to Week 17, Jackson churned out 425 yards from designed quarterback runs and a further 129 yards on 17 scrambles. If Jackson & Co. are used right, this offense will provide a tough challenge for even the most feared defensive coaches. For the Dolphins, it will be interesting to see how much work Albert Wilson gets. A breakout candidate in 2019, Wilson recorded more yards after the catch per reception (13.3) than any other wide receiver with at least 35 targets last year, and he's finished first in missed tackles forced per reception in each of the last two years. One particular area to focus on in this one will be the Ravens' pass-rush against the Dolphins' offensive line. After losing Terell Suggs and Za'Darius Smith earlier in the offseason, Pernell McPhee and Matthew Judon will be chomping at the bit to get to work on a Dolphins offensive line will consist of two rookies and three veterans who all failed to record grades above 60.0 last year.
Fantasy Football Preview
Just how many times will Lamar Jackson run the ball this season? The Ravens signal-caller took over starting duties in Week 11 last season and averaged more than 17 carries per game from that point on. It's ambitious to expect a similar workload this year, but Jackson's rushing ability makes him an extremely interesting fantasy option in a game that the Ravens should dominate.
Spread: MIA +7 | Total: 37.5
For the second-straight year, money has steadily come in on the Ravens for opening day against an AFC East opponent, pushing their spread from around four points out to a touchdown on the road in Miami.
Atlanta Falcons @ Minnesota Vikings
NFL Players to Watch
Yes, it was only preseason, but Dalvin Cook's  85-yard touchdown run in Week 3 highlighted everything that's great about third-year running back. His combination of vision, patience and the ability to create yards behind bad blocking is a large reason why he enters the 2019 season with an 80.1 zone-rushing grade that ranks fifth among the 40 running backs who've carried the ball 50 or more times in outside zone — the Vikings' go-to scheme — since 2017. If he can stay healthy, Cook has all the potential in the world to take the rushing title in 2019. The Falcons, on the other hand, have the ever-dependable Alex Mack at center and a solid left tackle in Jake Matthews, who has recorded overall grades of at least 75.0 in three of his five years in the league. The right side of the line, however, is a relative unknown as we head into Week 1. First-round guard Chris Lindstrom mustered a 53.0 overall grade across 96 snaps this preseason, and Matt Gono — in the lineup in place of Kaleb McGary — managed an overall grade of just 61.5 across his 176 preseason snaps. This Vikings pass-rush is an underrated unit anyway, but they could really make an impact in this game if Falcons' right side don't play up to scratch.
Fantasy Football Preview
Kirk Cousins gets a bum rap in the fantasy community. Many viewed him as a disappointment last season despite the Vikings signal-caller topping 4,000 passing yards for the fourth straight season and posting a career-high 30 touchdown passes. Cousins should get off to a strong start against an Atlanta defense that allowed the most fantasy points per game to quarterbacks last season.
Spread: MIN -4 | Total: 48 
In the battle of two underachieving 2018 teams, the line has bounced around between -3.5 and -4.5, more likely to close on the former than the latter.
NFL Players to Watch
Quinnen Williams looked as expected this preseason. He recorded one hit and two hurries from his 42 pass-rushing snaps, winning 19.1% of his total pass-rushing matchups in the process, a mark that tied for first among 42 qualifying first-year interior defenders. The Bills' offensive line has seen its fair share of turnover over recent months, so Williams will be looking to capitalize on that in his first regular-season game as a pro. In the Bills' camp, it'll be worth keeping an eye on newly signed wide receiver Cole Beasley. Beasley looked sharp this August, combining with sophomore signal-caller Josh Allen on 7-of-8 passes for 71 yards, 8.1 yards per attempt and a passer rating of 103.6.
Fantasy Football Preview
We don't quite know what to expect from Le'Veon Bell after the running back sat out the entire 2018 season and dashed many fantasy hopes in the process. However, the former Steeler is in a position where he should dominate touches right out of the gate. Bell is positioned well to be among the league leaders in touches.
Spread: NYJ -3 | Total: 41
People can't quite figure out which of these two teams with second-year quarterbacks will finish second in the AFC East in 2019, and hence the line implying equal teams on a neutral field. 
Washington Redskins @ Philadelphia Eagles
NFL Players to Watch
Earlier this week, head coach Jay Gruden told reporters that it would be Derrius Guice, not Adrian Peterson, who would pull the proverbial cart for this Redskins rushing attack, so the sophomore running back will want to get off to a good start against a formidable Eagles defensive front. Guice looked sharp enough this August, churning out 44 yards from 11 carries, with 28 of those yards coming after contact at 2.55 yards after contact per carry. And that ability to make something out of nothing will come in handy behind an offensive line that is still missing star left tackle Trent Williams. For the Eagles, all eyes will be on DeSean Jackson as he lines up against his former team, and given that the Redskins secondary currently doesn't have a player who graded over 71.0 last year, the chances are that Carson Wentz will want to give Jackson as many looks as possible to test them deep. Jackson enters Week 1 with the league-lead not only in deep receiving yards, but he also leads the league's wideouts in deep receptions, yards after the catch from deep passes, deep touchdowns and explosive plays, all while averaging the second-most yards per reception (40.0) among receivers with at least 100 deep targets over the past 10 years.
Fantasy Football Preview
After getting by with a cobbled-together backfield full of UDFAs, the Eagles upgraded this season with the additions of Jordan Howard and Miles Sanders. Howard has been productive from a statistical standpoint but struggled with efficiency last season. While he may open the season as the lead early-down back, we like Sanders to ultimately emerge as the lead dog. But that means Sanders owners will likely need to exercise patience in September.
Spread: PHI -10 | Total: 45.5 
This line has grown a bit since opening, with Washington shrinking in the eyes of the betting market and the Eagles holding firm. 
Indianapolis Colts @ Los Angeles Chargers
NFL Players to Watch
It's Game 1 of the post-Luck era in Indianapolis, so no player will be under the microscope more than recently extended quarterback Jacoby Brissett. Brissett has always graded on the conservative end of the scale, meaning that he's done a relatively good job of limiting the turnover-worthy and negatively graded plays, but he hasn't particularly shown the ability to make big-time throws on a scale that's in any way comparable to Andrew Luck. Among the 39 signal-callers who've dropped back to pass at least 500 times since 2016, Brissett's big-time throw percentage of 3.0% ranks 35th, while his turnover-worthy play percentage of 2.7% ranks ninth, so fans will be hoping to see Brissett take more chances and look to push the ball downfield much more often in 2019. As for Los Angeles, the majority of pieces are in place for another postseason run, but the one thing holding them back is their offensive line. As things stand, not one single member of the Chargers' offensive line graded above 60.0 last year, and they ended the 2018 season ranked 29th among teams in pass-blocking efficiency. If the Chargers want to go all the way, they simply need to be better up front, and Week 1 against a stout Indy defensive line will determine whether they're up to the task.
Fantasy Football Preview
Just two months ago, no one would have thought this game wouldn't have featured Andrew Luck and Melvin Gordon, but here we are. Luck's retirement means lowered expectations across the board for the Colts' fantasy options. The same isn't true for Gordon, as those who drafted Austin Ekeler can expect RB2-plus production as long as Gordon doesn't play.
Spread: LAC -6.5 | Total: 45 
When Andrew Luck was the implied starter for the Colts, this line was about a field goal in Los Angeles' favor.  Now, with Jacoby Brissett starting, we've seen it move out toward a touchdown, only to surrender the hook via some subsequent Colts money.  The total has shrunk as well in recent days.
Cincinnati Bengals @ Seattle Seahawks
NFL Players to Watch
Over the past two seasons, Carl Lawson has been nothing short of lights out on the field. His two-year pass-rush grade of 81.0 ranks 13th among edge defenders of the PFF era with at least 100 snaps in their first two seasons, while his two-year win rate of 20.1% is second to only Joey Bosa among the same group of players. Year 3 figures to be a huge year for the former Auburn pass-rusher, and he can get off to a good start against a mediocre offensive line and a quarterback who has a tendency to hold onto the ball. For Seattle, it'll be a huge year for wideout Tyler Lockett, who now has to step into WR1 duties in the wake of Doug Baldwin's retirement. Among the 1,690 times an NFL player has recorded 50 or more targets in a single season since 2006, Lockett's 2018 campaign ranks first in passer rating when targeted (158.3) and receiving yards per target (15.3), so he's more than up to the task in 2019.
Fantasy Football Preview
Throughout much of the offseason, the Seahawks talked up a committee in their backfield between Chris Carson and Rashaad Penny. However, the preseason saw Carson really pull away from Penny. Carson notched 247 carries last year and was one of the league's most heavily used backs in the goal line region. He's knocking on the door of RB1 territory.
Spread: SEA -9.5 | Total: 44
This line moved out towards Seattle in the wake of the A.J. Green news, and Seattle has emerged as a favorite in survivor pools as a result. Seattle is a tough place to play, but this appears a bit steep for Week 1.
Detroit Lions @ Arizona Cardinals
NFL Players to Watch
Kyler Murray earned a 93.7 passing grade and an 84.4 rushing grade during his final college season, recording a 143.9 passer rating from a clean pocket and 667 rushing yards from designed runs in a Heisman-winning season. He played up to his expectation in the preseason, too. Through three games, Murray completed 63.9% of his 36 pass attempts for 193 yards, three big-time throws and not a single turnover-worthy play, and his 75.9 passing grade ranks second to only Daniel Jones among rookie quarterbacks. Last year in Cleveland, we saw just how much a game-changing quarterback could lift a struggling franchise. Murray has the chance to induce some deja vu if he can get off to a quick start. Detroit's incredibly deep defensive line will be lining up to wreck Murray's dream debut, however. Trey Flowers earned career-high marks in overall grade (89.7), run-defense grade (84.9) and pass-rush grade (79.9) a year ago, finishing the 2018 season ranked tied for eighth among edge defenders in pass-rush win percentage (17.4%) in the process. A'Shawn Robinson (89.8 overall grade in 2018), Da'Shawn Hand (87.4), Damon Harrison (92.0) and Mike Daniels (71.3) will also be ready and waiting to thwart this Cardinals offense.
Fantasy Football Preview
Reigning Heisman Trophy winner Kyler Murray takes the field in his first professional outing in this one, and there's certainly the potential for fireworks. Murray has blazing speed, but he's also fully capable of spinning the football. While there's a wide range of potential outcomes for Murray this season, there's no denying his major fantasy upside.
Spread: ARZ +2.5 | Total: 47
This game opened as more of a pick 'em, with money coming in on Detroit as the season has come closer.  That said, if you were willing to back the Lions at -1, there's not a huge dip in implied probability with respect to backing them at -2.5.
New York Giants @ Dallas Cowboys
NFL Players to Watch
With the NFL world looking on throughout the offseason at Ezekiel Elliott and his hold out, rookie Tony Pollard quietly made a name for himself. So much so, in fact, that he's slated to get meaningful touches this season. The focus will be on how the Cowboys utilize each runner's skillset, with Elliott being a bell-cow back who racks up yards through volume while Pollard is shifty and makes things happen after contact. Elliott also features heavily in the pass-game, finishing 2018 with the fifth-most targets among running backs (91).  It's clear that Elliott will see, and deserves to see, the majority of the snaps out of the backfield. But Pollard's success as a No. 2 back at Memphis, coupled with his preseason grade of 75.3, bode well for Dallas' backfield. The Giants have bigger worries: No more OBJ and no Golden Tate. New York has a remodeled receiver room in 2019, and while it's easy to criticize the lack of experience from afar, this is simply a group that needs some time to prove it can regularly beat opposing secondaries. Russell Shepard has a career passer rating when targeted of 94.0 and hasn't graded below 65.0 in any of his three seasons. Drops have been an issue, though, with eight of them in 2018 (third-most). Cody Latimer, on the other hand, has seen minimal targets in his five seasons. Still, he'll be looking to build off a Week 17 performance that earned him a 93.9 game grade — tops among wideouts that week.
Fantasy Football Preview
The elephant in the fantasy room is whether or not Ezekiel Elliott will be on the field for the Cowboys in Week 1. While that's certainly one of the biggest stories of the fantasy draft season, we also can't ignore the play of rookie Tony Pollard in the preseason. Lightly used as a runner in college, Pollard flashed three-down chops in August and is clearly locked in as Elliott's handcuff. 
Spread: DAL -7 | Total: 45
This spread as oscillated between -6.5 and -7.5, with the all-important -7 smack dab in the middle. If you regress close games from a season ago, these two teams were a lot closer than people realize, implying some value on the dog here.
San Francisco 49ers @ Tampa Bay Buccaneers
NFL Players to Watch
Dante Pettis has quickly — and perhaps, unexpectedly — become the No. 1 receiver in San Francisco after a promising rookie campaign. He ranked ninth in passer rating when targeted (125.7) and second in yards after the catch per reception (7.9). That all translate to big-play ability, hence why he's been given the nod at the top of the depth chart. The first order of business is cracking a mediocre Buccaneers secondary that finished 28th in coverage grade in 2018 and had few upgrades this offseason. If that proves to be a difficult task, the 49ers' offense is in trouble.  For the Buccaneers, the combination of Vita Vea and Ndamukong Suh up front is going to be superior to a lot of teams' offensive linemen. In Year 2, Vea will be expected to take the leap from good to great — he finished second among rookie interior defenders in pass-rushing grade (75.4) and 11th in run-defense grade (70.6). His 26 quarterback pressures were an admirable output, too. He recorded a "win" on 12.8% of his pass-rushing snaps, ranking 16th among interior defenders. Still, with a weak backend, the Buccaneers are counting on some strong defensive line play — and it starts with a second-year jump from Vea.
Fantasy Football Preview
Out of the booth and back into the Kangol hat, Bruce Arians is at the helm of a team that seems to be tailor-made for his playbook. Jameis Winston is coming off an up-and-down 2018 season, but he finished strong. Winston was a top-10 fantasy quarterback from Week 11 on. Better yet, he gets to face a 49ers defense that allowed the second-most passing touchdowns last season. Winston is surrounded by a talented cast with wideouts Mike Evans and Chris Godwin and tight end OJ Howard.
Spread: TB 0 | Total: 50
Tampa has been favored in this game most of the offseason, but there is some love for San Francisco, moving this to a pick. 
Pittsburgh Steelers @ New England Patriots
NFL Players to Watch
It goes without saying, but the Steelers are relying heavily on JuJu Smith-Schuster. He's the new No. 1 in town, and after a 2018 season that saw him rack up more than 1,400 yards on 161 targets, he's well-equipped to do so. He remains a player to watch because of how the Pittsburgh offense will operate in 2019. The answer: around him. If Smith-Schuster and Ben Roethlisberger are firing on all cylinders, the Steelers' offense is going to light up opposing secondaries. The two-man backfield of Sony Michel and James White is likely to cause headaches for opposing defenses. Last season, both Michel and White earned 70.0-plus grades. This year, the question becomes just how big the workload is for each. Michel flashed with 25 avoided tackles, while White was an iron man out of the backfield, seeing the second-most targets (116) among running backs. They have clearly distinct skillsets, which means the Patriots can get creative. Now, we wait and see just how they do it.
Fantasy Football Preview
JuJu Smith-Schuster is now the top dog in Pittsburgh, but he could get off to a slow start in Week 1. On paper, the Patriots secondary is one of the league's best with both Stephon Gilmore and Jason McCourty coming off impressive seasons. Smith-Schuster struggled in his previous meeting against the Patriots, posting just 40 yards on four catches in Week 15 last season.
PFF Greenline Preview (FREE Game of the Week)
Spread: NE -5.5 | Total: 50.5
Pittsburgh is starting to get the attention it deserves as a contender in the AFC, and this line movement of the secondary number of six reflects this. 
Monday September 9, 2019 
Houston Texans @ New Orleans Saints
NFL Players to Watch
Let's not mince words here: The Texans are in big trouble if Laremy Tunsil doesn't take a leap in 2019. He wasn't bad by any stretch in 2018, posting a 70.4 overall grade, 79.5 pass-blocking grade and 62.3 run-blocking grade. Those marks all ranked top-40 among 83 qualifying tackles. But with two first-round picks now gone and Tunsil — along with Kenny Stills — being the result, he needs to show right away that he can lead this unit out of peril. In the same vein, rookie Tytus Howard will have to grow up fast at the left guard spot. He was a stud at Alabama State, allowing just 11 pressures on 382 pass-blocking snaps, but the NFL is obviously a tougher task. If he can jell along the left side with Tunsil, the Texans have the makings of a strong offensive line for the future. If not, it's going to be a long year.
The Saints had some coverage problems in 2018, particularly in the form of PJ Williams. It was by far the worst year of his career, with a 54.9 overall grade (114th) and a poor 127.4 passer rating allowed when targeted (116th). He'll have his hands full from the slot, likely facing Keke Coutee the majority of the time. The Saints' coverage unit finished the year ranked 22nd, but they can put that narrative to bed with a strong effort against an underrated receiving group that features DeAndre Hopkins, Will Fuller V, Stills and Coutee.
Fantasy Football Preview
This contest features the league's top two pass catchers from last season, as Michael Thomas and DeAndre Hopkins caught a massive 240 balls between them. Thomas is positioned well for continued production with essentially no competition for targets in New Orleans. Hopkins will certainly get his too, but there are more mouths to feed in Houston with Will Fuller, Keke Coutee and Kenny Stills also on the roster.
Spread: NO -7 | Total: 52.5
This line has stayed steady for much of the offseason, with the price (you need to lay 120 to win 100 if you want to back the Texans) suggesting that the market is hesitant to install the defending NFC South champions as a full touchdown favorite after last season's Week 1 debacle.
Denver Broncos @ Oakland Raiders
NFL Players to Watch
Joe Flacco's adjusted completion rate on passes thrown 20 or more yards downfield has been below 40% for each of the last four seasons now, and his 2018 passer rating under pressure mark (51.9) was his worst since 2015. Will this be a new start for the veteran gunslinger, or does his downward trajectory continue? With the addition of Flacco, Denver's tight ends are expected to see an increased number of targets — from 2010 to 2017, a Ravens tight end had had at least 50 targets in all but one season. Meanwhile, the Broncos haven't had such a tight end since 2015. Jeff Heuerman, listed at the top of the depth chart, is in line to be the prime beneficiary. But although he has seen an increase in snaps in each of the past two years, his overall grade has fallen from 75.2 (2016) to 61.2 (2018).
The Raiders, meanwhile, are looking for immediate production out of a few young players. It was a tough rookie year for Kolton Miller, who led all offensive linemen in sacks allowed (16) and finished second in total pressures allowed (65). He was essentially a turnstile, allowing at least two quarterback pressures in 14 of his 16 games. It's a new year though, and that means he has a chance to show that he learned from Year 1. It starts with a daunting matchup against Bradley Chubb, who led rookie edge defenders in pressures (57) in 2018. In 2018, the Raiders' pass-rush finished with the lowest "win" rate among any team (30.2%) by almost a full 10 percentage points. That doesn't really need to be put into any more context, especially with Khalil Mack's trade. Clelin Ferrell now steps in with the weight of the world on his back to turn this unit around after notching 56 quarterback pressures at Clemson a season ago, ranking 15th among edge defenders.
Fantasy Football Preview
Frostbite and a helmet dispute clouded Antonio Brown's preseason, but he's set to make his debut with the Raiders on Monday night. The biggest question on the field for Brown is how much of a downgrade Derek Carr is from Ben Roethlisberger? While Brown's fantasy outlook isn't as good as it was in Pittsburgh, he should still see enough volume to put up WR1 numbers in Oakland.
Spread: DEN -1 | Total: 43.5
Oakland opened this matchup as slight favorites, and while the move to pick'em is not through any key numbers, it's clear people are not keen on backing the Raiders as they open their last season by the bay.