A year ago, the PFF team was adamant that Baker Mayfield was the class of the quarterbacks before he was selected No. 1 overall by the Cleveland Browns. Mayfield was an easy choice for the top spot after breaking down our data as he owned the two best seasons we've ever graded and three of the top nine. He also excelled at the important components of quarterbacking that translate at the next level.
This year, another Oklahoma quarterback sits atop the PFF draft board in Kyler Murray, despite his entering the season with no starting experience and an expected career in Major League Baseball. Instead, Murray advanced an already incredible Oklahoma offense on his way to matching Mayfield's 94.6 overall grade from 2017, albeit by doing so more with his legs (84.4 rushing grade) and slightly less-efficient passing (93.7 passing grade compared to Mayfield's 94.5 in 2017 and 94.6 in 2016). It's for those reasons that Mayfield remains the better draft prospect in our eyes, but Murray is more than capable of making the necessary throws from the pocket while adding a dynamic running and outside-of-structure element that could lead to big things at the next level.
Let's break it down, starting with the best parts of Murray's game.
Accurate in the right areas
As we continue to dig into the PFF data, one of the most important aspects to determine a quarterback's viability at the next level is his ability to hit open throws. While it sounds easy, and often used as a negative when evaluating college players with QB-friendly offenses, hitting open throws is the biggest separator between the best and worst quarterbacks at the next level. Like Mayfield, Murray shines in this area, taking advantage of the many open throws afforded him by the Oklahoma offense. On open passes thrown at least 10 yards down the field, Murray has the highest accuracy percentage in the class (using actual ball location) and the fourth-lowest percentage of uncatchable passes.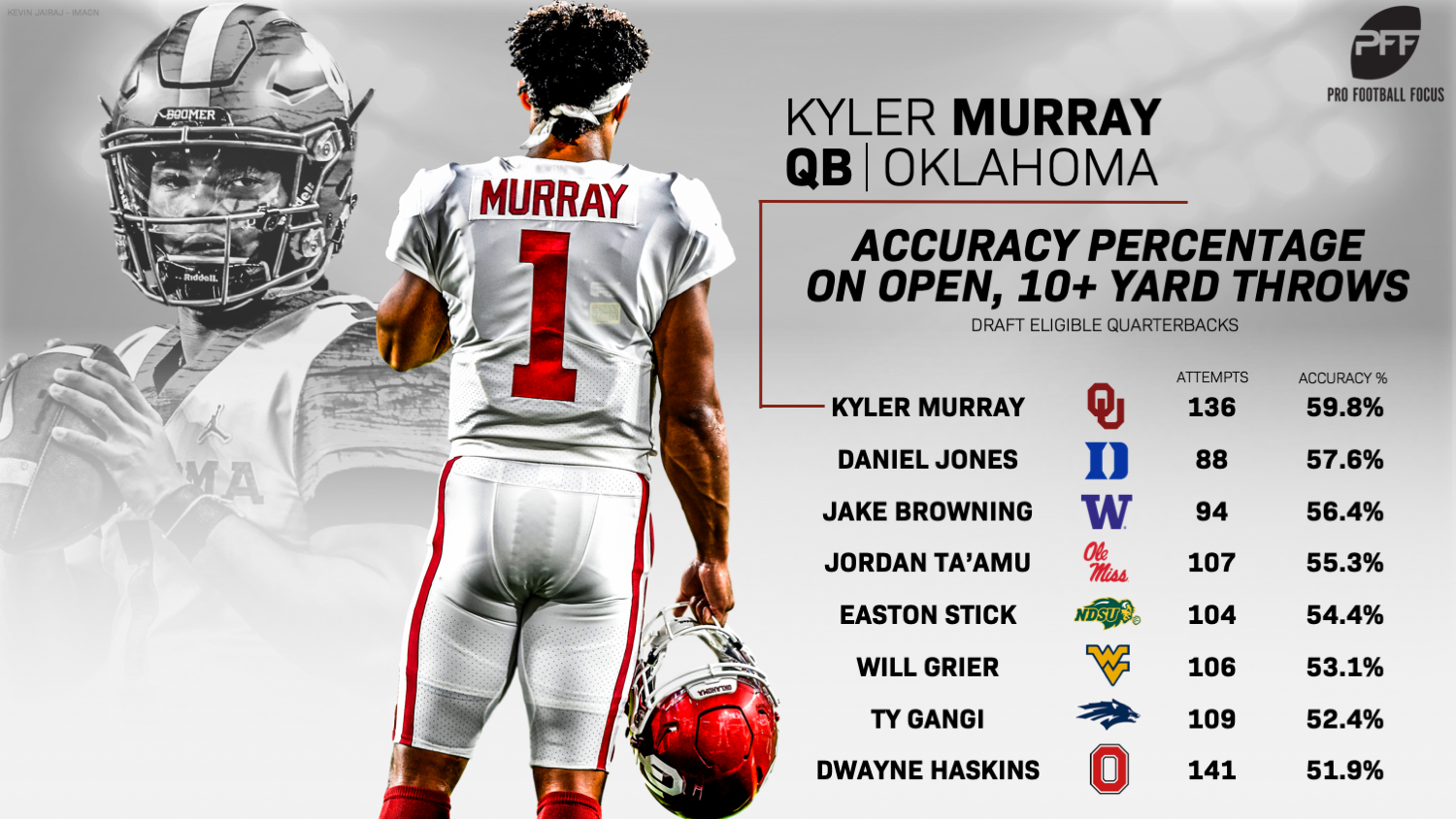 When we push the boundaries to 20-plus yards throws, Murray still sits atop the list at 61.6%, significantly higher than any other FBS quarterback in the draft class other than Eric Dungey.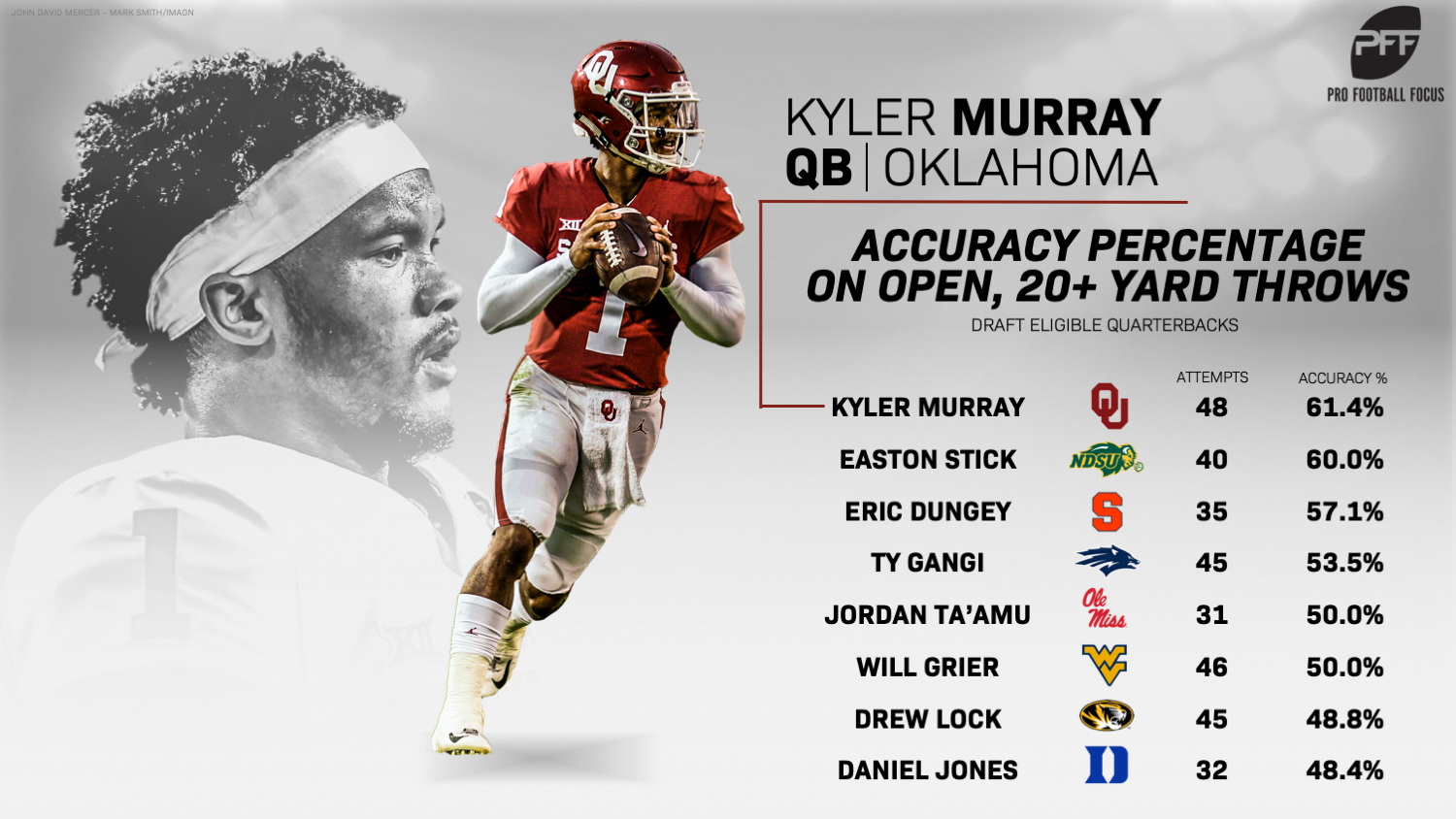 Accurate under pressure
While clean-pocket success is one of the primary indicators for future success, and Murray certainly excels in that area, quarterbacks must be able to handle pressure and Murray has the accuracy and athleticism to translate at the next level.
Murray's sudden pocket movement and ability to drop this pass in down the field is as good as you'll see from any quarterback at any level during the 2018 season.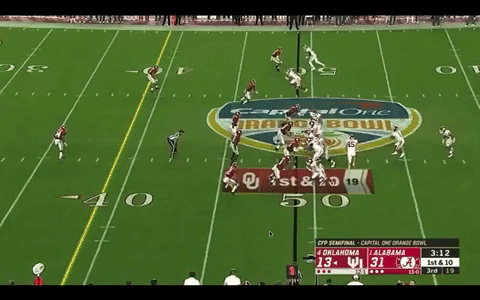 And even in a more traditional sense, Murray shows his accuracy here with multiple defenders bearing down on him as he throws a well-placed ball away from coverage (even with the cornerback falling) into the end zone for the score.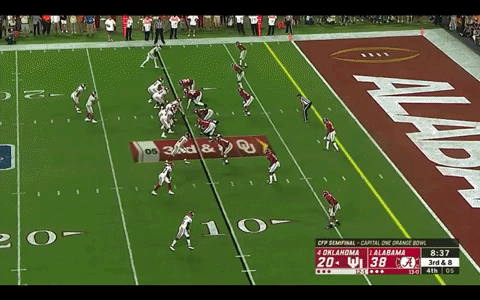 Accuracy against man coverage; accuracy into tight windows
Murray has the highest percentage of "perfect" throws (throws which are in-stride or placed away from the leverage of the coverage) in the draft class when targeting "single" coverage. He was middle-of-the-pack when it came to avoiding uncatchable passes in this scenario, but his high percentage of top-end plays certainly fall into the "NFL throws" bucket.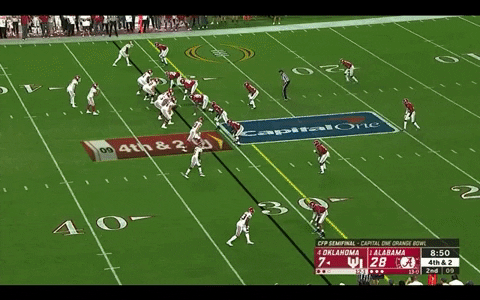 Murray also has the highest percentage of "perfect" throws into tight coverage. This one against Texas in the Big 12 championship is reminiscent of Mayfield's tight-window red-zone throws against TCU in 2017. Murray puts this pass where only his receiver can get it, resulting in the touchdown.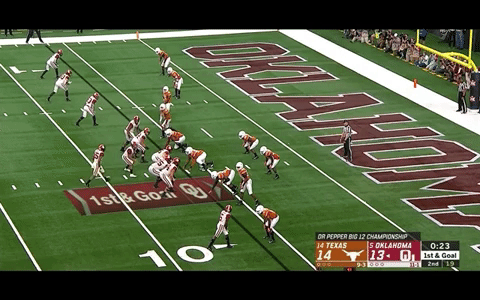 Much like the Mayfield narrative last season, yes the Oklahoma offense creates "easier" looks for Murray, but when he does have to put the ball into tighter windows, he's more than capable.
Pocket navigation
"Quarterbacks must keep their eyes up and look to throw."
While this is true, and Murray certainly resembles that quality, he is outstanding at navigating within the pocket before getting his eyes down the field to throw. He may drop his eyes while maneuvering the pocket, but this works for him because the result is 300-pound linemen trying to tackle a scat back in the open field. Murray may "look at the pass-rush" more than most quarterback coaches would prefer, but it's more tool in his toolbox than a detrimental trait, and as mentioned, once he finds a clear passing lane, he is more than happy to take it.
Watch as he uses excellent pocket vision to avoid the rush before resetting his eyes down the field for the completion.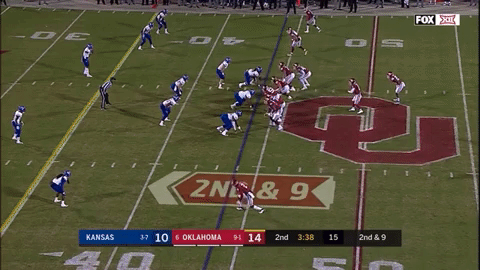 Here's another look at Murray under pressure. His dynamic athleticism makes him difficult to corral in the pocket, so while he can stand in there and make throws under pressure, he also has a suddenness that allows him to avoid the rush and complete passes down the field or take off as a runner.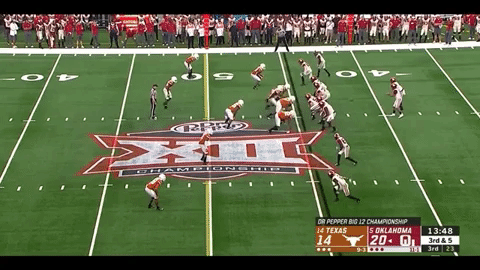 Which reminds me…
Oh, he can run
We've made it to this point without mentioning much of Murray's rushing ability but it's another asset that can be used both on broken plays and on designed runs. The ability to move within the pocket is one thing, but Murray can move the chains with his incredible short-area cuts and straight-line explosion, all while being a weapon in the designed rushing attack if his future team chooses. A year ago at this time, we made the case that Lamar Jackson's rushing ability was strong enough to build an offense around and the resulting pass game would feature a higher percentage of open throws in order to mitigate Jackson's inconsistent accuracy. The same can be said about Murray with respect to the run game, but his passing ability far exceeds that of Jackson's, making Murray potentially one of the scariest quarterbacks to game plan against. And that brings us to the final point in the list of positives.
Defensive coordinators must choose whether to rush or play contain
There are a handful of NFL quarterbacks who are just as dangerous inside the pocket as they are outside the pocket, including Aaron Rodgers, Patrick Mahomes and Russell Wilson. Opposing defensive coordinators face a weekly dilemma as to whether they want to pressure the pocket or keep the dual-threats inside the pocket. Murray has the chance to join this class of signal-callers as his outside-of-structure ability and instincts are good enough that defenses will be wary of letting him get to the edge, but playing contain could result in their getting picked apart in the secondary. While Murray is not a perfect prospect — and we'll dive into a few of his negatives — his athletic ability is good enough to bail him out of poor passing games and bring enough value to his team through his running that they can still be in the game, even on Murray's worst day throwing the football.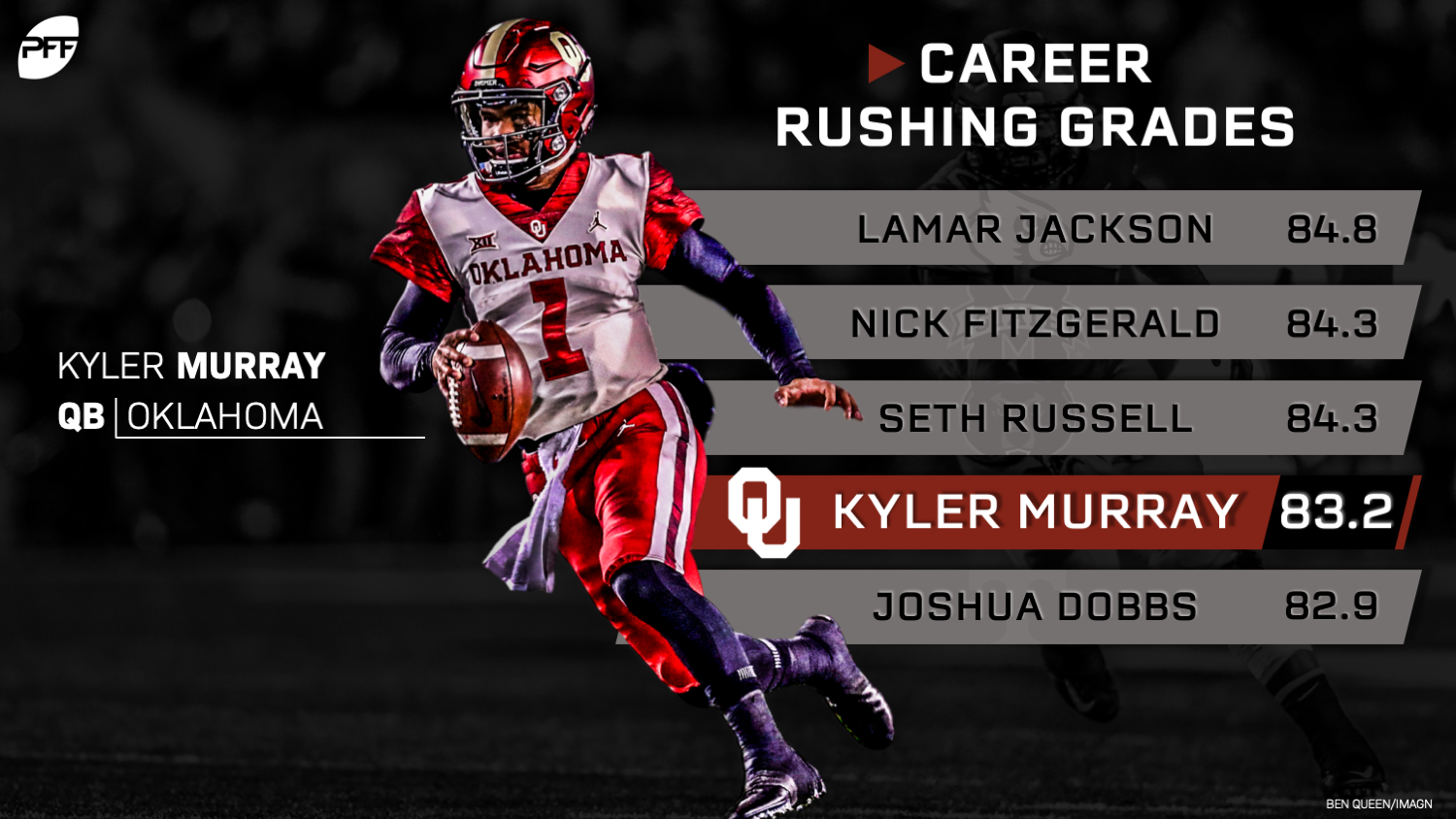 The bad
On the other side for Murray, just having one year of production compared to Mayfield's three years of elite play is the first red flag. Among the tangible, on-field concerns, Murray did a fine job of avoiding mistakes as he had the 10th-lowest percentage of negatively-graded throws in the nation last year, but he did have a few ugly misses. There were a few easy misses when throwing to the flat, throws that certainly fall into the "expected" category when evaluating NFL quarterbacks.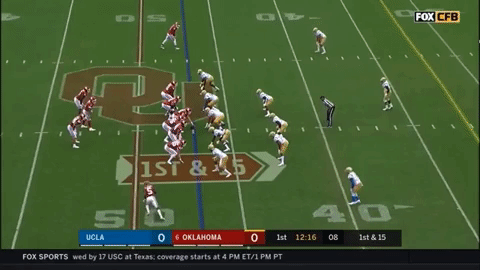 Throwing in and around defenders in the middle of the field
While Murray has shown well when trying to place the ball away from tight man coverage, he has had a number of questionable decisions and misses when trying to throw to a crowded middle of the field. So much of the NFL game is won between the numbers, and decision-making and precision are crucial in order to maximize the value in the middle of the field. Murray has a number of throws in which he either struggles to get the ball up and over an underneath defender or he simply outright misses the throw into a crowd of defenders.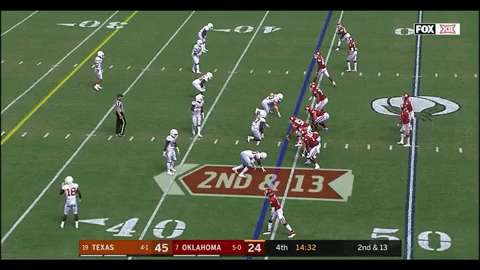 The advanced analytical side of Murray
From George Chahrouri & Eric Eager
There are a few numbers that have received the vast majority of the press when it comes to Murray. His height and weight are not only numbers that offer nothing in the way of predictive power but also happen to be characteristics with which he dominated at every level of competition. The Sooner offense was a major topic last year when Mayfield destroyed college defenses from start to finish. Mayfield was No. 1 on PFF's big board because he earned the highest grade of any quarterback regardless of the type of throw (shockingly, making accurate throws to receivers with a step or more of separation is just as valuable at the NFL level). The Oklahoma offense that Mayfield ran went virtually unchanged for Kyler and head coach Lincoln Reilly called from-the-pocket pass plays at the same rate he did with Mayfield (89%) and the two signal-callers threw passes from within the pocket at the same rate (86%). Mayfield averaged an amazing 11.9 yards per pass from inside the pocket in 2017, the best mark of any quarterback since PFF began charting college football. Murray would rank second all-time at 11.8 yards per pass, 1.6 yards above any other quarterback in his class.  
PFF charts the ball-location accuracy on every college throw and we can adjust a quarterback's accuracy for the different situations on each throw (depth, route type, pressure, etc.) and even how open the receiver was at the catch point. We take into account the strength of the opponent's pass defense and the strength of the quarterback's supporting cast. While Mayfield's final college season was by far the best, he exceeded his expected rate of accurate throws (pass located on the receiver's frame or perfectly in-stride) by 9% (first) and made uncatchable throws 5% less often than math would expect on his subset of throws (first). Murray ranked just behind him in each facet (second, 6% above, and sixth, 2% below, respectively, of 20 quarterbacks during their last college seasons). The only other quarterback season to rank in the top six in each area was Patrick Mahomes in 2016. As a thrower, Murray is second only to Mayfield and he falls into the same tier of quarterback play using our college quarterback clustering. Murray is Cluster 1, and there are very few players that are not Cluster 1 that end up as even serviceable NFL quarterbacks. 
Murray's Sooner offense was even better than Mayfield's on an expected points added per-pass-play basis and his PFF grade per snap was also higher than Mayfield's. To this point, we've only compared Murray to Mayfield as a thrower, but Murray has the running ability that may be second to none and certainly in the class of Lamar Jackson and perhaps even a Michael Vick. The designed quarterback run is actually a positive EPA play at the NFL level (unlike runs for running backs) and Murray averaged 7.0 yards per designed run (first among Power-5 QBs). The possibility to gain value with his legs by design or when a play breaks down should not be overlooked and Murray's combination of excellence in both facets is not something we have yet seen entering the NFL.
All these components are built into our college-to-pro player projection that makes predictions on a play-by-play basis where the plays are made up of NFL situations. Murray is head and shoulders above his class when projecting WAR at the next level, and by extension, since he's a quarterback, his projected WAR exceeds any other position player as well. A top-five quarterback has the chance to add north of six wins above replacement to a team, while the best defensive season in recent memory — Aaron Donald's 2018 — rings in at 2.3 wins above replacement. Looking specifically at a situation like Arizona (astronomically high-pressure rates) will drop his statistical projection down a bit, but every quarterback will have a downward adjustment in such an environment, and Murray's legs keep that dropoff from being as steep. Murray's makeup is in a different tier than current Arizona Cardinals QB Josh Rosen's was entering the draft and the horrid situation that Rosen dealt with in 2018 doesn't impact that one iota.
Murray is still not quite at Mayfield's level and there are a few reasons. First and foremost, the sample size is an issue as Mayfield had three seasons of grading extremely well from which to draw, compared to Murray who has just one. This widens the distribution for Murray because we quite simply have less information about how good of a player he actually is. As we mentioned above, he is not Mayfield's equal as a passer and passing is still king in the NFL. As nice as accurate passes are, limiting uncatchable throws is the most important component of quarterback accuracy. On throws at or past the first-down markers, Mayfield made an uncatchable throw 7% less often than Murray in their final seasons at Oklahoma.
Even with the limited sample size, there is zero doubt that Murray's combination of accuracy on all throws and transcendent running ability reigns supreme in 2019, he is the clear choice at No. 1 and has been since the day he declared.
Final word
When stacking up the film and advanced numbers, with a focus on which parts will translate at the next level, Kyler Murray is the head of the 2019 draft class. While any player projection is always an exercise in "playing the odds," Murray has the highest odds of succeeding at the next level despite what the NFL perceives as "outlier" size. However, Murray is the best bet in this draft class and other quarterbacks who "look the part" are more outlier based on their subpar projectable production at the college level.