Telvin Smith's decision to step away from football for the upcoming 2019 season leaves a difficult-to-replace hole in the Jacksonville Jaguars' linebacking corp. It's a hole that some have speculated could be filled by their versatile first-round selection, Josh Allen, despite lining up as an edge rusher for the vast majority of his snaps at Kentucky over his collegiate career.
For most edge rushers, suggesting that they could spend significant time as an off-ball linebacker would be ill-advised, but Allen has shown the requisite coverage ability at the college level to potentially pull it off. As PFF analyst Steve Palazzolo detailed leading up to the draft, Allen dropped into coverage over 300 times in his last two seasons at Kentucky, far more than any of the other top edge-rushing options. It wasn't simply flashing to the flat on running back flares, either. Allen split out to cover the slot over 100 times in the last two seasons and showed the ability to stick with tight ends and running backs downfield.
Jaguars defensive coordinator – Todd Wash – squashed the speculation of Allen playing in an off-ball role, though, confirming he was "drafted to play defensive end." Wash is correct in not rushing to take Allen off the line of scrimmage, regardless of the need for someone to fill the void left by Smith's absence. He may be capable of playing off-ball but taking Allen away from the line of scrimmage neutralizes his biggest strength – a natural ability to get after the quarterback as a pass rusher.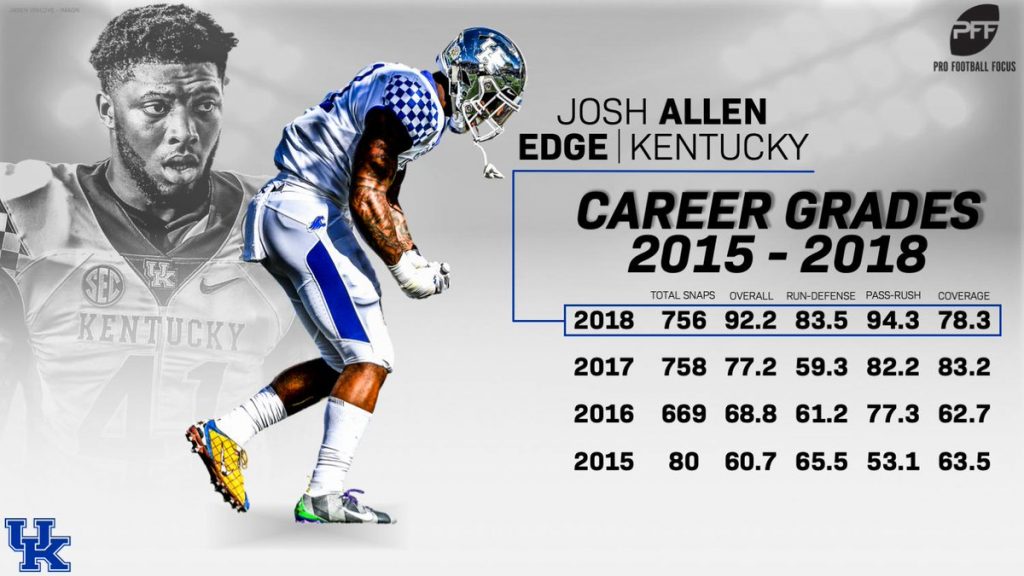 When you look at all 249 edge defenders with at least 200 pass-rushing snaps last season, Allen ranked first in pass-rush grade (94.4), first in pressure rate (23.5%) and second in pass-rush win rate (29.3%). His pass-rush opportunities weren't plentiful given how often he got dropped into coverage, but he was the only edge rusher in college football last season to record 50-plus pressures (57) on 250 or fewer pass-rushing snaps (242). That kind of pass-rushing talent is not something you want to neuter and tap into on just the occasional blitz.
Playing Allen at defensive end doesn't come without its own potential issues. Foremost of them is that Allen has played just 53 snaps over the last three seasons with his hand in the ground, with the vast majority of his defensive snaps coming as a standup outside linebacker on the edge. Last season, the Jaguars' two primary edge defenders – Yannick Ngakoue and Calais Campbell – combined for just 44 snaps in a standup edge rusher position. Unless there is a change in scheme planned, Allen will have to acclimate to rushing out of a 3-point stance.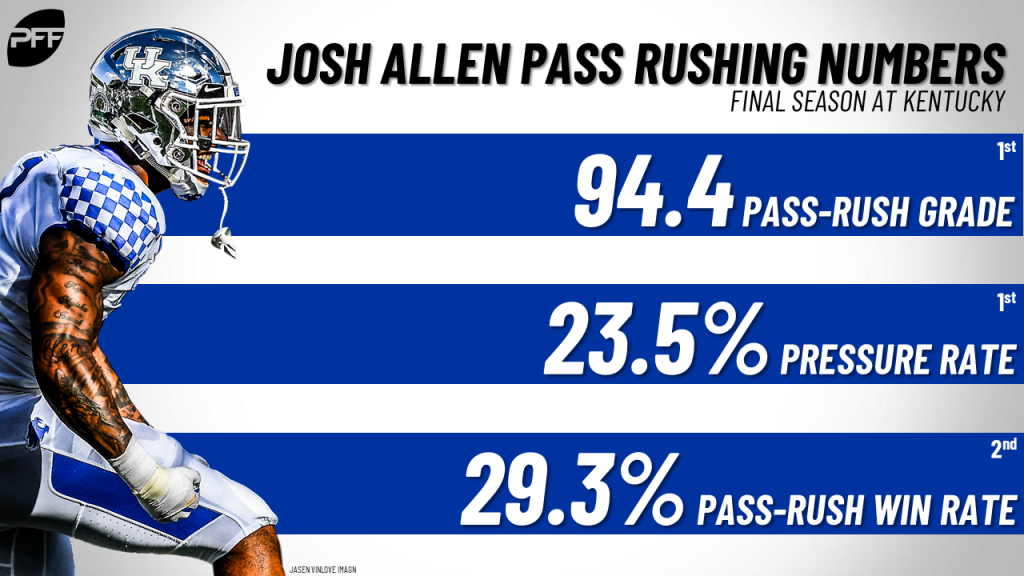 Another consideration of playing Allen on the edge is that the Jaguars already have two established starters at edge in Campbell and Ngakoue. The likely solution is to kick Campbell inside, a position he played for most of his career with the Arizona Cardinals.
Campbell has excelled as an edge defender for the Jaguars each of the last two seasons, recording grades above 90.0 each year, but his grades indicate that a move inside could take the Jaguars' pass-rush to another level. Over the last five seasons, Campbell has recorded a pass-rush grade of 72.2 when he lines up either shading or outside of the offensive tackle. Meanwhile, his pass-rushing grade jumps up to 86.4 when he lines up between the tackles.
Adding Allen to a defensive line that already features Campbell, Ngakoue and Marcell Dareus makes for a tall task for offensive lines in pass protection, and that pass-rushing talent is why Allen's place is at the line of scrimmage, not off the ball.