It's been over five years since Steve Palazzolo released his groundbreaking work on the value of left tackles vs. right tackles. Even now though, the bias towards left tackles being more valuable is still alive and well. In fact, the winner of our Bruce Matthews award for the best offensive lineman in the NFL this season wasn't even voted by the populous to the Pro Bowl. Instead, his objectively inferior teammate who protects the blind side got the nod.
Kansas City Chiefs' right tackle Mitchell Schwartz was the league's top offensive lineman in 2018, as he was consistently dominant against some of the best pass rushers in the NFL. The fact that he plays right tackle and not left just means he gets to face better pass-rushers like Von Miller more. By season's end, Schwartz was one of only three tackles with a top-10 pass-blocking grade and a top-10 run blocking grade (Joe Staley and Andrew Whitworth were the others).
Schwartz is the poster boy for offensive line development in the NFL. He allowed 11 sacks and 65 total pressures his second season in the league as the right tackle for the Browns. By his fourth season in the league, he cut those numbers down to three sacks and 43 pressures.
Still, the free agent market wasn't particularly lucrative for Schwartz – as is still the case for many right tackles. Schwartz took a modest five-year $33 million contract in Kansas City – a contract that's turned into arguably the most team-friendly deal in the NFL. Nate Solder is about to make more money in two years than Schwartz will over the entire length of his contract. Yet it's the underpaid Schwartz that's the league's best. He yielded all of 23 pressures this season including six games where he didn't allow a single one. In two games against Denver, Schwartz gave up a grand total of two pressures.
He may not be the most athletic or take the prettiest pass sets, but getting the job done is ultimately what matters most. No one in the league handles top edge defenders quite like Schwartz, and it's the reason why he's this year's recipient of the Bruce Matthews Award.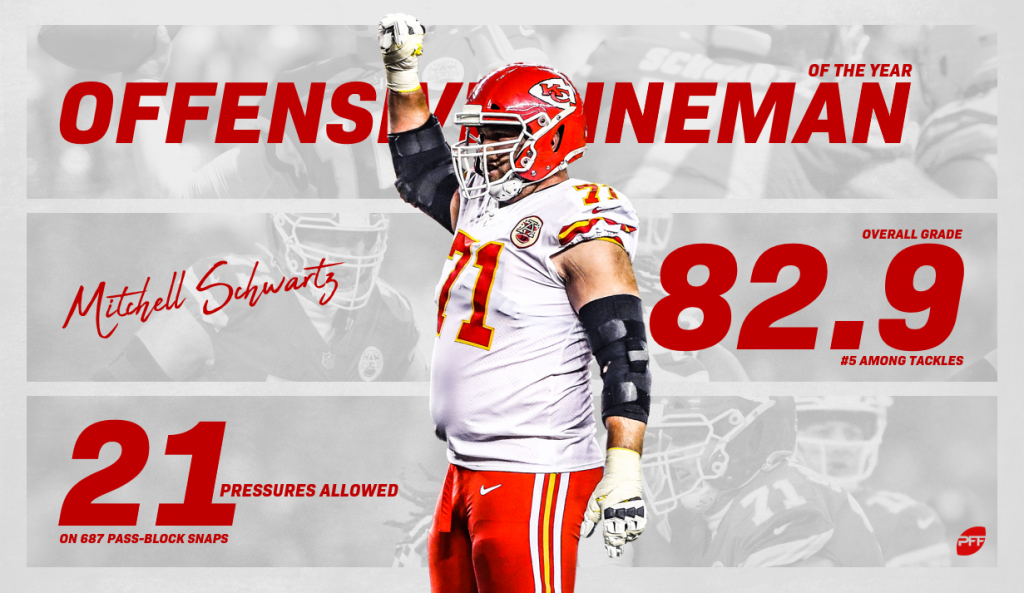 Keep up to date with PFF's end of season awards:
Offensive Rookie of the Year | Defensive Rookie of the Year | Comeback Player of the Year | Offensive Player of the Year | Defensive Player of the Year | The Stephenson Award | PFF's Most Valuable Player | The Hutson Award for Best Wide Receiver | The Matthews Award for Best Offensive Lineman | The Reggie White Award for Best Pass Rusher | The Ted Washington Award for Best Run Defender | The Lane Award for Best Coverage Defender | Breakout Player of the Year | Pass Blocker of the Year | The NFL's Best Offensive Line | Run Blocker of the Year | Passer of the Year | Special Teams Player of the Year