With the first overall pick in the 2013 NFL Draft, the Kansas City Chiefs made left tackle Eric Fisher just the fourth offensive lineman in the past 50 years to be taken first overall. The other three — Jake Long, Orlando Pace and Ron Yary — have been selected to 18 career Pro Bowls. Fisher has been to just one in his six-year career.
Fisher is now tasked with guarding the blindside of the highest-rising star in the NFL, Patrick Mahomes, and while he has been a stalwart fixture on their offensive line over his career, many have questioned whether he was worthy of his pedigree.
However, there is mounting evidence that at the midway point of last season, Fisher's game turned a corner. From Week 11 to the Super Bowl, he was the NFL's highest-graded offensive tackle, and if he can ride that wave of success into the upcoming season, he has a chance to solidify the Chiefs' offensive line for years to come.
Last season, Fisher got off to a rough start. Over the Chiefs' first 10 games of the season, he stumbled to a 62.1 pass-blocking grade, 63rd of 72 qualifying tackles in that span. His run-blocking grade was a little better, but not by much, at 63.3. He allowed three sacks, four hits and 24 hurries from his 409 pass-blocking snaps over that span, and he lost his matchup — either by way of allowing a pressure or by being beaten by the defender — on 11.9% of those blocks over that period.
As if those numbers weren't bad enough, he was even worse on third downs, where his pass-blocking grade dropped to 43.2 and he recorded a loss percentage of 20%. His worst game of the season came against the lowly Arizona Cardinals in Week 10, where he finished with an overall grade of 35.4 and a pass-blocking grade of 33.9 with two penalties thrown in for good measure.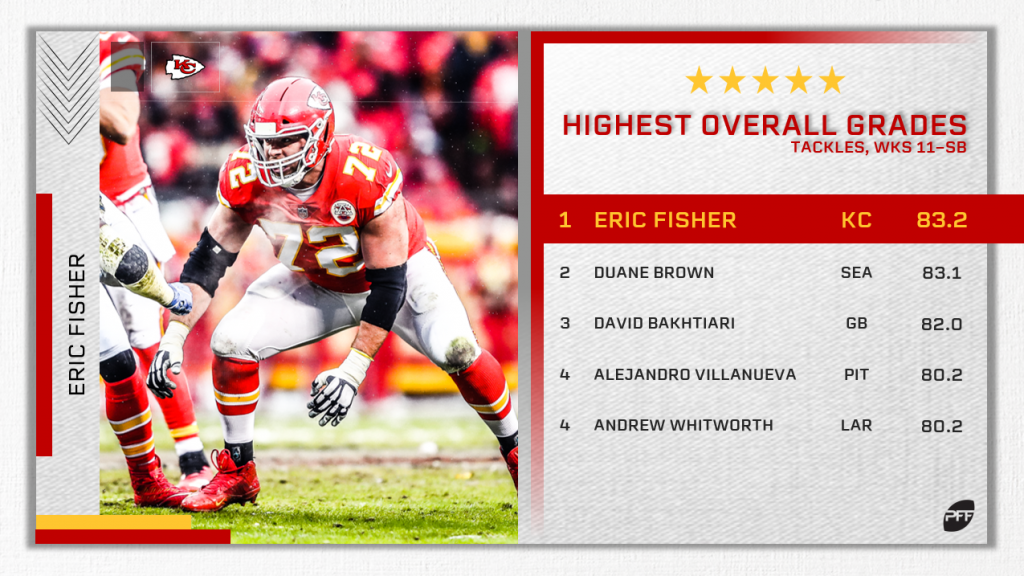 However, something changed in him after this performance. From that point onward he was the highest-graded tackle in the league with an overall grade of 83.2. His pass-blocking grade of 86.0 was the fifth-best in the league at the tackle position. His loss percentage dropped from 11.9% to 4.9% — a top-three mark among players at the position.
Perhaps the biggest leap came in his third-down efficiency, where his pass-blocking grade jumped 40.0 points from 43.2 to 83.2, as he allowed Mahomes to stay clean by allowing no sacks and dropping his pressure rate from 15.3% to just 6.7%.
The Chiefs have a tough season on the horizon. With their 12-4 record in 2018, they are projected to face one of the league's toughest schedules this year, and they have many question marks on their roster, such as what will happen with Tyreek Hill. If Eric Fisher can keep up his play from the back end of last season, however, it will be one less thing they will have to worry about, and maybe he can finally prove his doubters wrong and show that he was worthy of the first overall pick after all.