The Cleveland Browns went from winless to division favorites in a matter of months in large part because they finally struck gold by taking Saquon Barkley Baker Mayfield, who was by far the most valuable asset in the 2017 NFL Draft. Spinning that forward to 2019 and the potential of an offense led by Mayfield, Odell Beckham Jr. and Jarvis Landy and a defense with Myles Garrett and Denzel Ward has the makings of carrying top-five players at the two most important positions on each side of the ball. The Mayfield-Beckham connection should certainly have all NFL fans excited — Mayfield was second to only the MVP Pat Mahomes in yards per pass attempt with Kitchens at the helm (Week 9-17) and ranked fourth in accurate-throw rate (either perfect or on the receiver's frame), while Beckham saw a well below average rate of accurate throws last season (see tweet for details).
OBJ saw an accurate pass (on-frame or in-stride) on 50% of his targets last year, last among WRs. Baker was 4th in accurate throw rate week 9 on (Brady, Brees, Mahomes)

— George Chahrouri (@PFF_George) March 13, 2019
Crowning the Browns as favorites maybe a little naive, however. After running out season-long simulations, the Pittsburgh Steelers are the team that we have winning the most games on average, and they're deserving of the preseason-favorite moniker. The loss of Antonio Brown is certainly a loss Pittsburgh, but Roethlisberger has posted a 100.0-plus clean pocket passer rating in each of the past four seasons and he's also enjoyed clean pockets at the highest rate in the NFL. JuJu Smith-Schuster steps into the top slot on the receiver pecking order and seems more than capable — he earned a 129.8 passer rating on Antonio Brown's frequently run route (go route) which ranks second since entering the league. The investment in wide receivers in each of the last two drafts along with Randy Fichtner's scheme makes the Steelers a sleeper for the first time in a while.
The Baltimore Ravens and Cincinnati Bengals both have plenty of question marks: the Ravens on offense with a quarterback in Lamar Jackson, who has struggled to throw the ball (only one game above 200 passing yards) and fumbled 12 times, and the Bengals with field conditions and a new coach. Both possess plenty of defensive talent on the back end and have unique weapons on the offensive side. The Ravens are clearly fighting for a division crown, but our simulations have these two far closer than the market. In fact, our simulations have the Bengals winning more games than the Ravens on average, by a very slim margin. There are two major reasons for this: first, the instability of quarterback for the Ravens, whereas Andy Dalton ranked sixth in grade from a clean pocket last season (played through Week 12). And second, defense is not nearly as stable year to year, which helps the Bengals and hurts the Ravens (who ranked second behind the Bears in expected points added allowed per play last season).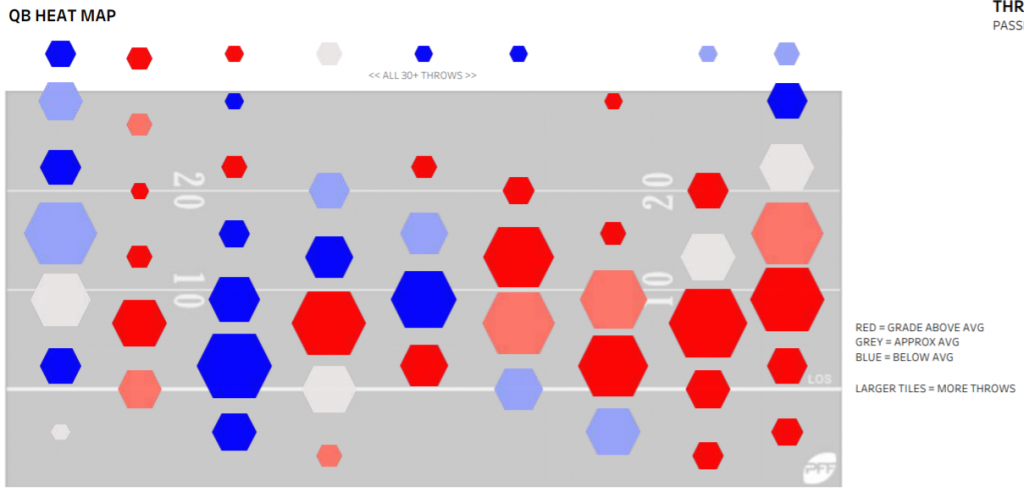 [Editor's note: The above image depicts Andy Dalton's lopsided right and left passing splits. Quarterback signature stats, route-target data, passing grades, heat maps and much more can be found in PFF's QB Annual, which is made available to all PFF Edge and Elite subscribers. Sign up today!]
This division is shaping up to be one of the most intriguing in all of football, and we are here for it.
Baseline Projections:
Wins:
PIT 9.11 (9, -125 over/+105 under), CLV 8.44 (9, -110/-110), CIN 7.55 (5.5, -125/+105), BAL 7.43 (8, -125/+105)
Division Odds:
PIT 41.2% (+175), CLV 27.9% (+140), CIN 15.7% (+1400), BAL 15.1% (+300)
Playoff Odds:
PIT 58.7% (+105 yes/-120 no), CLV 44.6% (-125/+105), CIN 29.2% (+600/-800), BAL 26.5% (+175/-210)
Super Bowl Odds:
PIT 4.6% (+2500), CLV 2.9% (+1400), CIN 1.0% (+10000), BAL 0.6% (+3300)
Strength of Schedule:
BAL (20th in opposing PFFELO), CIN (22nd), PIT (25th), CLV (27th)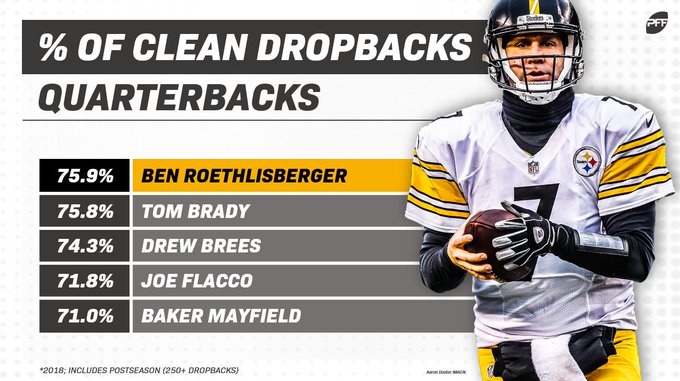 Most Valuable Player the last three years: Ben Roethlisberger (6.1 WAR)
Shockingly, Eric's cousin ends up as the MVP of the AFC North over the last three seasons. Ben had a down season last year ranking just 16th in PFF grade, his lowest since 2008. Only 37%  of his throws were targeted to the all-important 10-19 yard range, and that was the third-worst in the entire league. However, he has sustained a the fifth-best passing offense in expected points added per play (think yards per play taking down and distance into account) over the last three seasons.
His supporting cast picked him up last year, generating the most yards after the catch for any quarterback since 2006. The motivation for Ben to prove he can be elite without Brown should ensure we see Ben's best effort this season. He's been the best quarterback in this division for quite some time, but that too is now in jeopardy.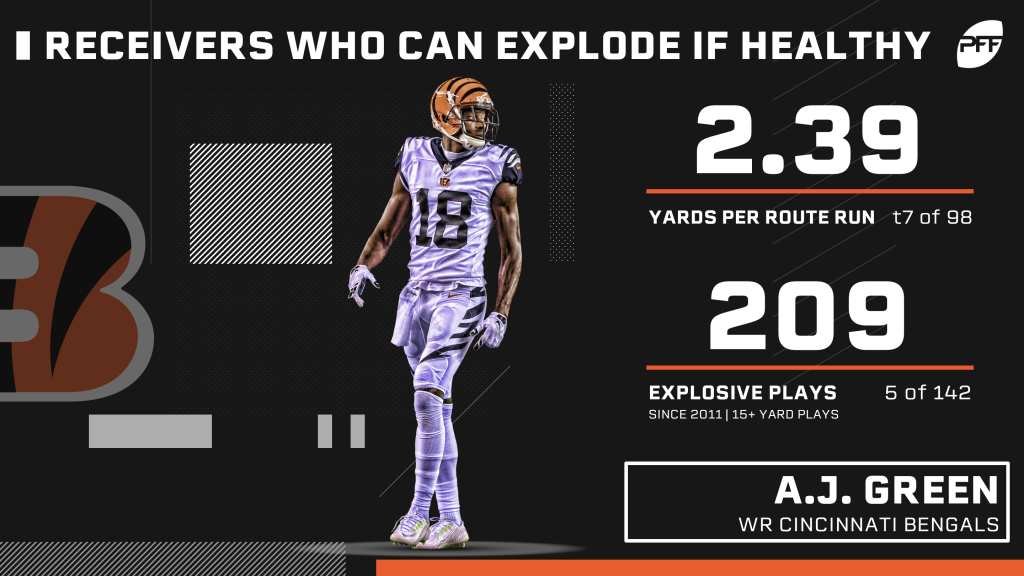 Most Valuable Non-QB the last three years: A.J. Green (2.1 WAR)
Green, the fourth overall pick in the 2011 draft, has had a career that has been overshadowed by many of his "more healthy" contemporaries. However, that doesn't mean he hasn't been one of the best players at his position for some time, eclipsing over 1,000 yards in all but two of his seasons, despite dealing with mostly middling quarterback play from his draft classmate, Andy Dalton.  He had over four catches and over 58 yards in each of his healthy games last season, and his 2.39 yards per route run ranked eighth in his position group. His 4.4 yards per route run from the slot (best in the league) was an added boost to the Bengals' passing game before an injury ended his 2018 season, and while he is currently on the mend for the 2019 campaign, his return during the first month of the season should boost and underrated skill position group for the hometown Bengals.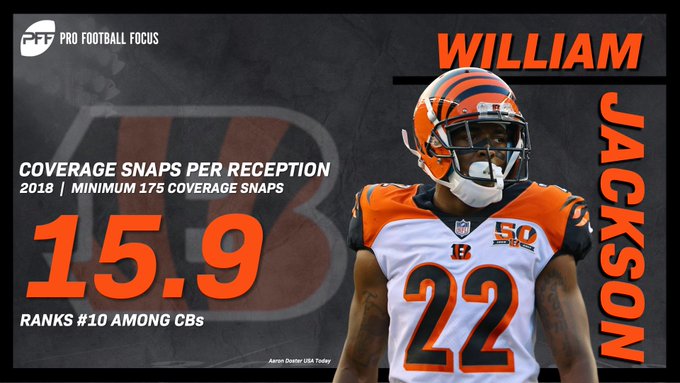 Most Valuable Defensive Player the last three years: William Jackson III (1.0 WAR)
Despite missing 2016 with an injury, the first-round pick out of Houston has been terrific from the moment he stepped on the field in Cincinnati, generating roughly half of a win in each of his two seasons.  Playing over 90% of his snaps on the outside, Jackson has allowed fewer than 50% of the 112 passes into his coverage to be complete, and while he's only intercepted one pass (a pick-six against Aaron Rodgers at Lambeau), he's broken up over 10 passes in each of the two seasons he's played.  While the Bengals struggled mightily as a whole defensively in 2018, a slate of opposing offenses that aren't nearly as daunting and a reversion to the league's mean might mean more opportunities for Jackson to shine and for the Bengals to surprise in 2019.