The New Orleans Saints have finally committed to one of the NFL's best wide receivers long term.
Per ESPN's Adam Schefter, New Orleans has signed four-year veteran wideout Michael Thomas to a five-year, $100 million extension, including $61 million guaranteed, which is the most in NFL history for a Non-QB offensive player.
The former Ohio State pass-catcher is one of seven receivers with two single-season receiving grades above 90.0 in the PFF era (2006-18) — Julio Jones, Antonio Brown, DeAndre Hopkins, Brandon Marshall, A.J. Green, Odell Beckham Jr. and Thomas are the only wideouts who lay claim to the feat — while Thomas' three-year overall grade of 93.0 is the best mark ever recorded by a wide receiver in the first three years of his career.
A well-deserved payday
---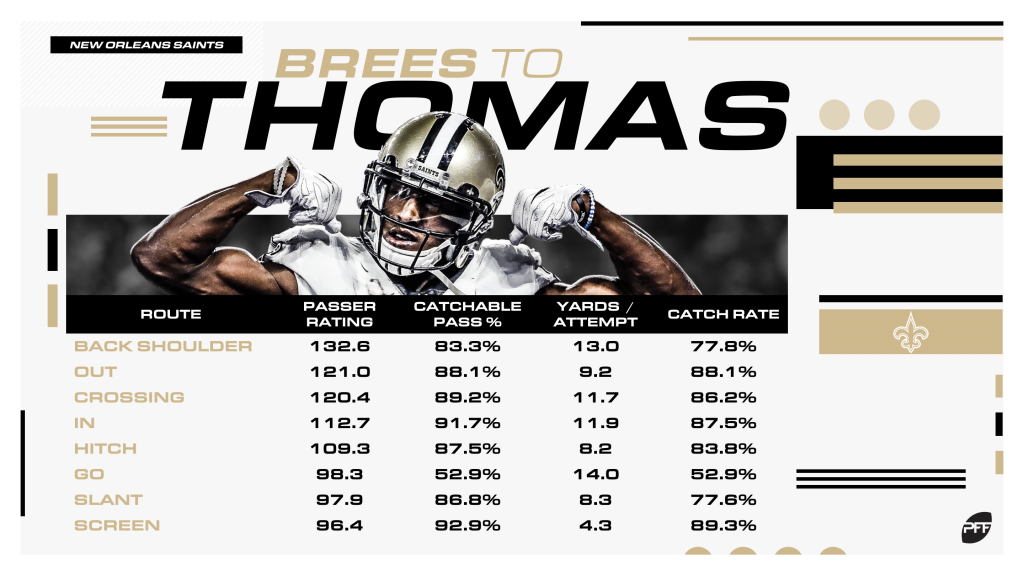 Much like Kansas City Chiefs star defensive interior Chris Jones, Thomas is a 2016 second-round pick who has already produced at an elite level without a fifth-year option to buy his team more time to agree to an extension. And Thomas, no different to Jones and his current situation, deserves every penny he'll get. Read more…
Worth every penny
---
PFF's own Austin Gayle along with Solomon Wilcots discuss one of the leagues best wide receivers, Michael Thomas, who is entering a contract year. Austin and Solomon look at Thomas' PFF data to help determine how much money we should be looking to see him receive in the near future.
A partnership like no other
---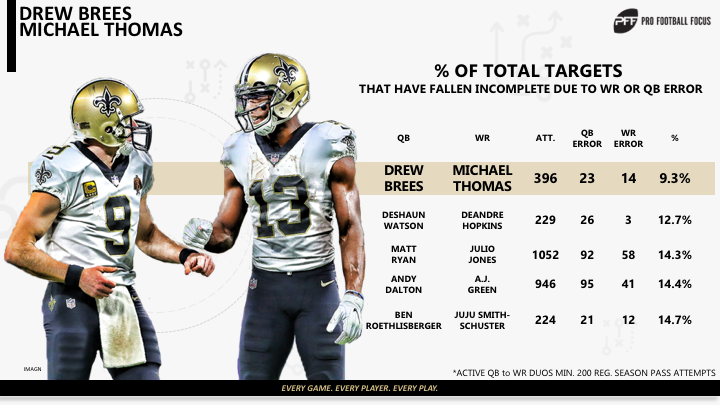 It was the perfect combination of top-draw offensive playcalling, lethally accurate ball placement and elite-level route running. By the final snap of the regular season, 92.0% of Thomas' total targets had earned the catchable tag in PFF's grading system, and Thomas returned the favor by catching 86.2% of his total targets. In the PFF era, there have been 510 instances where a QB-WR tandem has logged at least 75 targets together throughout a single, regular season — Drew Brees' 92.0% catchable-throw rate to Michael Thomas last year ranks first on that list, as does Thomas' 86.2% catch rate. Read more…
One of the league's best
---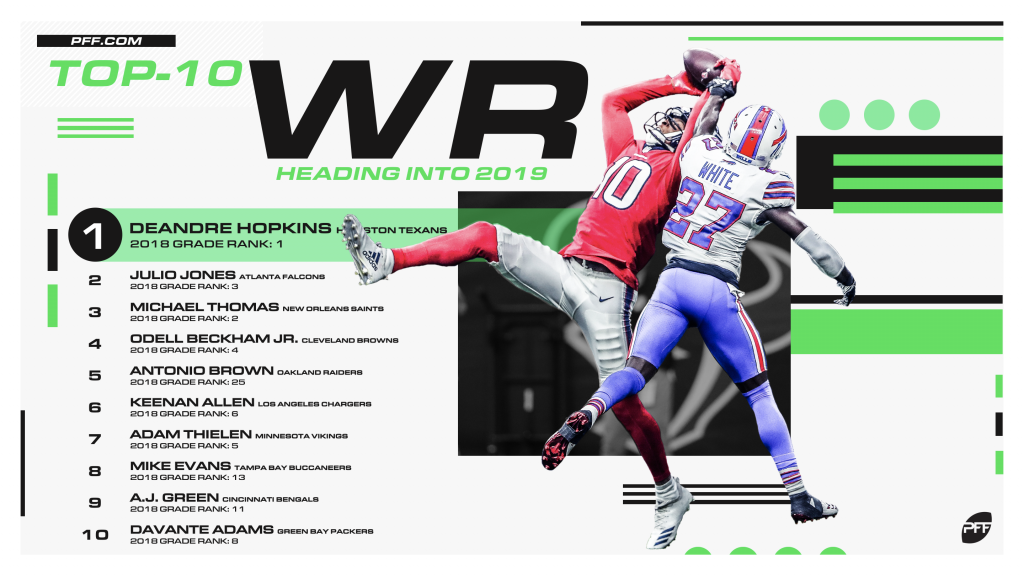 Thomas has also dropped just 2.76% of his 448 targets in his career, a rate that ranks third among the 59 wide receivers with at least 200 targets since 2016. Only Seattle Seahawks' Doug Baldwin (2.46%) and Tyler Lockett (2.65%) have recorded lower drop rates in the three-year span. Read more…
The Saints' X-Factor in 2019
---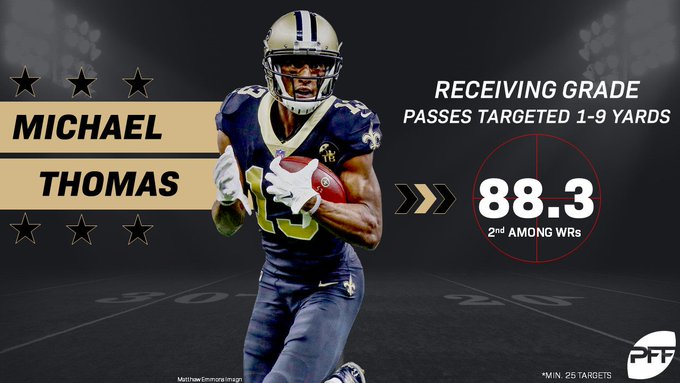 No. 12 on the PFF50
---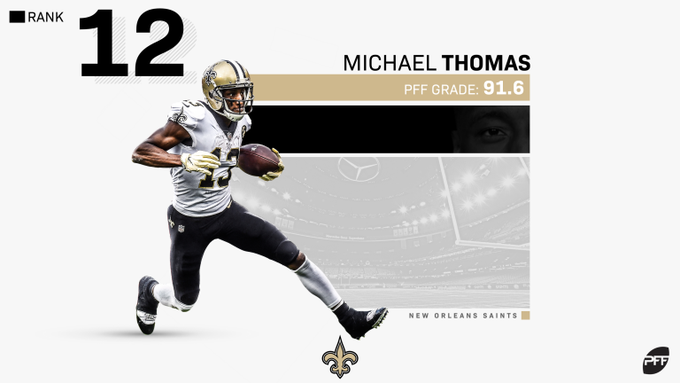 Only Julio Jones (94.3) has earned a higher receiving grade than Thomas (93.2) among the 82 NFL wide receivers with at 900 routes run over the past three seasons (2016-18). He also ranks third on the list in passer rating when targeted (116.8) and yards per route run (2.39), catching 352-of-448 targets for 4,210 yards, 202 first downs and 26 touchdowns in the process. Read more…
Reliable in the clutch
---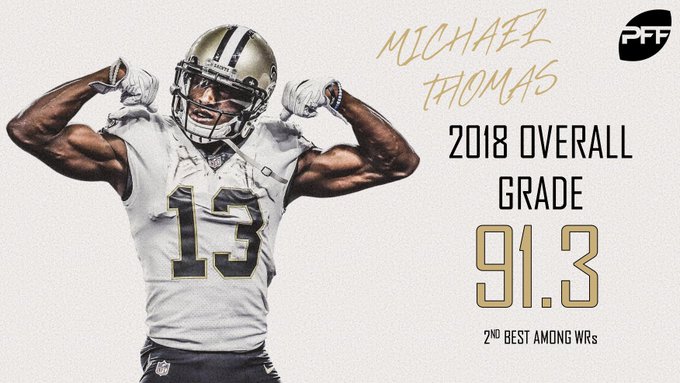 The first-team spots at wide receiver come from two of the top receivers in the game in Jones and Thomas, both hailing from the NFC South. Jones was a volume monster in clutch time with 612 receiving yards (first by 141 yards) and 20 explosive plays (plays of 15 or more yards) as a receiver, which was the most by eight plays. Thomas was just as efficient when the game was on the line: he caught a ridiculous 29 of his 33 targets for 312 yards, five touchdowns and a passer rating when targeted of 145.6. Read more…
Dominant on third down
---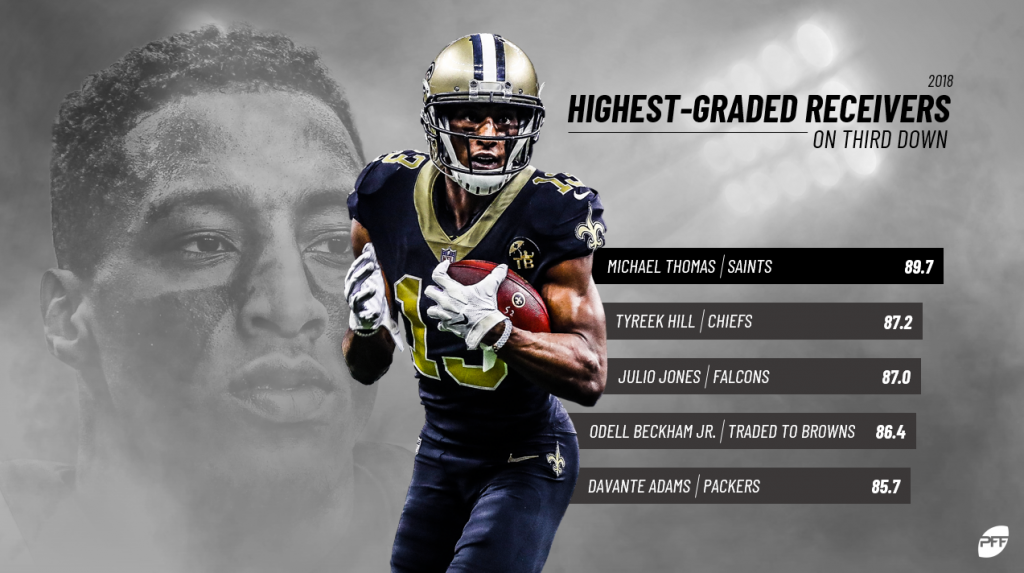 While Thomas tops the list of best third-down receivers, some may argue that he also leaves the competition in his dust on first, second and fourth downs, as well. Either way, he was the most consistent wideout in crunch time in 2018. Thomas hauled in the most third-down receptions and did so at a staggering 81.4 percent catch rate on his 43 targets. Read more…
Lethal at the intermediate range
---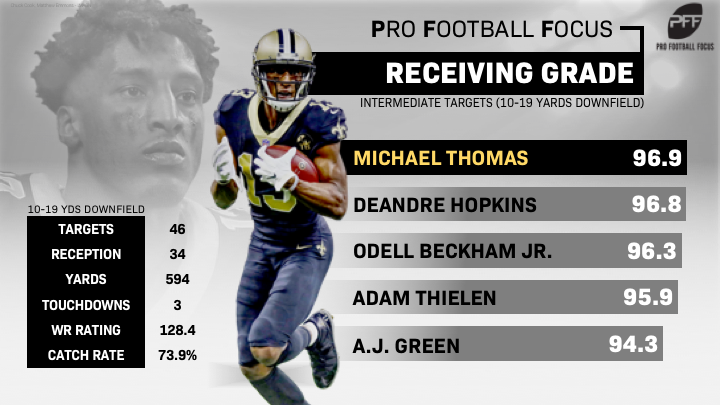 Thomas makes his second appearance on this list for his work at the intermediate range of the field. Once again, the uncanny connection that Brees and Thomas share delivered, as nearly 74 percent of the passes thrown Thomas' way on intermediate routes connected – third-highest among 44 qualifying wide receivers. Altogether, he brought in 34-of-46 targets for 594 yards and three touchdowns when targeted 10-19 yards downfield. Read more…
Winning against press coverage
---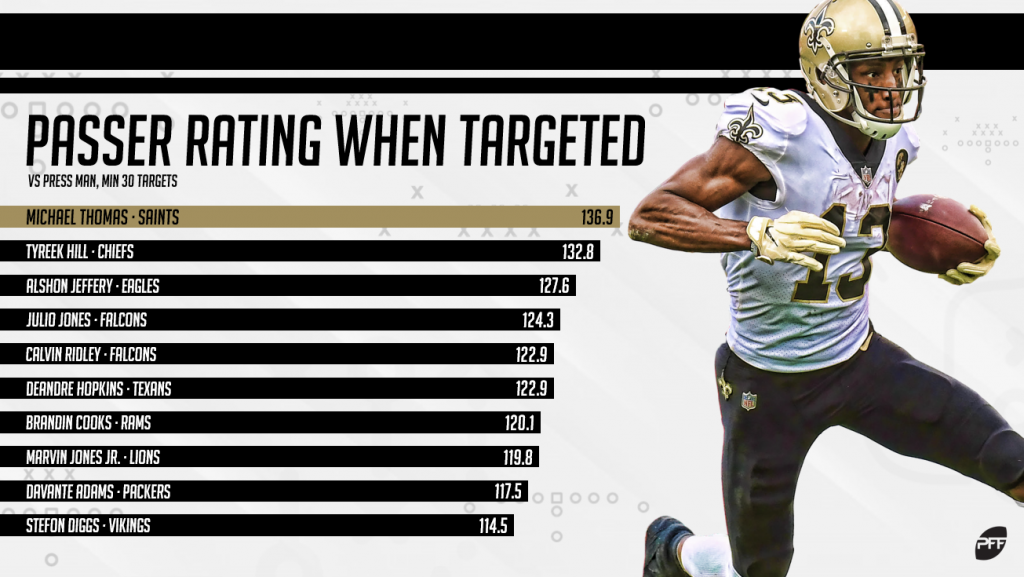 Thomas combines a physically intimidating build and explosive short-area quickness. Against press, he hauled in seven touchdowns against zero interceptions. It's almost a sure thing that Thomas will catch the ball when he's one-on-one — he tallied an 80% completion percentage vs. press-man coverage a season ago. Read more…
Winning in contested-catch situations
---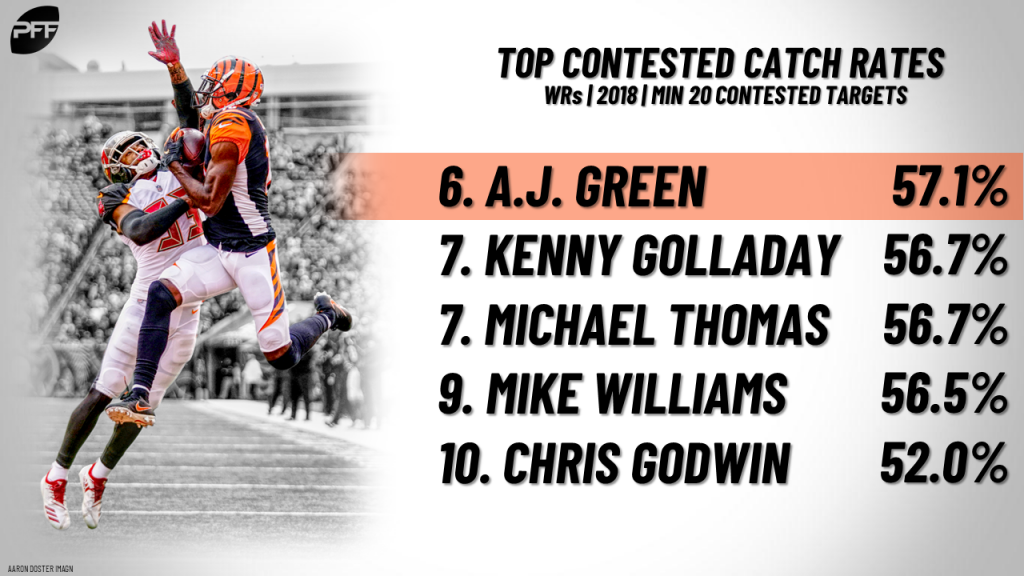 Much like Hopkins, Thomas finished the 2018 season with an elite overall grade (91.6) and showed that he can do it all. Last season, Thomas brought in 56.3% of his contested targets, and he was back at it in 2018 with a contested-catch rate of 56.7%. Many of those contested catches came close to the line of scrimmage, as he averaged just 8.9 yards per contested reception, which ranked lowest among qualifying wide receivers. Read more…
Winning in the red zone
---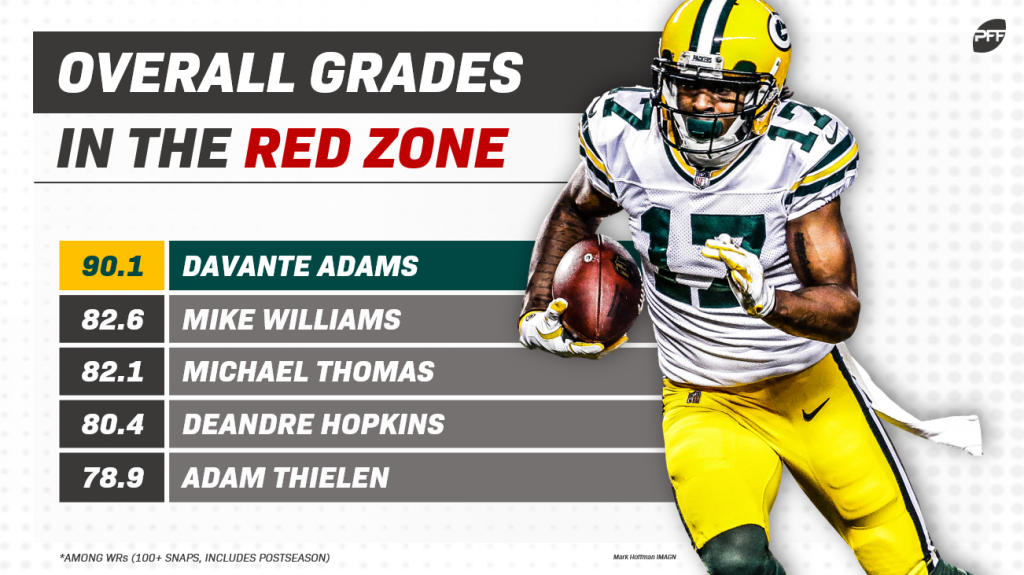 If there was a receiving category in 2018, there's a good chance that Thomas found his name near the top. No one saw more red-zone volume than the Ohio State product; Thomas led the NFL in red-zone targets (34), receptions (27), and yards (171). As it was everywhere last season, the Drew Brees-Michael Thomas connection was lights out in the red zone. He finished among the top-10 players with ten or more red-zone targets in passer rating when targeted (127.2) and catch rate on his targets (79.4%). Read more…
All the grades and signature stats found in this article can be found in Premium Stats 2.0 as a part of the PFF Elite subscription.