In a quarterback's ideal world, he'll be getting the ball out to wide receivers with separation from their defender for an open throw. The world isn't always ideal, however. Through last year's regular season, there were 2,606 passes that we at PFF deemed contested-catch opportunities. These are plays where the defender is in range and contests the pass at the catch point. 28 wide receivers saw at least 20 contested-catch opportunities, and these 10 gave their respective quarterbacks the most help by pulling in those proverbial "50-50" balls at the highest rates.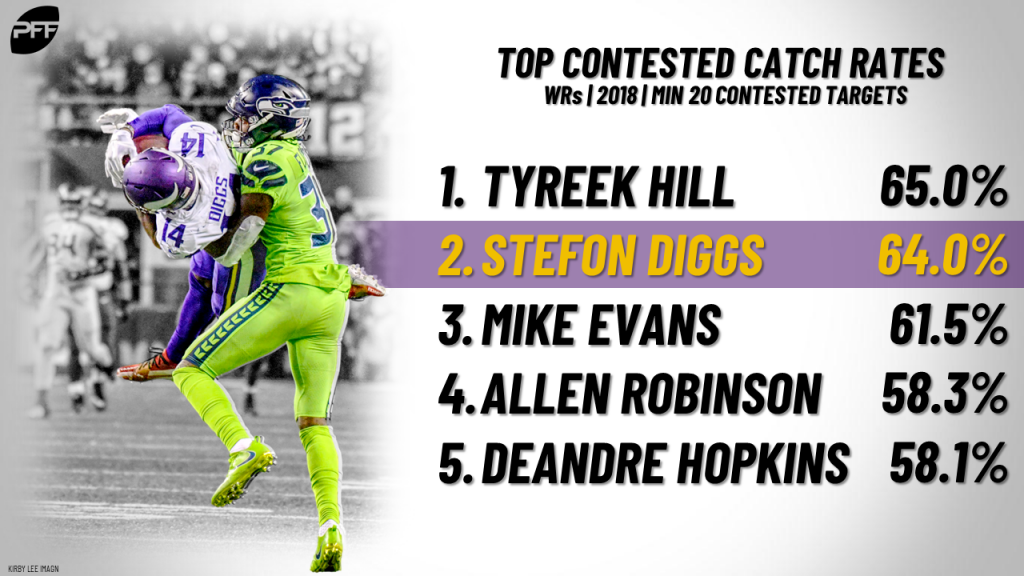 1. Tyreek Hill, Kansas City Chiefs (65.0%)
It seems trivial to be discussing Hill's contested-catch ability in wake of the larger, more important issues surrounding the star Kansas City Chiefs' wide receiver, but his presence at the top of this list shows that his potential absence not only takes away the league's most dangerous deep threat but also the best receiver in the NFL in contested-catch situations a season ago. Listed at just 5 foot-10 inches and 185 pounds, Hill doesn't have the prototypical size of a wide receiver who wins at the catch point. Despite that, he caught 13 of his 20 contested targets for 290 receiving yards (4th).
2. Stefon Diggs, Minnesota Vikings (64.0%)
Diggs nearly retained his crown as the king of contested catches that he earned in 2017 at a contested catch-rate of … 64.0 percent. Eerily, Diggs brought in 16-of-25 contested targets for the second year in a row. Chalk another one up for "undersized" wideouts playing big. Diggs continues to show that he can win with both his route running and his skills at the catch point, making him one of the more complete wide receivers in the league.
3. Mike Evans, Tampa Bay Buccaneers (61.5%)
Coming in at number three on the list is a wide receiver that shouldn't come as a shock when discussing the league's best at bringing down contested passes – Mike Evans. His overall grade of 84.3 last season was good for 13th-best at the position, and a lot of that was thanks to him bringing in 16 of his 26 contested targets. There's good reason for Jameis Winston to have faith in the five-year veteran out of Texas A&M heading into next year.
4. Allen Robinson, Chicago Bears (58.3%)
Robinson delivered a solid season in his first year in Chicago, particularly in the contested-catch department. His 77.7 overall grade came in at 28th among qualifying wide receivers, but his contested-catch rate of 58.3% was fourth-best at the position. In all, Robinson brought in 14-of-24 contested targets for 231 yards and one touchdown.
5. DeAndre Hopkins, Houston Texans (58.1%)
Hopkins ended the 2018 season as the league's top-graded receiver at 92.0 overall. He set the record for most catches in a single season without a drop in the PFF era. Simply put, his hands are ridiculous, so it comes as no surprise that he found his way onto this list. No one had more contested targets than Hopkin's 43. He ended the regular season with catches on 25 of those targets for 311 yards and three touchdowns.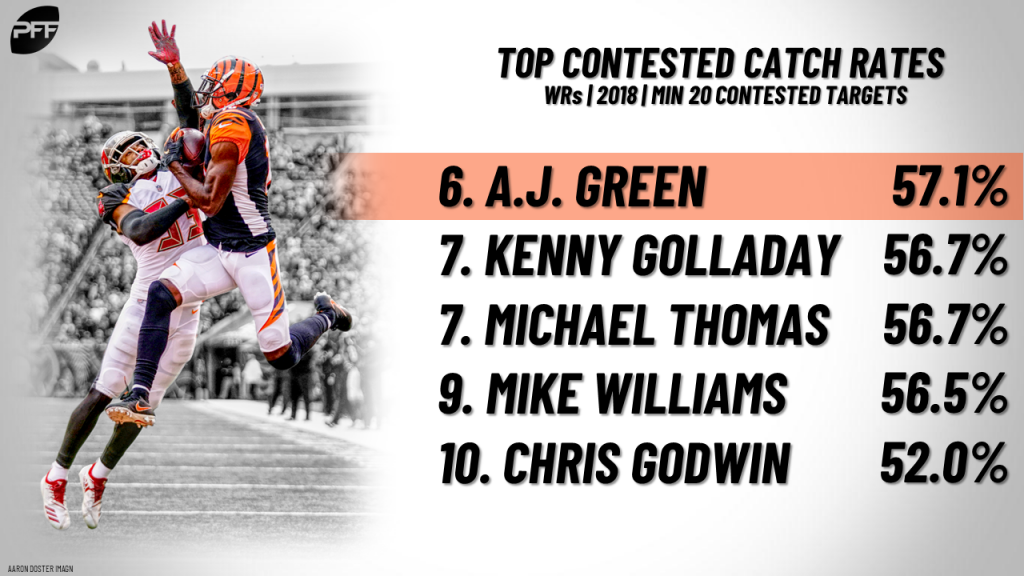 6. AJ Green, Cincinnati Bengals (57.1%)
Green's season may have been impacted by injury, but not before he showed once again that his name belongs with the league's elite at wide receiver. Green brought in 12-of-21 contested targets, and when he hauled in those contested passes, he was ripping off big gains at over 18 yards per reception. A healthy Green in 2019 gives the Bengals one of the most dangerous outside threats in the NFL.
7. Kenny Golladay, Detroit Lions (56.7%)
Golladay burst fully onto the scene in his second season for the Lions, and his ability to come down with contested catches was a large reason why. Matthew Stafford looked his way 30 times in contested scenarios. Golladay turned those 30 targets into 17 receptions for a league-high 334 receiving yards. With his first appearance on the list, he joins his teammate Marvin Jones Jr., who finished the 2017 campaign seventh on the list with a catch rate of 51.4 percent.
8. Michael Thomas, New Orleans Saints
Much like Hopkins, Thomas finished the 2018 season with an elite overall grade (91.6) and showed that he can do it all. Last season, Thomas brought in 56.3% of his contested targets, and he was back at it in 2018 with a contested-catch rate of 56.7%. Many of those contested catches came close to the line of scrimmage, as he averaged just 8.9 yards per contested reception, which ranked lowest among qualifying wide receivers.
9. Mike Williams, Los Angeles Chargers (56.5%)
Williams spent most of his rookie season sidelined with injury, and when he did see the field, he was generally ineffective with a 52.6 overall grade. He bounced back in a big way in Year 2, though. Williams emerged as one of the better wide receivers in the league at succeeding when the windows get smaller, posting the second-highest receiving grade in the red zone due in large part to his strong hands at the catch point. He recorded five touchdowns on contested targets in total this past season. No other wide receiver had more than three.
10. Chris Godwin, Tampa Bay Buccaneers (52.0%)
Rounding out the list is another second-year wide receiver in Godwin. He is an excellent example of a wide receiver that may not have the best separation skills out there but compensates well for that with his physicality and hands at the catch point. When you look at all wide receivers with 30 or more contested catch opportunities over the last two seasons, Godwin comes in even higher at fifth with a contested catch rate of 54.5 percent.