It goes without saying that each drive in the NFL is crucial to a team's overall success. To keep a drive alive, a team must either gain large chunks of yards on first and second down, or they must convert an often pressured third down. When the latter comes into play, it's necessary to have a reliable option at the wide receiver position –someone who won't drop the ball, someone who gains yards after the catch, and someone who simply finds pockets of space in coverage to make things easy for his quarterback.
Below, ranked by third-down receiving grade, is a list of the top third-down options in the NFL last year.
[Editor's Note: All EDGE and ELITE subscribers have access to our advanced coverage stats and grades in Premium Stats 2.0. Though coverage splits aren't readily available, they're often made available in locked article content made available to just our EDGE and ELITE subscribers. Sign up today!]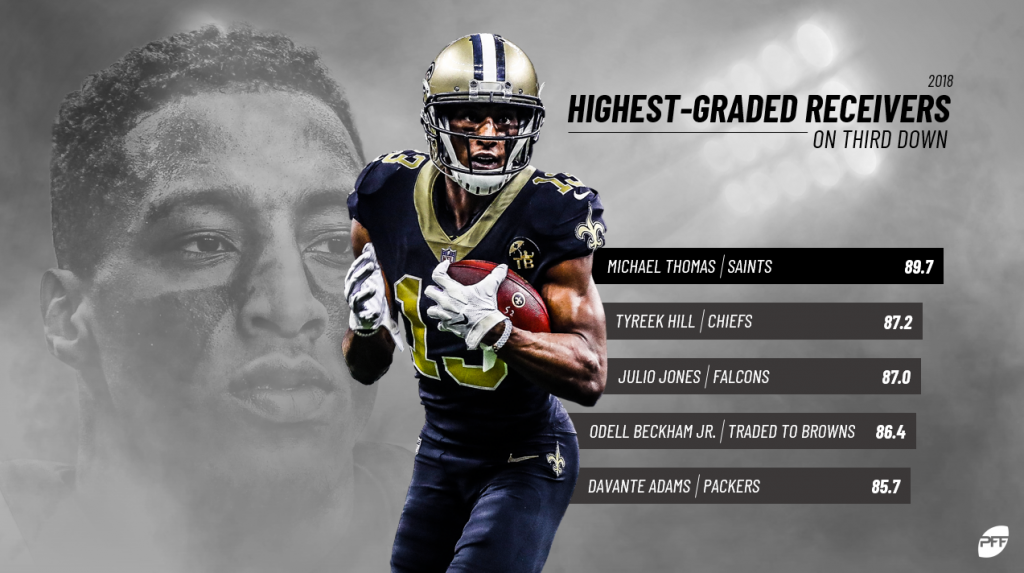 While Thomas tops the list of best third-down receivers, some may argue that he also leaves the competition in his dust on first, second and fourth downs, as well. Either way, he was the most consistent wideout in crunch time in 2018. Thomas hauled in the most third-down receptions and did so at a staggering 81.4 percent catch rate on his 43 targets.
Thomas was the second-highest-graded wide receiver overall, so his third-down success is hardly shocking. Even so, his rate of success stands out — 27 of his 35 catches on third down moved the chains, more than any other receiver. Thomas also reeled in five contested catches on eight contested throws, which was the highest contested catch rate for receivers with eight or more contested targets on third down.
2. Tyreek Hill
, 87.2 receiving grade
Hill is most known for his big-play ability, and that's evident in his average depth of target of 17.7 yards on third down (seventh). Four of Hill's 18 first-down catches on third down were on third-and-10 or more, exemplifying is his ability to stretch the field at any point. But while many think of Hill as a player who wins through speed, he proved his worth in contested situations, as well, catching five of his six contested targets on third down.
Hill was wildly efficient, too, converting 18 first downs on just 21 third-down catches. Quarterback Patrick Mahomes had plenty of weapons in 2018 that supplemented his MVP campaign, but time and time again, Hill proved to be the most reliable.
3. Julio Jones
, 87.0 receiving grade
Nine of Jones' 24 first-down catches on third down came on his own accord — he caught the pass before the first-down marker and earned the first down on yards after the catch. And for as explosive as a player as Jones is, his longest catch on third down was just 24 yards. This isn't a bad thing, of course — he does rank third in the NFL in third-down grade — it merely shows how effective Jones is with the ball in his hands.
He had the fourth-most yards after the catch on third downs, the sixth-most yards after contact and added four missed tackles forced (tied for third). Few receivers were able to match that level of fight with the ball in their hands, but we all know Julio Jones is far from the norm.
Four touchdowns (tied first), 11 missed tackles forced (first) no drops, no fumbles and yet, just 28 third-down targets (tied 31st). Beckham Jr. was used far less than he should've been on the critical down, and that'll likely change in Cleveland. Beckham Jr.'s 140.9 passer rating when targeted on third down ranked sixth among qualifying wideouts, and four of his six touchdowns on the season came on the down. Baker Mayfield has no shortage of targets to go to in clutch time, and utilizing Beckham Jr. often in the situation will undoubtedly yield positive results.
Adams is still one of the NFL's best-kept secrets for unknown reasons — he has produced at a high level for two straight seasons, and in 2018, he was a top-10 receiver. No wideout amassed more third-down yardage than Adams' 484 yards, and none with 25 or more third-down catches had a higher yards per catch average (17.93).
Adams had 15 first-down conversions on third down that went for 10-plus yards, and just three that went for less 10 yards, which goes to show how much trust quarterback Aaron Rodgers has in him to haul in deep passes in crunch time. As a result, Adams had the second-highest yards per route run average (2.86) on third down among qualifying receivers.