Against man coverage, a receiver will generally face one of two basic tactics at the line of scrimmage: press coverage or off-man coverage. When in press coverage, the defensive back will line up directly across from the receiver and be tasked with physically matching the receiver coming out of his break or off the line of scrimmage, with the goal being to disrupt the intended route. When playing off-man coverage, the defender gives some depth at the line of scrimmage, leaving a "cushion" between him and the receiver. This cushion makes off-man less vulnerable to deep routes than press-man, as it affords the defender much more room to break on the route and make a play on the ball.
At PFF, the pre-snap alignment is one of the many things that we track during our analysis process. This practice lends data that we can use to evaluate how receivers fare when facing particular types of coverage. Using one of our Signature Stats, we will look at the NFL's top receivers in WR rating (passer rating when targeted) against both press and off-man coverage.
[Editor's note: To qualify for this ranking, the wide receiver must have seen at least 30 targets against the respective coverage.]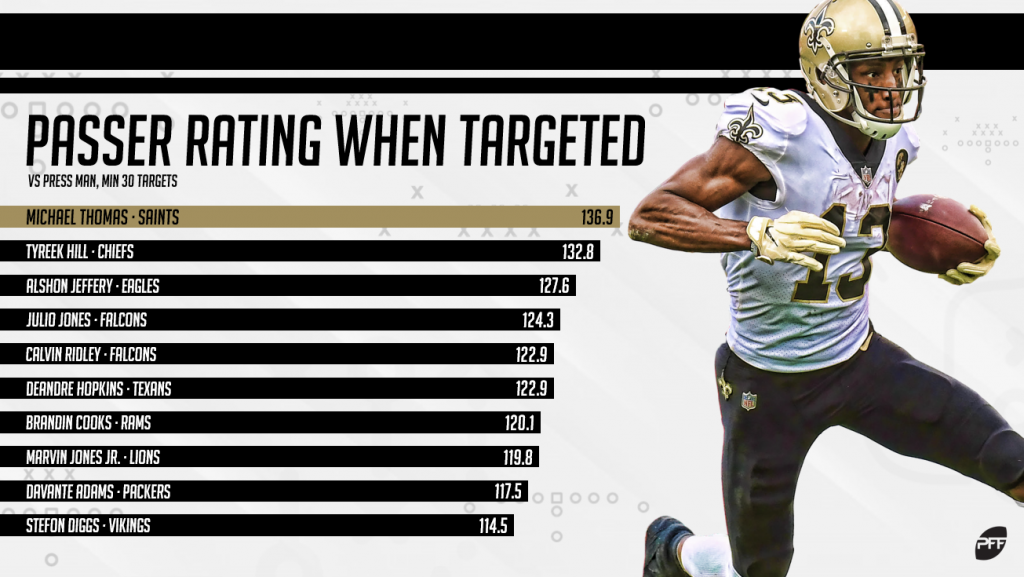 Press Coverage
Thomas combines a physically intimidating build and explosive short-area quickness. Against press, he hauled in seven touchdowns against zero interceptions. It's almost a sure thing that Thomas will catch the ball when he's one-on-one — he tallied an 80% completion percentage vs. press-man coverage a season ago.
It was bombs away for Chiefs quarterback Patrick Mahomes when he saw Hill in press coverage, as 42.9% of Hill's press-man targets came as deep passes (passes of 20 or more yards downfield). That's nearly 9% (8.6%) higher than the next player on this list. As a result, Hill has the highest average depth of target (19.1) and the most yards per reception (23.9) among players on this list.
Jeffrey was a first-down machine for the Eagles last year. The big-bodied pass-catcher converted 66.7% of his press-man targets into first downs in 2018. Like Thomas, he was a safe bet to target in those situations — 78.6% of those targets resulted in a completion.
Jones takes the crown for total yards against press-man coverage, with 747 in 2018. Unlike the players ahead of him, Jones has both the size and speed to be a threat at every level of the field in press-man coverage. His 24.6% deep-target percentage was fifth, but his percentage of catches that resulted in a first down or touchdown (53.8%) was also third on the list.
Matt Ryan has an embarrassment of riches against press-man coverage, with his rookie receiver checking in at fifth on this list. Ridley was a consistent underneath threat, catching 73.3% of his targets against press coverage, and turning 50% of those catches for a first down or a touchdown.
No player was targeted more against press-man coverage than Hopkins, with 77 of his 159 total targets last season coming against press coverage. He was second in yards (740), and he grabbed a list-leading 10 touchdowns against press coverage.