Michael Thomas is going to be a well-paid man very soon.
The New Orleans Saints' budding superstar enters a contract year in 2019 coming off one of the best three-year starts to an NFL career we at PFF have ever seen from a wide receiver. Whether he signs a new contract before or after he tests the market next offseason, Thomas should surpass Odell Beckham Jr. as the league's highest-paid wideout in the near future.
OBJ's $18 million average annual salary currently leads all NFL wide receivers, per Over the Cap.
And if New Orleans' brass doesn't agree to terms with Thomas before Dallas Cowboys' Amari Cooper — who also enters a contract year in 2019 — signs his new deal, they'll likely need to go a few notches above the average annual salary baked into Coop's contract, as well. It's a waiting game neither team wants to lose, and both wide receivers (and their agents) want to win.
Much like Kansas City Chiefs star defensive interior Chris Jones, Thomas is a 2016 second-round pick who has already produced at an elite level without a fifth-year option to buy his team more time to agree to an extension. And Thomas, no different to Jones and his current situation, deserves every penny he'll get.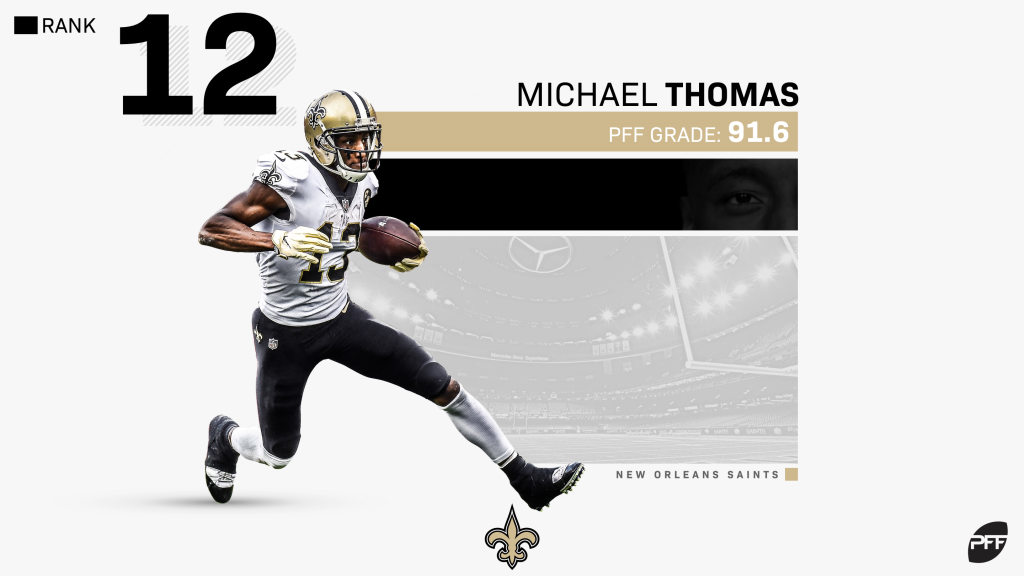 ELITE THREE-YEAR PRODUCTION
Only Julio Jones (94.3) has earned a higher receiving grade than Thomas (93.2) among the 82 NFL wide receivers with at 900 routes run over the past three seasons (2006-18). Thomas also ranks third on the list in passer rating when targeted (116.8) and yards per route run (2.39), catching 352-of-448 targets for 4,210 yards, 202 first downs and 26 touchdowns in the process.
Thomas is also one of seven receivers with two single-season receiving grades above 90.0 in the PFF era (2006-18): Julio Jones, Antonio Brown, DeAndre Hopkins, Brandon Marshall, AJ Green, Odell Beckham Jr. and Thomas are the only wideouts who lay claim to the feat. No second-year receiver has ever recorded a higher receiving grade in the PFF era (2006-18) than Thomas' 91.6 in 2017, and the same can be said for third-year receivers. His 91.9 receiving grade in 2018 tops all 148 receivers with 50 or more targets as third-year players in the NFL.
Even Thomas' biggest supporters entering the 2016 NFL Draft couldn't have predicted such levels of success. He wasn't highly regarded for his route-running ability or straight-line speed coming out of Ohio State, but he's grown as a route-runner since entering the league, improving his releases and breaks while also expanding what was a sparse route tree with the Buckeyes.
Thomas' 95.2 career receiving grade against single coverage ranks second among the 68 wideouts with 100 or more targets against such coverage since 2016. His 117.6 passer rating when targeted and 3.48 yards per route run average against single coverage over the three-year span rank third and fifth, respectively.
Where Thomas has proven to be at his best, regardless of the coverage type, is at the short and intermediate levels of the field. No receiver has earned a higher receiving grade on passes of 19 or fewer air yards than Thomas (93.6) since he entered the NFL in 2016. He also ranks sixth in yards per target (8.56) and fourth in percentage of targets resulting in a first down or touchdown (50.62%) among the 95 wideouts with at least 100 targets of such depths in the last three years.
Thomas has learned to create separation at all levels of the field with his release package and physicality while also continuing to impress with his contested-catch ability when he can't break free from tight coverage. He can win his routes with or without yards of separation because he has some of the best hands in the NFL right now.
Catching 48-of-82 contested targets in his career, Thomas ranks second behind Minnesota Vikings' Stefon Diggs in three-year contested-catch percentage at 58.54%. Diggs' 65.52% contested-catch percentage on 58 targets leads in the NFL among the 73 NFL wideouts with 20 or more contested-catch opportunities since 2016.
Thomas has dropped just 2.76% of his 448 targets in his career, a rate that ranks third among the 59 wide receivers with at least 200 targets since 2016. Only Seattle Seahawks' Doug Baldwin (2.46%) and Tyler Lockett (2.65%) have recorded lower drop rates in the three-year span. And Lockett only has 201 total targets in the three-year span, good for less than half of Thomas' target total.
WINS CRITICAL DOWNS
Thomas' elite receiving ability isn't lost on critical downs, either. His sure-handedness and plus contested-catch ability have paid dividends on third and fourth downs and in the red zone over the years, and his play in the clutch has been among the NFL's best since entering the league.
Among the 100 NFL wideouts with at least 100 routes run in the red zone in the last three seasons, Thomas ranks second behind Green Bay Packers' Davante Adams in receiving grade at 83.3. Not only has he dropped zero passes in the red zone, but Thomas has picked up a first down or scored on 54.29% of his red-zone targets, the third-highest mark among qualifying wide receivers since 2016.
His 90.1 receiving grade on third and fourth downs in his career ranks third among the 85 wideouts with 300 routes run on such downs in the last three years. Catching 86-of-118 targets for 1,026 yards, 61 first downs and six touchdowns on third and fourth downs since 2016, Thomas also ranks fourth in percentage of such targets resulting in a first down or touchdown (56.78%) among qualifiers in the three-year span.
Of the 72 receivers with at least 50 routes run in one-score games in the fourth quarter or overtime in the last three years, Thomas ranks second behind Julio Jones in receiving grade (92.1), fifth in yards per route run (3.48) and tied for second in passer rating when targeted (154.9). Oh, and he's never recorded a drop in said situations.
FINAL THOUGHTS
Gone are the days of second-guessing young, premier talents in the NFL. If New Orleans waits too long to extend Thomas, they'll either pay more than they would have if they paid him now or lose him to another team willing to pay market value.
Thomas has done everything short of outplaying future Hall of Famer Julio Jones throughout the first three years of his NFL career. Whether it's New Orleans or one of the other 31 teams chomping at the bit to have a pass-catcher like him under contract, Thomas will draw a pretty penny for his efforts soon enough.