[As a part of our partnership with ESPN, this is a part of a story that was originally published on ESPN+ and can be viewed in its entirety here with your ESPN+ subscription – Ranking the 2019 rosters for all 32 NFL teams]

Deatrich Wise Jr. is set to lead the Patriots' edge group in Year 3 despite recording just 80 career pressures over two seasons, winning just 12.1% and 13.3% of his pass rushes, respectively. The tools are there, though, as he generated pressure on 16.7% of his pass-rush attempts while winning 18.0% of his pass rushes during his final season at Arkansas back in 2016.

Jared Goff is coming off a great season in which he earned an overall grade of 84.3, ranking eighth among quarterbacks, but struggled mightily in the Super Bowl loss to the Patriots. The Rams have an excellent coaching staff, a loaded roster and Super Bowl experience, but they will get only as far as Goff allows them to. The NFL is a quarterback-driven league, and if Goff can continue to improve, the Rams might get back to the big game. Goff's clean-pocket passing ability ranked third in overall grade in 2018 and is an extremely strong and stable metric for looking at year-to-year production.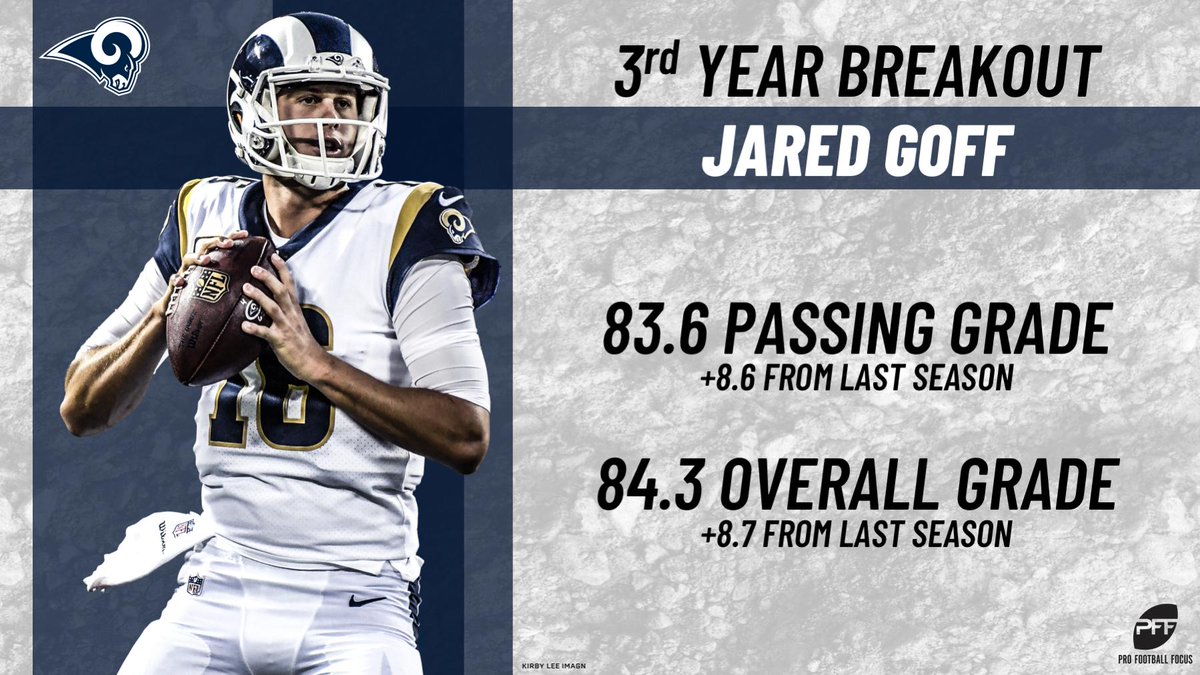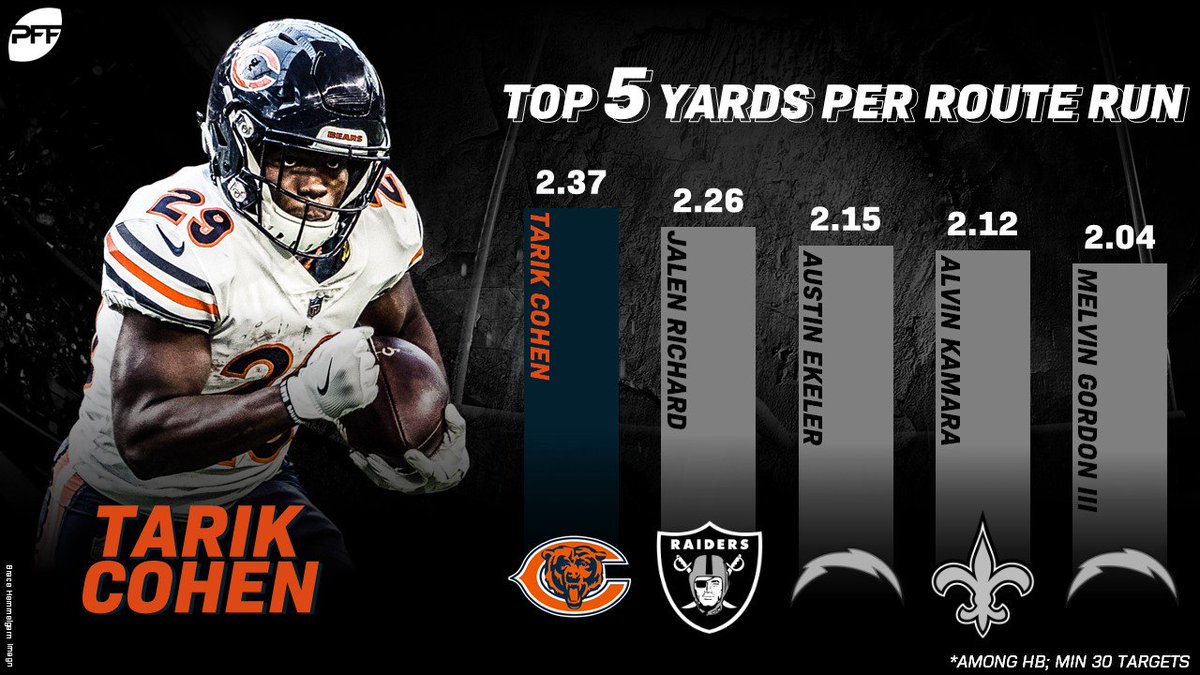 Mike Williams made some serious noise in his sophomore season, as he earned a receiving grade of 81.3, ranking 17th out of 108 qualifying wide receivers. Williams was targeted 64 times last season and generated a passer rating of 134.4, the fifth-best mark among receivers in 2018. Playing alongside Keenan Allen, Melvin Gordon and a returning Hunter Henry, look for Williams to take advantage as opposing defenses focus on the Chargers' big three.


If the 2018 season showed us anything, it was just how important Deion Jones is to the Falcons' defense. In 2017, Jones and the rest of the Falcons linebackers combined to allow a passer rating of just 92.4 on throws into their coverage, and 32.8% of those targets resulted in either a forced incompletion or a defensive stop. With Jones out in 2018, the Falcons' linebackers allowed a passer rating of 124.3, and only 25.0% of their targets resulted in a forced incompletion or a defensive stop. There is no question that Jones is one of the league's best coverage linebackers, and his ability to buoy this defense shouldn't be overlooked.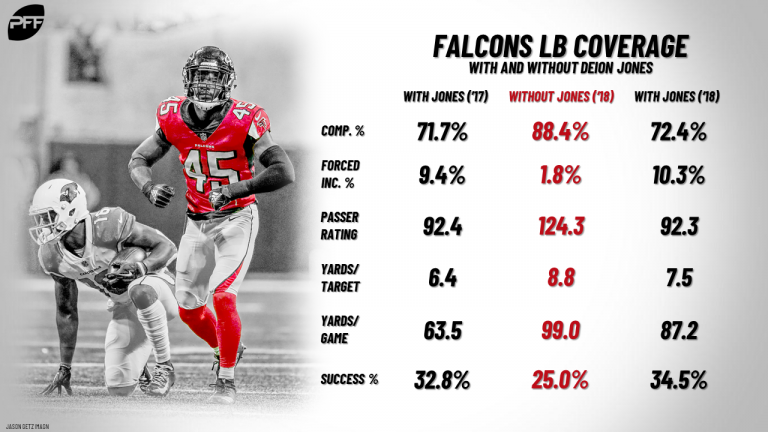 Travis Frederick was arguably the best center in the NFL before missing all of last season. Concerns always surround guys who miss an entire season, and Frederick's performance in his return will play a big part in whether the Cowboys can seriously contend for a championship. With Frederick in the lineup in 2017, the Cowboys allowed just 72 total pressures from the interior, which was the seventh-best mark in the NFL. That number jumped all the way up to 108 last season, ranking 25th. Frederick's return should open up more running lanes and also prevent Prescott from getting too much pressure up the middle.

Shaquill Griffin is a supremely talented cornerback who will need to play up to his potential if the Seahawks ever want to create a new Legion of Boom. He earned a coverage grade of just 51.9 last season, ranking 116th out of 131 qualifying cornerbacks, so Griffin's progression will be something to watch going into his third season.

The Packers haven't had a top-tier playmaker in the secondary since Casey Hayward left after the 2015 season, but that looks to be changing now that Jaire Alexander is in town. He contested a league-high 36% of his targeted throws as a rookie in 2018, and his incredible Week 8 performance against the Rams — when he broke up five of the nine passes that were thrown into his coverage — showed the impact he can have on the back end of the defense.

Now that he's essentially in a contract year, all eyes should be on the former first overall pick, Jadeveon Clowney. He had somewhat a breakout season in 2018, with his 88.0 overall grade being a career-best mark, but that was largely propped up by strong showings in run defense (91.2) and coverage (87.2). Now five seasons deep into his NFL career, Clowney has yet to eclipse a pass-rush grade higher than 78.2, and he hasn't tallied more than 64 pressures in a season. The Texans are looking for him to break into that top tier of edge rushers in 2019.

We saw Corey Davis step up to the plate last season, and the team hopes that he can build on that momentum going into Year 3. The former first-round pick saw his yards-per-route-run figure jump from 1.10 in 2017 to 1.73 in 2018, and his contested-catch percentage jumped from 18.2% to 40.0%. This offense needs a dynamic playmaker and will have one if Davis can continue his upward trajectory.

No team ran more designed runs with its quarterback in 2018 than Baltimore, as it toted the rock with its signal-caller on 150 occasions, 70 more times than the second-place Panthers. Lamar Jackson had 135 of those carries and led the league among quarterbacks with 570 rushing yards on such attempts.

There are no two ways about it, the X factor for this team is the newly acquired Odell Beckham Jr. One of the best pass-catchers in the game, Beckham has averaged 2.4 yards per route run during his five seasons in the league, the fifth-best mark among receivers with at least 500 routes run. With OBJ coupled with Mayfield, the Browns might very well possess to the best QB-WR tandem in the league.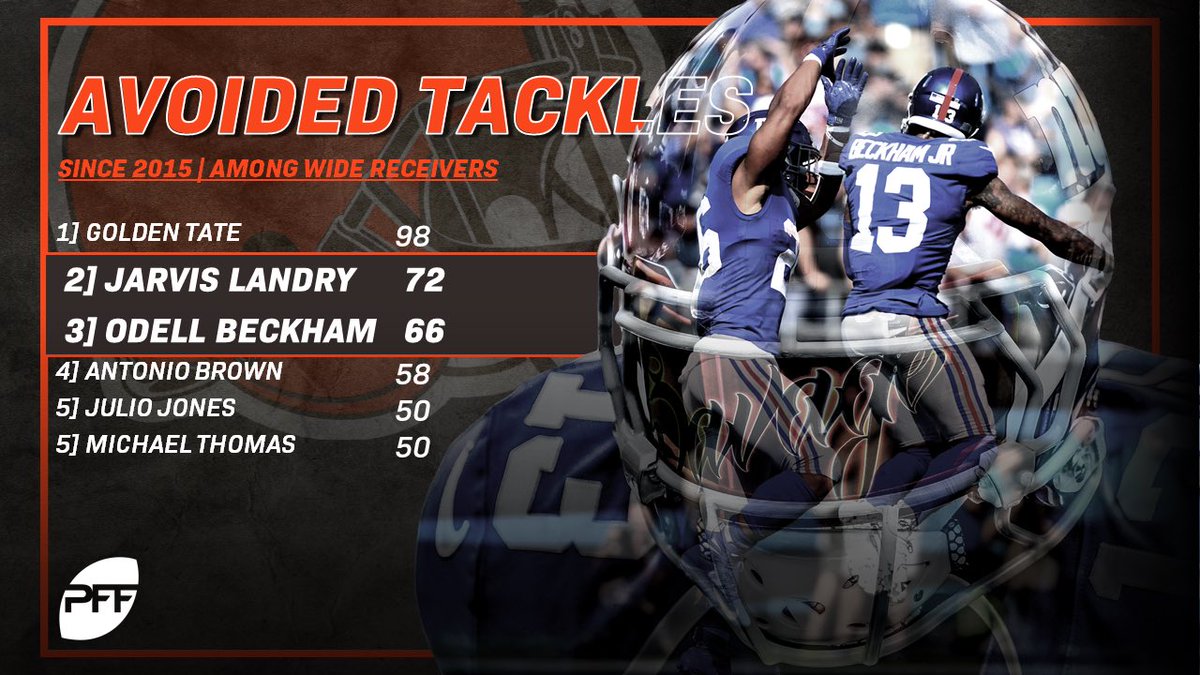 Nick Foles is one of the greatest sporting stories of the past decade, but we still don't really know who he is as a starting quarterback. Is he the guy we saw in 2013, who earned a 78.2 overall grade and notched a league-best 134.6 passer rating from a clean pocket? Or is he the guy we saw in 2015, who stumbled to a 59.8 overall grade and a No. 34-ranked 81.1 passer rating from a clean pocket? With no top-tier playmaking ability around him, this offense will go as Foles goes in 2019.


Christian McCaffrey's influence in the passing game should, at minimum, stay along last year's trajectory. He was the most targeted running back out of the backfield, seeing 122 passes come his way, which he turned into the league's most yards after the catch (861) and combined first down and touchdown receptions (41) among running backs.

 Bradley Chubb had a solid rookie season in which he earned an overall grade of 68.1, ranking fifth out of 17 qualifying rookie edge defenders and 53rd out of 113 qualifiers at the position. His 57 total pressures (13 sacks, eight hits, 36 hurries) were the 19th-most among all edge defenders. If Chubb can take his game to the next level in his second year, the Broncos would once again have one of the most feared pass-rushing duos in the NFL.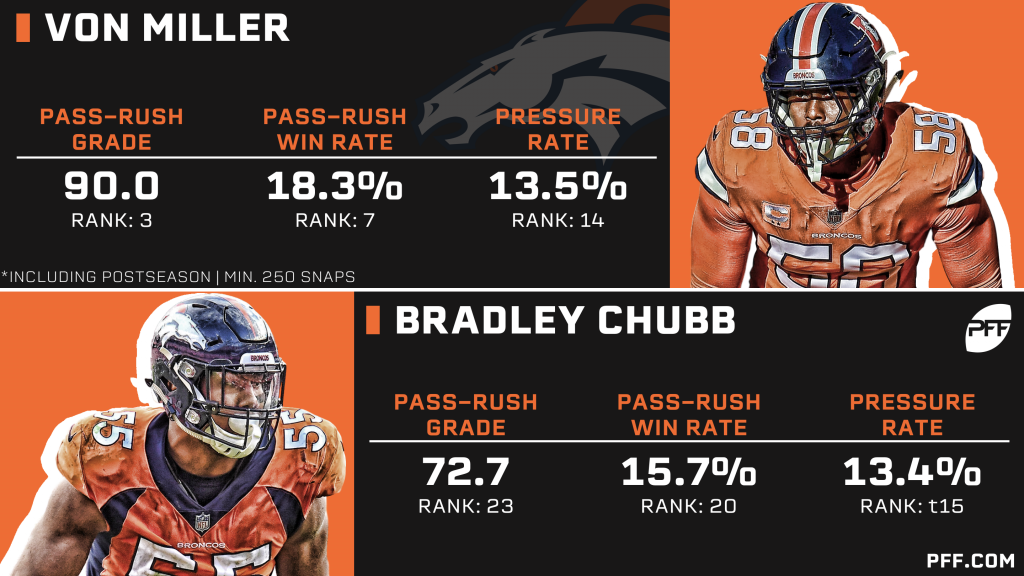 Jessie Bates III erased all doubt about the Bengals' release of George Iloka right before the start of the 2018 season with his play last season. Bates was dominant in coverage, allowing just 0.34 yards per coverage snap and a paltry 59.9 passer rating when targeted.

Vernon Hargreaves III has had a rough go since being drafted in the first round in 2016. Taking out his injury-shortened Year 3, Hargreaves has allowed the fourth-most yards in outside coverage (1,287). He also allowed the highest completion percentage on throws into his primary coverage over that span (66.9%) among cornerbacks with at least 550 snaps in coverage. His play will go a long way in determining the fate of the Bucs' defense.

Sterling Shepard will demand more attention in the Giants' offense in 2019 after the loss of Odell Beckham Jr. Shepard dominated the intermediate range of the field a season ago, hauling in 19 receptions on throws targeted 10-19 yards past the line of scrimmage. All 19 of those receptions achieved a first down, and 14 of them went for well more than 15 yards. On those receptions, his 19.5 yards per catch ranked fifth among all NFL receivers.

The Raiders once seemed set at quarterback with Derek Carr, but it's becoming apparent that his time as Oakland's signal-caller is running out. Among the 32 quarterbacks with at least 250 attempts under pressure over the past three seasons, Carr's 56.1 passer rating in those spots ranks 28th. But after three years of charting the ball placement of every throw, the top-three single-season deep-passing accuracy rates belong to Russell Wilson in 2016 (55.6%), Carr in 2018 (52.3) and Carr in 2016 (51.1). Now that he's armed with Brown and deep threat Tyrell Williams, Carr might have the tools he needs to put forth an impressive season.

Although Josh Rosen played behind an awful offensive line in his rookie year in Arizona, he still has to make up for his 49.1 overall grade, which ranked 38th out of 39 qualifying quarterbacks last season. On the positive side, Rosen is only 22 years old, and there's nowhere to go but up. His positive growth in Year 2 could provide a solid foundation for the team's rebuild.

Sam Darnold showed his sky-high potential late in his rookie season, as his overall grade of 87.7 over the last four weeks ranked first among all qualifying quarterbacks. In those final four games, Darnold was unstoppable when given a clean pocket, completing 65 of 88 such attempts for 758 yards, five touchdowns, no interceptions and a passer rating of 118.5. And he did that against some pretty good defenses, including the Bills and Texans. If Darnold can bring that momentum into the start of 2019, the Jets can contend sooner rather than later.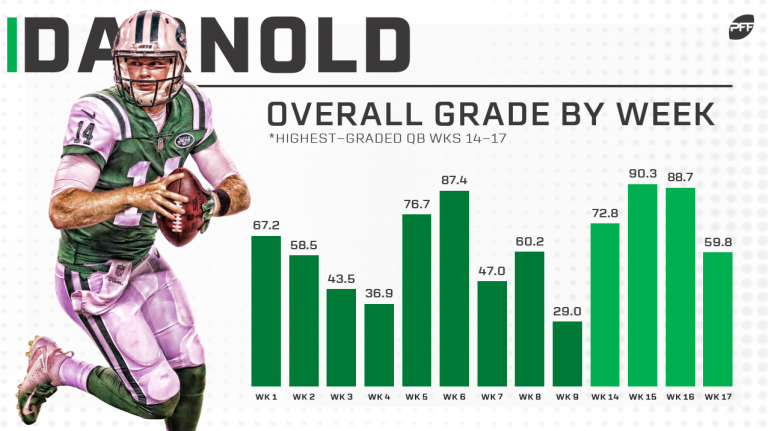 Kyler Murray enters a difficult situation in Arizona, but he has the talent to help remedy the situation. His quickness should help him overcome a bad offensive line, and he can make all the throws. Murray earned an overall grade of 94.6 at Oklahoma last season, leading all quarterbacks and also tying fellow Sooner Baker Mayfield (2017) for the best single-season overall grade for a quarterback in the PFF college era (since 2014). If Murray can make a similar impact as a rookie as Mayfield did last season, the Cardinals could be an interesting team to watch.