Over the course of their careers, some wide receivers get the reputation as being dominant in certain areas of the field. Is anyone better at getting separation close to the line of scrimmage than Julian Edelman? Is there any wide receiver that can claim that they're a better deep downfield than Tyreek Hill? At PFF, we grade every player on every play, and along with that, we collect information on the target location, which means we can answer those questions. 
These receivers were the best when targeted short (1-9 yards past the line of scrimmage), intermediate (10-19 yards), and deep (20 yards or more).
[Editor's Note: To view more of Pro Football Focus' advanced stats on receiving direction, check out our Premium Stats 2.0. All ELITE subscribers already have access to these stats, and for those who don't, you can subscribe today!]
Short Targets (1-9 yards downfield)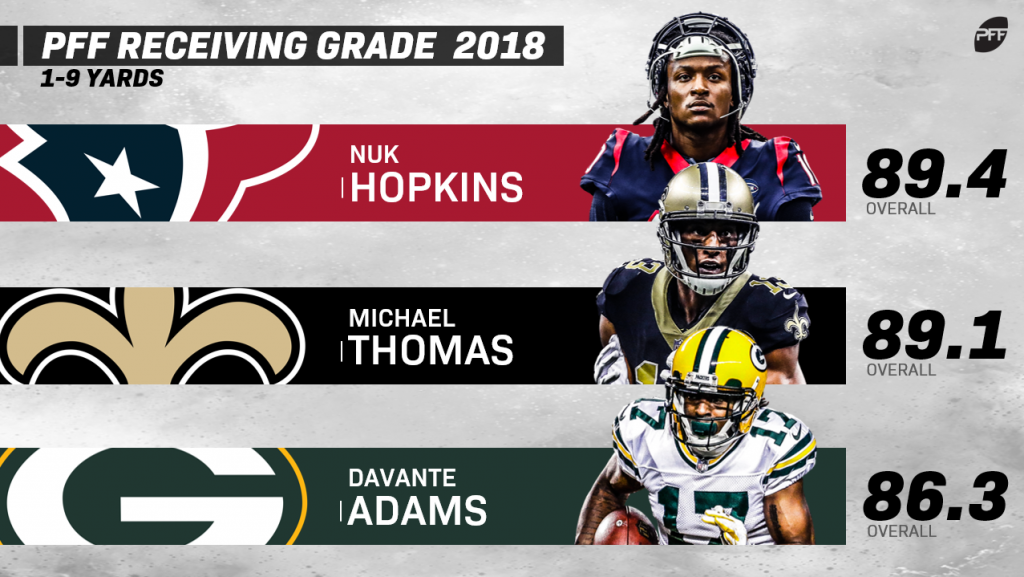 When you're the league's highest-graded wide receiver, the chances are that you were pretty good all over the field. That holds true for Hopkins. He was targeted 68 times within nine yards of the line of scrimmage – fourth-highest in the NFL – and he turned those targets into 53 receptions for 478 yards and two touchdowns. It was the quick slants where Hopkins did a lot of his damage, as his 24 targets on slants within nine yards led the league, and he generated a passer rating of 131.3 on those routes.
The short passing game was Thomas' bread and butter in New Orleans last season. No wide receiver came close to his 97 short-range targets – JuJu Smith-Schuster was second at just 76 – and he coasted to first in short receptions (88), yards (709) and first down receptions (41). What is really impressive is the efficiency Drew Brees and Thomas maintained at such high volume. Among 69 wide receivers with 25 or more short-range targets, Thomas had the highest catch rate on his targets at 90.7%.
Adams has emerged as one of the top red-zone threats in the league in recent seasons, so it makes sense that he comes in as one of the top-graded receivers when targeted close to the line of scrimmage. In total on these short routes, he brought in 53 receptions for 484 yards and four touchdowns. Adams' WR rating of 116.7 on these passes came in at fifth overall among qualifying wide receivers.
Intermediate Targets (10-19 yards downfield)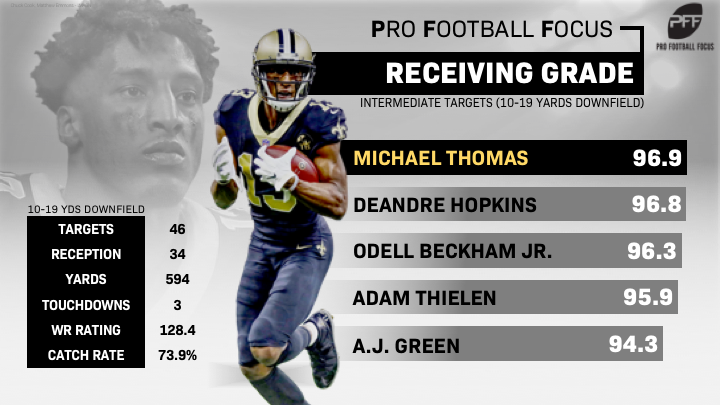 Thomas makes his second appearance on this list for his work at the intermediate range of the field. Once again, the uncanny connection that Brees and Thomas share delivered, as nearly 74 percent of the passes thrown Thomas' way on intermediate routes connected – third-highest among 44 qualifying wide receivers. Altogether, he brought in 34-of-46 targets for 594 yards and three touchdowns when targeted 10-19 yards downfield.
Once again, Hopkins and Thomas occupied spots one and two in the standings. Hopkins stood out on this range of the field in contested catch situations. His 21 contested targets led all wide receivers in this range, as did his 14 contested receptions. No wide receiver with at least ten contested targets 10-19 yards downfield finished with a higher contested catch rate than Hopkins (66.7%). Other areas that he took down the top spot include receptions (43) and yards (695).
Despite his season being cut short, Beckham Jr. was still able to showcase the electric playmaking ability that he will be bringing to Cleveland, especially in the intermediate areas of the field. Beckham has made a name for himself on the slant route, and he used the intermediate slant with success last year; he was the only wide receiver to be targeted ten or more times on slants 10-19 yards downfield, bringing in six-of-ten targets for 98 yards.
Deep Targets (20-plus yards downfield)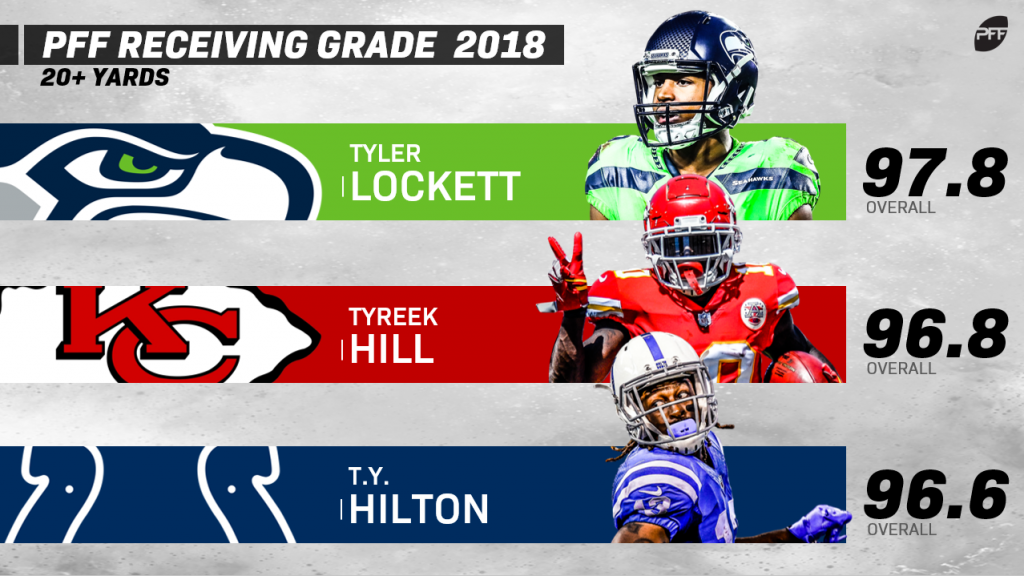 At last, we get to a category not dominated by Hopkins and Thomas – the deep threats. Coming in at first with a 97.8 receiving grade is none other than last year's model of efficiency, Tyler Lockett. Lockett was especially dangerous deep, bringing in a ridiculous 77.3 percent of his deep targets with a passer rating when targeted of 158.1. Among the 27 other wide receivers with 20 or more deep targets (including playoffs), the next highest passer rating when targeted was Smith-Schuster at 125.0.
It comes as no surprise that the Kansas City speedster finds himself near the top of the list in the deep range. Hill is a flat-out nightmare when he gets behind your defense – and there is little hope of recovery when he does. He finished the season with 796 receiving yards on passes targeted 20 or more yards downfield in 2018, which was more than any other wide receiver has picked up in a single season in the PFF era (2006-present). Hill and Patrick Mahomes are gearing up to be one of the most dangerous duos in the league for a long time.
With Andrew Luck back at the helm, Hilton once again solidified his spot as one of the more dangerous downfield threats in the NFL. If not for Lockett's ridiculous stat line, Hilton would have led the league in reception rate on his downfield targets (61.5%). He finished the season with 16 deep receptions on 26 targets for 602 yards (3rd) and two touchdowns. Hilton even brought in four-of-seven contested deep targets, showing that he's more than just a speed threat.