With the Miami Dolphins' pending release of Ndamukong Suh, a dominant interior defensive lineman is about to hit the open market. Suh is coming off the three highest-graded years of his career since signing with the Dolphins, but they nearly broke the market with their 2015 contract and it always felt inevitable that Suh would be out before seeing the end of the contract. Now the 31-year-old Suh searches for another suitor while the Dolphins sort out their salary cap situation.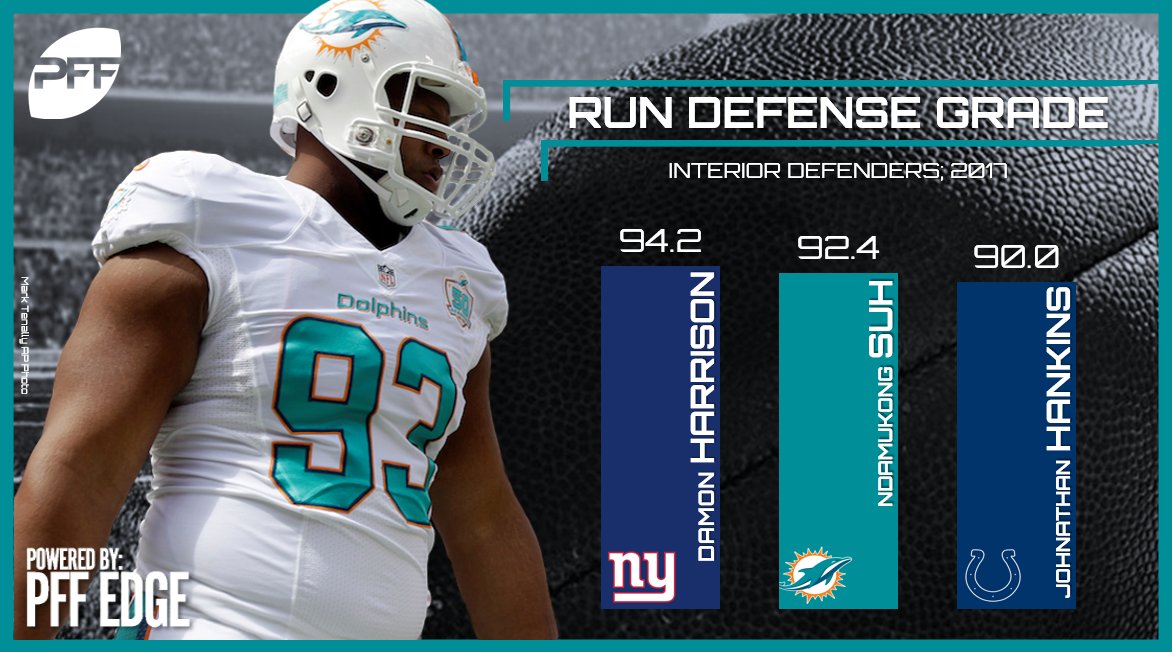 What will Suh offer his new team? A scheme-diverse, 3-down disruptor.
Against the run
Early in Suh's career, the run game was a question mark. Opposing teams used his quickness and aggressiveness against him, often using trap plays to allow him to fly upfield while leaving vacated gaps behind. This part of his game has improved dramatically through the years, as he's difficult to move and he's still a disruptive presence capable of blowing up plays in the backfield. Suh dictates the action against the run, exploding into blockers while showing the ability to shed and finish plays. He ranked second among interior defensive linemen with a career-high 92.4 grade against the run last season. While he'll do much of his damage from a traditional "3-technique" alignment over the guard, Suh has the strength and technique to play all over the defensive front, making him scheme-diverse as his suitors line up for his services.
Rushing the Passer
The real reason Suh is getting the big money is his ability to affect the quarterback and, in this regard, he remains one of the league's best. While his total pressures decreased from 57 in 2016 to 43 last year, Suh still ranked 12th among interior defensive linemen with an 83.9 pass-rush grade last season. He has the entire pass-rush arsenal at his disposal, as he can push the pocket with power from any interior position or use his quickness to beat guards and centers to the punch. The only caveat with Suh's game is the penalties, which have always been prevalent throughout his career. He's had at least 10 penalties in each of the least four seasons, and whether he's trying to jump the snap or coming in a bit too late on the quarterback, Suh is no stranger to the yellow laundry being fired his way. That aggressiveness is a big part of Suh's game, but the positives far outweigh the negatives when it comes to his ability to disrupt opposing passing games.
Durability
In a league that is trending toward more specialists and defensive line rotations, Suh has been a true three-down player since entering the league. He's played at least 800 snaps every year of his career, including two seasons over 1,000 snaps in 2015 and 2016 when including the 2016 playoff game. He's played over 80 percent of his team's snaps in all but one year of his career and has maintained his production despite the heavy workload. Suh's dependability is one of the underrated parts of his game, as he's filling a role that is often manned by a committee in today's NFL.
Get all the info you need on Suh's career over the years with PFF Premium Statshttps://t.co/AQghSC0CYM pic.twitter.com/jPBwbq0gng

— Pro Football Focus (@PFF) March 12, 2018
Final Word
Suh earned a monster contract three years ago and the Dolphins got three productive years out of the league's highest-paid interior defensive lineman. Now that they are parting ways, another team has the opportunity to maximize the tail end of Suh's prime, and his versatility along the defensive front makes him a good fit for any team with the salary cap space. Interior disruptors come at a premium, and while Suh is unlikely to break the bank like he did back in 2015, it'll take a hefty investment to secure the services of the eight-year veteran, but perhaps a worthwhile one for a three-down game changer.
2018 Free Agency
---
Free Agent Tracker | Top Offensive UFAs | Top Defensive UFAs
2018 Free Agency Rankings
---
Top Offensive Line Options | Top 50 heading into free agency
2018 Free Agent Previews
---
ARZ | ATL | BLT | BUF | CAR | CHI | CIN | CLV | DAL | DEN | DET | GB | HST | IND | JAX | KC | LAC | LAR | MIA | MIN | NE | NO | NYG | NYJ | OAK | PHI | PIT | SF | SEA | TB | TEN | WAS