What you need to know
Rebounding from a Super Bowl hangover in 2016, the Carolina Panthers put together an 11-win season and earned a playoff berth in 2017. However, their postseason was short-lived, as the New Orleans Saints bested the Panthers in their Wild-Card showdown, 31-26.
With playoff appearances in two of the last three years, the Panthers have proven they can reach the postseason with Cam Newton's roller-coaster play at the quarterback position, but to turn playoff losses into more playoff wins, roster additions are in order.
Though entering the offseason with 23 impending free agents (11 RFAs/ERFAs), Carolina won't have too many tough decisions on their hands with the level of talent they're potentially losing, which should push the franchise to dial their efforts into signing outside playmakers.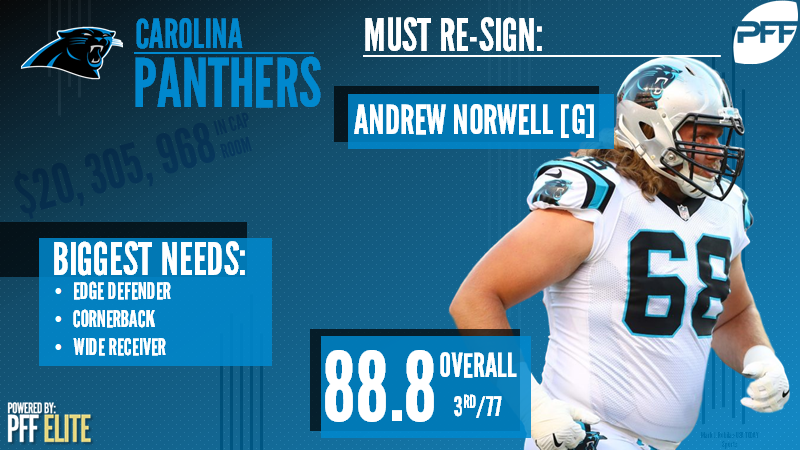 Salary cap room
$20,305,968 (19th in the NFL, as of 2/1/2018)
Biggest Needs
Edge defender
Cornerback
Wide receiver
Safety
Notable free agents
Must re-sign
Andrew Norwell, G, 88.8 overall grade
Selected as PFF's All-Pro left guard in 2017, Norwell capped off an unbelievably consistent start to his career with his career-high 88.8 overall grade this past season. In 2017, Norwell ranked second among guards with at least 345 pass-blocking snaps in PFF's pass-blocking efficiency (98.3), allowing just 13 quarterback hurries on his 564-pass blocking snaps. In fact, Norwell was the only guard with at least 200 pass-blocking snaps to not allow a single hit or sack during the regular season. Solidifying his status as a well-rounded guard in this league, Norwell also earned the fourth-lowest percentage of negatively graded blocks among qualifying guards last season.
A former undrafted free agent out of Ohio State, Norwell has earned 82.0-plus overall grades in all four years of his NFL career, giving Carolina – and all 31 other teams – every reason to believe he's bound to be a stalwart guard in this league for years to come. Keeping a guy of Norwell's ability in the building needs no added emphasis.
Dream splash signing
Malcolm Butler, CB, New England Patriots
While Carolina's most pressing need may be at edge defender, the crop of free agents expected to test the market in 2018 may not offer an edge worthy of a high-end contract. As such, if the Panthers are going to pony up a lot of money to any one free agent, the Patriots' Butler could be their guy.
Considered PFF's sixth-ranked unrestricted free agent this offseason, Butler took somewhat of a step back from his dominant 2016 season this past year, earning a 79.2 overall grade to rank tied for No. 51 among qualifying cornerbacks after earning an 88.1 overall grade in 2016. However, there's more good than bad to Butler's tape overall. His aggressive approach to the game often leads to pass breakups, but that same aggression will also lead to big plays for the opposing offense. He ranked fourth in the NFL in total pass breakups in 2015 and 2016 before dropping off to 13th in 2017.
Butler would immediately step in as the Panthers' top cornerback, supplanting both current Carolina cornerbacks Daryl Worley (58.9 overall grade) and James Bradberry (42.4 overall grade).
[Editor's note: Read more about the free agency class of 2018 with the first ever PFF Free Agency Guide, which dropped for all PFF Edge & Elite subscribers. Not a subscriber? Sign up today and receive your copy with detailed profiles, exclusive PFF stats and much more.]
2018 free agent prospects
Ezekiel Ansah, edge, Detroit Lions
All teams interested in signing a veteran edge defender during free agency this offseason will have their eyes on Dallas Cowboys' Demarcus Lawrence; however, the breakout star isn't expected to even dip his toes in the free agent waters. Even if Jerry Jones and Lawrence aren't able to agree to a long-term deal, it's likely Jones applies the franchise tag to Lawrence to ensure he stays in Dallas. With that being said, the Panthers could benefit from pivoting their interest to the next best edge defender available in Ansah.
Ansah's size and athleticism will always lure both coaches and general managers to his side, as the 6-foot-6, 270-pound BYU product has made a name for himself largely because of his untapped potential. Turning 29 this offseason, Ansah may have missed his chance to become the perennial player his measurables suggested he could turn into, but he still has enough in his arsenal to provide the Panthers with a quality, inexpensive replacement for the aging Julius Peppers.
Also set to become a free agent this offseason, the 38-year-old Peppers earned a 73.8 overall grade this past season, while Ansah ranked 40th among qualifying edge defenders with his 80.1 overall grade.
Allen Robinson, WR, Jacksonville Jaguars
Playing just three offensive snaps in 2017, Robinson will rely on tape from previous seasons to earn him a lucrative contract come March, one of which the Panthers could benefit from offering.
At just 24 years old, Robinson still has plenty left in the tank to become a star outside wide receiver in the league, especially when considering all of his production – high and low – has come at the hand of inconsistent quarterback play. In 2015, Robinson earned a career-high 87.5 overall grade, while also ranking 10th in yards per route run (2.17) and 12th in passer rating when targeted (105.4). And to his credit, only 61.97 percent of his total targets (142) that year were considered catchable, the ninth-lowest percentage among receivers with at least total 70 targets in 2015.
Pulling his market value downward, Robinson took a bit of a step back in 2016 despite seeing a similar number catchable targets, leading to his 74.9 overall grade. He ranked 75th in drop rate (10.98), 87th in passer rating when targeted (63.5) and tied for 65th in yards per route run (1.33) in his down year.
Perhaps a bigger gamble than some teams are willing to partake in, signing Robinson would give the Panthers an immediate upgrade in the current slew of receiving talent, even if he doesn't match his 2015 feats. His injury and down year in 2016 mean that a team could potentially be getting a steal on the market.
2018 Free Agency
---
Free Agent Tracker / 2017 free agent hits
2018 Free Agency Rankings
---
2018 Free Agent Previews
---
Arizona Cardinals / Atlanta Falcons / Baltimore Ravens / Buffalo Bills /
Carolina Panthers / Chicago Bears / Cincinnati Bengals / Cleveland Browns /
Dallas Cowboys / Denver Broncos / Detroit Lions / Green Bay Packers /
Houston Texans / Indianapolis Colts / Jacksonville Jaguars / Kansas City
Chiefs / Los Angeles Chargers / Los Angeles Rams / Miami Dolphins /
Minnesota Vikings / New England Patriots / New Orleans Saints /
New York Giants / New York Jets / Oakland Raiders / Philadelphia Eagles /
Pittsburgh Steelers / San Francisco 49ers / Seattle Seahawks /
Tampa Bay Buccaneers / Tennessee Titans / Washington Redskins