What you need to know
The Pittsburgh Steelers offseason will center around three ever-important players on their roster. Will Ben Roethlisberger once again mull retirement and leave the team without their leader at the league's most important position? Can the team work out a long-term deal with Le'Veon Bell to keep him happy, and in Pittsburgh? Will Ryan Shazier be healthy enough to return to action in September, like he's hinted towards?
Aside from three big question marks heading into their new league year, the Steelers also have other positional decisions to make, including some they can address moving forward into free agency.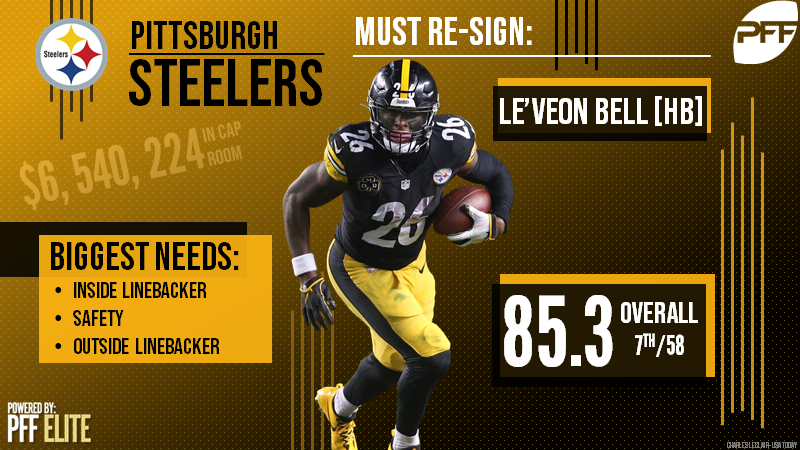 Salary cap room
$6,540,224 (29th in the NFL, as of 02/25/18)
Biggest Needs
Inside linebacker
Safety
Outside linebacker
Running back (?)
Notable free agents
* Restricted free agents
Must re-sign
Le'Veon Bell, RB, 84.3 overall grade
This one comes as a no-brainer for Steelers' brass and Steelers' fans alike. Keeping arguably the league's top running back in Pittsburgh should be priority No. 1 this offseason. While there will be options at running back either to sign or to draft, or to run with James Conner, Bell has proven to be a talent unlike most at his position. His patience and burst through even the tiniest of windows in his run-blocking is unmatched and his ability to stay upright after contact is uncanny.
Bell has forced a massive 214 missed tackles on carries alone in his five seasons and racked up an enormous 3,461 yards after contact on his 1,310 career runs. On the receiving end of passes, he has forced an additional 79 missed tackles and hauled in 2,874 yards after the catch while seeing 100 or more targets in two of his five years and bringing in over 83.0 percent of his targeted passes in four seasons. His production is unmatched and his value to the team at his original draft position is incredible. As such, bringing him back should top GM Kevin Colbert's to-do list this offseason.
Dream splash signing
Nigel Bradham, LB, 80.5 overall grade
A player with Bradham's positional versatility would be a massive signing for Pittsburgh this offseason, meaning he can plug in and play across their defensive scheme even with the possible return of Shazier. Bradham logged at least 44 snaps at seven different alignments as a linebacker in 2017 for the Eagles and played at a high level all season long.
Most noticeably was his prowess in coverage for Philadelphia, as Bradham allowed a reception once every 13.6 snaps he spent in coverage, the best mark among 32 4-3 outside linebackers with at least 145 snaps in coverage during the regular season. In doing so, Bradham also allowed just 0.62 yards per snap he spent in coverage, also best among that same group. He was no slouch in the other facets either, bringing down 21 stops in run defense, good enough for the league's 14th-highest run-stop percentage among 4-3 OLBs. Bradham would be a veteran leader in the Steelers linebacker room and would fall right into the mold of former Florida State standouts playing high-level football in the Steel City (see Lawrence Timmons, Vince Williams).
[Editor's note: Read more about the free agency class of 2018 with the first ever PFF Free Agency Guide, which dropped for all PFF Edge & Elite subscribers. Not a subscriber? Sign up today and receive your copy with detailed profiles, exclusive PFF stats and much more.]
2018 free agent prospects
Tre Boston, S, Los Angeles Chargers
Boston moved from Carolina to Los Angeles last offseason and played well enough to warrant serious looks this offseason from some potential suitors. The Steelers have veteran Mike Mitchell entering the last year of his contract with a cap hit of over $8 million this season on roster, but releasing him would save the team over $6 million if they so chose to do so. While he may not have the high-level play that someone like Lamarcus Joyner did in 2017, Boston's season was a success mainly by his play in coverage.
Boston recorded a whopping 581 snaps in coverage, yet allowed just three receptions for 19 yards and intercepted five passes himself. Those takeaways were two more than Mitchell and Sean Davis combined for in 2017, and would buoy a Steelers' secondary who lacked in takeaways a season ago (defensive backs combined for 11 interceptions in 2017). Boston would add a valuable coverage piece to the back-end of the Pittsburgh secondary and would come with a lower price tag of someone like the aforementioned Joyner, San Francisco's Eric Reid or Green Bay's Morgan Burnett. Another name to remember here for Pittsburgh would be the recently-released Ron Parker who would fit the Steelers need for a ballhawk at safety as he has nine career interceptions and 24 career pass breakups.
Running back
The Steelers have other needs that are certainly more pressing, at the current moment, like getting younger on the offensive line, possibly an outside linebacker or maybe even another pass-catcher at tight end or wide receiver. However, if Bell and the Steelers are unable to reach a deal, this position shoots up the priority list, and there are a couple of free agents at this position that are viable options. Whereas offensive line youth is certainly not to be found in this free agent class and the viable targets at receiver and tight end are either restricted free agents or likely too expensive, a running back option could come at the right price to join Conner in the Pittsburgh backfield.
Take someone like Dion Lewis, who broke out in 2017, but will be 28 years old at the start of the season and seemingly only just put together his first, full season of top play. Though marred by injuries through his career, Lewis put together his heaviest season in terms of workload in 2017 and finished with the fifth-highest grade at the position. Aside from Lewis, Jerick McKinnon (83.9 overall grade in 2017) then becomes an option as would a veteran like Alfred Morris (73.4) or LeGarrette Blount (68.0) who could fit in nicely as a third-down, change-of-pace back in the latter stages of their careers for the Steelers.
2018 Free Agency
---
Free Agent Tracker / Top Offensive UFAs / Top Defensive UFAs
2017 free agent hits / February 22 update / Immediate Impact FAs
2018 Free Agency Rankings
---
2018 Free Agent Previews
---
Arizona Cardinals / Atlanta Falcons / Baltimore Ravens / Buffalo Bills /
Carolina Panthers / Chicago Bears / Cincinnati Bengals / Cleveland Browns /
Dallas Cowboys / Denver Broncos / Detroit Lions / Green Bay Packers /
Houston Texans / Indianapolis Colts / Jacksonville Jaguars / Kansas City
Chiefs / Los Angeles Chargers / Los Angeles Rams / Miami Dolphins /
Minnesota Vikings / New England Patriots / New Orleans Saints /
New York Giants / New York Jets / Oakland Raiders / Philadelphia Eagles /
Pittsburgh Steelers / San Francisco 49ers / Seattle Seahawks /
Tampa Bay Buccaneers / Tennessee Titans / Washington Redskins