What you need to know
This offseason will be dominated, like many other franchises, with talk of the quarterback position. Drew Brees is the guy in New Orleans and a new contract will almost undoubtedly be done sooner as opposed to later. The Saints may be a team to look for a possible longterm replacement at quarterback in the draft, but there are still some other areas of need for them to possibly address during free agency this year.
They have the second-most cap space in the division, and came within one play of the NFC Championship game, making them a very favorable destination for free agents. Can Sean Payton and Co. lure some big name players as a potential Super Bowl birth looms large in New Orleans?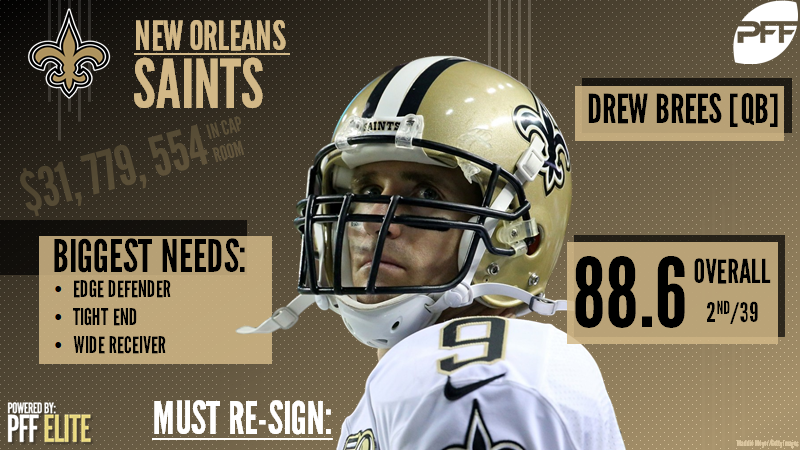 Salary cap room
$31,779,554 (14th in the NFL, as of 02/22/2018)
Biggest Needs
Edge defender
Tight end
Wide receiver
Linebacker
Cornerback
Notable free agents
Must re-sign
Drew Brees, QB, 87.8 overall grade
This one is relatively easy. Brees has said he wants to play several more years and it's hard to envision him in any other uniform than the Black and Gold. While the Saints' brass may search for his eventual replacement possibly in the draft, locking up Brees to finish his career in New Orleans should be priority No. 1 this offseason. All Brees did a season ago was lead the league in adjusted completion percentage while also fielding the league's eighth-highest passer rating on deep (20-plus yard) passes.
Dream splash signing
DeMarcus Lawrence, edge, 94.1 overall grade
If the Cowboys are unable to bring Lawrence back, his availability may make the Saints' decision on Alex Okafor that much easier. Okafor tore his Achilles against the Redskins this season, and while he may be ready to go come the start of the season, they'll still have to fork out a new contract to him as he is also an unrestricted free agent. If Lawrence is in the mix of available options, the third-highest graded edge defender would be a dream signing to a team on the hunt for a pure pass-rusher. Lawrence recorded 79 total QB pressures a season ago and had multiple pressures in all but one game in 2017. While there are other options at edge defender, Lawrence is by far the highest graded of the available players at the position and would immediately boost the defensive line for the Saints.
[Editor's note: Read more about the free agency class of 2018 with the first ever PFF Free Agency Guide, which dropped for all PFF Edge & Elite subscribers. Not a subscriber? Sign up today and receive your copy with detailed profiles, exclusive PFF stats and much more.]
2018 free agent prospects
Sammy Watkins, WR, Los Angeles Rams
The Saints saw first hand at what they needed to do to replace Brandin Cooks in 2017, and that was a combination of utilizing a great year by Ted Ginn and a combination of Brandon Coleman and Willie Snead, the latter duo both of whom are restricted free agents. With the acquisition of a second viable receiver opposite Michael Thomas, the Saints could possibly remove the need to tender either Coleman or Snead and bring in the big-play threat of Watkins, possibly causing mismatches with him or Thomas against opponents in 2018.
Jimmy Graham, TE, Seattle Seahawks
A possible return to the Saints? Did the Jimmy Graham-New Orleans Saints marriage end poorly enough to not even warrant a look this offseason? Refresher: The Saints and Graham couldn't reach a deal until an NFL arbitrator stepped in to rule he was indeed a tight end, not a wide receiver, and he was compensated as such, and was then subsequently traded one year into his contract. Graham has now fulfilled that four-year contract he originally signed with New Orleans and enters free agency after a subpar season in 2017. Reuniting with Brees and the Saints TE-friendly offense could be a perfect match as the Saints have just Coby Fleener (who is set to cost the team over $8 million this year, but could save upwards of $6 million in cap space if the team were to release him in June), Josh Hill and Michael Hoomanawanui on roster who logged considerable snaps a season ago.
2018 Free Agency
---
Free Agent Tracker / Top Offensive UFAs / 2017 free agent hits /
2018 Free Agency Rankings
---
2018 Free Agent Previews
---
Arizona Cardinals / Atlanta Falcons / Baltimore Ravens / Buffalo Bills /
Carolina Panthers / Chicago Bears / Cincinnati Bengals / Cleveland Browns /
Dallas Cowboys / Denver Broncos / Detroit Lions / Green Bay Packers /
Houston Texans / Indianapolis Colts / Jacksonville Jaguars / Kansas City
Chiefs / Los Angeles Chargers / Los Angeles Rams / Miami Dolphins /
Minnesota Vikings / New England Patriots / New Orleans Saints /
New York Giants / New York Jets / Oakland Raiders / Philadelphia Eagles /
Pittsburgh Steelers / San Francisco 49ers / Seattle Seahawks /
Tampa Bay Buccaneers / Tennessee Titans / Washington Redskins