What you need to know
Despite finishing the 2017 season at 9-7, the Tennessee Titans sneaked into the playoffs and rallied from a 21-3 deficit to upset the Kansas City Chiefs on the road in the Wild Card Round. Of course, Tennessee's underdog run came to an abrupt halt with their 35-14 loss to the AFC's eventual Super Bowl representative in the New England Patriots the following week.
Though short-lived, the Titans' playoff run magnified both the strengths and weaknesses in the roster, which should give the team's brass a better understanding of how to attack free agency and the rest of the offseason. Offensively, quarterback Marcus Mariota, running back Derrick Henry, and tackles Taylor Lewan and Jack Conklin should move forward as key pieces, while interior defender Jurrell Casey and safety Kevin Byard will remain staples to the defense. Building around these core players is paramount if the team is to become stronger playoff contenders.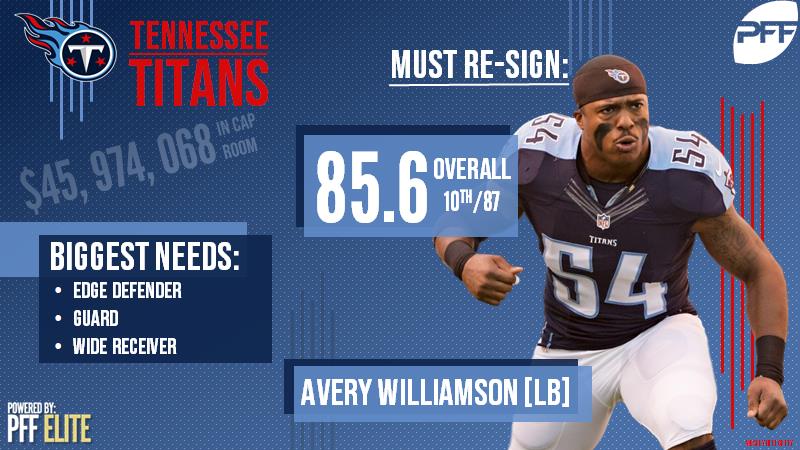 Salary cap room
$45,974, 068 (10th in the NFL, as of Mar. 6, 2018)
Biggest Needs
Edge defender
Guard
Wide receiver
Cornerback
Notable free agents
Must re-sign
Avery Williamson, LB, 85.6 overall grade
A former fifth-round pick with the Titans in 2014, Williamson was cast into the fire early in his career, playing 820-plus defensive snaps in each of his first three years in the league. As expected, the former Kentucky product needed time to develop his skill set and gain experience before he could reach his maximum potential, which led to three consecutive years of middle-of-the-pack grades.
Most recently, Williamson seemingly turned over a new leaf as the Titans' off-the-ball linebacker, finishing the 2017 season with the 10th-ranked grade (85.6) among qualifying linebackers. Also, his 90.1 run-defense grade ranked sixth among the same group of linebackers. He and fellow off-the-ball linebacker Wesley Woodyard make for a dynamic duo at the heart of Tennessee's defense, one that would surely falter if Williamson were replaced in 2018.
Dream splash signing
Allen Robinson, WR, Jacksonville Jaguars
With Eric Decker likely leaving Tennessee via free agency, Mariota should be in the market for another outside wide receiver opposite of sophomore-to-be Corey Davis. As such, targeting Robinson, easily the top receiver available, this offseason simply makes too much sense for the Titans.
Turning just 25 years old this upcoming season, Robinson has the size (6-foot-3, 211 pounds) and advanced skill set to dominate at the receiver position when healthy. However, his health has failed to hold up its end of the bargain, as he suffered a season-ending injury (ACL) just three snaps into his 2017 campaign. Prior to the injury, Robinson managed 87.5 and 74.9 overall grades in 2015 and 2016, respectively, despite working with an inconsistent play at the quarterback position. In his career year, he led the league in deep receiving yards (672) and ranked 13th in yards per route run (2.17).
If inserted into a stable offense with a capable gunslinger and a clean bill of health, Robinson is more than capable of mirroring his career-year numbers for at least the foreseeable future.
[Editor's note: Read more about the free agency class of 2018 with the first ever PFF Free Agency Guide, which dropped for all PFF Edge & Elite subscribers. Not a subscriber? Sign up today and receive your copy with detailed profiles, exclusive PFF stats and much more.]
2018 free agent prospects
Kyle Fuller, CB, Chicago Bears
Finishing his contract year in 2017 ranked 22nd in terms of overall grade (84.3), the 26-year-old Fuller likely earned himself a significant payday given the relatively league-wide need at cornerback. He allowed just a 69.0 passer rating when targeted despite being targeted more than any other cornerback during the regular season. Playing at a high level while seeing a high volume of targets is a sought-after trait in today's NFL, and his contract should reflect such ample desire.
In Tennessee, Fuller could replace both Brice McCain and LeShaun Sims as a full-time starter along the boundary opposite of rising star Adoree' Jackson, which would allow defensive coordinator Dean Pees to keep Logan Ryan in his slot cornerback role.
Andrew Norwell, G, Carolina Panthers
With guards Josh Kline and Quinton Spain both set to become free agents, the Titans' need at guard strengthens even if just one of the two signs elsewhere. Norwell, easily one of the top five free agents still unsigned, would be a significant upgrade over either Kline or Spain and could quite possibly take the team's run game to the next level.
In addition to his pass-blocking prowess, Norwell had the fourth-lowest percentage of negatively graded blocks among guards in 2017 and seventh-lowest in 2016. Fitting his skill set into an already talented Tennessee offensive line will give both Mariota and Henry better opportunities for success in 2018.
2018 Free Agency
---
Free Agent Tracker / Top Offensive UFAs / Top Defensive UFAs
2017 free agent hits / February 22 update / Immediate Impact FAs
2018 Free Agency Rankings
---
2018 Free Agent Previews
---
Arizona Cardinals / Atlanta Falcons / Baltimore Ravens / Buffalo Bills /
Carolina Panthers / Chicago Bears / Cincinnati Bengals / Cleveland Browns /
Dallas Cowboys / Denver Broncos / Detroit Lions / Green Bay Packers /
Houston Texans / Indianapolis Colts / Jacksonville Jaguars / Kansas City
Chiefs / Los Angeles Chargers / Los Angeles Rams / Miami Dolphins /
Minnesota Vikings / New England Patriots / New Orleans Saints /
New York Giants / New York Jets / Oakland Raiders / Philadelphia Eagles /
Pittsburgh Steelers / San Francisco 49ers / Seattle Seahawks /
Tampa Bay Buccaneers / Tennessee Titans / Washington Redskins