What you need to know
Tagging the Oakland Raiders' 2017 campaign solely as a disappointment would be an understatement. Oakland's brass awarded lucrative contract extensions to quarterback Derek Carr, guard Gabe Jackson and (former) head coach Jack Del Rio and brought hometown hero Marshawn Lynch out of retirement following their 12-win season in 2016, building anticipation for what many considered could be a deep playoff run in 2017. However, the Raiders' reign as Super Bowl favorites was short lived, as the team's previously adored heroes fell fall far short of expectations due to a combination of injuries, coaching decisions and alleged locker room instability.
Raiders owner Mark Davis was quick to cut the cord on the team's underwhelming season, firing Del Rio just minutes after the team's Week 17 loss to the Los Angeles Chargers and announcing former ESPN broadcaster and longtime family friend Jon Gruden as the new head coach just six days later. Gruden, accompanied by a slew of new coordinators and position coaches, aims to strap the capes back onto Oakland's heroes (Carr, Jackson, Amari Cooper) and join general manager Reggie McKenzie in revamping the roster to meet, if not exceed, the previous year's expectations.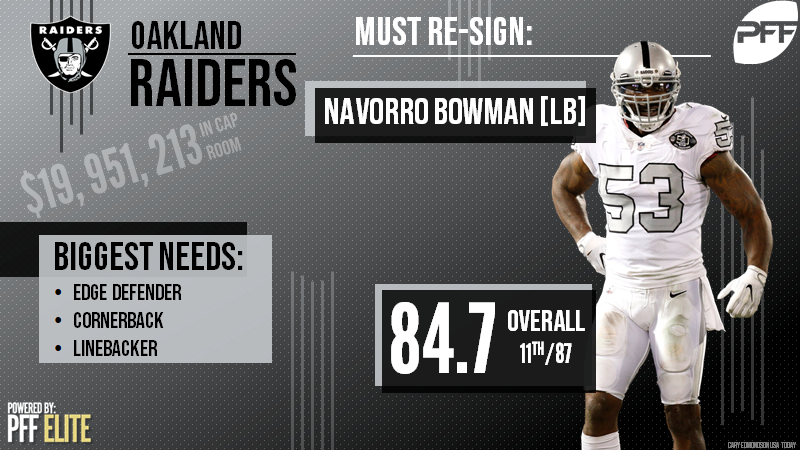 Salary cap room
$19,951,213 (21st in the NFL, as of 02/23/18)
Biggest Needs
Edge defender
Cornerback
Linebacker
Defensive interior
Tackle
Notable free agents
Must re-sign
NaVorro Bowman, LB, 84.8 overall grade
After being released by the San Francisco 49ers prior to Week 6, eight-year veteran linebacker NaVorro Bowman didn't have to wait long before returning to work, signing with Raiders just three days after his release. He then started for the Silver & Black three days later in the team's Week 7 matchup against the Kansas City Chiefs on Thursday Night Football and never looked back.
Bowman brought a level of play Oakland hasn't experienced at the linebacker position in quite some time, earning an 84.8 overall grade, which ranked 11th among qualifying linebackers in 2017. Split between his time in San Francisco (six games) and Oakland (10 games), Bowman recorded 33 run stops, tied for seventh among all NFL linebackers, leading to his 17th-ranked 85.4 run-defense grade.
Though Oakland does have some promising youngsters at linebacker, Bowman's veteran presence can't be replaced by any of the team's in-house talent nor via free agency, as Bowman remains PFF's top-ranked linebacker among all unrestricted free agents.
Dream splash signing
Kyle Fuller, CB, 84.3 overall grade
The Raiders have sought out a long-term solution at cornerback ever since eight-year Oakland cornerback Nnamdi Asomugha left via free agency following the 2010 season. And despite investing both significant cap space and high draft capital into the position in recent years, the return has been minimal if not negative. Four-year veteran cornerback Kyle Fuller, a former first-round pick by the Chicago Bears, will require McKenzie & Co. to dive deep into their pockets yet again to bring him to Oakland, but Fuller's recent efforts give reason to believe he's worth the payout.
PFF's third-ranked cornerback among unrestricted free agents this offseason, Fuller led the league in pass breakups (17) and allowed just 51.3 percent of his targets to be completed, 17th among qualifying cornerbacks this past season. He also earned a career-high 84.3 overall grade. At just 26 years old, Fuller has built a strong foundation with his performance in 2017 and still has room to grow as he continues to gain experience.
[Editor's note: Read more about the free agency class of 2018 with the first ever PFF Free Agency Guide, which dropped for all PFF Edge & Elite subscribers. Not a subscriber? Sign up today and receive your copy with detailed profiles, exclusive PFF stats and much more.]
2018 free agent prospects
Nigel Bradham, LB, Philadelphia Eagles
If Oakland is unable to tie down Bowman to another contract, linebacker Nigel Bradham should be the team's No. 2 target in free agency.  The six-year veteran has revitalized his career since leaving the Buffalo Bills in 2015 to take his talents to the City of Brotherly Love, earning 85.8 and 80.6 overall grades in 2016 and 2017, respectively. As part of the Eagles' Super Bowl run this past season, Bradham was at his best in coverage, earning the sixth-ranked coverage grade (86.5) among qualifying linebackers.
It's no secret that the Raiders' defense has lacked quality coverage ability across the board, perhaps most notably at the linebacker position. While a transition from Bowman to Bradham would be a downgrade in terms of run defense, Bradham's positives in coverage may outweigh his cons against the run if utilized effectively.
Sheldon Richardson, DI, Seattle Seahawks
Raiders interior defenders Justin Ellis and Denico Autry are in line to become cap casualties this offseason, leaving the team's trenches ravaged of talent and depth. As such, Oakland may look to dip their toes in the free agent waters to add five-year veteran Sheldon Richardson to their interior arsenal.
The former first-round pick put together a strong two-year stretch to start his career with the New York Jets during the 2013 and 2014 seasons. However, suspensions ultimately derailed a Richardson train that appeared on track for a star-level career, as he has failed to near his career-high 89.8 overall grade in 2014 in each of his past three seasons.
Fortunately for Richardson, his drop-off from his years as a game-wrecker hasn't casted him into the depths of the league, as he has still proven to be a quality starter with potential for sporadic stretches of big plays. He has yet to allow his overall grade to dip below 81.6 in his career, and he has amassed at least 33 total pressures and 20 defensive stops every season he's suited up.
2018 Free Agency
---
Free Agent Tracker / Top Offensive UFAs / Top Defensive UFAs
2017 free agent hits / February 22 update
2018 Free Agency Rankings
---
2018 Free Agent Previews
---
Arizona Cardinals / Atlanta Falcons / Baltimore Ravens / Buffalo Bills /
Carolina Panthers / Chicago Bears / Cincinnati Bengals / Cleveland Browns /
Dallas Cowboys / Denver Broncos / Detroit Lions / Green Bay Packers /
Houston Texans / Indianapolis Colts / Jacksonville Jaguars / Kansas City
Chiefs / Los Angeles Chargers / Los Angeles Rams / Miami Dolphins /
Minnesota Vikings / New England Patriots / New Orleans Saints /
New York Giants / New York Jets / Oakland Raiders / Philadelphia Eagles /
Pittsburgh Steelers / San Francisco 49ers / Seattle Seahawks /
Tampa Bay Buccaneers / Tennessee Titans / Washington Redskins