What you need to know
A lot of talk this offseason for the Jacksonville Jaguars will be how they address their quarterback situation moving forward. Long thought as the offseason in which they could possibly finalize the divorce with quarterback Blake Bortles, the 2018 offseason has now morphed into something completely different after Bortles' 2017 season of play that saw the Jags advance within a few plays of the Super Bowl. Do the Jaguars draft an eventual replacement at quarterback? If so, how early, or how late? If not, do they sign a competent veteran backup for Bortles and make the calculated risk of not re-signing him in what would, in all likelihood, be his final season in Jacksonville? Does he play well enough once again to demand top dollar next offseason?
All the quarterback questions aside, the Jaguars offseason will be about addressing needs that perhaps were the downfall to their season when it mattered most. Offensive line will always be a priority to keep their QB upright in the backfield, but playmakers on the receiving end of Bortles (or whoever is at signal-caller) will be paramount. Give a quarterback an incredible supporting cast, and I point you to what the Minnesota Vikings did this past season.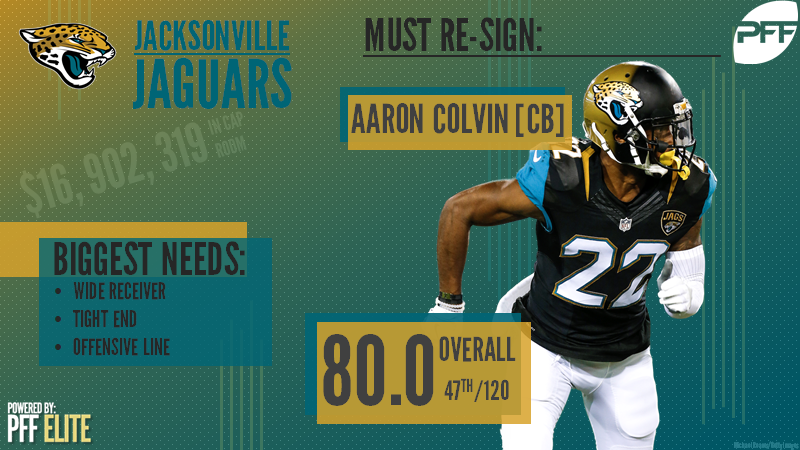 Salary cap room
$16,902,319 (24th in the NFL, as of 02/13/2018)
Biggest Needs
Wide receiver
Tight end
Offensive line
Linebacker
Quarterback (?)
Notable free agents
*2016 grade, Robinson played only three snaps before injury in 2017
Must re-sign
Aaron Colvin, CB, 78.5 overall grade
Much can be said for the play of both A.J. Bouye and Jalen Ramsey on the outside for the Jaguars' secondary, but let's not forget about the play of Colvin on the inside. While he may have allowed 45 receptions on 60 targets when in primary coverage from the slot cornerback position, Colvin finished sixth in the league in terms of fewest yards allowed per snap in coverage. He allowed just 0.75 yards per his 449 snaps spent in the slot while allowing a reception on every 10.0 snaps (tied for 22nd-highest total in the league). Re-signing Colvin's reliability in the slot keeps opposing offensive coordinators still searching for a way to get their passing attacks working against the talented Jaguars secondary.
Dream splash signing
Jarvis Landry, WR, Miami Dolphins
While they'll probably draft a receiver early — or at least that's what PFF senior analyst Steve Palazzolo would do if he were GM — the Jaguars would be best suited to add multiple weapons this offseason to help Bortles next season. Landry is arguably the best playmaking option available this offseason at the position and in this "dream splash signing," the Jaguars find a way to work out bringing in Landry, who was the fifth-most targeted receiver this season, and brought in the second-most receptions. With his below-average play at quarterback, Landry still saw a 96.8 passer rating when targeted, which was good enough for 34th, or one spot higher than Atlanta Falcons WR Julio Jones.
2018 free agent prospects
Demario Davis, LB, New York Jets
The veteran linebacker returned for his second stint in New York this past year and did so with great success. Davis finished the season with a career-high 87.3 overall grade, more than 10.0 points higher than his previous high. He finished with the second-most stops in run-defense at 40 and only missed six tackles on a total of 85 tackle attempts against the run. His veteran leadership and prowess on the inside of the Jaguars defense would be a welcome addition to let the talented Telvin Smith continue to run sideline-to-sideline freely.
Jimmy Graham, TE, Seattle Seahawks
Seemingly forgotten are Graham's best seasons, including a career-high 91.3 grade in 2011, but lest we forget, before the 2017 season, Graham had seen an improvement in his overall grade for three consecutive years from 2014 to 2016. He was the league's most targeted red-zone receiver regardless of position a year ago and faltered to what his potential suitors will have to hope was an anomaly of a season grade of 53.8, more than 22.0 points lower than his previous career-low. Graham's size and ball skills make him one of the more 'unguardable' receivers there is, but it's now just a question as to which form he'll be in in 2018, last year's down year, or the previous three seasons of improvement?
2018 Free Agency
---
Free Agent Tracker / 2017 free agent hits
2018 Free Agency Rankings
---
2018 Free Agent Previews
---
Arizona Cardinals / Atlanta Falcons / Baltimore Ravens / Buffalo Bills /
Carolina Panthers / Chicago Bears / Cincinnati Bengals / Cleveland Browns /
Dallas Cowboys / Denver Broncos / Detroit Lions / Green Bay Packers /
Houston Texans / Indianapolis Colts / Jacksonville Jaguars / Kansas City
Chiefs / Los Angeles Chargers / Los Angeles Rams / Miami Dolphins /
Minnesota Vikings / New England Patriots / New Orleans Saints /
New York Giants / New York Jets / Oakland Raiders / Philadelphia Eagles /
Pittsburgh Steelers / San Francisco 49ers / Seattle Seahawks /
Tampa Bay Buccaneers / Tennessee Titans / Washington Redskins