What you need to know
The 2018 offseason for the Chicago Bears will be an important one, and the first under the new Matt Nagy regime in Chicago. The building block for the offense has been set, in the form of Mitchell Trubisky at quarterback. How will the offensive-minded Nagy handle his first offseason with the Bears and what they'll bring in on both sides of the ball should go a long way in Year 1 of the Nagy-Trubisky era at Soldier Field.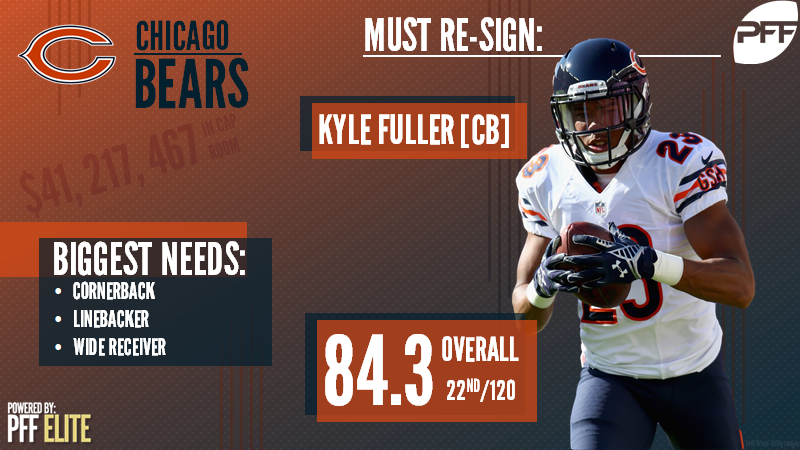 Salary cap room
$41,217,467 (11th in the NFL, as of 2/5/2018)
Biggest Needs
Cornerback
Linebacker
Wide receiver
Tackle
Notable free agents
Must re-sign
Kyle Fuller, CB, 84.3 overall grade
Fuller had a great season for the Bears in 2017, allowing just a 69.0 passer rating into his coverage. Considering the amount of targets thrown his way — 119, most on one defender this past season — that passer rating is remarkable and the 17th-lowest of any qualified corner in 2017. He allowed a career-low 51.3 percent of targets to be caught into his coverage and recorded a whopping 17 pass breakups more than doubling his totals from his first two seasons combined. The Bears essentially signed a number of free agents to replace Fuller last offseason, and all he did was outplay them and in doing so, upped his asking price this offseason. If the Bears are to pony up and offer one of their own a large contract this offseason, it should be Fuller, who proved in 2017 he can lock down one side of the field in the secondary.
Dream splash signing
Allen Robinson, WR, 74.9 overall grade (2016)
This one is interesting. In a 'dream splash' scenario, the Bears could go a number of ways, including the ever-popular Andrew Norwell to bring in an All-Pro guard. They could go linebacker or make a splash by forking out heaps of cash in the form of a cornerback, but in this 'dream splash' scenario, the Bears get high-volume, more-than-capable wide receiver capable of putting up gaudy numbers, at what should be an extremely low cost.
In a depleted class of free agent receivers this offseason, taking a stab at a proven wide receiver who played all of three snaps this past year may not seem like a dream signing, but with Robinson's ceiling being relatively high, a big-bodied receiver would be a tremendous upgrade after losing Alshon Jeffrey last offseason. Robinson was in for a large payday before tearing his ACL in Week 1 for Jacksonville and if he could get back to his 2015 or even 2016 form, he becomes an instant upgrade and added depth for the Bears' receiving corps, and a viable every down target for Trubisky and Co. on offense.
[Editor's note: Read more about the free agency class of 2018 with the first ever PFF Free Agency Guide, which dropped for all PFF Edge & Elite subscribers. Not a subscriber? Sign up today and receive your copy with detailed profiles, exclusive PFF stats and much more.]
2018 free agent prospects
Chris Hubbard, T, Pittsburgh Steelers
The Bears may have questions across the offensive line and could look to address the interior of their offensive line in the 2018 NFL Draft. With a relatively small class of tackles this offseason, Hubbard could provide an upgrade with a smaller contract value than someone like Patriots veteran Nate Solder. Hubbard finished with the 33rd-highest run-blocking grade but struggled in pass protection in 2017 on a much larger snap count than his previous three seasons combined. Despite his struggles in pass protection, he would be an upgrade over the relatively inconsistent Bobby Massie, who has allowed at least 37 pressures in every season of full-time action in Chicago.
Dion Jordan, edge, Seattle Seahawks
Long thought as a first-round bust, Jordan saw a small breakthrough in 2017 with the Seahawks, finishing a season with positive grades for the first time in his career. Granted, his time was limited to just five games and a total of 135 snaps on defense, there is no denying the talent is still there for Jordan to rush the passer. On just 71 pass-rush snaps, the former third-overall pick racked up 12 pressures, including four sacks, three knockdowns and five additional hurries. The 28-year-old's price tag should be near the low end of the spectrum and could be just the right fit for him to rush the passer, possibly alongside Leonard Floyd, Sam Acho and Willie Young.
2018 Free Agency
---
Free Agent Tracker / 2017 free agent hits
2018 Free Agency Rankings
---
2018 Free Agent Previews
---
Arizona Cardinals / Atlanta Falcons / Baltimore Ravens / Buffalo Bills /
Carolina Panthers / Chicago Bears / Cincinnati Bengals / Cleveland Browns /
Dallas Cowboys / Denver Broncos / Detroit Lions / Green Bay Packers /
Houston Texans / Indianapolis Colts / Jacksonville Jaguars / Kansas City
Chiefs / Los Angeles Chargers / Los Angeles Rams / Miami Dolphins /
Minnesota Vikings / New England Patriots / New Orleans Saints /
New York Giants / New York Jets / Oakland Raiders / Philadelphia Eagles /
Pittsburgh Steelers / San Francisco 49ers / Seattle Seahawks /
Tampa Bay Buccaneers / Tennessee Titans / Washington Redskins