What you need to know
The revolving door that was the Denver Broncos quarterback situation this past season was, and will be widely-spoken about for some time. Whether it was Trevor Siemian, Brock Osweiler or Paxton Lynch at quarterback, Denver long became an afterthought in 2017. Unfortunately for Broncos' fans however, quarterback was not the only position of weary last year. They had just seven players with qualifying snap counts on offense grade positively for the season and their once-vaunted defense struggled at times.
Typically an elite defense, the Broncos became a medoicre unit and, analytically speaking were below average in stopping opposing offense's passing attacks. With a limited amount of cap space and quarterback a pressing need, they may not have the room to target a top notch player at the position in free agency this year with the Jimmy Garoppolo deal in place (five-year, $137.5M) so there is no doubt prioritizing needs will be paramount for the Broncos this offseason.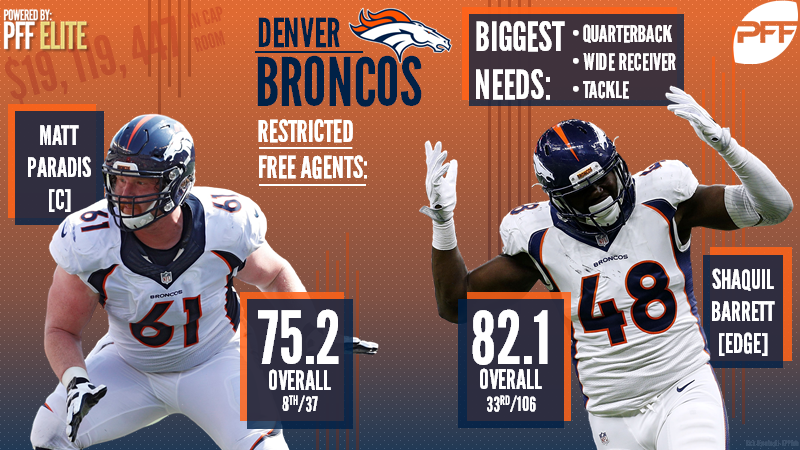 Salary cap room
$19,119,447 (20th in the NFL, as of 02/06/18)
Biggest Needs
Quarterback
Wide receiver
Offensive tackle
Linebacker
Notable free agents
Must re-sign
This one is a bit different, as both of these players are restricted free agents, and both could deserve long-term extensions. Paradis has proven to be more-than-capable at center for the Broncos even though he didn't reach his career year from 2016 in terms of overall grade this past season. Paradis still finished as the eighth-highest graded center including the seventh-highest pass-blocking grade and 13th-highest run-block grade. Barrett on the other hand, finished with the highest grade of his career at 82.1 and racked up 43 total pressures opposite Von Miller.
Both of these two should be offseason priorities to keep talent in the building and key pieces on both sides of the ball with eyes towards growth next season.
Dream splash signing
Nate Solder, T, New England Patriots 
Long the blindside protector for Tom Brady, Solder appears on his way out of New England this offseason and the Broncos have a big gap at one tackle spot, regardless of side of the line. Sure the Broncos brought in Garett Bolles in the draft last season but opposite him, Denver struggled with Menelik Watson and even switched long-time guard Allen Barbre to tackle in an attempt to shore up the issues. In a free agent class depleted of top-end tackle talent, Solder, even at 30-years-old, is the best option on the market.
In this dream splash situation, Solder heads to Denver, revitalizes his career and creates a bookend tackle situation for whoever is under center next season.
[Editor's note: Read more about the free agency class of 2018 with the first ever PFF Free Agency Guide, which dropped for all PFF Edge & Elite subscribers. Not a subscriber? Sign up today and receive your copy with detailed profiles, exclusive PFF stats and much more.]
2018 free agent prospects
Sam Bradford, QB, Minnesota Vikings 
In what will be an extremely interesting offseason in Minnesota, Bradford may become the odd man out between him, Case Keenum and Teddy Bridgewater. Keenum's success this season is likely to land him decent money in this offseason's quarterback market and with their limited room to work with, a solid veteran quarterback who has injury concerns may not be the most attractive pick, but Bradford at his best and healthy, is better than any of the cast of characters in the Broncos' quarterback room right now.
Bradford's last two full seasons have been the best that we've seen from him, grading out with the two highest-graded seasons of his career and he has the ability to connect on special throws. A quarterback who can make tight-window, elite throws in Denver — not too far-fetched.
Nigel Bradham, OLB, Philadelphia Eagles
Bradham finished with arguably the league's best season in coverage among off-the-ball linebackers, and certainly his best season in coverage of his career. He spent the most time in coverage this past season, 529 snaps during the regular season and despite being targeted at the fourth-highest rate per snap, limited receivers to the fewest receptions per coverage snap (13.6). Perhaps most importantly, he limited receivers to just 0.62 yards per snap in coverage, best figure among 4-3 outside linebackers.
Depending on what the Broncos do with their current situation (Todd Davis and Corey Nelson both UFAs), a veteran presence in the building who is solid in coverage, no slouch against the run and sports a new Super Bowl ring would be an ideal pickup this offseason.
2018 Free Agency
---
Free Agent Tracker / 2017 free agent hits
2018 Free Agency Rankings
---
2018 Free Agent Previews
---
Arizona Cardinals / Atlanta Falcons / Baltimore Ravens / Buffalo Bills /
Carolina Panthers / Chicago Bears / Cincinnati Bengals / Cleveland Browns /
Dallas Cowboys / Denver Broncos / Detroit Lions / Green Bay Packers /
Houston Texans / Indianapolis Colts / Jacksonville Jaguars / Kansas City
Chiefs / Los Angeles Chargers / Los Angeles Rams / Miami Dolphins /
Minnesota Vikings / New England Patriots / New Orleans Saints /
New York Giants / New York Jets / Oakland Raiders / Philadelphia Eagles /
Pittsburgh Steelers / San Francisco 49ers / Seattle Seahawks /
Tampa Bay Buccaneers / Tennessee Titans / Washington Redskins