What you need to know
After two-straight offseasons of uncertainty at the position, the Redskins have finally signed their franchise quarterback to a multi-year deal. It may not be the quarterback that fans were expecting, but it's a quarterback nonetheless. By trading for Alex Smith in January, the quarterback position has been secured for the meantime, but in giving up promising young cornerback Kendall Fuller as part of the trade, Washington has opened up a major hole on the defensive side of the ball.
The 2017 season saw the team back in the hands of president Bruce Allen, who brought in a group of free agents that may have strengthened the team on paper but ultimately failed to make an impact on the field. With several important players set to hit free agency this year, the Redskins need to do a better job of bringing in talent that will help the team. As it stands, the franchise has the league's eighth-most cap space, which puts them in a position to be aggressive in the pursuit of offensive players that can help their newly-installed signal-caller and defensive players who can help a unit that has struggled against the run for two-straight seasons.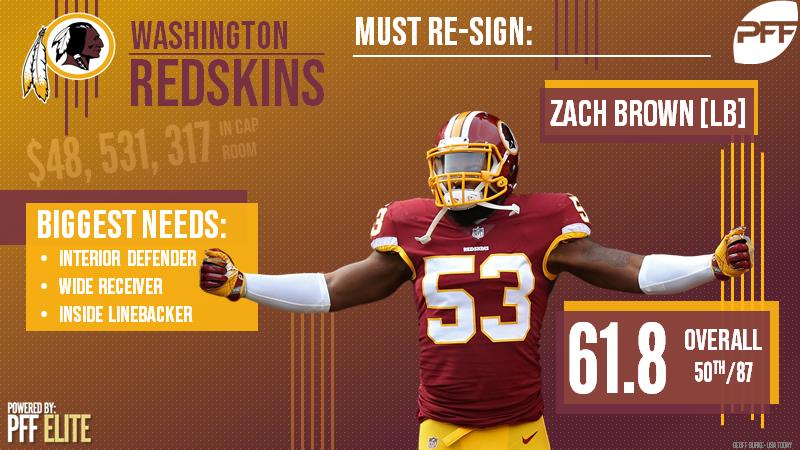 Salary cap room
$48,531,317 (8th in the NFL as of 03/01/2018)
Biggest Needs
Interior defender
Wide Receiver
Inside Linebacker
Cornerback
Guard
Notable free agents
Must re-sign
Zach Brown, LB, 61.8 overall grade
As it stands, two of the Redskins' top three inside linebackers are set to become free agents this offseason. Mason Foster was recently signed to an extension, so one of the Redskins biggest needs will be to fill the gap next to him. Brown should be the first choice for this role, as he made the most out of his one-year prove-it deal with the team and emerged as a real bright spot when it came to stopping the run. Despite missing three games due to injury, Brown ended the year with 31 run stops from his 318 run-defense snaps, which was the 11-most among players at the position, while his run-defense grade of 87.7 was good for the 10th-best mark among all linebackers.
It has been reported that the Redskins have already offered Brown a new contract and according to Senior Vice President of Player Personnel Doug Williams, the team is still yet to hear back from Browns camp and with rumors circulating that Brown is seeking a deal somewhere north of $10 million dollars a year, it remains to be seen whether or not the front office will commit to such an investment. There's no question that Brown's athleticism and sideline-to-sideline speed made a tangible difference to the Redskins run defense; when Brown was of the field, the defense allowed an average of 4.3 yards per carry, and when he was off the field, the unit allowed 4.8 yards per carry. If Brown is allowed to test the open market, drafting or signing a replacement would become the team's top priority.
Dream splash signing
Allen Robinson, WR, Jacksonville Jaguars
Prior to the 2017 season, the Redskins lost both DeSean Jackson and Pierre Garcon via free agency, which left a huge hole in the Redskins receiving corps. The team tried to soften the blow by bringing in free agent pass-catchers Terrelle Pryor and Brian Quick, but the moves far from had the desired impact. 2016 first-round pick Josh Doctson flashed potential at times, he's still yet to prove that he can be a true No. 1 option for his team.
Robinson managed just three snaps this year before he suffered a season-ending knee injury, but he's put enough on tape to suggest that he's more than capable of being a No. 1 option. Prior to his injury, Robinson's speed and big frame made him one of the best vertical threats in the game, evidenced by his 2015 season, where he managed to rack up a staggering 672 yards from deep receptions, the most ever recorded by PFF. That season, he was one of the most productive pass-catchers in the game, and he ended the year averaging of 2.17 yards per route run, which ranked 13th among 81 receivers with at least 50 targets. With Alex Smith coming off the best "deep-throwing" year of his career, it would make complete sense for the team to try and secure Robinson's signature so that they can provide Smith with a vertical weapon to continue his newfound success.
[Editor's note: Read more about the free agency class of 2018 with the first ever PFF Free Agency Guide, which dropped for all PFF Edge & Elite subscribers. Not a subscriber? Sign up today and receive your copy with detailed profiles, exclusive PFF stats and much more.]
2018 free agent prospects
Sheldon Richardson, DI, Seattle Seahawks
The Redskins defensive line offered up a few surprises in 2017. Rookie Jonathan Allen looked like a star in the making and Matt Ioannidis far exceeded expectations. However, the lack of depth along the defensive line became apparent at times, especially when Allen and Ioannidis were forced to miss games due to injury. The addition of Sheldon Richardson would add serious depth to the unit and would provide the Redskins with a formidable interior presence that could potentially match the rush from the outside. Richardson's highest-graded season came in 2014 with the Jets, where he played 3-4 defensive end and he ended the year ranked fourth among players at the position with a pass-rushing productivity of 9.5. Over the years, Richardson has been as consistent as they come, and has graded above 80.0 in all five of his professional seasons, and would immediately be an upgrade over Stacey McGee (75.6 overall grade) and Terrell McClain (41.8 overall grade).
Kyle Fuller, CB, Chicago Bears
The loss of promising young cornerback Kendall Fuller leaves behind a gaping hole in the Redskins secondary and with starter Bashaud Breeland also set to hit free agency, the team needs to think seriously about adding depth to the position. If Breeland does indeed leave the team for greener pastures, the Redskins could do far worse than signing Kendall's older brother Kyle. Kyle Fuller enjoyed a career year in 2017, in which he allowed just 51.3 percent of the throws into his primary coverage to be caught and led the league with 17 pass breakups. This year, Fuller also excelled against the deep ball and allowed a paltry passer rating of just 25.0 on 20-plus yards throws downfield, which was the second-best mark in the NFL. Fuller's experience and playmaking ability could go a long way in securing one of the Redskins biggest needs.
2018 Free Agency
---
Free Agent Tracker / Top Offensive UFAs / Top Defensive UFAs
2017 free agent hits / February 22 update / Immediate Impact FAs
2018 Free Agency Rankings
---
2018 Free Agent Previews
---
Arizona Cardinals / Atlanta Falcons / Baltimore Ravens / Buffalo Bills /
Carolina Panthers / Chicago Bears / Cincinnati Bengals / Cleveland Browns /
Dallas Cowboys / Denver Broncos / Detroit Lions / Green Bay Packers /
Houston Texans / Indianapolis Colts / Jacksonville Jaguars / Kansas City
Chiefs / Los Angeles Chargers / Los Angeles Rams / Miami Dolphins /
Minnesota Vikings / New England Patriots / New Orleans Saints /
New York Giants / New York Jets / Oakland Raiders / Philadelphia Eagles /
Pittsburgh Steelers / San Francisco 49ers / Seattle Seahawks /
Tampa Bay Buccaneers / Tennessee Titans / Washington Redskins