As PFF's Awards Week continues, the next accolade on our list is the Lane Award for Best Coverage Defender, and after a tumultuous season in which he was named AP and PFF All-Pro, there was little doubt about this year's recipient.
In his two seasons with his team, our Lane Award winner has scored almost as many defensive touchdowns (5) as he's allowed while in coverage, he ranks third among safeties in that span with 12 pass breakups, and he's tied for third with eight interceptions. While his two-year coverage resume is good enough to make even the most confident of offensive coordinators think twice, it's Eddie Jackson's stellar play this year that has pushed his name among the league's best at the position and, quite rightly, earned PFF's award for best coverage defender.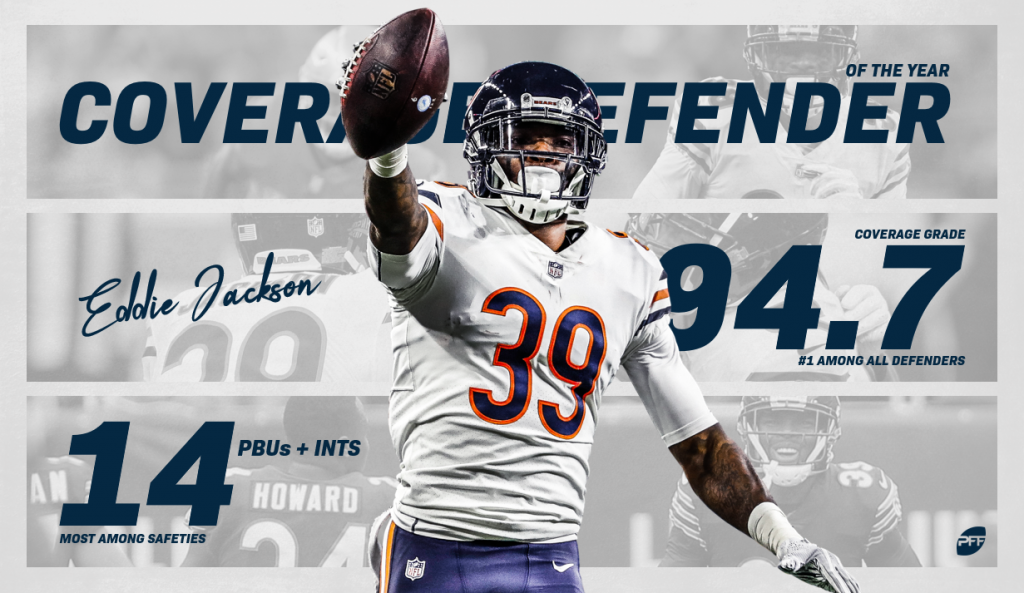 Simply put, Jackson's body of work across his 589 coverage snaps this year has been some of the best that we've ever seen from a safety. In his 14 games this year, the sophomore standout's performance in coverage has earned a coverage grade of 94.7 which not only leads all defensive players in the NFL this year, but it's tied for the best mark ever recorded by a safety in the PFF era (2006-present), narrowly beating out Ravens legend Ed Reed (92.7, 2009) and former Stephenson Award winner, Harrison Smith (92.2, 2017).
Jackson was targeted 44 times this year — which is the 19th-most among players at the position — but he allowed just 24 receptions for 256 yards, three touchdowns and six interceptions. His 54.5% catch rate allowed was the third-best rate among 65 safeties with at least 20 targets this year, his 54.9 passer rating allowed ranked third, and his average of 0.43 yards allowed per coverage snaps put him 10th.
Never straying too far from his regular spot as the center-fielder of the Bears' defense, Jackson spent 464 of his 589 coverage snaps (80.5%) lined up at free safety, and it's a position that suits him well, as his speed and athleticism allows him to quickly diagnose and pounce on the passes that are thrown his way.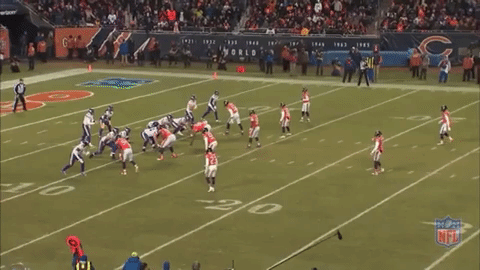 The above play, a signature pick-six in Week 11 against the Vikings, is a perfect example. Here, Jackson identified the route concept and the target and broke on the route before the receiver did. That next-level sense of anticipation was the trademark of his 2018 season.
Again, this time from more of a strong safety look, he read the play perfectly, timed his jump perfectly, and turned what would have been a short gain for the Lions into a touchdown for the Bears.
Like all the great free safeties that came before him, Jackson often starts from the back of the defensive formation and is the last line of defense against the deep pass. And like all the great safeties that came before him, Jackson has the speed, ability and ball-hawking instincts required to quickly move quickly from the center of the field to either sideline. Throughout the year, Jackson put these skills on full display and was as stingy as they come in coverage against the deep pass. Through 17 weeks, Jackson was the primary coverage defender on five deep passes, and he intercepted more passes (2) than passes he allowed to be completed.
It's his incredible playmaking ability that made him so invaluable to the Bears' defense this year, and it's not just because of the interceptions that he came down with. Through 17 regular-season weeks, Jackson racked up eight pass breakups while in coverage – which led the league's safeties this year – and his combined 14 pass-breakups and interceptions tied for the third-most ever recorded by a safety in a single season. All told, he got his hands on 31.8% of the passes that were thrown into his primary coverage, which ranks third among qualifying safeties in the PFF era, falling just shy of Kevin Byard's 2017 mark of 31.9% and the legendary Troy Polamalu's 2008 mark of 34.0%.
Jackson's breakout campaign has been one of the most impressive we've ever seen from the safety position – and his performance this year has both put him among the very best ever to play the position and amongst the list of names that should be considered for Defensive Player of the Year honors. Whether he will take home the awards remains to be seen, but one thing is for sure, the sophomore free safety, a part of a Bears stellar defense, is a bonafide star in the making and the worthy recipient of PFF's award for the league's best coverage defender.

Keep up to date with PFF's end of season awards:
Offensive Rookie of the Year | Defensive Rookie of the Year | Comeback Player of the Year | Offensive Player of the Year | Defensive Player of the Year | The Stephenson Award | PFF's Most Valuable Player | The Hutson Award for Best Wide Receiver | The Matthews Award for Best Offensive Lineman | The Reggie White Award for Best Pass Rusher | The Ted Washington Award for Best Run Defender | The Richard Lane Award for Best Coverage Defender | Breakout Player of the Year | Pass Blocker of the Year | The NFL's Best Offensive Line | Run Blocker of the Year | Passer of the Year | Special Teams Player of the Year