The Aaron Donald is an alien, truly not of this planet. The NFL's reigning Defensive Player of the Year turned the league on its head a year ago, nearly breaking PFF's grading system and laying claim to several PFF records. In 2018, he earned better grades, broke his own records and cemented himself as the best defensive player in the NFL.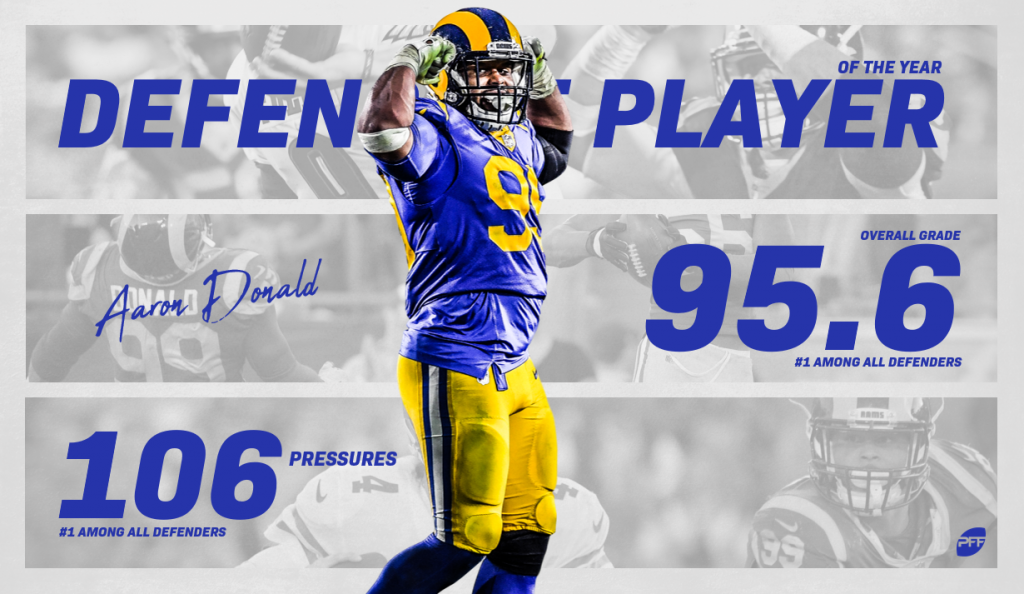 Donald's 95.6 overall grade led all qualifying defenders in 2018 and bested his 94.0 mark that earned Defensive Player of the Year honors in 2017. He also earned career-high run-defense (93.0) and pass-rush (94.3) grades this past season, pushing past what we thought was possible at the defensive interior position.
In 2015, Donald pushed past Houston Texans' JJ Watt for the PFF record for pass-rush win percentage in a single season for an interior defender. In 2016, he beat his single-season record set in the year prior. In 2017, he did it again. And he did it again in 2018. He's single-handedly rewritten the record books in each of the past four seasons, setting the standard for pass rushing for interior defensive linemen.
Donald's 25.9 pass-rush win percentage in 2018 is 3.2 percentage points higher than the record he set in 2017. He recorded 106 total pressures and beat his opposition an additional 43 times in 553 pass-rush snaps during the regular season, efficiency only Philadelphia Eagles' Fletcher Cox could relate to this past season. Cox finished second at the position with a 20.9 pass-rush win percentage in 2018.
We ran out of superlatives for Donald after last season, and now we're running out of records. He's now won PFF's Defensive Player of the Year in three of the last four years – soon enough we'll run out of awards, too.
Keep up to date with PFF's end of season awards:
Offensive Rookie of the Year | Defensive Rookie of the Year | Comeback Player of the Year | Offensive Player of the Year | Defensive Player of the Year | The Stephenson Award | PFF's Most Valuable Player | The Hutson Award for Best Wide Receiver | The Matthews Award for Best Offensive Lineman | The Reggie White Award for Best Pass Rusher | The Ted Washington Award for Best Run Defender | The Lane Award for Best Coverage Defender | Breakout Player of the Year | Pass Blocker of the Year | The NFL's Best Offensive Line | Run Blocker of the Year | Passer of the Year | Special Teams Player of the Year