There may be no more coveted skillset in today's NFL than an offensive tackle you can leave on an island from the first snap of the game to the last. The set it and forget it method appeals to every offensive coordinator in the NFL and sets their mind at ease from a game-planning perspective. Those tackles are decidedly rare which is why they're so in demand. In 2018, there was no tackle in the NFL more comfortable on an island in 2018 than Green Bay Packers left tackle David Bakhtiari, and it's the reason why he's the recipient for PFF's Best Pass-Blocker award.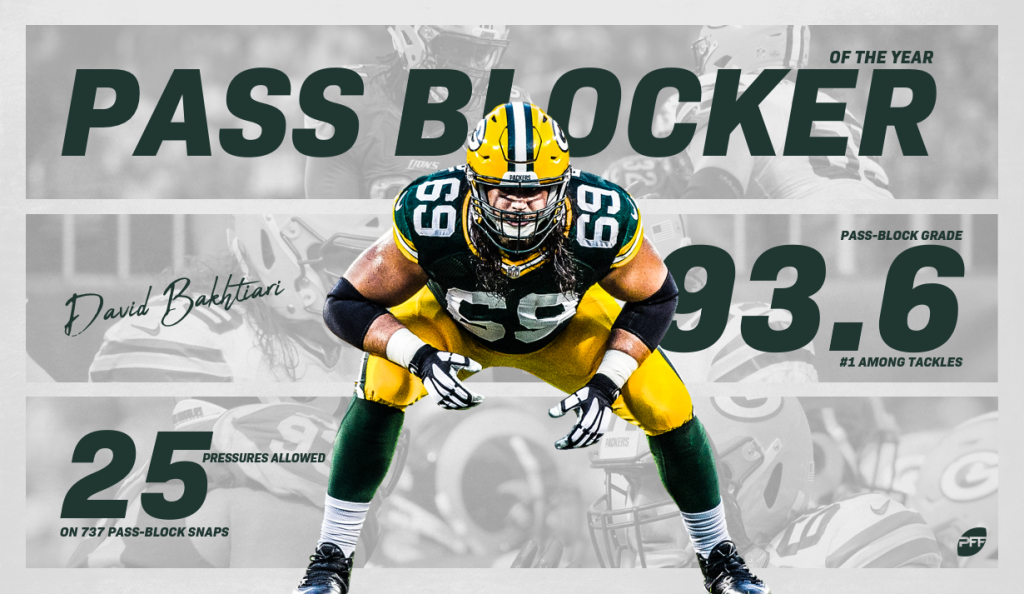 The public accolades that have been heaped on Bakhtiari might make this somewhat of a surprise for some. In his six-year career, the Packers left tackle has been named to one Pro Bowl (2016) and one first team All-Pro (2018). This is nothing new though for us at PFF. Bakhtiari was named PFF's Best Pass-Blocker in 2016 as well and has had five straight seasons with pass-blocking grades above 85.0.
I wrote earlier this year about what makes Bakhitiari so special, but it's worth revisiting. The thing that truly sets him apart from other tackles is that he never gets worked over. In the last three seasons, he's had precisely one game with a pass-blocking grade below 65.0. Tyron Smith has seven such outings over the same span. Andrew Whitworth, five. Even Joe Thomas in his last three seasons before retiring had three such outings. Even the best tackles are going to lose every now and then, but Bakhtiari's ability to never fall into liability territory is uncanny for the position.
Another thing that makes him so special is his how infrequently he loses cleanly. We separate our downgrades for offensive linemen in pass protection into three buckets based on how quickly and cleanly they lose. Bakhtiari was one of six starting tackles this season to not have a single pass blocking rep that earned the worst downgrade – and he did it on the third-most pass-blocking snaps of any tackle in the NFL (737). Among full-time starters this season, Bakhtiari had the fourth-fewest amount of pass-blocking snaps that earned the second-lowest downgrade as well (10). His consistency and relatively mild losses are a big reason why Aaron Rodgers is capable of making so many second reaction plays whether it's inside or outside the pocket.
Bakhtiari is currently the gold standard for pass protection in the NFL. There are better run blockers and more impressive athletes playing tackle today, but no one is stingier in pass protection than the Packers left tackle.

Keep up to date with PFF's end of season awards:
Offensive Rookie of the Year | Defensive Rookie of the Year | Comeback Player of the Year | Offensive Player of the Year | Defensive Player of the Year | The Stephenson Award | PFF's Most Valuable Player | The Hutson Award for Best Wide Receiver | The Matthews Award for Best Offensive Lineman | The Reggie White Award for Best Pass Rusher | The Ted Washington Award for Best Run Defender | The Richard Lane Award for Best Coverage Defender | Breakout Player of the Year | Pass Blocker of the Year | The NFL's Best Offensive Line | Run Blocker of the Year | Passer of the Year | Special Teams Player of the Year