For the second time in three seasons, the Dallas Cowboys are set to defend their NFC East division title. For the third-consecutive season, however, the best team in the division is the Philadelphia Eagles, and the gap continues to widen. 
Despite a bevy of injuries where it matters most (at quarterback and in the secondary), the Eagles gutted their way to the second round of the playoffs, leading the New Orleans Saints by multiple scores before eventually falling. They come back stronger in 2019, after acquiring veterans DeSean Jackson, Malik Jackson and Zach Brown and drafting future starters like Andre Dillard, J.J. Arcega-Whiteside and Miles Sanders. After sticking with Carson Wentz (who was just as good from a clean pocket in 2018 as he was in 2017) as opposed to chasing the variance that was Nick Foles' league-best passer rating when pressured, the Eagles should compete with the Los Angeles Rams and the Saints for NFC supremacy and hold off a short-handed Dallas team whose close-game regression should be fierce with one of the toughest schedules in the league. 
On the bottom end of the division's spectrum, the Washington Redskins and the New York Giants open the season with veteran quarterbacks who will presumably be replaced before the season ends, making their projection difficult. New York did not meet their market expectations of seven wins in 2018, but much of that was due to close-game luck that made their fundamentals look a lot more like the Cowboys than the 5-11 team they were. Washington, on the other hand, was not as good as their 6-3 start under Alex Smith but felt regression to the mean in real-time with his injuries to both Smith and his backup, Colt McCoy. Dwayne Haskins and Daniel Jones (in that order) provide hope for these franchises, with the former one of the best quarterbacks in college football a season ago from a clean pocket. 
[Editor's Note: All of PFF's advanced stats and grades for every NFL player are made available in PFF's ELITE subscription. Subscribe today to gain access!]
Baseline Projections:
Wins:
PHI 9.31 (10.5, +110 over/-130 under), DAL 8.46 (9, +120/-140), NYG 7.31 (6, +105/-125), WAS 6.54 (6.5, +175/-210)
Division Odds:
PHI 47.7% (-150), DAL 30.7% (+200), NYG 13.4% (+1,000), WAS 7.7% (+1,000)
Playoff Odds:
PHI 60.3% (-200 yes/+180 no), DAL 43.0% (+125/-145), NYG 22.5% (+400/-500), WAS 13.1% (+450/-600)
Super Bowl Odds:
PHI 5.3% (-1,200), DAL 2.8% (+2,200), NYG 0.8% (+8,000), WAS 0.3% (+15,000)
Strength of Schedule:
DAL (10th in average opposing PFFELO), WAS 28th, NYG 29th, PHI 31st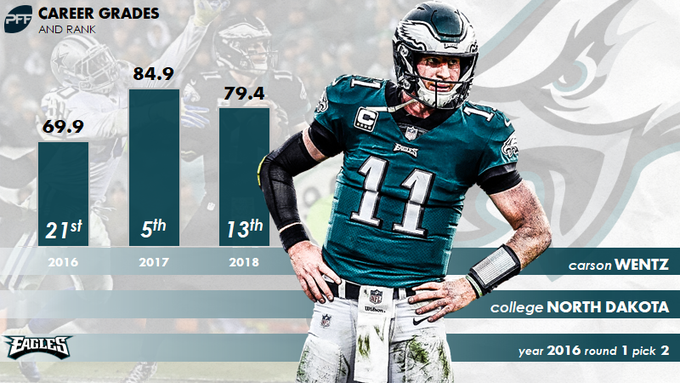 Most Valuable Quarterback over the Last Three Years: Carson Wentz (4.9 WAR)
Wentz and Prescott have had very different beginnings to their careers. Wentz was a disaster as a rookie while Prescott soared behind one of the best offensive lines in NFL history. The tide turned for Wentz in 2017 when he earned the sixth-highest grade among quarterbacks and was one of the MVP favorites before a knee injury kept him on the sidelines for the Eagles' Super Bowl run. Wentz played extremely well in 2018 with a 110.3 passer rating and top-10 grade from a clean pocket. However, he also found himself on the right side of variance in 2017; his 123.7 passer rating and 8.8 yards per pass play on third down were without compare. 
In 2018, the public narrative for Wentz was that he took a substantial step back. The truth is that Wentz maintained strong play in the more stable facets of quarterback play as he recorded a 110.5 passer rating from a clean pocket and avoided negatively graded plays at the seventh-best rate in the NFL. What did take a hit? The results in situations where consistency is not to be expected — Wentz' passer rating on third down fell over 30 points, and he averaged nearly four yards per pay less than his astronomical 2017 mark. Wentz was still money in the all-important intermediate depths from 10-19 yards downfield (yes, most first-down conversions can be had with a pass completed 10 or more yards downfield) where he posted a 127.0 passer rating which dwarfed the NFL average of 96.7. 
Wentz returns with a supporting cast of players and coaches that can rival the best in the NFL, and his level of play should not diminish expectations for 2019.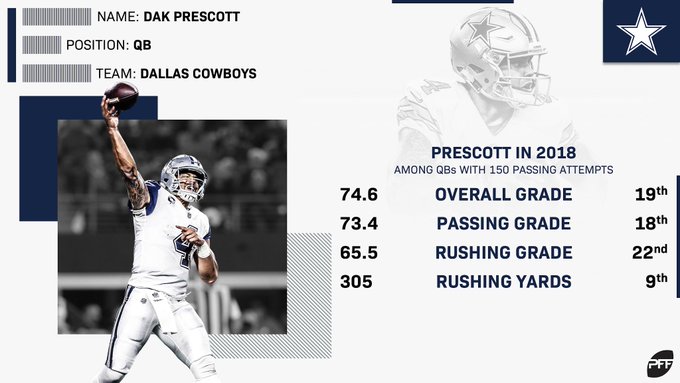 Second Most Valuable Quarterback over the last three years: Dak Prescott (4.7 WAR)
Dak's career started with a bang. He ranked eighth among quarterbacks in 2016 and has failed to crack the top-16 in each of his last two seasons. In 2016, Prescott and the Cowboys averaged 8.8 yards per pass play with a clean pocket, a full yard above the three-year league average. However, that figure has fallen below average in each of the last two seasons (see PFF's QB Annual). Dak also found himself taking far more sacks over the course of his short career. The percentage of plays under pressure resulting in a sack rose from 14.1% in his rookie campaign to 15.8% in 2017 and an absurd 24.8% last season, the latter of those ranked fifth-highest leaguewide. While one might be quick to attribute this to an offensive line that was missing leader Travis Frederick, consider this: Prescott took a sack on one of every five dropbacks (20.1%) that lasted more than three seconds (NFL average is 2.7s), which led the NFL and is a big reason why the Cowboys ranked 25th in expected points added per dropback that took over three seconds. Despite being well below league average late in the shot clock, Prescott's average time from snap to end of the play has remained on the high end, coming in at 2.9s (same as his rookie season) in 2018 which was the sixth-highest rate, though all five players ahead of him and their teams added an above-average number of expected points on plays lasting over three seconds. 
For Prescott to jump back into the top-10, his accuracy is probably going to need some improvement. In 2018, he avoided uncatchable throws at the 27th-best rate despite having the 10th-shortest average depth of target. Perhaps Travis Frederick's return along with a full season of Amari Cooper and Tony Pollard will be just the help Prescott needs to rival Wentz and the Eagles for NFC East supremacy.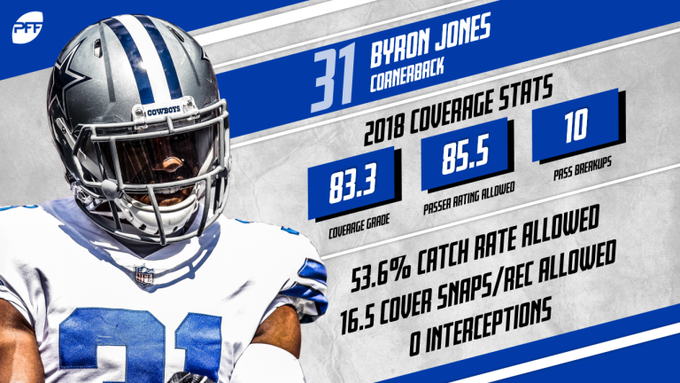 Most valuable defensive player over the last three years: Byron Jones (1.0 WAR)
After playing safety for three seasons, the former first-round pick out of UConn emerged a season ago in his first year as a cornerback, allowing just 94 yards after the catch on 67 targets, good for just 0.79 total passing yards allowed per coverage snap. He played mostly on the outside in 2018, which was a surprise to many who thought his transition to cornerback was for him to play inside. 
In a league where it's becoming clear that putting together great coverage units is the most important part of building a defense, Jones should be the Cowboys' biggest priority right now. His ability to play literally every position in the secondary, from outside corner to safety and down to the slot, will enhance any collection of players they acquire in the secondary and be their best chance at curbing what appears to be a league-wide and inevitable reversion toward the mean in defensive performance year to year.
Read more on PFF's projected win totals:
NFC NORTH  |  NFC SOUTH  |  NFC EAST  |  NFC WEST  |  AFC NORTH  |  AFC SOUTH  |  AFC EAST (COMING SOON)  |  AFC WEST