Prior to 2017, the Kansas City Chiefs had never won consecutive AFC West titles. And while two of their three division titles over the past three seasons came by virtue of a tiebreaker, they are still viewed by most as the class of the division, and due to a weird scheduling quirk, they are more than likely to stay there in 2019. Aside from having the reigning league MVP as their quarterback, the Chiefs get zero true road games against their most potent division foe, the Los Angeles Chargers, with their November 18th matchup slated to be played in Mexico City. As such, while the Chargers are one of the most talented teams in the entire league (generating the sixth-most WAR roster-wide in the NFL a season ago), and they have a better than a 50/50 shot at making the playoffs in 2019. They are basically 3/1 to actually win the division, losing the tiebreaker to the Chiefs quite often in our simulations. Throw in the likely defensive reversion due to the acquisition of defensive coordinator Steve Spagnuolo, it appears the market sentiment (they are currently -150 at BetOnline) is accurately reflecting Kansas City's stature as the favorite out west. 
While the two favorites in the division are replete with talent to go along with their franchise quarterback, the Denver Broncos and the Oakland Raiders are going into 2019 with quarterbacks that inspire no one and rosters with significant holes. While Vic Fangio coached the league's best defense a season ago and was liked by all of our coaching metrics as a defensive coordinator, defense is very difficult to project on a season-to-season basis, and increasingly difficult to win with (without at least a competent offense). The Raiders won't have that league-wide dynamic to worry about, as they ranked 30th in our Massey-like defensive ranking last year, rarely putting Derek Carr in the kind of position that would make us mistake him for a playoff- or Super Bowl-caliber quarterback (a la Fangio's Mitch Trubisky in 2018). Of the two division bottom-feeders, we like the Broncos more, but they are a significant long shot at 9% to take the AFC West back from the Chiefs.
Baseline Projections:
Wins
KC 10.41 (10.5, -110 over/-110 under), LAC 9.19 (10, +100/-120), DEN 7.30 (7, -110/-110), OAK 6.21 (6 +100/-120)
Division Odds
KC 58.5% (-150), LAC 29.8% (+150), DEN 8.5% (+1400), OAK 3.2% (+2000)
Playoff Odds
KC 77.8% (-400 yes/+320 no), LAC 56.2% (-210/+175), DEN 21.9% (+400/-500), OAK 9.3% (+500/-650)
Super Bowl Odds
KC 12.5% (+800), LAC 4.6% (+1600), DEN 0.8% (+5000), OAK 0.1% (+4000)
Strength of Schedule
OAK (5th in opponent PFFELO), DEN (6th) KC (8th), LAC (19th)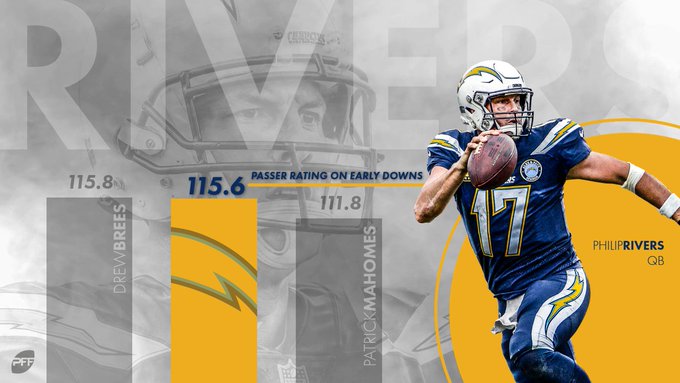 Most Valuable Player the last three years: Phillip Rivers (6.9 WAR)
The reason this is Rivers is that he's been an NFL quarterback for the last three years while last season's MVP Pat Mahomes has only had one season (plus a random game) to accumulate wins above replacement (he did accumulate enough to be #2 over the past three seasons).
Rivers has been one of the best quarterbacks in the league over the last couple of seasons, picking up on the old-man strength exhibited by Brady and Brees. Rivers ranked in the top-10 in grade from a clean pocket and avoiding negatively graded plays last season (our two most consistent metrics of measuring a passer's performance). While he might not be the most mobile guy at this point in time, his average time to throw has been well below the league average over the last three seasons, no more so than last season where the continuity and performance of his receiving corps certainly gave him the ability to get the ball out quickly with confidence. Rivers took an average of just 2.47 seconds per dropback last season which tied with Drew Brees and Ben Roethlisberger for the quickest time in the league. 
Rivers' accuracy was exquisite last season. He was the most accurate quarterback throwing to receivers with more than a step of separation and ranked in the top-10 throwing passes with a perfect pass location and avoiding uncatchable throws. Rivers' performance was impressive last season, and there is reason to believe he could keep the Chargers rolling again this season.
Most Valuable Non-QB the last three years: Travis Kelce (2.7 WAR)/Tyreek Hill (2.4 WAR)
A duo of Chiefs receivers seems appropriate. Kelce clearly benefits from three seasons of top-tier play while Tyreek Hill has benefitted from the joint wizardry of Reid and Mahomes. 
Hill has averaged 10.5 yards per target since 2016, ahead of every receiver with 200-plus targets this side of Gronk. Kelce has been even more potent than Hill when taking into account context, with an average expected points added per target better than everyone but the aforementioned Rob Gronkowski since 2016. In fact, looking simply at total expected points added, Kelce is the only player to eclipse 200 expected points added on his targets since 2016.
While the coach and quarterback deserve much credit for the best offense in football, Hill and Kelce are a duo that might very well be without equal in the NFL.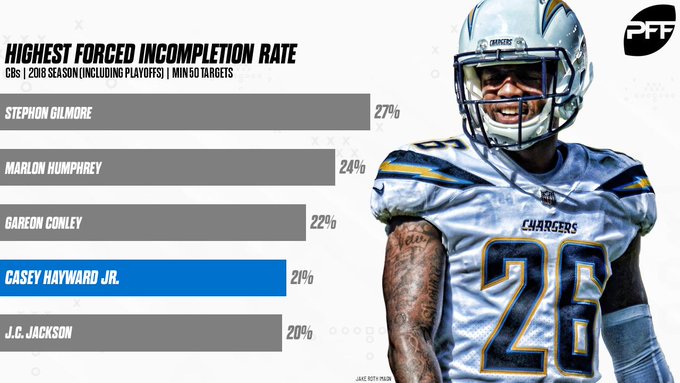 Most Valuable Defensive Player the last three years: Casey Hayward Jr. (2.4 WAR)
We've established that coverage is more valuable than people think, and the Chargers have certainly benefited from investing in it in Hayward. Primarily a slot player while in Green Bay, Hayward has played on the outside in San Diego and Los Angeles, intercepting 11 passes and breaking up another 37 in three seasons with the team. That said, Hayward is also a great example of the instability that goes along with production in coverage — after earning 83.6 and 92.1 coverage grades in 2016 and 2017, respectively, he was only able to generate a 74.5 coverage grade in 2019, intercepting zero passes (with nine pass breakups) while allowing a career-high five touchdown passes. After two seasons with a passer rating against below 60.0, he allowed a 108.7 rating into his coverage last year. 
It will be interesting to see if Hayward bounces back in 2019, because with him in his pre-2018 form, a secondary with Derwin James, Desmond King II and Hayward is a candidate for the distinction of the league's best.