The 2018 season went off-script in the NFC North with the Bears blitzing the Vikings, Packers and Lions, all of whom possess highly paid quarterbacks. Chicago won with a truly dominant defense that led the NFL in expected points allowed per pass play. That defense was bolstered by the highest-graded coverage unit in the league which we know is both very valuable when trying to win games and inconsistent from season to season.
Mitch Trubisky was by no means brilliant. He made the highest rate of negatively graded plays (the most stable component of quarterback play from season-to-season), but he was picked up by a great defense and a receiving corps that turned Trubisky's catchable but inaccurate passes into 10.7 yards per throw (first) and dropped catchable passes at the second-lowest rate in the league. That was enough to ride a great defense past Aaron Rodgers, who set a PFF record (since 2006) with 59 throwaways, and Kirk Cousins, who ranked just 22nd (of 35) in grade from a clean pocket (one of the most stable components of quarterback play).
This season, the Bears are the market favorite to win the division despite not having a higher vegas win total than the Packers and only a have game above the Vikings (though you get better odds to take the Bears over-9.5 than you do the Vikings to win over-9). Our 10,000 simulations are going to favor the more stable components of team play (passing game), and that's the reason we see a much closer race in this division from top to bottom than the market does. Our simulation is built to account for the craziness of the NFL season where players' abilities are not static throughout and situations where the biggest underdog wins the most games, while improbable, is not impossible and likely due to a performance well above expectation. 
Baseline Projections:
Wins
MIN 8.42 (9, -120 over/+100 under), CHI 8.35 (9.5, +125/-145), GB 8.03 (9.5 +130/-150), DET 7.13 (7, -120/+100)
Division Odds
MIN 31.3 (+225), CHI 30.6 (+175), GB 24.6 (+200), DET 13.5 (+1000)
Playoff Odds
MIN 43.5 (+130 yes, -160 no), CHI 42.8 (-140/+110), GB 36.3 (-125/-105), DET 22.1 (+400/-600)
Super Bowl Odds
MIN 3.2 (+2500), CHI 2.7 (+1400), GB 2.1 (+1600), DET 0.6 (+6600)
Strength of Schedule
CHI (fifth-toughest average PFFELO among opponents), DET (13th), MIN (14th), GB (18th) 
Most-Valuable Player/Non-QB/Defensive Player over the last three years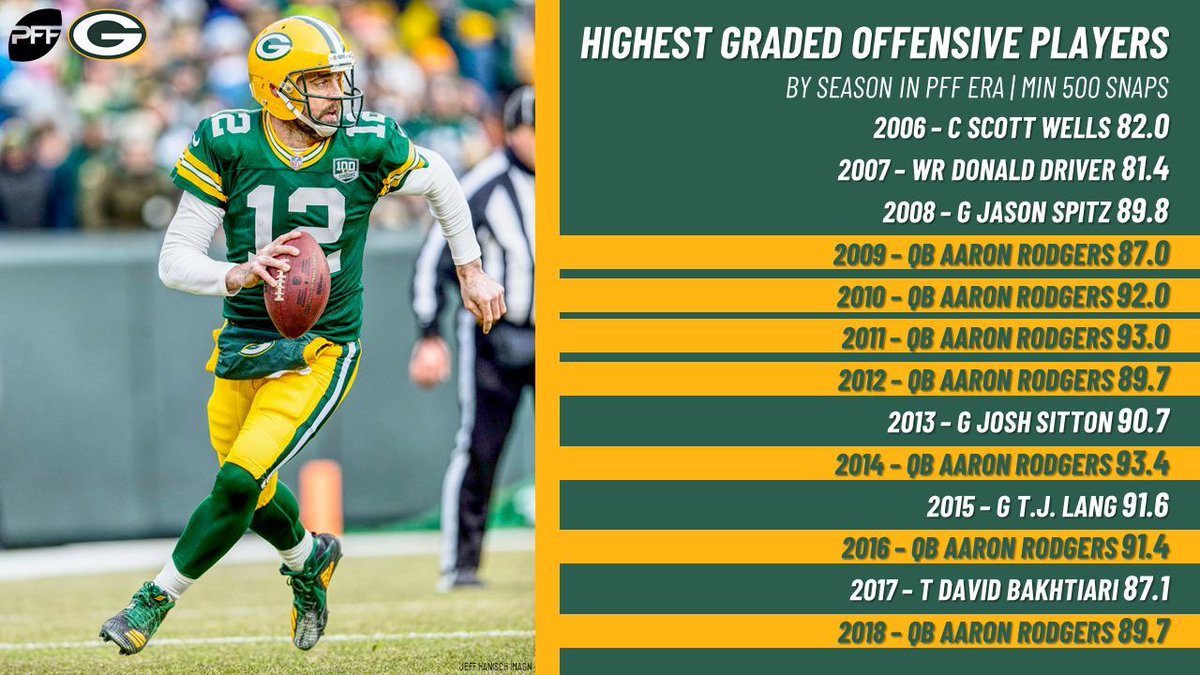 Aaron Rodgers (7.0 WAR)
While Rodgers has not produced at a level commensurate with his 2011 and 2014 MVP seasons, he has still been one of the more valuable players in the NFL over the course of the past three seasons, especially in 2016, when he earned the third-highest WAR among quarterbacks, trailing only Matt Ryan and Tom Brady in that metric during the regular season.
In 2018, Rodgers ran good on metrics that often regress to the mean season-to-season, as he was the second-highest-graded quarterback in the league against pressure and the fifth-highest on third down, but was also very good at limiting negatively graded throws (eighth) and turnover-worthy plays (first), the former of which is one of the most stable metrics we have in terms of evaluating quarterback play. His accuracy numbers were not very good in 2018, but much of this can be attributed to a league-high and PFF-record-setting number of throwaways. The big question going into 2019 is how much of Rodgers' downturn in play, including bailing on too many plays in favor of sacks and throwaways, can be blamed on former head coach Mike McCarthy, and how much of it can be rectified with the acquisition of Matt LaFleur?   
Adam Thielen (2.7 WAR)
If we held a draft of NFC North wide receivers, I'm not sure Thielen wouldn't end up going third behind Davante Adams and fellow Viking Stefon Diggs, both of whom were tremendous last season. Thielen is the only one of that group to play over 1,000 snaps in two of the last three seasons and has been the most valuable of the three players twice in the past three years. Thielen leads the trio in percentage of targets earning a positive PFF play grade, yards per target at 9.7 yards and 20-plus yard gains over the last three seasons. Thielen has been a diverse chess piece for the Vikings, earning more than 180 targets from the slot and out wide (the only of the three aforementioned WRs) and has averaged over 8.5 yards per target from each position (also the only of the trio).
Thielen was hampered by injury a bit last season after getting off to a torrid start. His health (and that of Diggs) will be key components to a Vikings division victory. This is a sentence few thought we'd be writing just a few short years ago when Thielen was barely an afterthought. An impressive journey for Thielen has catapulted him into a prominent role for a team with title aspirations.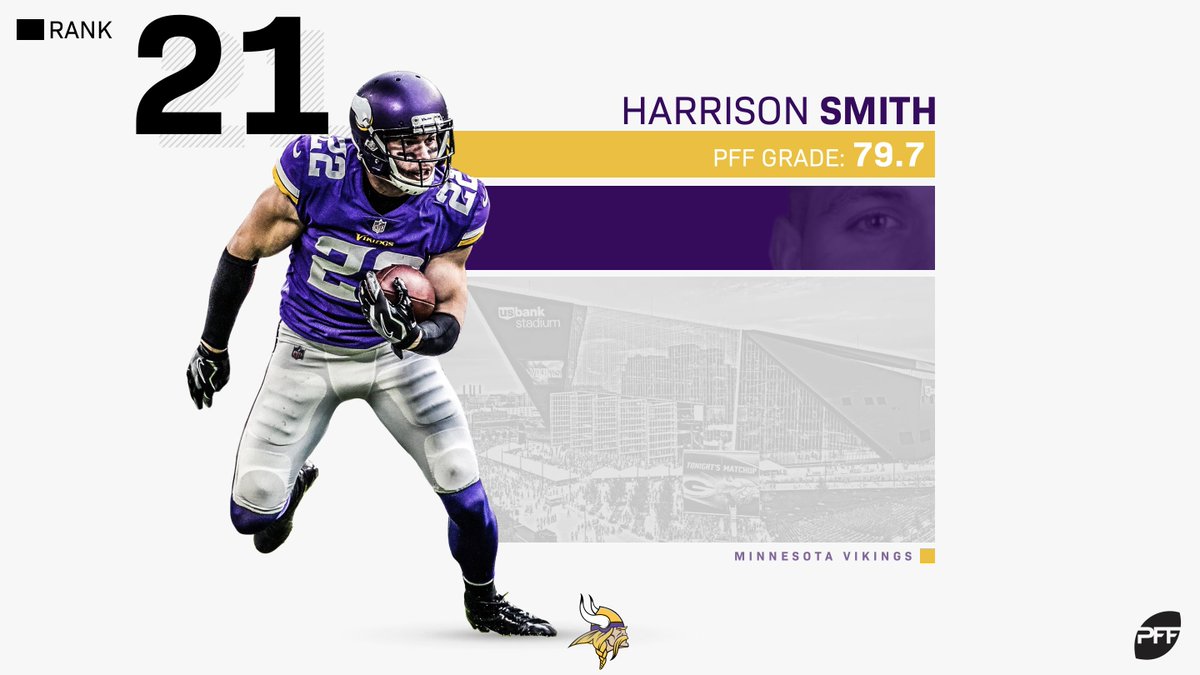 Harrison Smith (1.7 WAR)
Like a few players on the Vikings defense, Smith had an off-year (for him) in 2018, earning a 79.7 overall grade a year after posting a 91.8 mark. That said, Smith has been one of the premier overall safeties for quite some time, having elevated his game substantially since Mike Zimmer took over in 2014. In 2018, he played almost half of his 1,025 defensive snaps in the box (488), while playing over the slot another 91 times and deep another 417 times. Being this versatile allows him to pressure the passer (20 pressures the last two years), make plays on the ball (15 combined interceptions and pass breakups) and stop ball carriers in their tracks (58 total stops).
It remains to be seen whether he can continue to be the safety that Zimmer needs to be the upper-echelon group the team needs to be a Super Bowl contender with a quarterback the caliber of Cousins. Here's hoping he hangs on a little longer.