We got some things right and wrong about the AFC South a season ago, correctly seeing value in the Colts and not leaning on the fact that the Texans had one of the league's easiest schedules enough. The Jaguars had all of the markings that the current Bears do, while the Titans appear destined to decline from their 9-7 stretch at some point, given the lack of development of quarterback Marcus Mariota and their weaknesses defensively where it matters most, at cornerback. 
This offseason has been all about the Colts. Praise of both Chris Ballard and Frank Reich has been frequent, and they only got better in the offseason by acquiring Rock Ya-Sin, Justin Houston and Devin Funchess, while carrying a great amount of cap space and future draft picks into 2020 and beyond. What has clearly been great team building has hit a snag in August, with quarterback Andrew Luck nursing an injury that will keep him out of the entire preseason and possibly some of the regular season. Our simulations below assume he starts Week 1, but this is something to monitor. 
Houston goes from facing one of the league's easiest schedules in 2018 to the league's hardest, which, coupled with Deshaun Watson's league-leading passer rating when pressured, might spell some significant regression for the reigning division champs. The Jaguars, after regressing significantly in 2018, still have talent defensively. The question in Jacksonville is whether Nick Foles, who had his own hot streak a season ago under pressure in his playoff push, can be a steady enough to control games in a way that Blake Bortles could not. We like the Titans under win total, due in large part to the fact that they are setting up for uncertainty at the quarterback position, appear set to give Derrick Henry an inefficient number of carries in that offense (with its third coordinator in as many years) and have the aforementioned weaknesses in their secondary. 
With strength atop the AFC West, the easy schedules faced by the AFC East and three playoff-caliber teams in the AFC North, it will be hard for any team other than the division champion in the AFC South to make the playoffs. Tune back later in the summer for updates should Luck's situation change, but without further ado, here are the projections.
Baseline Projections:
Wins:
IND 9.01 (9.5, -125 over/+105 under), HOU 7.74 (8, -110/-110), TEN 7.71 (7.5, -105/-115), JAX 7.26 (7.5, -115/-105)
Division Odds:
IND 44.2% (-125), HOU 20.9% (+300), TEN 20.1% (+600), JAX 14.8% (+450)
Playoff Odds:
IND 55.9% (-170 yes/+150 no), HOU 31.3% (+150/-170), TEN 30.5% (+270/-330), JAX 23.1% (+250/-300)
Super Bowl Odds:
IND 4.0% (+1600), HOU 1.4% (+3300), TEN 1.0% (+6600), JAX 0.7% (+2800)
Strength of Schedule:
HOU (1st in opposing PFFELO), TEN (13th), JAX (15th), IND (17th)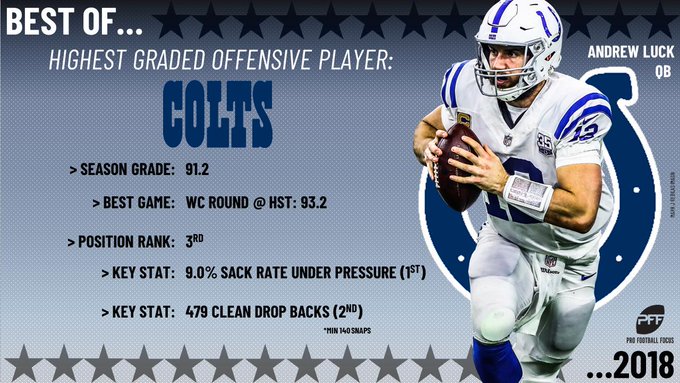 Most Valuable Quarterback the Last Three Years: Andrew Luck (5.6 WAR)
What a murderer's row of quarterbacks this division has had. From Savage to Bortles to the Mayor of the AFC South, Blaine Gabbert. While Deshaun Watson is off to an encouraging start, his two seasons couldn't rival the 2016 and 2018 of Luck, who ranked fourth and third in PFF grade among quarterbacks in those two seasons, respectively. Luck posted a passer rating of 115.0 from a clean pocket (a very consistent metric for passers) since 2016 which is tied with Drew Brees for second behind Matt Ryan.
What has changed for Luck over the past three seasons is one of the reasons for optimism looking forward (calf willing). In 2016, he took an absolute beating, feeling pressure on 44.4% of his dropbacks which was the highest rate in the NFL, including 111 knockdowns (sacks plus hits) which was second only to the drilling faced by Carson Palmer (RIP).
As we discussed last week, pressure rate is owned more so by the quarterback's decisions than anything else. Luck is a great example: his average time to throw (snap to pass/sack/scramble) was 2.9s in 2016 (sixth-longest, while Palmer was third-quickest). Frank Lord Reich was at his architectural peak last season, designing an offense to mitigate the number one reason that pressure occurs (holding on to the damn ball), and Luck clipped his time to throw all the way down to 2.5s which was the eighth-quickest and resulted in a 15% reduction in his pressure rate. (disclaimer: this is not saying the OL didn't improve, but the quicker throws are first and foremost the reason, and that is on Luck/Reich). For a quarterback like Luck, who is so lethal from a clean pocket, this is monumental.
Luck didn't lose some of the facility to make the most valuable throws in the NFL either: 21% of his dropbacks resulted in a target 10-19 yards past the line of scrimmage (key here is that is usually at or past the sticks but still not a super deep throw), and he earned a passer rating of 107.3 on those passes compared to 17% and 105.4 in 2016.
Luck is a bonafide MVP candidate and the Colts a Super Bowl contender if the captain is able to make it onto the battlefield.

Second most valuable Non-QB the last three years: DeAndre Hopkins (3.2 WAR)
Hopkins was the NFL's most valuable non-QB last season, catching the most passes without a drop in the PFF era. While Deshaun Watson has been very encouraging during his first two seasons, the split in credit between he and Hopkins is more even than any other above-average QB-WR combo. Forty-six of Hopkins' targets were deemed catchable but inaccurate in 2018, meaning Hopkins had to do a great deal more than his catchable/uncatchable target rate would indicate, and he came through. With Will Fuller and Keke Coutee recovering from injuries again, it might all be on Hopkins' shoulders in 2019. Luckily for Houston, he can handle it.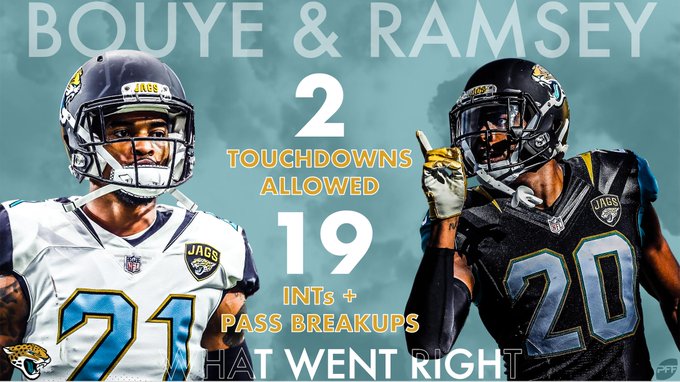 Most valuable defensive player the last three years:  A.J. Bouye (1.3 WAR)
This is likely surprising to some, but given what we think about the pass-rush versus coverage in terms of value and the injury history of J.J. Watt recently, Bouye ends up at the top of this list. Bouye did not grade as well in 2018 as he did in 2016 or 2017, but he also wasn't targeted as much (just 61 times) and did not give up a touchdown. He's gotten his hands on 43 passes the last three years, including intercepting 10 passes, while missing an average of just five tackles per season. Jalen Ramsey is younger, and probably the better player going forward, but it would be foolish not to recognize how good Bouye has been for two of these AFC South teams over the last three seasons.
[Editor's Note: All of PFF's advanced stats and grades for every NFL player are made available in PFF's ELITE subscription. Subscribe today to gain access!]