Not so long ago, the Dallas Cowboys' offensive line was in the discussion for not just the best offensive line in the NFL, but the best offensive line of recent memory.
From 2013 to 2017, the Cowboys' offensive line earned the league's fourth-best team pass-blocking grade (87.6) and the league's second-best team run-blocking grade (90.9) — they were the only team to record top-five marks in both disciplines over that span — and while there is no question that production is thanks to all members of a line that also included star left tackle Tyron Smith and the perennially excellent right guard Zack Martin, the 2018 season proved beyond doubt that center Travis Frederick is the anchor that keeps Dallas' once-feared unit in place.
DOING HIS BIT IN PASS PROTECTION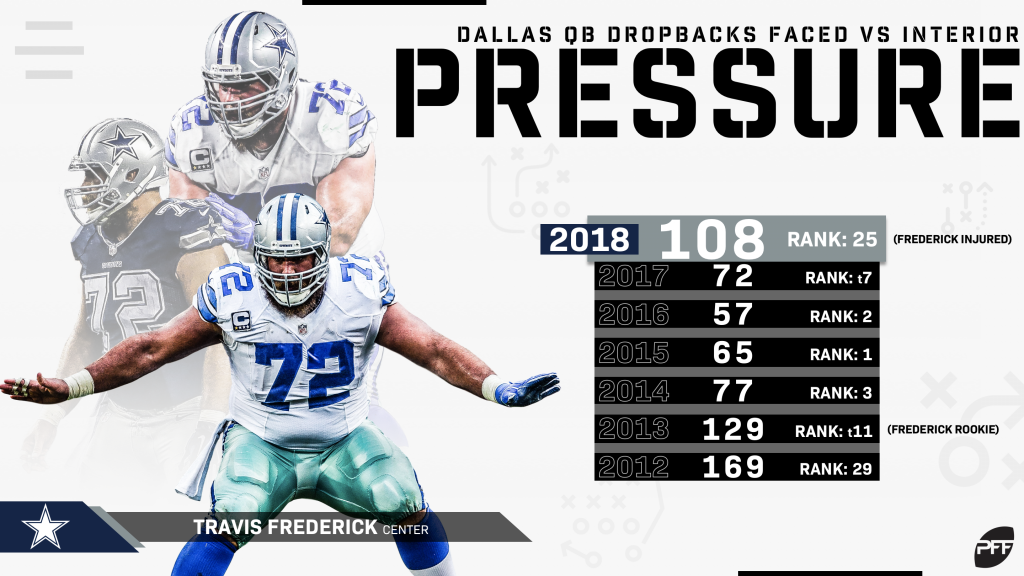 With the exception of his rookie season, the former Wisconsin Badger has recorded single-season pass-blocking grades above 79.0 in every year of his career, and he hasn't given up more than 15 total quarterback pressures in a season since 2014. Frederick finished in the top-10 among centers in pass-blocking efficiency in four of his five years in the league, and amazingly, he hasn't surrendered a sack since Week 9 of the 2014 season.
In fact, it's been 2,008 pass-blocking snaps since Frederick last allowed a sack, which is the longest streak that we've ever seen from a player in the PFF era (2006 – present).
From 2013 to 2017, Frederick allowed only 69 total pressures from his 2,827 pass-blocking snaps, and his five-year pass-blocking grade of 86.2 ranked sixth among the 40 players with at least 1,000 pass-blocking snaps over that five-year period. His pressure rate of 2.4% and his 98.7 pass-blocking efficiency rating ranked tied for seventh and tied for eighth, respectively, among that same group of players.
A master communicator with almost unparalleled physical strength at the point of attack, Frederick has been one of the league's best at fending off even the trickiest defensive schemes. On his 424 pass-blocking snaps against stunts from 2014 to 2017, Frederick allowed zero sacks, one hit, 14 hurries and one additional "loss" (where the opposing pass-rusher was able to beat Frederick's block but unable to generate pressure). His corresponding loss rate — (pressures allowed+losses)/pass-blocking snaps — of 3.8% on his snaps against stunts ranks third among the 31 centers with at least 200 snaps against defensive stunts in that span, while his 82.5 pass-blocking grade on such plays ranks fifth among that same group of players.
His impact on the Cowboys' interior offensive line — and the offensive line in general — is plain for all to see when we look back at the number of dropbacks Dallas' quarterbacks have faced from interior pressure, pressure from pass-rushers who lined up between the tackles.
In 2012, a year before Frederick's arrival, Dallas' quarterbacks faced pressure from the defensive interior on a combined 169 dropbacks — the third-highest mark among teams. But after Frederick's arrival, that number dropped to 129 (T-11th). It then plummeted further to 77 in 2014 (3rd), 65 in 2015 (1st), 57 in 2016 (2nd) and 72 in 2017 (T-7th). However, with Frederick out, Dallas quarterback Dak Prescott faced interior pressure on 108 dropbacks in 2018 — only seven teams allowed more last season.
Frederick's impact on the team's pass-blocking is plain to see, especially if you look at the team's cumulative pass-blocking efficiency over his time in the league. After ranking fourth among teams with a PBE of 88.8 (107 total pressures allowed) in 2014, first among teams with a PBE of 89.9 (108) in 2015, ninth among teams with a PBE of 86.5 (130) in 2016 and 16th among teams with a PBE of 84.5 (153) in 2017, the Cowboys allowed 169 total pressures on 612 regular-season passing plays in 2018, and that resulted in a pass-blocking efficiency of 84.1 – their worst mark as a team since 2012.
PAVING THE WAY FOR ZEKE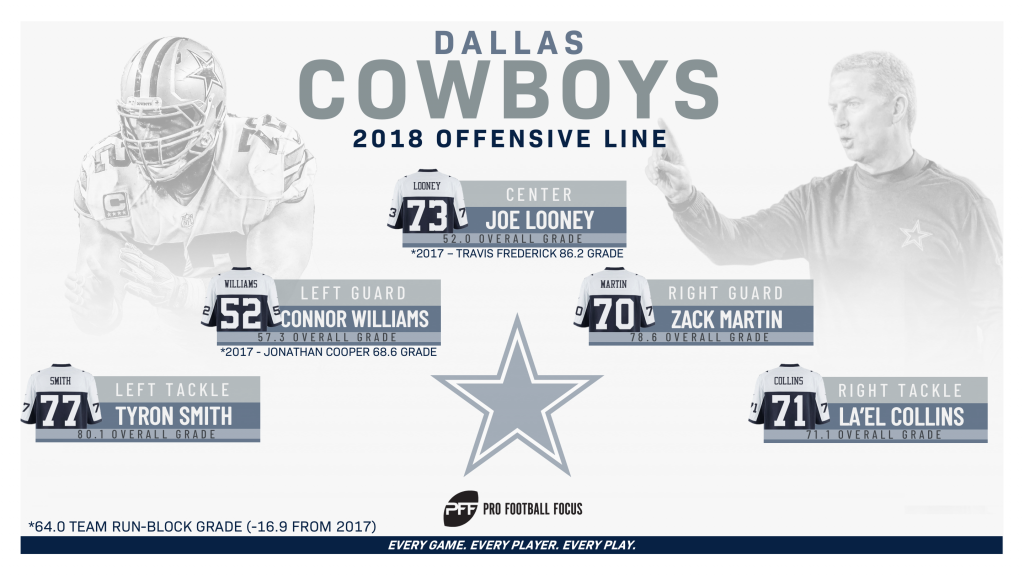 Frederick's work in pass protection has been stellar for the majority of his excellent career, but that's nothing compared to his work in the ground game.
In five years of pro-level play, Frederick has earned five consecutive run-blocking grades of 83.0 or higher, with his rookie mark of 91.5 being the fifth-best single-season mark ever recorded by a center. In 13 years of grading every player on every play of every game, Frederick and Jets great Nick Mangold are the only two centers in the PFF era to earn five consecutive single-season run-blocking grades north of 83.0.
Looking at his work across the last five regular seasons combined, Frederick's five-year run-blocking grade of 93.2 ranks first among the 84 centers with at least 500 run-blocking snaps in that span, and his 7.1% impact run-block percentage ranks fourth among the same group of qualifiers.
To really drive the point home, we only need look at the Cowboys' team run-blocking grade over the last two years. With Frederick and the rest of the starters in the lineup in 2017, the Cowboys earned a 79.8 team run-blocking grade that ranked fourth among the 32 NFL offenses, and their running backs collectively averaged a mightily impressive 1.62 yards before contact per rushing attempt. With Frederick out, the team stumbled to a 2018 team run-blocking grade of 59.6 that ranked 13th among teams, while their yards before contact per attempt average dropped to just 1.49.
FINAL THOUGHTS
After a season-long recovery, the reports out of Dallas are positive: The rehab is going well, and he is progressing through the team's offseason program in preparation for the 2019 campaign. His consistency has been exemplary throughout his career, so if he is indeed back to full strength, there is no reason to think that he'll be anything other than his usual, dominant self for 2019.