The NFC South interestingly finished in the order that the market predicted in 2018, but it took a circuitous route. The Tampa Bay Buccaneers stormed out to a 2-0 start by beating, of all teams, the New Orleans Saints and the Philadelphia Eagles, before falling to 5-11 and taking their customary stop at the bottom of the division. The Falcons started 1-4, suffering a slew of injuries and last-second defeats. While they clawed back to 4-4 and got us all hot and bothered for a quick minute, they eventually faded to 7-9. That 7-9 was actually better than the Carolina Panthers' 7-9 due to a tiebreaker, with the third-place finish by the Cats something no one would have projected after they sprung to a 6-2 start. 
The Saints remained the class of the division in 2018 and continue to hold court as we start the 2019 season. While their offense, headed by Drew Brees, Sean Payton and Michael Thomas, rightfully get the majority of the attention, New Orleans is quietly putting together one of the most talented defenses in the league, with Cameron Jordan, Marshawn Lattimore, Sheldon Rankins, Demario Davis, Marcus Davenport and Marcus Williams an underrated combination of young, promising players and established veterans. If Brees can curb the downward trend in his play over the last couple months of the season last year, and Payton remains one of the league's best playcallers, the Saints should be the NFC's most complete team, and as a result, they are our odds-on favorite to represent the conference in the Super Bowl.
The Saints by no means have a cakewalk, we've made it no secret how much we like Tampa Bay as a sleeper in the NFC. Much of this stems from their coverage-focused 2019 draft, along with the volatility that quarterback Jameis Winston offers in a Bruce Arians offense. While it will be difficult for them to win the division outright, at +1200 (bet $100, win $1,200) they are a bet that offers positive expected value, look for them to exceed expectations in 2019 and have a positive outlook for 2020 and beyond.
Baseline Projections:
Wins:
NO 10.09 (10, -120/+100), ATL 8.13 (8.5, -120/+100), CAR 7.25 (8, -130/+110), TB 7.17 (6.5, -120/+100)
Division Odds:
NO 59.1% (-160), ATL 20.4% (+320), CAR 10.3% (+450), TB 10.2% (+1200)
Playoff Odds:
NO 74.9% (-300/+250), ATL 37.8% (+140/-160), CAR 22.5% (+220/-260), TB 22.2% (+600/-800)
Super Bowl Odds:
NO 11.6% (+1000), ATL 2.5% (+2800), CAR 1.1 % (+4000), TB 0.9% (+6600)
Strength of Schedule:
ATL (2nd in average opponent PFFELO), CAR (5th), TB (7th), NO (22nd)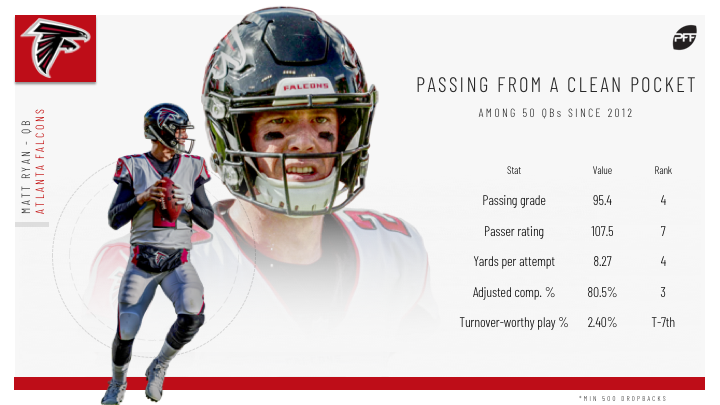 Most Valuable Player the Last Three Years: Matt Ryan (7.5 WAR)
Drew Brees ranks second in passer rating from a clean pocket over the last three seasons. In first, is Matthew Ice (115.5). With Matt Ryan at quarterback, the Falcons rank second in expected points added per dropback (the best measure of backward-looking offensive efficiency) ahead of the Drew Brees- led Saints and just behind TB12 and the Pliable Patriots. The shortcomings for the Falcons have been more situational than anything else, but the problem has most certainly not been Matt Ryan. 
Last season was a down year for Ryan, who ranked 11th in 2018 after finishing 2nd in both 2016 and 2017. While he has always limited the negatively graded plays, he was unable to find the high number of positives he has become accustomed to — in 2016-17 he earned the third-highest rate of positively graded dropbacks but fell to 16th in 2018. The good news here is that these are far more volatile for quarterbacks from a season-to-season perspective, likely because they rely on the throws actually being there before they can be made and that brings in the scheme, receiver performance and line play. Ryan was hit or sacked once every 6.5 dropbacks on average last season, second-highest of his career. There is no reason to believe that he can't ride the regression train back up to the top-five.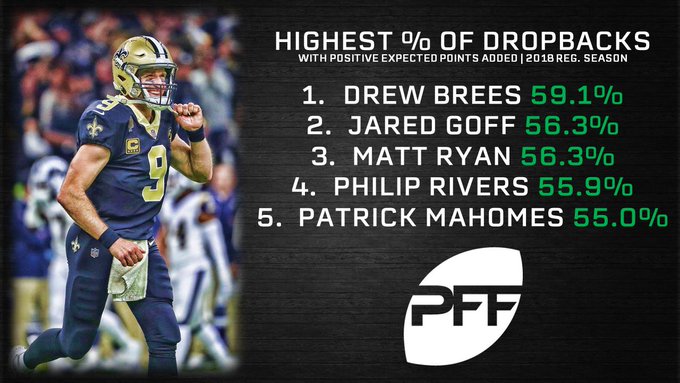 Second most valuable QB the last three years: Drew Brees (7.4)
No quarterback in the NFL does the stable things better than Brees. Brees is the only signal-caller to consistently keep his negatively graded play percentage in the single digits (the most stable quarterback metric). A key to Brees' success is quick decision making (third-quickest average time to throw) which contributes to spending a league-leading 76% of his dropbacks in a clean pocket over the last three seasons. Brees has made the most of these situations with a 115.0 passer rating from a clean pocket (second) and a completion percentage of 72% (not only first but the only QB over 70.0%). Brees and Payton are perhaps the best offensive coach-QB combo in the NFL with each leveraging their strengths by implementing a quick passing attack and valuing points (yes, they go for fourth downs — a novel concept).
Brees may be getting older, but nothing keeps the fountain of youth flowing like clean pockets — with a great scheme, strong receiving options, and an average to above-average line there should be no reason for Brees to fall off the cliff in 2019.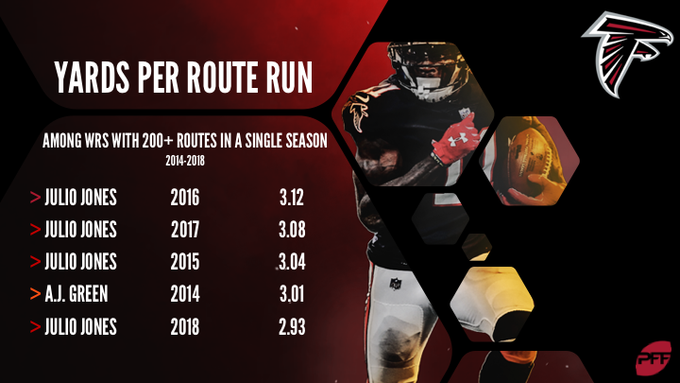 Most Valuable Non-QB the last three years: Julio Jones (3.3)
We've talked about Jones extensively at PFF since he's basically broken our yards per route run metric during the course of his career. That said, we've also fallen short of saying he's the best wide receiver in the league (at least now), with DeAndre Hopkins taking that crown in recent seasons due in large part to Hopkins' inability to drop passes (while Julio dropped eight a season ago). 
Jones not being the absolute best receiver in the league should not detract from how consistently great he has been, though, catching five or more passes in all but two games last season, and scoring a touchdown (#neverjulio) in seven of the season's last nine games. He had a catch of over 30 yards in more than half of his games last season, with 464 of his receiving yards coming on passes traveling more than 20 yards in the air (sixth in the NFL).
The only knock on Julio is that, while he plays in every game, he's often beat up enough to miss a non-trivial number of snaps (he's played fewer than 900 each of the last three seasons), which can leave the Falcons more predictable than they should be with such an explosive offense. Hopefully, the nagging injuries that have often felled him in the past do not hit in 2019, and the Atlanta offense can be even more explosive, especially on early downs.
[Editor's Note: All of PFF's advanced stats and grades for every NFL player are made available in PFF's ELITE subscription. Subscribe today to gain access!]