Draft grades — some people despise them, others understand to take them for what they are: entertainment. There is, however, some evidence showing teams that routinely "reach" compared to public opinion get diminished returns on their selections. That same analysis, though, bears that "steals" often don't come to fruition.
Subscribe to
What I'm trying to say is immediate grades may not necessarily be for naught. While the high-end grades given out last year were a hodgepodge, a lot of the low-end grades are still on the low end. Here is how PFF stacked up grades for the 2020 draft class at the time a year ago:
| | | | | | | | | | |
| --- | --- | --- | --- | --- | --- | --- | --- | --- | --- |
| A+ | A | A- | B+ | B | B- | C+ | C | C- | D |
| Cowboys | Giants | Bills | Jets | Patriots | Chiefs | Texans | Raiders | Chargers | Packers |
| Broncos | Jaguars | Dolphins | 49ers | Football Team | Steelers | Titans | Rams | Seahawks | |
| Cardinals | Bengals | Eagles | Bears | Colts | | | | | |
| Browns | Lions | Buccaneers | | Panthers | | | | | |
| | Vikings | | | Falcons | | | | | |
| | | | | Saints | | | | | |
| | | | | Ravens | | | | | |
While it's been only a year, it's still worth re-evaluating exactly how much the opinions of these classes have changed. While I'm obviously singing a different tune about some of the bad grades from a year ago (*cough* the Chargers *cough*), others somehow look even worse than their ugly grades (*cough* the Packers *cough*). Here's how I view them now.
| | | | | | | | | | |
| --- | --- | --- | --- | --- | --- | --- | --- | --- | --- |
| A+ | A | A- | B+ | B | B- | C+ | C | C- | D |
| Buccaneers | Jets | Football Team | Patriots | Chiefs | Rams | Falcons | Raiders | Texans | Packers |
| Vikings | Cowboys | Jaguars | Cardinals | Colts | Bills | Lions | Seahawks | Titans | |
| | Chargers | Panthers | 49ers | Dolphins | Eagles | | | | |
| | Bengals | Broncos | | Giants | Saints | | | | |
| | Browns | | | Ravens | | | | | |
| | Steelers | | | Bears | | | | | |
Jump to a team's 2020 draft class re-evaluation:
ARZ | ATL | BLT | BUF | CAR | CIN | CHI | CLE | DEN | DAL | DET | GB | HOU | IND | JAX | KC | LVR | LAC | LAR | MIA | MIN | NE | NO | NYG | NYJ | PHI | PIT | SF | SEA | TB | TEN | WFT
Round 1 (8): LB Isaiah Simmons, Clemson
Round 3 (72): T Josh Jones, Houston
Round 4 (114): DI Leki Fotu, Utah
Round 4 (131): DI Rashard Lawrence, LSU
Round 6 (202): LB Evan Weaver, Cal
Round 7 (222): RB Eno Benjamin, Arizona State
Then: A+
Now: B+
This draft is still largely to be determined after Simmons failed to acclimate quickly to a completely different position and Jones couldn't crack the starting lineup. One still has to take into account that Arizona's second-round pick basically turned into DeAndre Hopkins in an all-time trade fleecing here, though.
Round 1 (16): CB A.J. Terrell, Clemson
Round 2 (47): DI Marlon Davidson, Auburn
Round 3 (78): C Matt Hennessey, Temple
Round 4 (119): LB Mykal Walker, Fresno State
Round 4 (134): S Jaylinn Hawkins, Cal
Round 7 (228): P Sterling Hofrichter, Syracuse
Then: B
Now: C+
A.J. Terrell's struggles last year were not unique to him compared to the rest of the rookie cornerback class. I'd expect Terrell to take a big jump in Year 2. The disastrous starts for Marlon Davidson, who couldn't stay healthy, and Matt Hennessy, who was not ready to pass block at the NFL level, drag this grade down.
Round 1 (28): LB Patrick Queen, LSU
Round 2 (55): RB J.K. Dobbins, Ohio State
Round 3 (71): DI Justin Madubuike, Texas A&M
Round 3 (92): WR Devin Duvernay, Texas
Round 3 (98): LB Malik Harrison, Ohio State
Round 3 (106): IOL Tyre Phillips, Mississippi State
Round 4 (143): IOL Ben Bredeson, Michigan
Round 5 (170): DI Broderick Washington, Texas Tech
Round 6 (201): WR James Proche, SMU
Round 7 (219): S Geno Stone, Iowa
Then: B
Now: B
Dobbins, after averaging 3.4 yards after contact and 5.8 yards per carry as a rookie, showed that he just needs more opportunities going forward. Patrick Queen is the one keeping this grade at a B, however, after a very inconsistent rookie campaign that saw him earn a 29.7 overall grade. He still racked up 38 stops in the regular season, so we saw his playmaking potential at times. Now he needs to cut out the bad on tape.
Round 2 (54): EDGE A.J. Epenesa, Iowa
Round 3 (86): RB Zack Moss, Utah
Round 4 (128): WR Gabriel Davis, UCF
Round 5 (167): QB Jake Fromm, Georgia
Round 6 (188): K Tyler Bass, Georgia Southern
Round 6 (207): WR Isaiah Hodgins, Oregon State
Round 7 (239): CB Dane Jackson, Pittsburgh
Then: A-
Now: B-
While there were signs of promise from each of the Bills' top three picks, I'm not sure any established themselves as quality starters yet. Epenesa showed encouraging signs down the stretch and finished with a 67.4 pass-rushing grade, but he may not be in line for much of a role increase with the log-jam created by the Bills drafting two defensive ends in the first two rounds of the 2021 NFL Draft.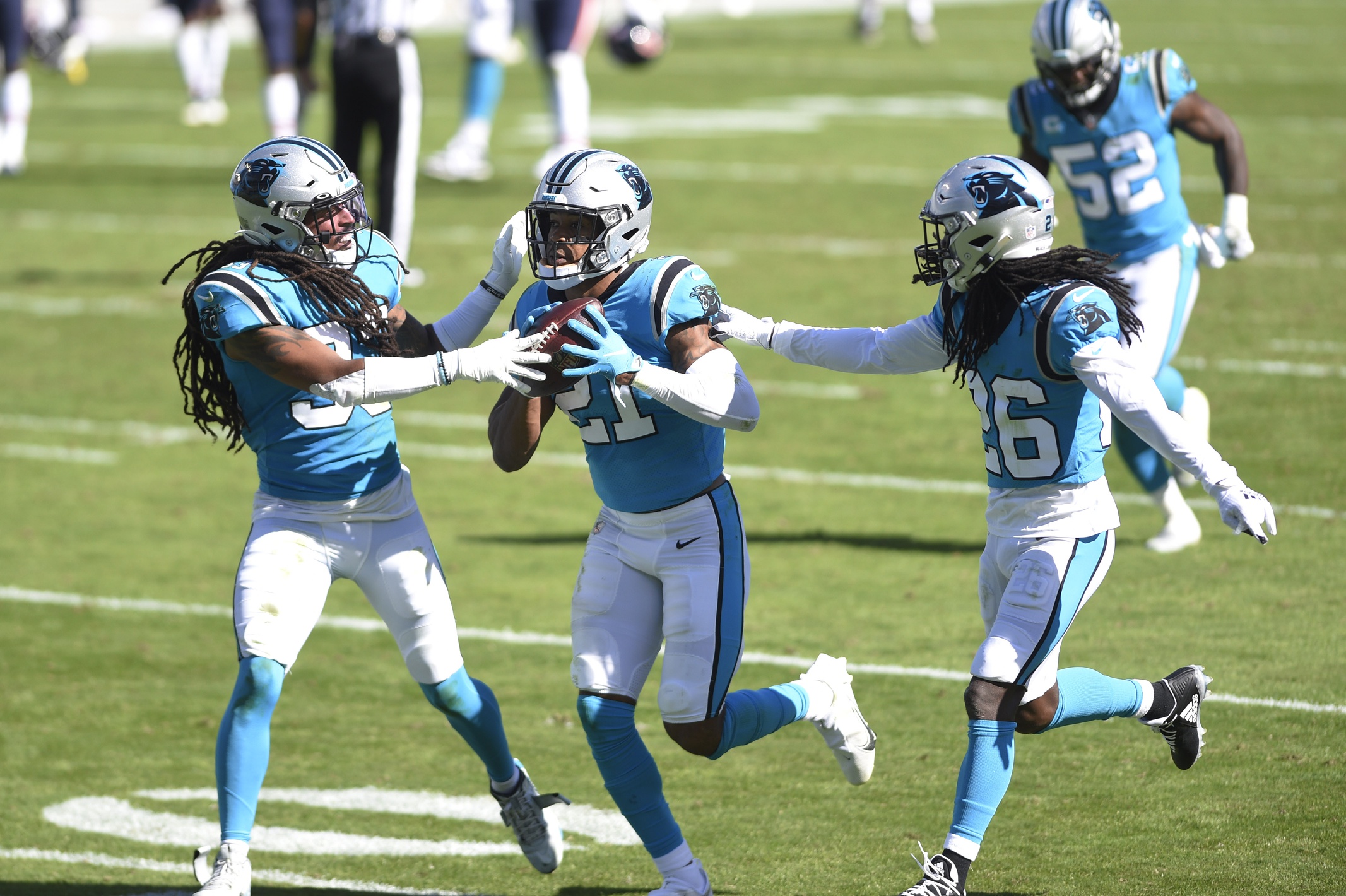 Round 1 (7): DI Derrick Brown, Auburn
Round 2 (38): Edge Yetur Gross-Matos, Penn State
Round 2 (64): S Jeremy Chinn, SIU
Round 4 (113): CB Troy Pride Jr., Notre Dame
Round 5 (152): S Kenny Robinson Jr., WVU*
Round 6 (184): DI Bravvion Roy, Baylor
Round 7 (221): CB Stantley Thomas-Oliver III, FIU
Then: B
Now: A-
Nabbing Chinn at the end of the second round is what bumps up the Panthers' grade. Despite a mild missed tackle problem as a rookie, he showed out as a playmaker. Chinn racked up 30 stops and a 64.4 coverage grade on the season.
Round 2 (43): TE Cole Kmet, Notre Dame
Round 2 (50): CB Jaylon Johnson, Utah
Round 5 (155): Edge Trevis Gipson, Tulsa
Round 5 (163): CB Kindle Vildor, Georgia Southern
Round 5 (173): WR Darnell Mooney, Tulane
Round 7 (226): T Arlington Hambright, Colorado
Round 7 (227): IOL Lachavious Simmons, Tennessee State
Then: B+
Now: B
The Cole Kmet pick isn't looking any better after he notched only 243 yards in his rookie season. The pick worth highlighting is Darnell Mooney, who was scintillating as a rookie. He racked up 631 yards, and that was with plenty of inaccurate balls coming his way in Chicago.
Round 1 (1): QB Joe Burrow, LSU
Round 2 (33): WR Tee Higgins, Clemson
Round 3 (65): LB Logan Wilson, Wyoming
Round 4 (107): LB Akeem Davis-Gaither, App State
Round 5 (147): Edge Khalid Kareem, Notre Dame
Round 6 (180): T Hakeem Adeniji, Kansas
Round 7 (215): LB Markus Bailey, Purdue
Then: A
Now: A
Joe Burrow was as advertised but just didn't have much help in the way of protection. And Tee Higgins was better than advertised. He racked uo 908 yards in essentially only 14 games.
Round 1 (10): T Jedrick Wills, Alabama
Round 2 (44): S Grant Delpit, LSU
Round 3 (88): DI Jordan Elliott, Missouri
Round 3 (97): LB Jacob Phillips, LSU
Round 4 (115): TE Harrison Bryant, FAU
Round 5 (160): IOL Nick Harris, Washington
Round 6 (187): WR Donovan Peoples-Jones, Michigan
Then: A+
Now: A
Grant Delpit tearing his Achilles is the only thing likely keeping this class from staying at an A-plus grade. Jedrick Wills had a terrific rookie campaign and earned a 77.6 pass-blocking grade. That was more NFL-ready than even I had predicted. Fourth-rounder Harrison Bryant was easily the top rookie tight end, as he went for 238 yards on the year.
Round 1 (17): WR CeeDee Lamb, Oklahoma
Round 2 (51): CB Trevon Diggs, Alabama
Round 3 (82): DI Neville Gallimore, Oklahoma
Round 4 (123): CB Reggie Robinson, Tulsa
Round 4 (146): IOL Tyler Biadasz, Wisconsin
Round 5 (179): Edge Bradlee Anae, Utah
Round 7 (231): QB Ben DiNucci, James Madison
Then: A+
Now: A
Everyone knows CeeDee Lamb is about to be a star once Dak Prescott returns. Diggs, meanwhile, got a bad rap early on, but it looked unfair by the season's end. Over his last six games, Diggs earned an 83.4 coverage grade. Center Tyler Biadasz was also far from a liability as a rookie and is penciled in as the starter heading into this year.
Round 1 (15): WR Jerry Jeudy, Alabama
Round 2 (46): WR K.J. Hamler, Penn State
Round 3 (77): CB Michael Ojemudia, Iowa
Round 3 (83): C Lloyd Cushenberry III, LSU
Round 3 (95): DI McTelvin Agim, Arkansas
Round 4 (118): TE Albert Okwuegbunam, Missouri
Round 5 (178): LB Justin Strnad, Wake Forest
Round 6 (181): IOL Netane Muti, Fresno State
Round 7 (252): WR Tyrie Cleveland, Florida
Round 7 (254): Edge Derrek Tuszka, NDSU
Then: A+
Now: A-
It was difficult to truly evaluate both Jerry Jeudy and K.J. Hamler as rookies with the quarterback situation in Denver. Poor play from third-rounders Michael Ojemudia and Lloyd Cushenberry drag this grade down a tad, too. Both may even lose their starting spots this upcoming season after the Broncos drafted Patrick Surtain II and Quinn Meinerz at cornerback and center, respectively.
Round 1 (3): CB Jeffrey Okudah, Ohio State
Round 2 (35): RB D'Andre Swift, Georgia
Round 3 (67): EDGE Julian Okwara, Notre Dame
Round 3 (75): G Jonah Jackson, Ohio State
Round 4 (121): G Logan Stenberg, Kentucky
Round 5 (166): WR Quintez Cephus, Wisconsin
Round 5 (172): RB Jason Huntley, New Mexico State
Round 6 (197): DI John Penisini, Utah
Round 7 (235): DI Jashon Cornell, Ohio State
Then: A
Now: C+
The Lions' draft grade had easily the biggest fall from grace from last year. We are not writing off this Detroit draft class by any means, however. Jonah Jackson showed signs of life in pass protection and finished with a 61.5 pass-blocking grade, while D'Andre Swift produced pretty much whenever given ample opportunity. Jeffrey Okudah should see a massive uptick in performance now that Matt Patricia is out as head coach.
Round 1 (26): QB Jordan Love, Utah State
Round 2 (62): RB A.J. Dillon, Boston College
Round 3 (94): TE Josiah Deguara, Cincinnati
Round 5 (175): LB Kamal Martin, Minnesota
Round 6 (192): OT Jon Runyan, Michigan
Round 6 (208): IOL Jake Hanson, Oregon
Round 6 (209): IOL Simon Stepaniak, Indiana
Round 7 (236): DB Vernon Scott, TCU
Round 7 (242): Edge Jonathan Garvin, Miami (Fla.)
Then: D
Now: D-
This draft class may have even longer-lasting ramifications than initially thought. Not only did none of the Packers' three top-100 picks make any sort of impact in the playoffs en route to yet another NFC title game loss, but their first-round pick may ultimately push the reigning MVP out of Green Bay. While Kamal Martin and Jon Runyan look like value Day 3 picks, the damage has already been done.
Round 2 (40): DI Ross Blacklock, TCU
Round 3 (90): EDGE Jonathan Greenard, Florida
Round 4 (126): OT Charlie Heck, UNC
Round 4 (141): CB John Reid, Penn State
Round 5 (171): WR Isaiah Coulter, Rhode Island
Then: C+
Now: C-
This draft class looked bleak at the time, and that hasn't changed one bit, as Ross Blacklock earned only a 30.2 overall grade as a rookie. The Texans may very well get no starters from this group.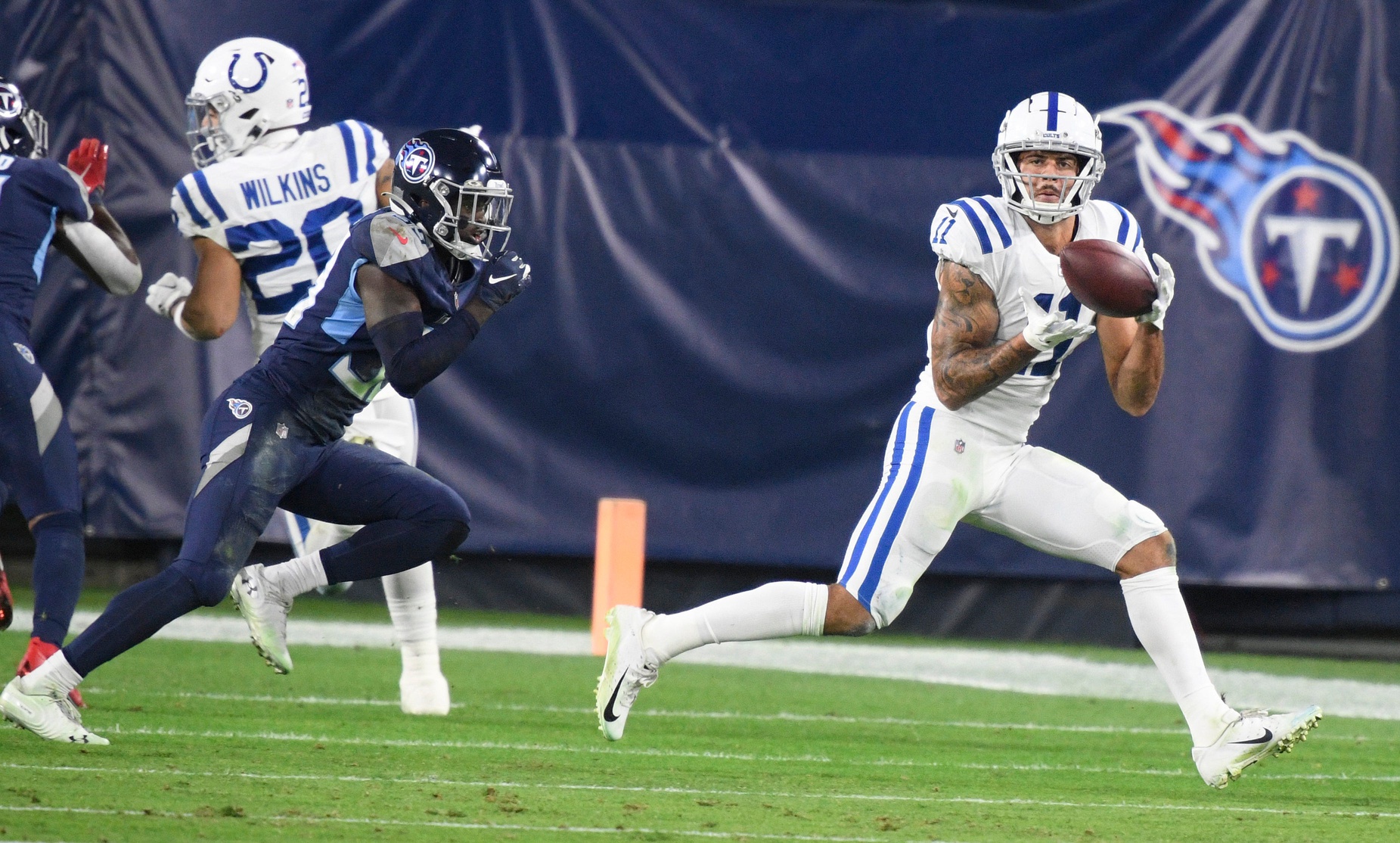 Round 2 (34): WR Michael Pittman Jr., USC
Round 2 (41): RB Jonathan Taylor, Wisconsin
Round 3 (85): S Julian Blackmon, Utah
Round 4 (122): QB Jacob Eason, Washington
Round 5 (149): IOL Danny Pinter, Ball State
Round 6 (193): DI Robert Windsor, Penn State
Round 6 (211): CB Isaiah Rodgers, UMass
Round 6 (212): WR Dezmon Patmon, Washington State
Round 6 (213): LB Jordan Glasgow, Michigan
Then: B
Now: B
Taylor was thought of as the best pure runner in the 2020 class, and that came to fruition down the stretch his rookie year, as he finished in the top three in rushing yards. Michael Pittman Jr. didn't quite fire off as hot out of the gate, however. He averaged only 1.44 yards per route in a ho-hum rookie campaign. He'll have to improve in Year 2.
Round 1 (9): CB C.J. Henderson, Florida
Round 1 (20): EDGE K'Lavon Chaisson, LSU
Round 2 (42): WR Laviska Shenault Jr., Colorado
Round 3 (73): DI Davon Hamilton, Ohio State
Round 4 (116): OT Ben Bartch, St. John's
Round 4 (137): CB Josiah Scott, Michigan State
Round 4 (140): LB Shaquille Quarterman, Miami (Fla.)
Round 5 (157): S Daniel Thomas, Auburn
Round 5 (165): WR Collin Johnson, Texas
Round 6 (189): QB Jake Luton, Oregon State
Round 6 (206): TE Tyler Davis, Georgia Tech
Round 7 (223): CB Chris Claybrooks, Memphis
Then: A
Now: A-
The Jaguars took a lot of swings for the fences in last year's draft, so it's not unsurprising to see up-and-down returns from their first three selections. All showed enough promise to warrant our pre-draft opinions of them, but none can necessarily be considered a solid hit just yet.
Round 1 (32): RB Clyde Edwards-Helaire, LSU
Round 2 (63): LB Willie Gay Jr., Mississippi State
Round 3 (96): OT Lucas Niang, TCU
Round 4 (138): CB L'Jarius Sneed, LA Tech
Round 5 (177): Edge Michael Danna, Michigan
Round 7 (238): CB Thakarius Keyes, Tulane
Then: B-
Now: B
While the Chiefs' first two picks had non-descript rookie years and Lucas Niang opted out, L'Jarius Sneed bumps this grade up a touch as one of the steals of the draft. He finished as the highest-graded rookie corner — and he did it both outside and from the slot.
Round 1 (12): WR Henry Ruggs III, Alabama
Round 1 (19): CB Damon Arnette, Ohio State
Round 3 (80): RB Lynn Bowden Jr., Kentucky
Round 3 (81): WR Bryan Edwards, South Carolina
Round 3 (100): S/LB Tanner Muse, Clemson
Round 4 (109): IOL John Simpson, Clemson
Round 4 (139): CB Amik Robertson, LA Tech
Then: C
Now: C
Las Vegas was blessed with five top-100 picks, but not a single one can be dubbed a quality starter yet. That's a tough start. Raiders fans have to hope that Henry Ruggs III fills the role left by Nelson Agholor and then some after averaging only 1.32 yards per route as a rookie.
Round 1 (6): QB Justin Herbert, Oregon
Round 1 (23): LB Kenneth Murray, Oklahoma
Round 4 (112): RB Joshua Kelley, UCLA
Round 5 (151): WR Joe Reed, Virginia
Round 6 (186): S Alohi Gilman, Notre Dame
Round 7 (220): WR K.J. Hill, Ohio State
Then: C-
Now: A
The Chargers are the single biggest riser, and we all know why. Justin Herbert outperformed pretty much any optimist's expectations in Year 1, earning a 79.9 overall grade behind the league's 32nd-ranked offensive line. That's special. Kenneth Murray didn't play exceptionally well, generating a 54.4 overall grade, and Los Angeles didn't get many other contributions, but that doesn't matter when you hit on the league's most valuable position.
Round 2 (52): RB Cam Akers, Florida State
Round 2 (57): WR Van Jefferson, Florida
Round 3 (84): EDGE Terrell Lewis, Alabama
Round 3 (104): S Terrell Burgess, Utah
Round 4 (136): TE Brycen Hopkins, Purdue
Round 6 (199): S Jordan Fuller, Ohio State
Round 7 (234): LB Clay Johnston, Baylor
Round 7 (248): K Sam Sloman, Miami (Ohio)
Round 7 (250): OT Tremayne Anchrum, Clemson
Then: C
Now: B-
There wasn't a ton to write home about from the Rams' rookie class, as they still want to see more from their top picks, but the play of Jordan Fuller certainly qualifies. He earned a 65.6 overall grade on 844 snaps with three picks and two pass breakups. He looks like he'll be a mainstay in the starting lineup out for Los Angeles — a massive win for a sixth-rounder.
Round 1 (5): QB Tua Tagovailoa, Alabama
Round 1 (18): T Austin Jackson, USC
Round 1 (30): CB Noah Igbinoghene, Auburn
Round 2 (39): IOL Robert Hunt, Louisiana
Round 2 (56): DI Raekwon Davis, Alabama
Round 3 (70): S Brandon Jones, Texas
Round 4 (111): IOL Solomon Kindley, Georgia
Round 5 (154): DI Jason Strowbridge, UNC
Round 5 (164): Edge Curtis Weaver, Boise State
Round 6 (185): LS Blake Ferguson, LSU
Round 7 (246): QB/WR Malcolm Perry, Navy
Then: A-
Now: B
While much of the talk has obviously been about Tua Tagovailoa in Miami, he's actually the rookie first-rounder I'm least worried about making a jump in Year 2. Austin Jackson and Noah Igbinoghene were both drafted as 20-year-olds, but their 52.3 and 37.1 grades, respectively, were concerning.
Round 1 (22): WR Justin Jefferson, LSU
Round 1 (31): CB Jeff Gladney, TCU
Round 2 (58): T Ezra Cleveland, Boise State
Round 3 (89): CB Cameron Dantzler, Mississippi State
Round 4 (117): Edge D.J. Wonnum, South Carolina
Round 4 (130): Edge James Lynch, Baylor
Round 4 (132): LB Troy Dye, Oregon
Round 5 (169): CB Harrison Hand, Temple
Round 5 (176): WR K.J. Osborn, Miami (Fla.)
Round 6 (203): T Blake Brandel, Oregon State
Round 6 (205): S Josh Metellus, Michigan
Round 7 (225): Edge Kenny Willekes, Michigan State
Round 7 (244): QB Nate Stanley, Iowa
Round 7 (249): S Brian Cole II, Mississippi State
Round 7 (253): IOL Kyle Hinton, Washburn
Then: A
Now: A+
While the Jeff Gladney pick is up in smoke at this point, the Vikings may have come away with three quality starters in the first three rounds. Justin Jefferson is obvious after breaking the rookie receiving record, but Cameron Dantzler was quietly the second-highest-graded rookie corner after a strong second half of the season.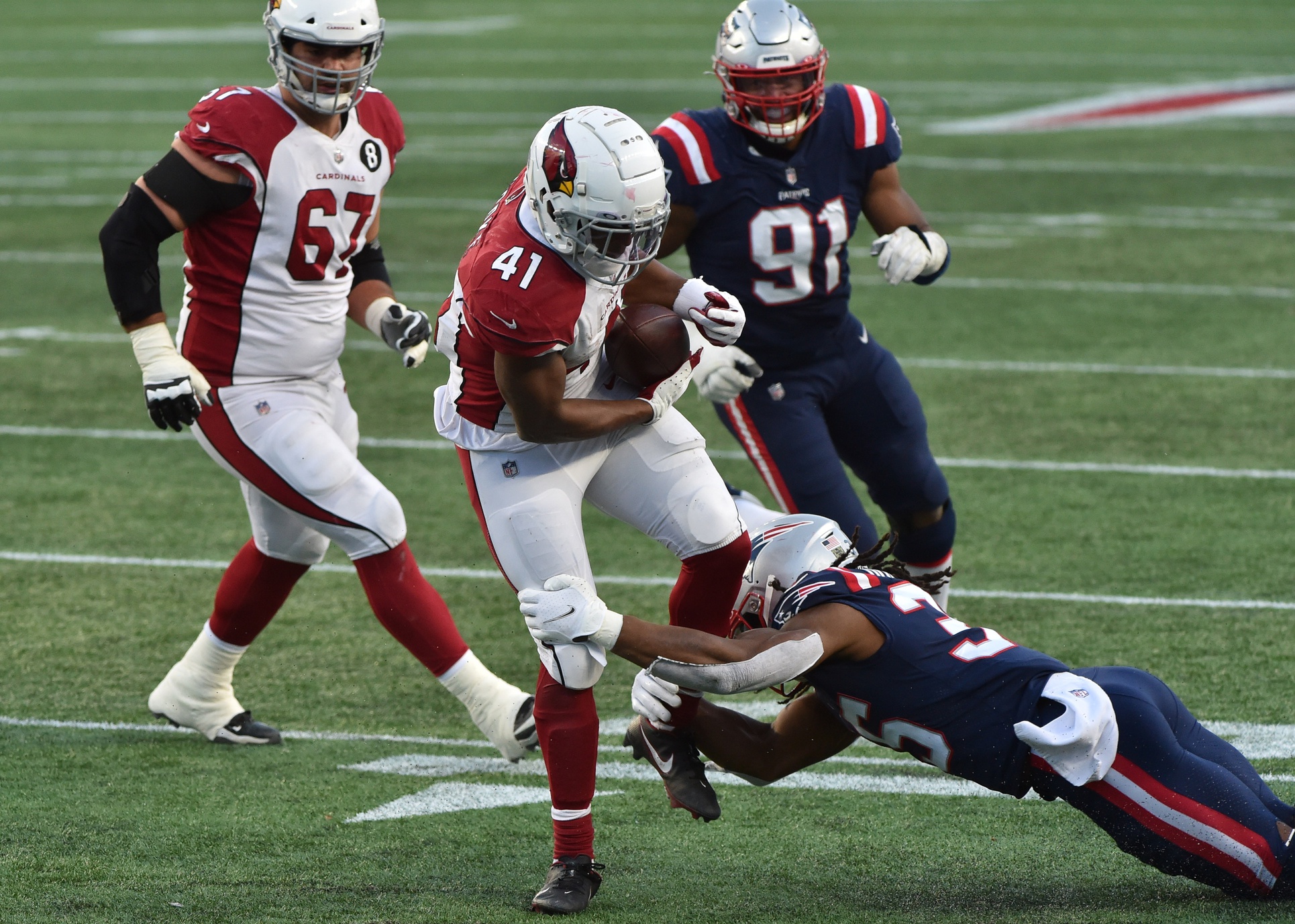 Round 2 (37): S Kyle Dugger, Lenoir-Rhyne
Round 2 (60): EDGE Josh Uche, Michigan
Round 3 (87): EDGE Anfernee Jennings, Alabama
Round 3 (91): TE Devin Asiasi, UCLA
Round 3 (101): TE Dalton Keene, Virginia Tech
Round 5 (159): K Justin Rohrwasser, Marshall
Round 6 (182): IOL Michael Onwenu, Michigan
Round 6 (195): OT Justin Herron, Wake Forest
Round 6 (204): LB Cassh Maluia, Wyoming
Round 7 (230): IOL Dustin Woodard, Memphis
Then: B
Now: B+
While the two third-round tight ends looked bad then, they look even worse now after being replaced by Hunter Henry and Jonnu Smith this offseason. The saving grace for this draft is sixth-rounder Michael Onwenu, who was easily one of the steals of the draft. He was one of the highest-graded linemen in all the NFL, not just among rookies, after an 84.3 overall grade between guard and tackle.
Round 1 (24): IOL Cesar Ruiz, Michigan
Round 3 (74): LB Zack Baun, Wisconsin
Round 3 (105): TE Adam Trautman, Dayton
Round 7 (240): QB Tommy Stevens, Mississippi State
Then: B
Now: B-
Giving the Saints a B-minus might even be a little generous. While I liked Ruiz and Baun as prospects and still believe both will be good players (hence the B-minus), neither made any sort of impact in 2020 for a team that was all-in on last season. It was a bit of an odd draft for the Saints, who didn't prioritize NFL-ready, impact-type players.
Round 1 (4): T Andrew Thomas, Georgia
Round 2 (36): S Xavier McKinney, Alabama
Round 3 (99): T Matt Peart, Connecticut
Round 4 (110): CB Darnay Holmes, UCLA
Round 5 (150): IOL Shane Lemieux, Oregon
Round 6 (183): LB Cam Brown, Penn State
Round 7 (218): Edge Carter Coughlin, Minnesota
Round 7 (238): LB T.J. Brunson, South Carolina
Round 7 (247): CB Chris Williamson, Minnesota
Round 7 (255): LB Tae Crowder, Georgia
Then: A
Now: B
We might be thinking of this class differently had Xavier McKinney played a full season, as he looked like an impact player the final four games of 2020 once he got healthy. That being said, the struggles of the rookie offensive linemen can't be overlooked. It's not a position that usually has a quick learning curve, but of the top four offensive tackles who were drafted last season, Thomas comfortably ranked fourth.
Round 1 (11): T Mekhi Becton, Louisville
Round 2 (59): WR Denzel Mims, Baylor
Round 3 (68): S Ashtyn Davis, California
Round 3 (79): EDGE Jabari Zuniga, Florida
Round 4 (120): RB La'Mical Perine, Florida
Round 4 (125): QB James Morgan, FIU
Round 4 (129): OT Cameron Clark, Charlotte
Round 5 (158): CB Bryce Hall, Virginia
Round 6 (191): P Braden Mann, Texas A&M
Then: B+
Now: A
While the jets' Day 2 picks from 2020 are still largely to be determined, Mekhi Becton is already a force at left tackle after posting a 76.0 pass-blocking grade as a rookie. The wild card here is Bryce Hall, who is a perfect scheme fit for Robert Saleh's defense and made some plays down the stretch last season.
Round 1 (21): WR Jalen Reagor, TCU
Round 2 (53): QB Jalen Hurts, Oklahoma
Round 3 (103): LB Davion Taylor, Colorado
Round 4 (127): CB K'Von Wallace, Clemson
Round 4 (145): OT Jack Driscoll, Auburn
Round 5 (168): WR John Hightower, Boise State
Round 6 (196): LB Shaun Bradley, Temple
Round 6 (200): WR Quez Watkins, Southern Mississippi
Round 6 (210): OT Prince Tega Wanogho, Auburn
Round 7 (233): Edge Casey Toohill, Stanford
Then: A-
Now: B-
Trying to evaluate Jalen Reagor as a rookie with Carson Wentz throwing him the football was … difficult. The jury is still out on that one. While Jalen Hurts was an upgrade from Wentz, he still has a ways to go as a passer. The biggest positive from the rookie class comes from fourth-rounder Jack Driscoll, who filled in admirably with a 69.7 pass-blocking grade on 300 snaps at tackle.
Round 2 (49): WR Chase Claypool, Notre Dame
Round 3 (102): EDGE Alex Highsmith, Charlotte
Round 4 (124): RB Anthony McFarland Jr., Maryland
Round 4 (135): IOL Kevin Dotson, Louisiana
Round 6 (198): S Antoine Brooks Jr., Maryland
Round 7 (232): DI Carlos Davis, Nebraska
Then: B-
Now: A
While it didn't look like much at the time, the Steelers may have netted themselves three quality starters despite owning only one top-100 pick in 2020. That's one hell of a draft. While everyone knows about Chase Claypool by now, Alex Highsmith needs more publicity after putting up 17 pressures in his final five regular-season games after taking over for Bud Dupree. Finally, left guard Kevin Dotson quietly allowed only one pressure on 219 pass-blocking snaps.
Round 1 (14): DI Javon Kinlaw, South Carolina
Round 1 (25): WR Brandon Aiyuk, Arizona State
Round 5 (153): OT Colton McKivitz, West Virginia
Round 6 (190): TE Charlie Woerner, Georgia
Round 7 (217): WR Jauan Jennings, Tennessee
Then: B+
Now: B+
Brandon Aiyuk hit the ground running with 583 yards over his final seven games in 2020, and that was without Jimmy Garoppolo throwing him the rock. The same cannot be said for Javon Kinlaw. He showed flashes but finished with only a 54.1 overall grade.
Round 1 (27): LB Jordyn Brooks, Texas Tech
Round 2 (48): EDGE Darrell Taylor, Tennessee
Round 3 (69): IOL Damien Lewis, LSU
Round 4 (133): TE Colby Parkinson, Stanford
Round 4 (144): RB DeeJay Dallas, Miami Fla.
Round 5 (148): Edge Alton Robinson, Syracuse
Round 6 (214): WR Freddie Swain, Florida
Round 7 (251): TE Stephen Sullivan, LSU
Then: C-
Now: C
The jury is still out on Jordyn Brooks and Darrell Taylor, but we viewed both as reaches at the time. Damien Lewis at least carried his weight as a third-rounder with an 83.5 run-blocking grade. The interesting player to keep an eye on is the once-highly thought of Alton Robinson, whose ineffectiveness as a senior saw him fall to the fifth round. He earned a respectable 67.7 overall grade on 344 snaps and has shown more signs of life than L.J. Collier.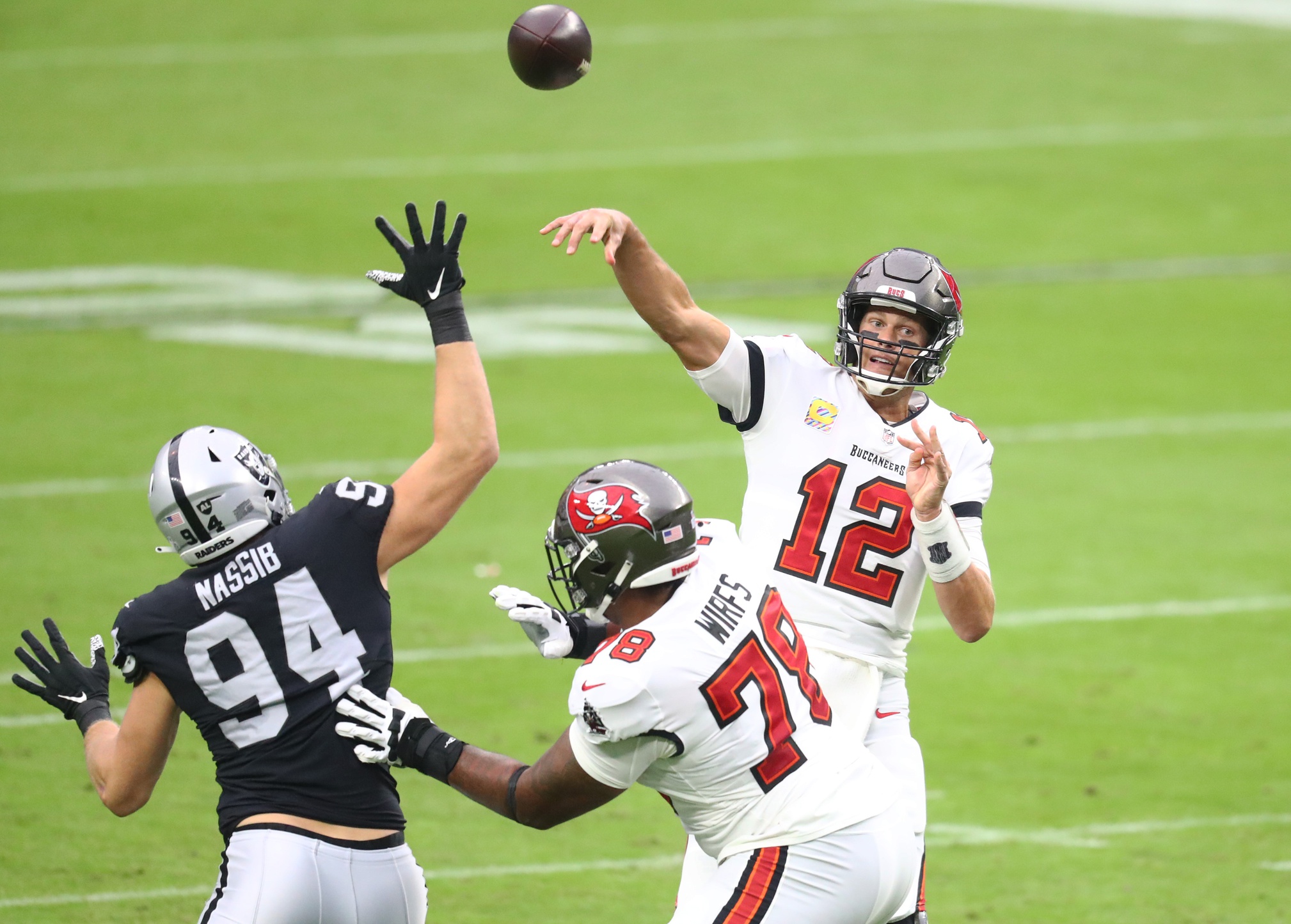 Round 1 (13): T Tristan Wirfs, Iowa
Round 2 (45): S Antoine Winfield Jr., Minnesota
Round 3 (76): RB Ke'Shawn Vaughn, Vanderbilt
Round 5 (161): WR Tyler Johnson, Minnesota
Round 6 (194): DI Khalil Davis, Nebraska
Round 7 (241): LB Chapelle Russell, Temple
Round 7 (245): RB Raymond Calais, Louisiana
Then: A-
Now: A+
Wirfs was already a top-five right tackle in the NFL as a rookie, while Winfield proved to already be a playmaking safety. When those are your first two picks, it was a slam-dunk draft. Add in receiver Tyler Johnson, who flashed with three broken tackles on 12 catches, and it's just icing on the cake.
Round 1 (29): T Isaiah Wilson, Georgia
Round 2 (61): CB Kristian Fulton, LSU
Round 3 (93): RB Darrynton Evans, App State
Round 5 (174): Edge Larrell Murchison, NC State
Round 7 (224): QB Cole McDonald, Hawaii
Round 7 (243): CB Chris Jackson, Marshall
Then: C+
Now: C-
You can't draft the single biggest bust of the first round and expect a good grade. As much as we liked Kristian Fulton coming out, he struggled to crack the lineup, seeing only 209 snaps as a rookie, and may struggle again after the Titans added Janoris Jenkins, Caleb Farley and Elijah Molden this offseason.
Round 1 (2): EDGE Chase Young, Ohio State
Round 3 (66): RB Antonio Gibson, Memphis
Round 4 (108): OT Saahdiq Charles, LSU
Round 4 (142): WR Antonio Gandy-Golden, Liberty
Round 5 (156): IOL Keith Ismael, San Diego State
Round 5 (162): LB Khaleke Hudson, Michigan
Round 7 (216): S Kamren Curl, Arkansas
Round 7 (229): Edge James Smith-Williams, NC State
Then: B
Now: A-
Chase Young and Antonio Gibson were as advertised in their scintillating rookie campaigns, but it was the Kam Curl selection in the seventh round that gives this a nice bump. He earned a 69.5 coverage grade on the year and was solid as can be as a starter over the second half of the season.