Wild Card weekend is here. Keep your head on a swivel and prepare accordingly.
Today's goal: highlight every remaining team's most explosive playmaker. This will be accomplished by ranking the big-play ability of every remaining skill-position talent. I crafted the following formula to at least give us a baseline idea of each player's explosiveness and ability to create big plays:
Playmaker rate: ((15 yard rushes * 3) + (20 yard receptions * 3) + (TDs * 6) + (forced missed tackles)) / (targets + rush attempts)
Click here for more PFF tools:
Rankings & Projections | WR/CB Matchup Chart | NFL & NCAA Betting Dashboards | NFL Player Props Tool | NFL & NCAA Power Rankings | Best Bets Tool
---
Limitations of the formula include the lack of passing metrics or quarterback inclusion (sorry Josh Allen and Kyler Murray), kick/punt return touchdowns counting without those touches being included (there were only 20 return scores anyway), and the reality that certain players are schematically utilized in more big-play-friendly roles.
The top overall players in total "Playmaker points" this season were Jonathan Taylor, Cooper Kupp, Deebo Samuel, Austin Ekeler, James Conner and Najee Harris, although their respective large workloads that featured plenty of ho-hum carries limited their "Playmaker rate." I'll consider both factors in the following ranks but will ultimately lean toward those who have produced big-plays at a more efficient rate compared to those who have benefited from immense volume.
Every team's most explosive playmaker in the 2021-22 playoffs is listed below and also includes an honorable mention.
AJB was banged up for much of 2021, but that didn't stop him from racking up 10 catches of 20-plus yards, five scores and seven forced missed tackles on his 63 receptions. The third-year receiver has functioned as one of the position's most efficient talents ever since entering the league:
2021: 2.5 yards per route run (No. 8 among all wide receivers with 50-plus targets)

2020: 2.65 (No. 3)

2019: 2.67 (No. 3)
The largest issue in Brown's way continues to be volume; he had six or fewer targets in four of his 13 games last season. Still, the Titans' passing game is clearly at another level with their stud No. 1 receiver healthy; Brown is seemingly capable of finding the end zone from just about anywhere on the field once he gets the ball in his hands.
Honorable mention: RB Derrick Henry. Henry surprisingly only ranked 34th in playmaker rate among all running backs with at least 50 touches, but we all know the big dog is always just one touch away from taking it to the house. It's not hard to see the impact that losing Henry had on this offense.
| | | | |
| --- | --- | --- | --- |
| EPA/Play | Overall | Pass | Run |
| With Henry | 0.037 (No. 8) | 0.071 (No. 15) | -0.003 (No. 2) |
| Without Henry | -0.076 (No. 19) | -0.013 (No. 17) | -0.143 (No. 25) |
Adams racked up 19 catches of 20-plus yards and 11 scores on his 123 receptions this season, generally proving capable of dominating from just about anywhere on the field. He's been on quite the heater since the clock struck 2020, racking up an asinine 33 touchdowns in his last 34 games.
Perhaps the most impressive part about Adams' game is the reality that defenses usually know what's coming and still can't stop it. Overall, Adams has caught seven of 11 targets for 153 yards and a pair of scores when facing double-teams over the past two seasons, averaging an asinine 4.37 yards per route run along the way.
Honorable mention: RB Aaron Jones. Jones averaged a forced missed tackle every 0.22 touches this season — the 10th-highest mark among all running backs with at least 150 touches this season. Only Derrick Henry (4) has a longer streak of season with at least 10 touchdowns than Jones (3).

I get it: Ranking Kelce ahead of Hill as a pure playmaker seems ludicrous. And yet, it's tough to deny who made the most out of their receiving opportunities in 2021:
Receptions: Hill (111), Kelce (92)

20-plus yard catches: Hill (13), Kelce (13)

Receiving touchdowns: Hill (9), Kelce (9)

Missed tackles forced as a receiver: Hill (12), Kelce (19)
Look no further than Kelce's 10-191-2 explosion against the Chargers to see what he's capable of achieving at full strength. Hill (12-148-1) was plenty spectacular that game, too, but Kelce gets the nod here thanks to his superior playmaker rate — both men tied with exactly 118 playmaker points on the season.
Honorable mention: WR Tyreek Hill. Hill's 111-1239-9 campaign almost felt like a disappointment; that's how high the ceiling is for Patrick Mahomes' No. 1 wide receiver. Ultimately, he's surpassed 1,200 receiving yards and scored at least nine touchdowns in three seasons playing 12-plus games with Mahomes under center. Not a bad floor.
The top-five playmaker rate leaderboard among 153 players with at least 50 touches:
That's right: Tom Brady enabled two of the top-three highest-scoring playmakers in the NFL on a per-touch basis. This is basically just a continuation of last year for Evans: The man has scored 29 touchdowns in 36 games with TB12 as his quarterback. He'll need to be more dominant than ever down the 2022 playoff stretch to make up for the absence of both Chris Godwin (ACL, IR) and Antonio Brown (AB things).
Honorable mention: TE Rob Gronkowski. Gronk racked up a trio of multi-touchdown games and 100-yard performances in 2021. The 32-year-old future Hall of Famer is far from washed and truly playing better than he has in years:
2021: 2.09 yards per route run

2020: 1.54

2018: 1.69

2017: 2.4

2016: 2.98

2015: 2.23

2014: 2.4

2013: 2.74

2012: 2.35

2011: 2.41

2010: 1.97
Diggs scored more touchdowns in 2021 (10) than he did in 2020 (8) despite not posting the same sort of gaudy catch (103 vs. 127) and yardage (1,225 vs. 1,535) numbers. He does deserve credit for working as one of just eight receivers to force more than 15 missed tackles as a receiver.
The somewhat surprising part of Diggs' production this season was the reality that all 10 of his scores came inside the 20-yard line. We've seen more than enough evidence over the years to know Diggs is among the league's most dangerous field-stretchers, particularly with a quarterback like Josh Allen who possesses limitless arm strength. Don't be surprised if the 2021 regular season was just an appetizer for what's to come in the postseason — if the Buffalo weather can maybe just chill out a tad.
Honorable mention: WR Gabriel Davis. Davis joins Mike Evans as the only two players in the league to average at least 2.0 playmaker points per touch (min. 25 touches). All in all, the talented second-year receiver racked up 13 catches of 20-plus yards and six scores on his 35 receptions; he could be a fantasy star in 2022 if the Bills decide to move on from Emmanuel Sanders.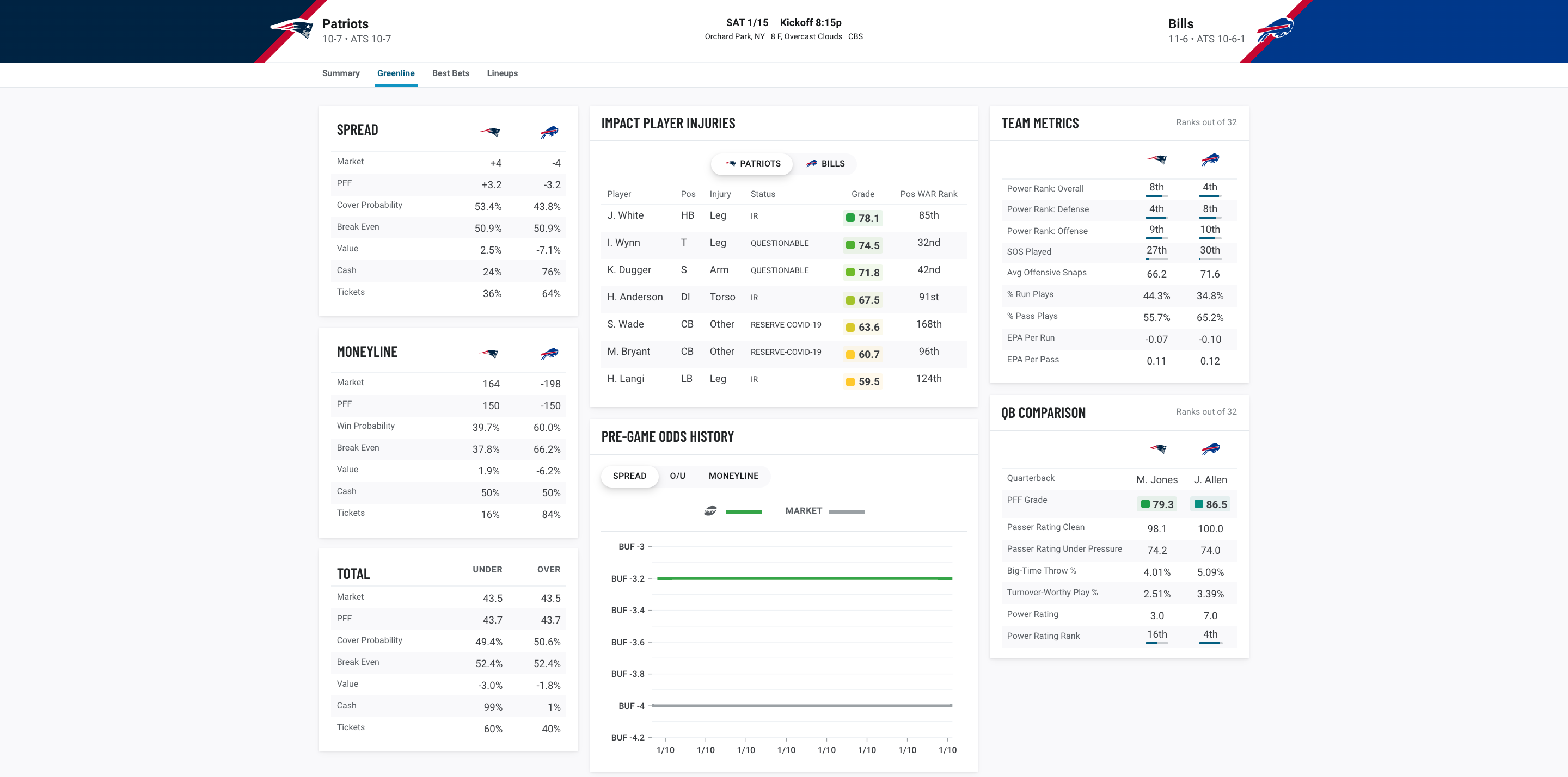 Lamb is actually second on the Cowboys in playmaker rate but gets the nod over our runner-up due to his superior overall portfolio and eye test. The fact that Lamb was the Cowboys' most healthy wide receiver for most of the season further helps matters; either way, he clearly provided more juice after the catch than either Amari Cooper or Michael Gallup even while working with a similar average target depth.
Lamb: 10.9 yard aDOT, 5.5 yards after the catch per reception, 19 forced missed tackles 

Cooper: 12.0 yard aDOT, 3.3 yards after the catch per reception, 10 forced missed tackles

Gallup: 12.2 yard aDOT, 3.6 yards after the catch per reception, 10 forced missed tackles
Honorable mention: RB Tony Pollard. Pollard ranks lower than expected in this study due to him only finding the end zone twice, but it's not hard to imagine a scenario where he managed to surge to the top of this list had he not been out-carried 12-2 by Ezekiel Elliott inside the 5-yard line. Ultimately, Pollard was one of the league's single-most impressive running backs based on yards after contact and missed tackles forced per carry.
Running back yards after contact per carry and missed tackles forced per carry (min. 100 carries, PFF) pic.twitter.com/RoPO5zcEOM

— Ian Hartitz (@Ihartitz) January 10, 2022
Chase trails only Mike Evans in overall playmaker rate. Look no further than his 11-266-3 destruction of the Chiefs in Week 17 for examples on why the rookie is the next big thing at the wide receiver position.
???????????? pic.twitter.com/flXBTHiBz4

— Ian Hartitz (@Ihartitz) January 3, 2022
It's not surprising to see Chase near the top of the leaderboard when it comes to 20-plus yard receptions; the man is already in the conversation for the scariest downfield receiver in the NFL.
Honorable mention: WR Tee Higgins. Higgins' 74-1091-6 campaign in 14 games was simply overshadowed by Chase's excellence, but keep in mind that the soon-to-be 23-year-old talent was plenty special himself in 2021. He largely didn't miss with even a decent workload, racking up 12-194-2, 9-138-1, 7-62-0, 6-114-1, 6-78-0 and 6-60-1 receiving lines in his only six games all season with eight or more targets.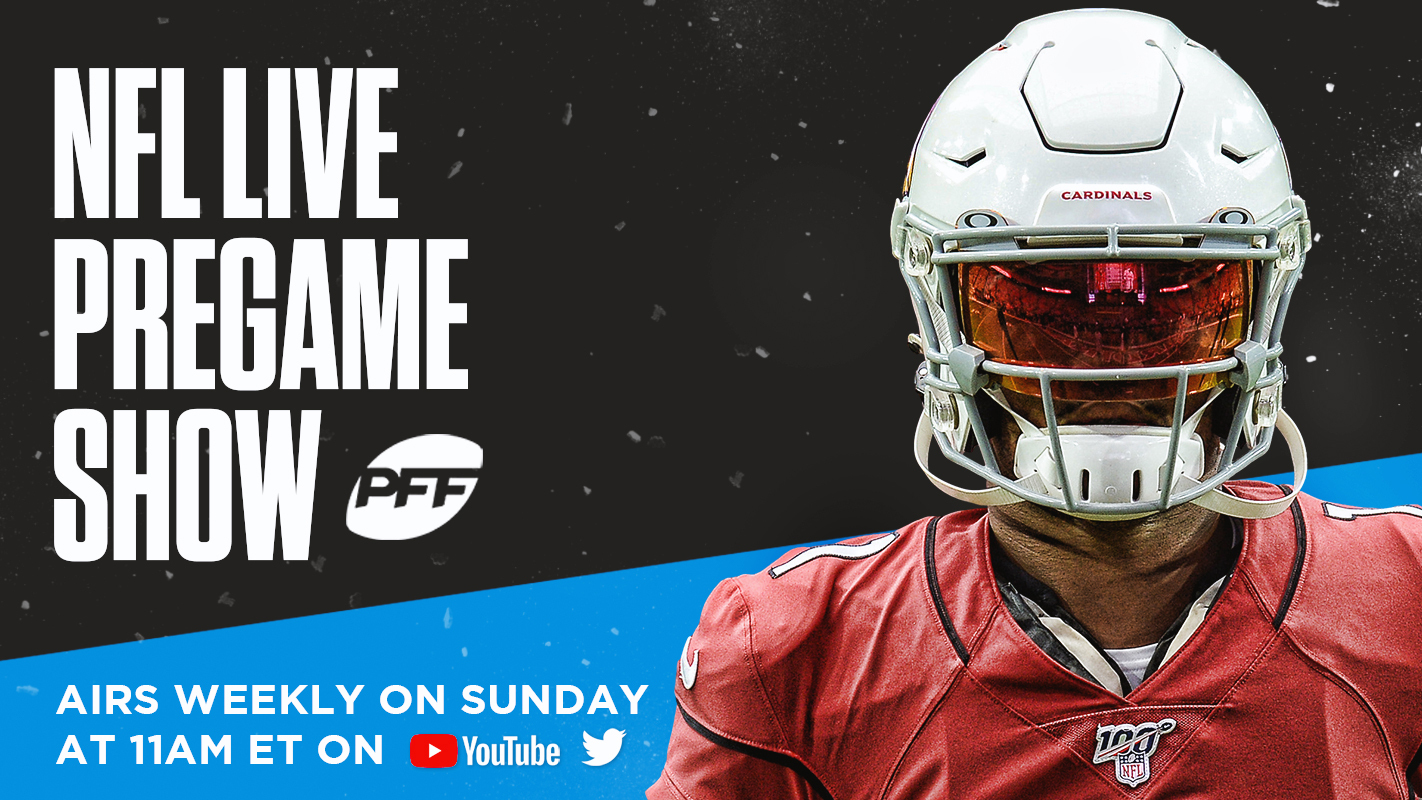 Kupp put forward one ridiculously productive effort after another virtually all season long, ultimately joining only 1982 Jerry Rice, 1992 Sterling Sharpe and 2005 Steve Smith as the league's only triple-crown winners (receptions, yards, touchdowns) over the past 50 years.
He's also the triple-crown winner for this specific study, ranking first among all wide receivers in receptions of 20-plus yards (30), receiving touchdowns (16) and missed tackles forced (24) on the year.
Overall, Kupp finished with fewer than 90 receiving yards on just one occasion in 2021. That 15-game record (and counting) doesn't figure to be touched for a long time: The only players in NFL history to achieve this threshold in even 13 games are  2014 Antonio Brown and 1995 Michael Irvin. Kings stay kings.
Honorable mention: WR Odell Beckham. All OBJ did in eight games with the Rams was nearly score as many touchdowns (5) as he did in 29 games with the Browns (7). The man is decidedly not washed and looks a lot like the passing game's potential X-factor should someone find a way to even somewhat contain Kupp.
Reality show idea: give regular humans the chance to cover Renfrow one-on-one from the 10-yard line. Non-touchdowns net the civilian $1,000. I doubt the network would have to reach too far into their pockets for this one.
Hunter Renfrow pic.twitter.com/UvCB0qo0oE

— Ian Hartitz (@Ihartitz) January 12, 2022
All Renfrow did after the Raiders released Henry Ruggs was rank fifth in receptions (65), 15th in receiving yards (639) and second in receiving touchdowns (7) among all players regardless of position; he's a legit WR1 even if you wouldn't expect it from looking at the man.
Honorable mention: TE Darren Waller. Only eight tight ends had double-digit receptions of at least 20 yards: Mark Andrews (20), Rob Gronkowski (16), Kyle Pitts (16), Dallas Goedert (14), Travis Kelce (13), George Kittle (13), Waller (13) and Mike Gesicki (12). The fact that Waller got there in essentially only 10 games is truly astounding; here's to hoping he's as healthy as possible come Saturday.
The league's top five running backs in playmaker rate (min. 100 touches) are as follows:
Rashaad Penny

(0.872 playmaker points per touch)

Conner (0.82)

Damien Harris

(0.78)

Austin Ekeler

(0.76)

Jonathan Taylor

(0.75)
It'd be fair to rank Conner as the true No. 1 considering he had 239 touches compared to just 125 from Penny. Either way, the ex-Steelers running back was incredibly impressive all year, scoring 18 total touchdowns in 15 games while doing a lot of it in style.
Honorable mention: WR Rondale Moore. Unfortunately, the Cardinals' explosive rookie receiver hasn't carved out a starting role in three-WR sets even in the absence of DeAndre Hopkins (knee, IR). And yet, he led all Cardinals wide receivers with 8.3 yards after the catch per reception and broke a team-high 13 tackles as a receiver. Here's to hoping that he's used as more of a pure receiver than a gadget in the future.
Harris found the end zone on 15 separate occasions as a rusher this season despite "only" seeing 202 carries. There have only been five running backs to find the end zone at least 15 times on a rusher while carrying the rock fewer than 220 times:
2020

Alvin Kamara

(16 rush touchdowns on 187 carries)

2008 LenDale White (15, 200)

2021

James Conner

(15, 202)

2021 Harris (15, 202)

2008 Brandon Jacobs (15, 219)
Harris only failed to find the end zone once in his final 11 games of the season and has generally worked as the engine of the league's sixth-ranked scoring offense whenever healthy enough to suit up.
Honorable mention: TE Hunter Henry. Only Rob Gronkowski posted a higher playmaker rate than Henry among all tight ends with at least 50 touches. Sure, Henry isn't exactly the poster child for making explosive plays, but that didn't stop him from racking up eight receptions of 20-plus yards and scoring nine touchdowns in his first season as a member of the Patriots.
Deebo Samuel caught 77 of 121 targets for 1,405 yards and six scores in 2021, leading the league in yards per reception (18.2) and trailing only Cooper Kupp in yards per route run (3.12 vs. 2.98).
Oh yeah: he also averaged a ridiculous 6.2 yards per carry on 59 rush attempts, looking awfully impressive along the way. 
91 seconds of Deebo Samuel at running back pic.twitter.com/gmGbGGnI8y

— Ian Hartitz (@Ihartitz) December 21, 2021
Samuel joined Jonathan Taylor, Austin Ekeler and Kupp as the only four players with 200-plus total playmaker points on the season; it's a shame the latter receiver's record-breaking campaign had to overshadow the weekly excellence that the 49ers' stud playmaker brought to the table on a weekly basis.
Honorable mention: WR Brandon Aiyuk, TE George Kittle. 153 players had at least 50 touches this season. Aiyuk (No. 5), Samuel (No. 8) and Kittle (No. 21) all managed to rank among the league's most explosive playmakers. The ceiling on a Jimmy Garoppolo-led offense remains uncertain, but it's clear the 49ers boast one of the most complete teams in the playoff field.

The NFL's leader in total broken tackles over the past five years:
Sure, Harris needed a league-high 381 touches to get there, but he also deserves credit for racking up a forced missed tackle every 0.24 touches — the ninth-highest mark among all running backs with at least 100 touches. Throw in 10 touchdowns, and it's tough to not give the engine of the Steelers' (bad) offense this honor.
Honorable mention: WR Chase Claypool. Claypool managed to rack up 13 receptions of 20-plus yards, just one shy of Diontae Johnson (14) despite the latter receiver seeing an additional 63 targets on the season. Part of this is certainly due to Claypool's superior average target depth (11.9 vs. 8.8); either way, it's clear the Steelers will need some big plays from their talented second-year receiver if they hope to shock the world.
Only four tight ends managed to average at least 0.2 playmaker points per touch this season:
Boom games in Week 13 (6-105-2) and Week 15 (7-135-0) demonstrated the ceiling on hand for Goedert, who had to make do with fewer than eight targets in all but two games this season. There's a low floor for any pass-catcher involved in the league's most run-heavy offense; just realize Goedert largely made the most out of his opportunities all year long.
Honorable mention: WR DeVonta Smith. The latter point holds true for Smith, who had fewer than eight targets in all but four games of 2021. The rookie still managed to show off some pristine route-running ability and racked up 16 receptions of at least 20 yards; just realize the counting numbers on hand would be far better in a more pass-happy offense.