The first real team-building frenzy of the 2021 NFL offseason is well underway, with teams using the opening of free agency to attack holes on their rosters and overhaul their clubs in an attempt to field improved lineups for the upcoming campaign.
It has been a crazy week, with the New England Patriots of all teams going spending-mad and the Houston Texans signing upward of 30 players.
But how has each team fared in terms of grades? Well, that's what PFF does, so let's take a look.
More from PFF's live free-agency coverage: 
2021 NFL Free Agency LIVE Deal Grader | The 100 best available NFL free agents remaining | 2021 NFL Free Agency Tracker | PFF Improvement Index for all 32 teams | Fantasy Football Free Agency Tracker
ARZ | ATL | BLT | BUF | CAR | CIN | CHI | CLE | DEN | DAL | DET | GB | HOU | IND | JAX | KC | LVR | LAC | LAR | MIA | MIN | NE | NO | NYG | NYJ | PHI | PIT | SF | SEA | TB | TEN | WFT
It's true what they say about retirees moving to Arizona because the Cardinals have loaded up on 30-plus-year-olds this offseason in their bid to get over the hump and return to the playoffs for the first time since 2015. They kicked things off by signing future Hall of Fame edge rusher J.J. Watt after he was released by the Texans, made an expensive trade of a third-round pick for center Rodney Hudson from the Las Vegas Raiders and signed another potential future Hall of Famer in wideout A.J. Green.
Watt is the youngest of the group, having just recently turned 32, but is still playing at an elite level when healthy. His 85.4 grade in 2020 ranked seventh among all edge rushers. Hudson is still one of the league's best pass-blocking centers but had quite the dropoff in 2020 from albeit meteoric heights in years past.
After finishing with 90.0-plus pass-blocking grades in each of 2017-19 and 80.0-plus pass-blocking grades in every season of his career, Hudson graded out at 70.0 in 2020. He'll be a huge addition for young quarterback Kyler Murray, as will Green if he can bounce back from a dismal 2020 season, but that seems a bit less likely. Green hauled in only 46.5% of his targets in 2020 —  both catchable and uncatchable — ranking 160th out of 163 wide receivers with at least 10 targets.
Sticking with our elder statesmen theme, Kelvin Beachum's return may end up the strongest signing of the whole bunch. Beachum signed for the veteran minimum for the 2020 season and arguably provided the best value above his contract of any veteran player. He has spent time at both bookend spots during his career and didn't miss a single offensive snap at right tackle in 2020, earning a very respectable 76.8 pass-blocking grade.
Another good value deal was bringing back edge defender Markus Golden on a two-year, $5 million deal to be the third edge rusher — behind Watt and Chandler Jones.
Atlanta all but sat out 2021 free agency, with new general manager Terry Fontenot reassessing the roster and cleaning up a salary-cap mess left behind as the Falcons chased their Super Bowl appearance in 2016. Five players — quarterback Matt Ryan, left tackle Jake Matthews, interior defender Grady Jarrett, wide receiver Julio Jones and edge defender Dante Fowler Jr. — accounted for $123 million of the $182.5 million salary cap (over 67%). Atlanta restructured the contracts of Ryan and Matthews and negotiated a pay cut for Fowler, whose signing in the 2020 offseason aged very poorly in a hurry.
Atlanta has thus far avoided the use of a salary cap mechanism called "void years," which would have created more cap space for 2021 but pushed dead money into the future. It appears the Falcons are going to let this group headlined by Ryan and Jones take another stab at a deep playoff run, but not at the expense of the future.
The Falcons will be drafting in the top 10 for the first time since 2015, and the first time in the top five since they took Ryan No. 3 overall in 2008. We wouldn't be at all surprised if Trey Lance is the pick at No. 4 and Atlanta goes "best player available" throughout the 2021 NFL Draft with an eye on the next chapter.
Baltimore's best move came before free agency had even kicked off, pouncing on the released Kevin Zeitler to upgrade the interior of an offensive line that became a problem in 2020. Zeitler is coming off a down year, posting a 65.9 PFF overall grade, the lowest of his career. But even at that floor, he would represent an upgrade over the guard play Baltimore dealt with in the wake of Marshal Yanda's retirement.
If Zeitler can return to something like his career baseline — and the improved tackle play outside of him compared to what he had with the Giants should help that likelihood — then he will be a major boost to the line that didn't come at a great cost.
Elsewhere, the Ravens re-signed two important pieces of their defense in Derek Wolfe and Tyus Bowser. Each deal was modest enough, and the team wanted to lock up Bowser, in particular, for his work in coverage. He has dropped into coverage 241 times from his edge alignment over the past two seasons, significantly more than almost any other rusher available.
Buffalo's free agency was primarily about retaining key players who were scheduled to test the market. They were able to lock down linebacker Matt Milano just before the legal tampering period, as well as a pair of offensive linemen, Jon Feliciano and Daryl Williams.
Williams was the critical move of the two, and he should guarantee a level of quality blocking in front of Josh Allen. Though Williams' NFL career has featured only two seasons with an overall PFF grade better than 75.0, they have been his two full-time seasons as a starting right tackle. Last year, Williams had the best overall PFF grade of his career and topped 80.0 in pass-blocking grade for the first time in his career. 
The Bills also signed Mitchell Trubisky to back up Allen at quarterback, giving them a No. 2 quarterback who is stylistically much closer to their starter than the backups they have employed thus far. Trubisky's time in Chicago was fairly disastrous, but as a former top draft pick, he is an intriguing reclamation project for the team. 
Buffalo also cut ties with wideout John Brown, replacing him with Emmanuel Sanders, who is 34 years old but still generated a 107.7 passer rating when targeted last season.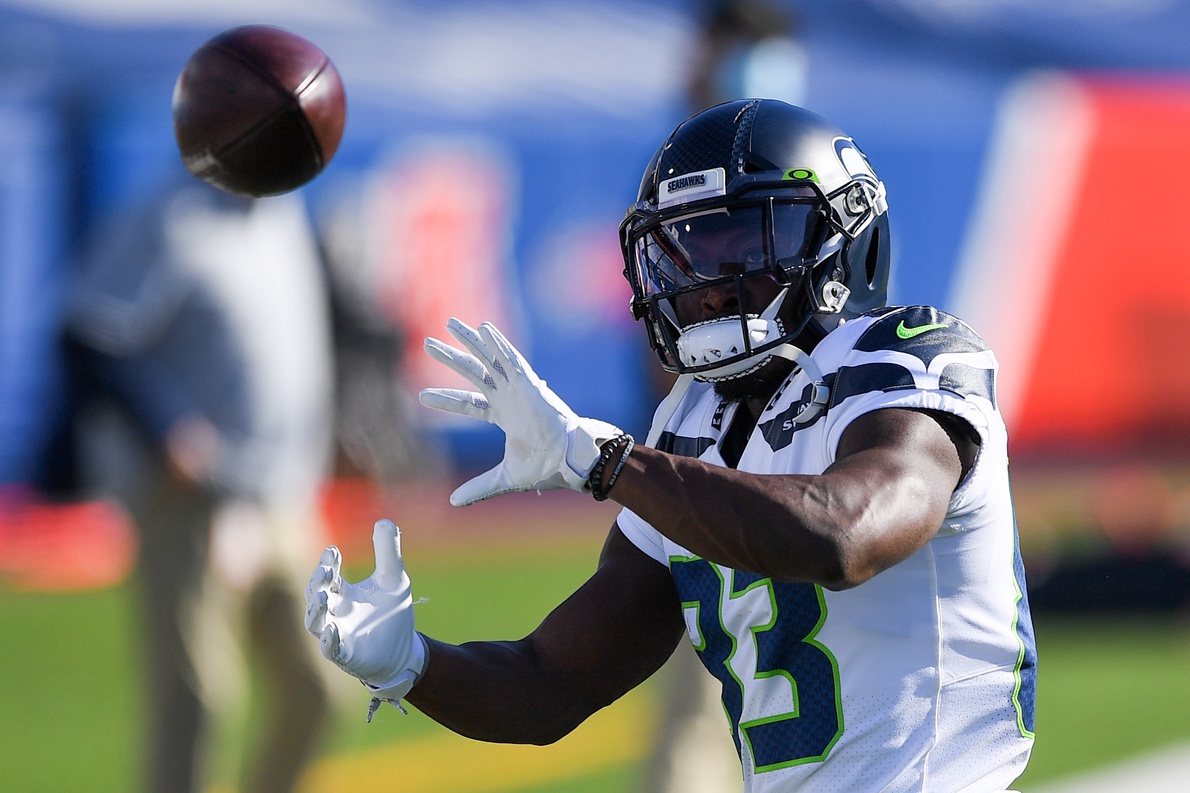 Carolina got off to a bit of a puzzling start this offseason, giving out a strong contract to guard Pat Elflein (three years, $13.5 million), who has yet to clear a 50.0 pass-blocking grade in any of the past three seasons. In the Panthers' defense, the guard market was extremely weak, as evidenced by the Raiders managing to land a fifth-round pick in a trade for Gabe Jackson (who's owed $9.6 million in 2020) weeks after it was reported they planned to release him.
The Panthers followed that up with another questionable addition along the offensive line, doling out a two-year, $10 million contract for swing tackle Cam Erving. The 2015 first-rounder illustrates the everlasting benefit of high draft capital because even after six straight seasons grading in the 40s to begin his career, he still landed with the Cowboys in 2020 for $2.5 million.He did manage to put up career-highs in overall grade (58.0) and pass blocking grade (69.2), but he played just 279 snaps before a season-ending injury.
Neither contract is going to break the bank, but the timing of both deals raises eyebrows — was there really a need to lock in subpar offensive linemen on the first day of the legal tampering period?
However, new general manager Scott Fitterer made a handful of strong signings to finish out his first free agency period at the helm. First, he recruited wideout David Moore to join him in a move from Seattle, where Fitterer served as director of player personnel, on a two-year, $4.75 million deal to slot in as the new No. 3 option in Carolina following Curtis Samuel's departure.
Next, he brokered a reunion between former Temple linebacker Haason Reddick and head coach Matt Rhule — who helped Reddick become the No. 13 overall pick in 2017 — on a one-year flier.
Reports throughout the week indicated that Carolina is truly focused on a blockbuster trade to land Deshaun Watson, and if that happens, this offseason is a slam dunk success no matter what else went down.
The Bears came into the offseason with a Plan A and no Plans B or C. The lone blueprint was real simple: Convince the league's oldest head coach, Pete Carroll, to trade away one of the best quarterbacks in the league in Russell Wilson, take on the largest dead cap charge in NFL history at $39 million and enter a complete rebuild heading into his age-70 season.
Shockingly, that didn't work. After striking out, the Bears forced to release cornerback Kyle Fuller to clear cap room for quarterback Andy Dalton — the same player they could've had for $3 million in 2020 when they instead chose to trade a fourth-round pick to the Jacksonville Jaguars for Nick Foles.
Despite not rostering a true starting-caliber quarterback right now, Chicago still doesn't have the cap space to make any significant additions. They retained interior defender Mario Edwards Jr., who flashed in 2020 with an 88.6 grade on 256 snaps but will miss the first two games of 2021 due to a PED suspension, and added interior defender Angelo Blackson, edge defender Jeremiah Attaochu and cornerback Desmond Trufant.
The Bears roster is in a state of flux heading into a pivotal year.
Cincinnati's offseason was always going to revolve around improving the pass protection in front of quarterback Joe Burrow, especially given how his season ended, but they haven't made the splash some people were expecting. Riley Reiff is the only addition to the line, signing a modest deal to play right tackle, while other higher-priced free agents signed elsewhere.
The Bengals lost Carl Lawson and William Jackson III – two of their best players on defense – and while they did a good job of offsetting those losses with the players they signed, it would be easy to argue that they are lateral moves at best, and a step in the wrong direction at worst.
Trey Hendrickson is a solid player, but not as good as his sack total from 2020 would indicate. Though only T.J. Watt had more sacks as an edge rusher last season, Hendrickson ranked 21st in total pressures and 19th in PFF pass-rushing grade.  Mike Hilton has at times been among the best slot corners in the league and takes a player away from the Steelers within the division, but even combined with Chidobe Awuzie may be a downgrade over what they had in Jackson as a No.1 cornerback in that defense.
The Cleveland Browns are among the winners of free agency, and safety John Johnson III may be the best single signing any team has made, backed up by snagging Troy Hill a little later in the process. Cleveland's secondary was ugly in 2020, and signing 40% of the best secondary in football, the Los Angeles Rams, is a good attempt to address those woes.
Johnson has earned at least an 82.9 PFF coverage grade in each of his healthy NFL seasons and should be a huge difference-maker for this defense.
Adding depth and rotation players in Takkarist McKinley, Malik Jackson, Anthony Walker while bringing back one of their own in Rashard Higgins all look like solid decisions that will improve the team going forward. Even the subtractions seem to be shrewd moves, moving on from edge rusher Adrian Clayborn — who has been a consistently solid defensive lineman in the NFL — as he comes off his lowest-graded season since 2012.
By far the Cowboys' biggest move this offseason was retaining franchise quarterback Dak Prescott, and they did just that on the final day of the franchise tag window. 2020 first-round wide receiver CeeDee Lamb is already a budding superstar, and ascending tight end Blake Jarwin will be returning from a season-ending injury of his own, so there's no reason Dallas' offense shouldn't once again be a high-octane aerial attack, similar to what we saw in the first five games of last season.
Through Week 5 with a healthy Prescott, the Cowboys averaged .192 expected-points-added per pass play on early downs, good for 10th in the NFL. A full offseason with second-year head coach Mike McCarthy and better luck with health across the offensive line could boost Dallas to even loftier heights. New defensive coordinator Dan Quinn — formerly the Atlanta Falcons' head coach — needs to make an immediate and drastic impact on the other side of the ball for Dallas to truly contend in 2021.
Thus far, Quinn has successfully recruited safety-linebacker hybrid Keanu Neal to join him in Dallas, a much-needed presence down in the box for the league's 30th-ranked run defense from 2020 in terms of expected points added per play allowed (.044). There is still work to be done to round out this secondary, with cornerback Chidobe Awuzie departing to Cincinnati and free safety Xavier Woods still a free agent.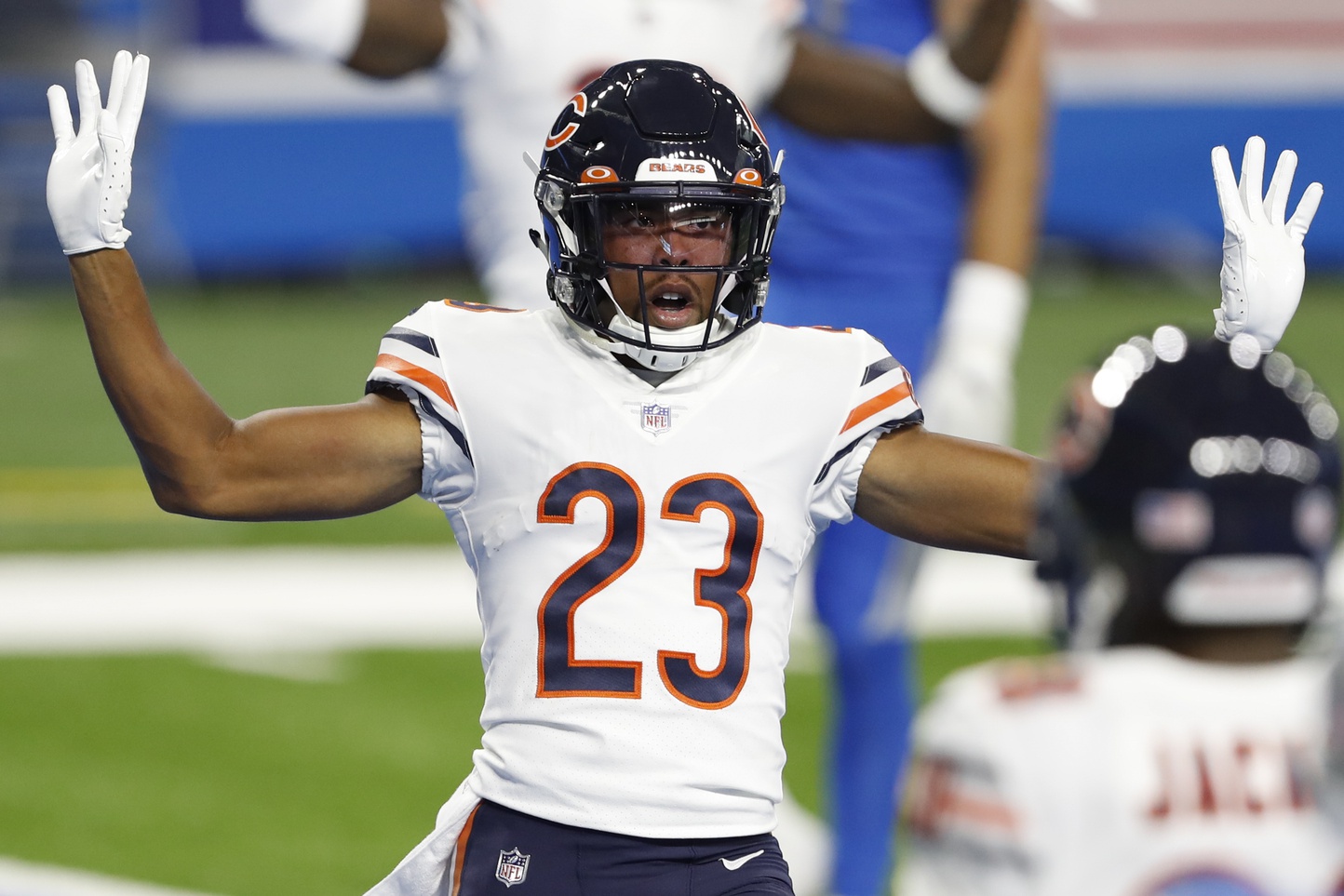 The Denver Broncos haven't made many moves this offseason, but they've been smart and targeted, regardless. Denver prioritized retaining key players on defense initially, placing the franchise tag on safety Justin Simmons before inking him to a new long-term contract that makes him the game's best-paid safety. They also re-signed Shelby Harris, one of the NFL's most underrated interior defenders. Harris is coming off the best season of his PFF career in terms of pass-rushing, putting up an 83.5 mark in that facet.
On the open market, the Broncos signed cornerback Ronald Darby to a modest contract and then reportedly took all of 34 minutes to reunite Kyle Fuller with his former coach Vic Fangio once the Chicago Bears released him for cap savings.
Fuller's best season came in Chicago under Fangio in 2018, a season in which he racked up 20 combined interceptions and pass breakups and allowed a sub-70.0 passer rating when targeted. With A.J. Bouye's release, that pair completely remakes the cornerback group in the space of a few days of business.
Detroit made its intentions quite clear heading before free agency even began, trading long-time franchise quarterback Matthew Stafford to the Los Angeles Rams and kickstarting a rebuild under a new general manager and head coach.
The first-round draft picks acquired for Stafford fall in 2022 and 2023, and they may be used along with Detroit's own pick(s) to draft the franchise's quarterback of the future. Odds are the Lions will be picking very highly in 2022, so they may not even need the additional ammo.
The Lions also chose to let star wideout Kenny Golladay walk in free agency, clearly turning their focus to the future. Detroit made a few small additions here and there, adding wide receiver Tyrell Williams on a one-year flier, providing depth behind 2020 second-round pick running back D'Andre Swift by signing Jamaal Williams, and trading a 2023 seventh-round pick for interior defender Michael Brockers.
The one big splash they did make was retaining edge defender Romeo Okwara, who finished the 2020 season on an absolute tear from Weeks 13-17, with his 90.6 pass-rush grade ranking third among all edge rushers. Okwara's 61 quarterback pressures in 2020 tied with Joey Bosa for the fifth-most of any edge defender in the league.
Detroit now has a solid duo off the edge in Okwara and Trey Flowers, with the two primarily accounting for the Lions now having the seventh-largest cap spend at the position for 2021.
Best signing: N/A
With reports of Green Bay inquiring about wide receiver Will Fuller V at the trade deadline, it seemed the Packers were well aware of their deficiencies at the position in 2020. The Miami Dolphins ended up inking Fuller on a one-year flier for $10 million, the exact type of deal that would've made perfect sense for the Packers and Fuller, providing him the opportunity to play with reigning MVP Aaron Rodgers and advance deep into the playoffs before hitting the market again in 2022.
Nevertheless, Green Bay has yet to add a free agent from another club to the roster, appearing set to once again run it back with a team that's made back-to-back NFC Championship games but fallen short. Over the past two seasons, Davante Adams has been PFF's highest-graded wide receiver (92.3). The next best Packers receiver is 2018 undrafted free agent Allen Lazard, who ranks 65th at the position.
Folks will naturally point to the Packers' No. 1-ranked offense during the regular season in 2020 — the unit finished first in expected-points-added per play, at .185 — but will ignore the fact that Tom Brady threw interceptions on back-to-back fourth-quarter drives in the NFC Championship game while Green Bay promptly went three-and-out on both ensuing possessions.
Of course, the loss of All-Pro left tackle David Bakhtiari was a heartbreaker, but relying on Marquez Valdes-Scantling, Allen Lazard and Robert Tonyan to get open in big moments is just a losing strategy to begin with. We're not suggesting teams should spend for the sake of spending, but when you have a Hall of Fame quarterback in the final years of his career so close to reaching the Super Bowl, getting aggressive is all but necessary.
Green Bay did shell out for running back Aaron Jones, though. While much is made of paying running backs, Jones' deal is truly just a two-year, $20 million extension with a pretty obvious out when he is due $15.1 million in 2023. Nevertheless, if the Packers decided this would be the one big expenditure of the offseason and they would otherwise look to the 2021 NFL Draft for improvements, odds are they won't reach Super Bowl 56 for what could be Rodgers' finals season as a Packer.
The Houston Texans have had one of the most unusual free agency periods in recent memory, throwing a lot at the wall in terms of low-level signings in the hope that they can remake the roster without risking a swing and a miss on the highest-profile free agents.
As much as there is a case that Houston's roster was so bad that almost any of these signings stands a good chance of upgrading a position, it also has to be acknowledged that the team is badly in need of elite talent. And with the greatest respect to the likes of Andre Roberts, it would take a lot of signings at that level to match the impact of even one elite upgrade.
There are moves in this group that look excellent on paper, such as signing linebacker Kevin Pierre-Louis, who has back-to-back seasons with 80.0-plus PFF coverage grades, which also coincides with his heaviest workload on defense. In a league starved of good coverage linebacker play, Pierre-Louis is exactly the kind of smart gamble teams should take.
Similarly, Desmond King II is no stranger to elite play in his NFL career and is a fantastic cheap roll of the dice to try and rediscover that form. The Texans have made a lot of sneaky good signings, but that's because they have just made a lot of additions, period. Given the sheer volume of turnover, it's difficult to see this as a massively improved team.
The Colts made arguably the biggest gamble of the offseason so far by trading for Carson Wentz after his subpar 2020 campaign in Philadelphia, one in which he was eventually benched for Jalen Hurts. And that wasn't necessarily because the team had huge faith in the second-round backup; it was more so because Wentz gave them no choice with his play.
Wentz gets to reunite with Frank Reich, his offensive coordinator in 2017 when he had an MVP-caliber season. His 84.9 overall PFF grade that year was a career-high, but it was also built on a series of incredible numbers in very unstable metrics. He earned a 91.8 PFF grade on third downs and didn't have a single turnover-worthy play when under pressure, for example. The Colts have banked on being able to rediscover Wentz's best play and were prepared to take that risk because of the fear of otherwise not finding a viable starting quarterback.
Beyond that, re-signing Xavier Rhodes is a very shrewd move for the Colts. They allowed him to experience how soft the cornerback market was and then brought him back on the cheap, retaining a player who was a top-10 corner for them last season. Rhodes had a huge bounce-back year and allowed just 50.7% of passes thrown his way to be caught.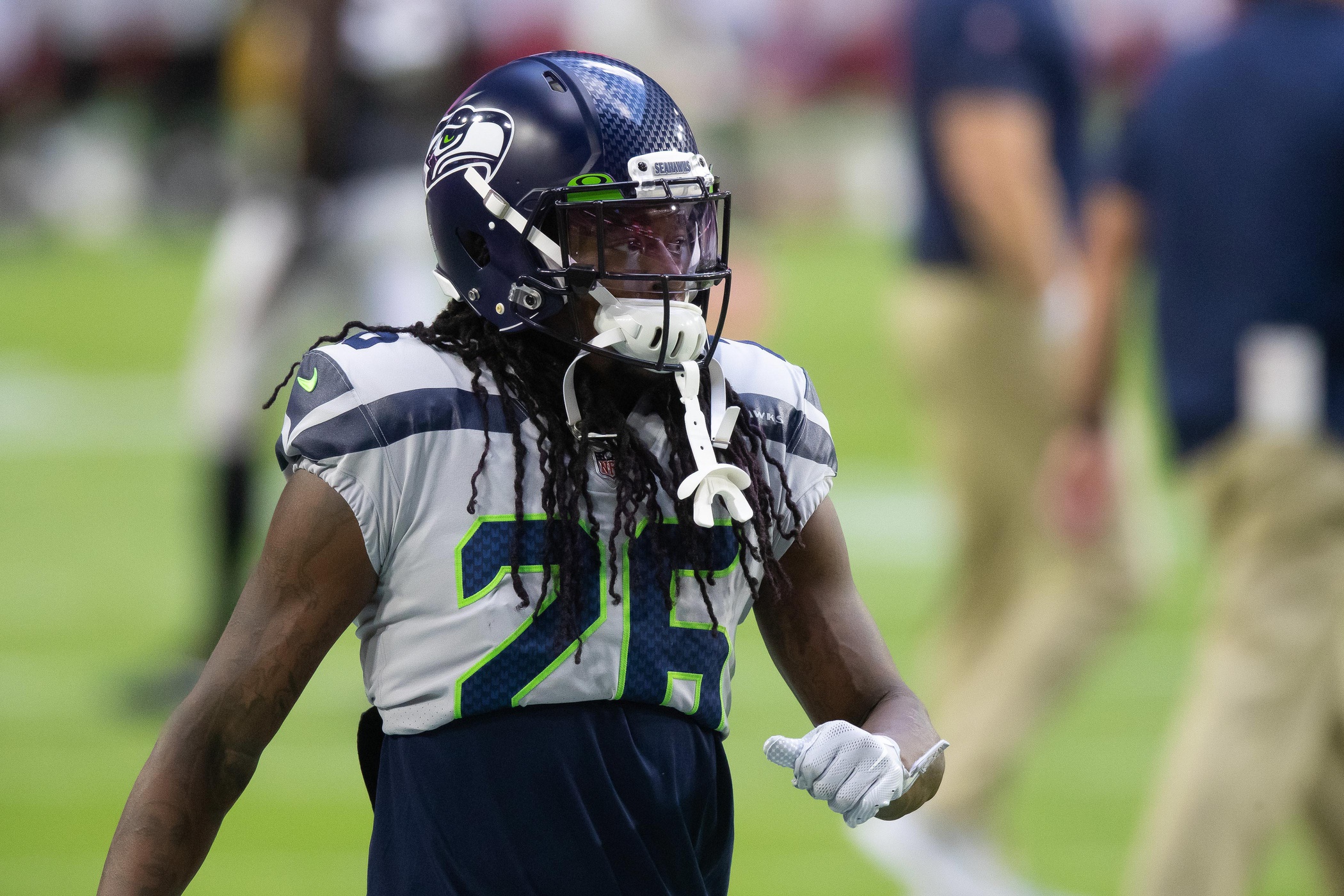 With Clemson's Trevor Lawrence presumably inbound with the No. 1 pick of the draft and a league-leading amount of salary cap space heading into free agency, Jacksonville was a team always destined to spend and add pieces.
Their best signing was bringing in Shaquill Griffin, who has significantly more proven quality NFL play under his belt than the rest of the cornerback depth chart. 2020 first-round round pick C.J. Henderson and Sidney Jones combined for 13 pass breakups, a total Griffin has eclipsed alone twice in his career so far. The team also retained Jones, who had the best season of his career in 2020 after having failed to impress in Philadelphia prior to that.
Bringing back their own former first-round round pick Tyson Alualu has the potential to be an excellent move, as well, for minimal expenditure. Alualu has had overall PFF grades of at least 80.0 in each of the past two seasons with the Steelers.
The Jaguars' spending wasn't without curious moves, however, and Rayshawn Jenkins has done little thus far in his NFL career to suggest he was a safety worth prioritizing in this extremely strong free-agent safety class. Jenkins has missed double-digit tackles in each of the past two seasons, and beyond his five career interceptions, he has just one career pass breakup.
The Kansas City Chiefs released both of their starting tackles on the eve of free agency, leaving them with almost an entire offensive line to remake. And they surely remember what happens if they aren't able to rebuild the line with the Super Bowl against Tampa Bay fresh in their memory.
They evidently weren't keen on leaving this to chance, throwing around big money from the jump. After reportedly being in on Trent Williams, the Chiefs signed Joe Thuney to a huge contract to play guard, guaranteeing high-level play at one spot. It looked like a fairly significant overpay given other contracts this year, but the team may have offset that damage with a bargain pickup of Kyle Long for just $5 million.
Long has had some time away from football to get healthy and back to 100% before taking another run at the NFL. At his best, Long was an extremely good lineman and has high-level play in his past at both right guard and tackle. If he ends up starting alongside Thuney, the pair will net as good business.
The Raiders appear to have prioritized dismantling their offensive line, and not necessarily in the most calculated way possible. They traded Trent Brown back to the Patriots before releasing Richie Incognito only to re-sign him later. They were about to release both center Rodney Hudson and guard Gabe Jackson before teams came in with trade offers instead.
Between re-signing Denzelle Good (career-high 69.0 pass-blocking grade), adding Nick Martin (career-high 67.0 overall PFF grade) and in-house options, it's difficult to envision this offensive line not being worse in 2021, which will put extra pressure on an offense to repeat its impressive play.
Signing Brown to replace Nelson Agholor has the potential to be excellent business, however. Only Tyreek Hill scored more deep touchdowns than the six Agholor scored in 2020. While Henry Ruggs III is supposed to provide that threat within the offense, he didn't as a rookie. Brown has been a consistently excellent deep receiver in his career and should provide a smart insurance plan for that role.
Another team in need of a major overhaul on the offensive line, the Chargers have made a couple of very smart signings to address those issues and attacked it from different angles. Center Corey Linsley was the best player at his position in the league in 2020, allowing just four total pressures across 13 games for Green Bay. That was a fraction of the damage the Chargers' starting center was responsible for. Linsley was an even better run blocker; if he stays healthy, he should be a huge upgrade.
Feiler was a much more modest signing but has at least average play at both guard and tackle for the Pittsburgh Steelers on his resume. He should be an upgrade at whichever position the Chargers need him to play but could also be an answer at right tackle if Bryan Bulaga's durability remains a question.
Re-signing Michael Davis at cornerback was an important move, especially once they decided to get away from Casey Hayward given his sharp decline last year. Davis has allowed a passer rating of just 81.1 when targeted for his entire NFL career.
The Rams lost two valuable pieces in their secondary in S John Johnson III and CB Troy Hill. But the signing of ED Leonard Floyd to a prove-it deal in 2020 clearly worked out, and Los Angeles signed him a four-year, $64 million extension. However, there's a decent chance Floyd merely experienced positive sack regression and benefited from playing next to the greatest defensive tackle that ever lived in Aaron Donald. The former No. 9 overall pick had 10.5 sacks after failing to eclipse five in three straight seasons, but his 9.3% pressure percentage in 2020 was actually worse than his 9.5% mark in 2019 (neither are particularly great).
The Rams roster was already extremely top-heavy, with Donald the highest-paid interior defensive lineman and Jalen Ramsey the highest-paid cornerback in the NFL. Los Angeles is a surefire Super Bowl contender in a weak NFC, but their margin for error is razor-thin and their ability to overcome a rash of injuries is quite limited.
A potential big splash at quarterback has failed to materialize, and legal issues swirling around Deshaun Watson might mean that isn't even an option. So the Dolphins' free agency has been more low key than it might otherwise have been, but that's not to say it hasn't been solid.
Signing Will Fuller to a one-year contract that will let him hit the market again next year could really move the needle for this team in 2021. Fuller is one of the league's premier deep threats, catching 31 passes of 20 or more air yards since coming into the league.
The likes of Jacoby Brissett, Justin Coleman and Adam Butler provide solid upgrades at depth positions, though Coleman has endured the worst seasons of his career in defensive systems from this same coaching tree.
Minnesota didn't have the greatest salary cap situation heading into the offseason, which led to the release of decade-long Viking TE Kyle Rudolph and left tackle Riley Reiff, but those two cuts were matched with two big additions on defense: DI Dalvin Tomlinson and CB Patrick Peterson. Tomlinson was signed for two-years, $21 million and Peterson for one-year, $8 million, so neither deal was exactly breaking the bank. But this was about all the Vikings could do at this point, and their offensive line — which ranked 29th in pass blocking for 2020 — remains a giant question mark.
Tomlinson is a great nose tackle who was expected to have a bigger market (our projection was for around $13 million per year). His fit opposite fellow nose tackle Michael Pierce in Minnesota raises questions. Pierce should remain at 1-technique with Tomlinson sliding over to 3-tech, but Tomlinson's splits at those two spots paint a troubling picture: Tomlinson had the fourth-best pass rush grade at 0 or 1-technique in 2020 with an 87.4 and also had the fourth-most pressures with 13. But at 2i and 3-tech, Tomlinson's 65.2 pass-rush grade ranked 55th.
As for Peterson, the former No. 5 overall pick is coming off his lowest-graded season since his rookie year in 2011, with a 55.2 overall grade and 53.1 coverage grade. He was suspended six games in 2019 for performance-enhancing drugs, and it's more than fair to wonder if he's on the back nine of his career at this point.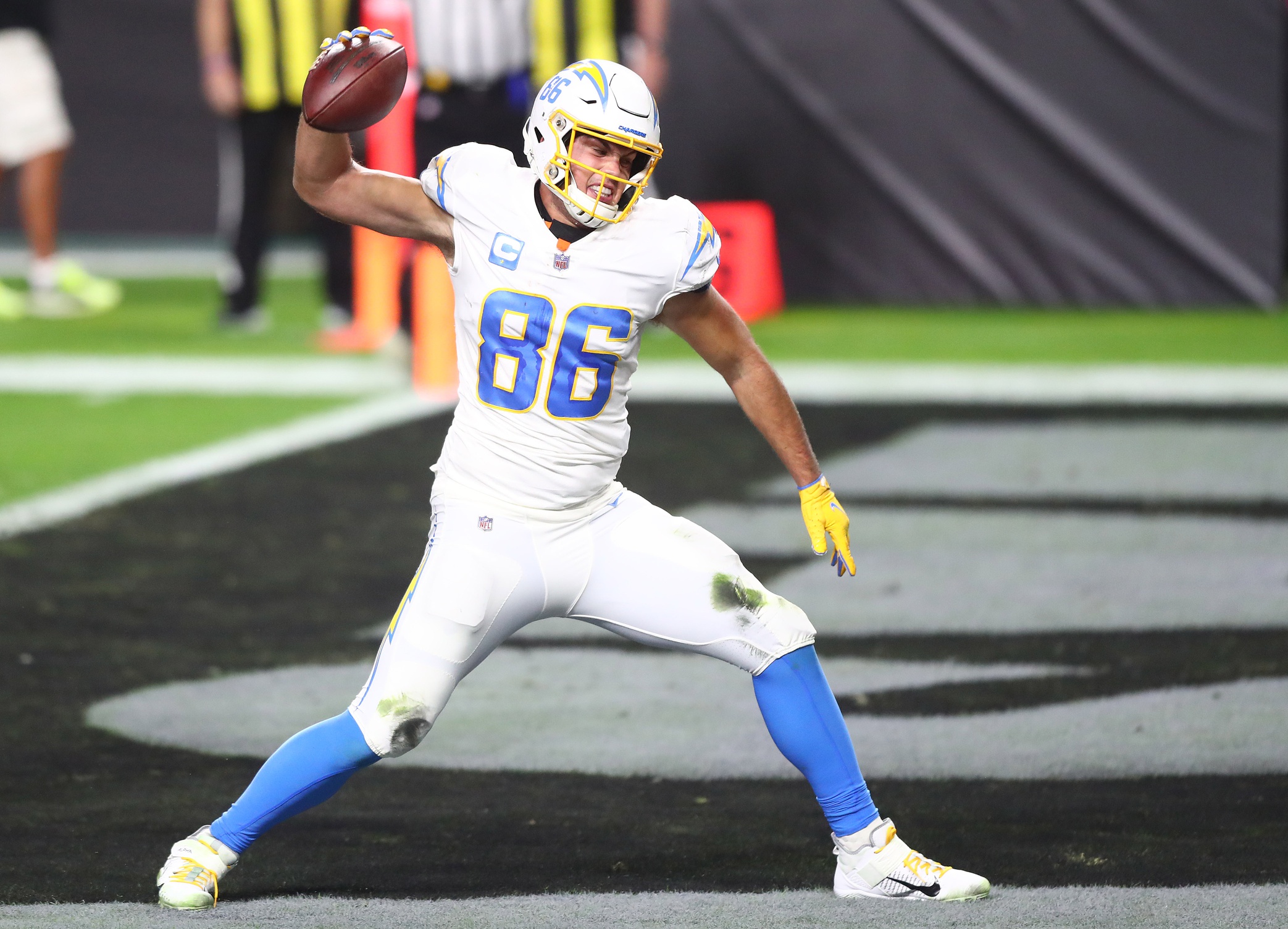 "The Patriot Way" has apparently undergone some significant changes and now includes spending more guaranteed money in free agency than any team in NFL history in a single week of free agent business.
The Patriots were once able to patch over a lot of cracks on their roster with Tom Brady and the coaching knowledge, but that's just not possible anymore, as demonstrated by the 2020 season. So the Patriots needed to spend to repair the roster, and spend they did.
Their decisions make clear that this team will be using multiple TE sets for the first time in a number of years. Jonnu Smith and Hunter Henry represent significant individual outlay, but together they are the most money committed to the tight end position in the NFL. In 2020, the Patriots ran just 31 snaps with multiple tight ends on the field, by far the lowest in the league. Evidently, that is something that will shift significantly in 2021. Elsewhere, they also spent to add receivers that can get open, signing Nelson Agholor after a career year as a deep threat in Las Vegas. Only Tyreek Hill scored more deep touchdowns (eight) than Agholor (six) last season.
The team also spent big money on Matthew Judon to upgrade their defensive front. Judon has 109 total pressures over the last two seasons including the postseason, but 49% of those pressures were either unblocked, clean up or pursuit plays. That's one of the highest rates in the league, so the money is a risk. New England kept hammering, adding players that will upgrade various depth spots on both sides of the football.
Perhaps the most significant other move was some quiet reshuffling of the offensive line: trading away Marcus Cannon and replacing him with Trent Brown, who returns after a stint with the Raiders. Brown is younger than Cannon but has a track record of capable play in New England when he was there.
Franchise-tagging Marcus Wiliams seemed nearly impossible with New Orleans facing a $100 million salary cap deficit coming into the offseason even after the retirement of QB Drew Brees. But Williams' 89.7 grade since 2019 ranks second at the safety position, so it makes sense to do whatever it takes to keep him. General manager Mickey Loomis has never let the salary cap get in the way of a good time, after all.
The Saints were also able to bring back QB Jameis Winston on a one-year flier after just 11 pass attempts in 2020 kept his market quiet — perhaps by design. Considering Andy Dalton and Ryan Fitzpatrick both received contracts with $10 million base values, signing the 27-year-old former No. 1 overall pick for $5.5 million may have a few teams feeling foolish if Sean Payton can work his magic and revive Winston's career. Nevertheless, the Saints are still just above water and don't have a CB2 on the roster; their wide receiver options beyond Michael Thomas are Tre'Quan Smith and Marquez Callaway, and 2020 draft pick Adam Trautman is their top tight end. Beyond the starting spots — or lack thereof — New Orleans also doesn't have depth along the defensive line or at linebacker.
The Saints managed to prove once and for all that the salary cap is not a true constraint if you don't want it to be, but poor play from the quarterback position or a key injury in 2021 could torpedo this season. Furthermore, the same problem essentially exists for 2022 given how much money New Orleans has had to push into the future just to be cap compliant for the upcoming season.
The Giants had two clear objectives coming into this offseason: retain DI Leonard Williams and add a true 'X' wide receiver on the outside for QB Daniel Jones. Neither deal was cheap — far from it — but they managed to get both done, nonetheless.
The Giants reportedly explored a trade for Golladay at the trade deadline during the 2020 season, but nothing materialized. After a surprise decision from Detroit to not utilize the franchise tag on Golladay, he became the clear cut No. 1 option on the market with Chicago tagging Allen Robinson and Tampa Bay tagging Chris Godwin.
After a slow start to free agency at wide receiver that saw some players settle for one-year fliers (Will Fuller to the Dolphins for $10 million, JuJu Smith-Schuster back to Pittsburgh for $8 million), Golladay was still able to command a monster four-year, $72 million contract with $40 million in total guarantees. Even at that price tag, Golladay is a huge addition to a wide receiver room that doesn't have much size to speak of, having posted the highest grade on contested catches since 2019 (95.4). Jones had the highest rate of accurate throws among starting quarterbacks on passes 20-plus yards downfield in 2020 at 51.3%. This combination is just what the doctor ordered in New York.
Don't look now, but the Jets are stringing together a sequence of very shrewd moves. It may all result in nothing if they can't find an answer at the most important position in the game (QB), but for now, let's give credit where it's due and commend their free agent moves.
Lawson was arguably the best edge rusher available once Shaq Barrett re-signed in Tampa. He's one of the most underrated as well because he doesn't have the sack totals that others do. Lawson has two seasons with a PFF pass-rushing grade above 80.0 and is coming off a season in which he posted 64 total pressures, even if they only resulted in six sacks. Lawson should become the best edge rusher the Jets have had on the roster since John Abraham, who last played for the team in 2005.
Corey Davis and Keelan Cole immediately upgrade a receiving corps that has struggled in recent years, while they have also added depth at TE and along the defensive line. Critically, they were able to keep safety Marcus Maye with the franchise tag, retaining one of their best players who proved he can excel in any role within the secondary.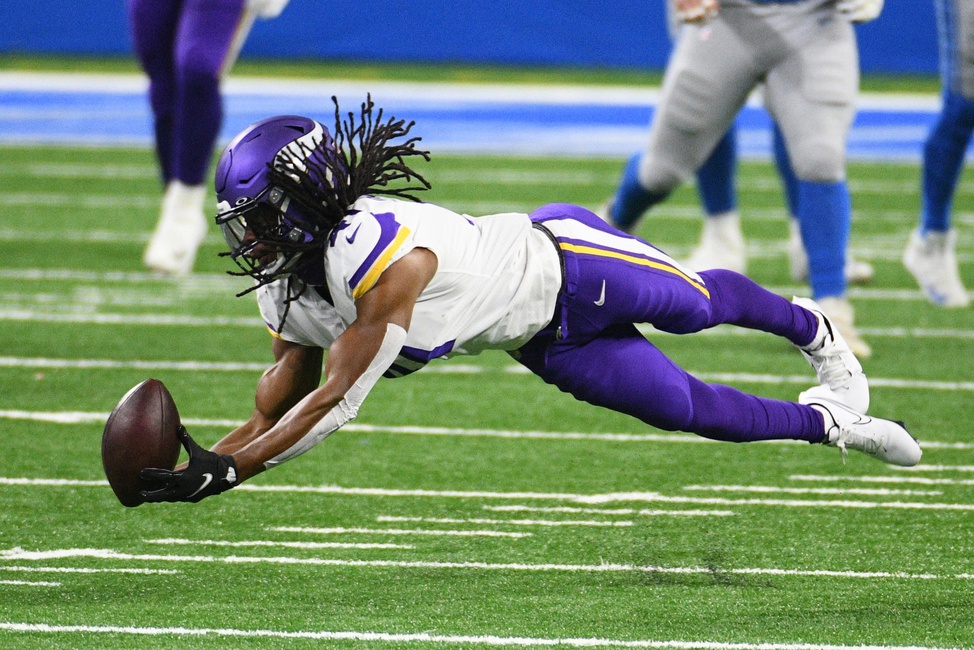 Philadelphia was obviously doing a lot more subtraction than addition this offseason, with the reduced salary cap affecting them as much if not more than any other franchise. They aggressively attacked the rookie-contract window for QB Carson Wentz, which did culminate in a Super Bowl victory and two more consecutive playoff appearances, but 2020 was a disaster. Wentz is, of course, now a member of the Indianapolis Colts, and the Eagles took on the largest dead cap charge in NFL history via his trade ($33.8 million).
With all of that said, Philadelphia's big losses were more big names than big-time producers in recent years, with players like WRs Alshon Jeffery and DeSean Jackson not seeing much of the field the last few seasons. They did make one really strong free-agent signing, adding Vikings S Anthony Harris on a one-year deal for just $5 million a year removed from playing on a franchise tag for $11.441 million. Harris' 90.6 grade since 2018 is tied for the best mark among safeties. While he didn't have his best season in 2020, this contract is an absolute steal for a highly motivated player that will patrol the deep third on a defense that ranked 28th in forced incompletions on passes 20-plus yards downfield last season.
The Steelers may only have one last go-around with Ben Roethlisberger at quarterback before they need to blow things up and start over, but free agency thus far hasn't suggested they're in a position to go all-in for that big move.
Re-signing WR JuJu Smith-Schuster and CB Cameron Sutton were solid moves that didn't break the bank, with Smith-Schuster in particular a potential bargain if he can rediscover his best form as he chases a bigger payday next offseason.
The team also brought back RT Zach Banner on a two-year $9.5 million deal to be their starting right tackle. That was supposed to be his role last year before an injury took him out of the lineup. That means the Steelers have committed this money to him largely on faith. Banner has just 84 career snaps in the NFL at right tackle and has only pass-blocked for a total of 86 snaps across all positions.
San Francisco had a very quiet offseason and is perhaps focusing all of its attention on trading for QB Deshaun Watson, who by most accounts would prefer landing in the Bay Area and playing for head coach Kyle Shanahan. The 49ers lost defensive coordinator Robert Saleh to a well-deserved head coaching gig with the New York Jets, and much of the secondary including future Hall of Famer Richard Sherman appears to be headed out the door as well.
Nevertheless, San Francisco has a lot of young talent that will form the foundation of its roster going forward, with players like WR Brandon Aiyuk and DI Javon Kinlaw hopefully taking another step in 2021. The injury bug ravaged the 49ers roster from top to bottom, so the return of star edge rusher Nick Bosa will feel like a huge free agent acquisition in its own right.
The one guy who managed to stay healthy after a tough battle with his own personal injury bug was former first-round cornerback Jason Verrett, and his return on another prove-it deal for $5.5 million is huge for San Francisco's secondary.
As for the offense, retaining LT Trent Williams and making him the league's highest-paid tackle in terms of per year average at $23.01 million was still a team-friendly deal when looking at the details. And reuniting longtime Falcons C Alex Mack with Kyle Shanahan — who was his offensive coordinator for their Super Bowl run — should mean the 49ers will once again absolutely dominate in their outside zone run game. He's graded above 70.0 in run blocking every season since 2015 and will now line up in the middle of an offensive line featuring PFF's No. 1 and No. 2 highest-graded run-blocking tackles for the 2020 season in Williams and Mike McGlinchey.
Seattle's secondary is long removed from the Legion of Boom days, but CB Shaquill Griffin was one valuable component from a unit that otherwise struggled mightily in 2020. Griffin signed a three-year, $40 million contract with the Jacksonville Jaguars and CB Quinton Dunbar remains a free agent after a year marred by injuries.
The Seahawks made a solid addition in CB Ahkello Witherspoon, who finished the 2020 season on a high note with coverage grades of 88.8, 86.8 and 77.7 in the final three contests. Carrying this positive momentum into 2020 could pay big dividends for a Seahawks defense in desperate need of stability at the cornerback position, but Witherspoon has started just 12 games the last two years, so it's probably a gamble to rely on durability going forward.
On the offensive side of the ball, quarterback Russell Wilson certainly seemed to be happy with Seattle's trade for Las Vegas Raiders guard Gabe Jackson and the re-signing of running back Chris Carson. Jackson's 69.9 pass-blocking grade in 2020 was the first of his career to fall below 70. He'll provide a remarkably high floor in pass protection for Wilson, something the quarterback has been adamant about fixing.
The last piece of business seems to be bringing back LB K.J. Wright, who transitioned into the strongside linebacker role in 2020 and had one of the best seasons of his career with a 75.7 grade, his best since 2015.
The Super Bowl champions said no one was leaving, and indeed no one (so far) is leaving. First, Chris Godwin received the franchise tag — which, of course, no player loves — but after how the wide receiver market played out and given Godwin's down 2020 season (career-low 75.5 grade after earning the No. 1 grade at wide receiver in 2019 with a 90.7), that may end up as a win-win.
Next, career Buccaneer LB Lavonte David inked a two-year, $25 million deal that topped the off-ball linebacker market by a pretty wide margin even at 31 years old — which was well-deserved considering his 89.9 grade ranks second since 2019.
Finally, edge rusher Shaq Barrett got the big-time deal he's deserved ever since fighting his way into a major role in the NFL after going undrafted in 2014. Barrett leads all edge rushers in total quarterback pressures since 2019 with 157, and his four-year, $68 million extension is frankly still a steal for Tampa Bay.
Of course, these were the big moves, but the return of TE Rob Gronkowski on a one-year, $8 million deal is nothing to scoff at, either.
Few teams have actively gotten worse during free agency, but you can make that argument about the Tennessee Titans considering the players that have departed. They have had to watch as Corey Davis, Adam Humphries and Jonnu Smith leave, representing three of their top four or five targets on offense. In the secondary, they also cut three players that have seen extensive snaps for them in recent seasons, including both starting cornerbacks Malcolm Butler and Adoree Jackson.
To replace the losses at cornerback, they signed Janoris Jenkins, who at his best is a match for Jackson's level of play. But his best came back in 2016, and his baseline performance is likely a significant downgrade if Jackson was going to return to full fitness. They have yet to add a significant receiver and are likely targeting the draft for that. Tennessee's big splash came at edge rusher, where they signed Bud Dupree from the Steelers.
The team badly needs an answer at edge rusher, but Dupree is a classic case of buyer beware. He has solid sack numbers, first-round pedigree and is a great athlete, but he has never generated a consistent volume of pressure by beating blockers one on one. Last season at the time of his injury, Dupree had a massive 61% of his total pressure coming either completely unblocked or on clean-up or pursuit plays. Dupree is unlikely to answer their pass-rush woes, and he is paid as if he will.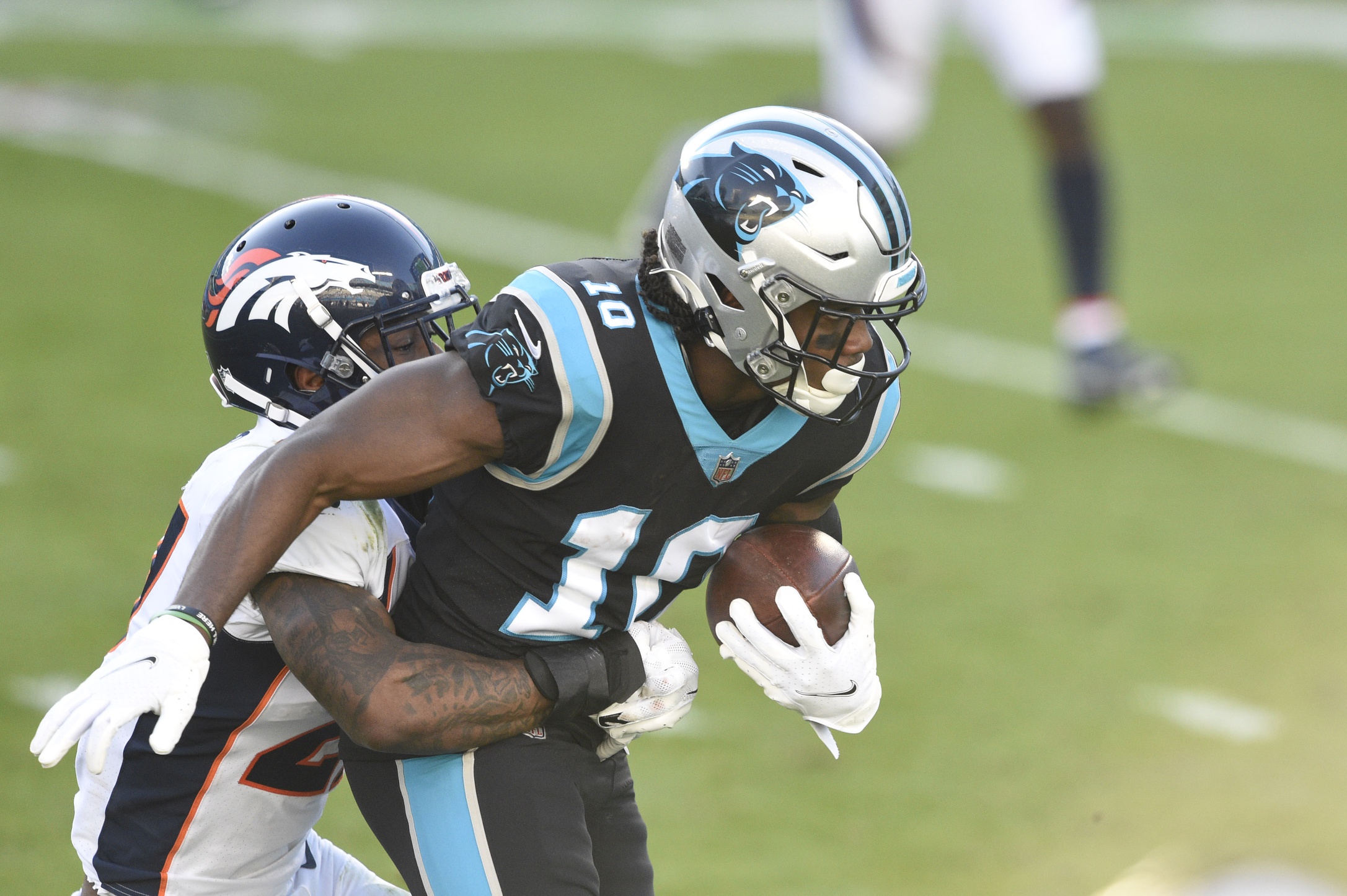 An Ohio State reunion for WRs Terry McLaurin and Curtis Samuel is the obvious headline, with Washington in desperate need of another wide receiver. The Football Team offense is going to be an absolute nightmare for opposing defenses in the open field, with their lineup featuring:
The No. 6 and No. 24 wide receivers in yards after the catch in 2020 in McLaurin and Samuel, respectively.
The No. 2 running back in yards after the catch in J.D. McKissic.
The No. 6 tight end in yards after the catch in Logan Thomas.
And let's not forget about 2020 third-round pick Antonio Gibson, the college wide receiver-turned-running back, who is a threat all over the field just like newly-acquired Curtis Samuel.
Washington will spread defenses out sideline-to-sideline and cause them to account for every blade of grass. The Football Team used jet motion on the fifth-most snaps in the NFL in 2020 and gained the third-best yards per carry on such plays (5.5). The addition of Samuel — whose 41 carries last season were 17 more than any other WR — provides another guy they can line up anywhere in the formation that defenses must account for.
Ryan Fitzpatrick had the second-fastest time to throw among quarterbacks with at least 50 dropbacks in 2020 at 2.37 seconds, getting the ball out quickly to his speedy playmakers and letting them go to work. He's also more than willing to let it rip downfield on deep shots, with a 92.7 grade on throws 20-plus yards downfield.
Beyond the fun and exciting offense, Washington also added the top cornerback available this offseason in William Jackson III. His three-year, $40.25 million deal is a great value, and this Football Team defense should be daunting once more in 2021.